POLARIS SNOWMOBILE 2002-2010 25T, 3/4" WIDE 2015 SPLINE SPROCKET 3221102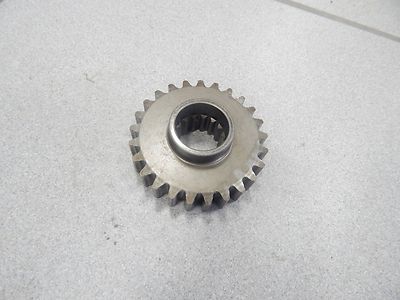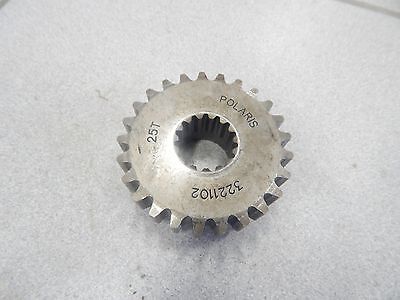 Part number 3221102 is available for purchase online. To purchase the part or to get additional information about the part before you purchase it, click on the View More Details button.
Item #:

PR-192063445064

Ships From:

Kaukauna, Wisconsin
Price:

$16.99
Returns Accepted: ReturnsNotAccepted.
Manufacturer Part Number: 3221102.
Brand: Polaris.
THIS IS A USED CHAINCASE TOP SPROCKET TAKEN OFF A POLARIS 2009 IQ 800 DRAGON SWITCHBACK. POLARIS PART # 3221102. THIS RETAILS NEW FOR $32.99. -Polaris Part # 3221102-Fits Many 2002-2010 Polaris Models -Retails New For $32.99-Used Part; Sold As Is FITS SPECIFICALLY THE FOLLOWING MODELS:2002 700 CLASSIC BUILT BEFORE 1/1/01 (S02ND7CS) - Chaincase2002 700 XC SP (S02NP7CSA) - Chaincase /Csb2002 700 XC SP (S02NP7CSB) - Chaincase S02np7csa/Csb2002 700 XC SP F/O (S02NP7CS) - Chaincase /S02ne7cs2002 700 XC SP F/O (S02NP7CS) - Chaincase /S02ne7cs (4973447344C08)2002 700 XC SP M-10 F/O (S02NE7CS) - Chaincase S02np7cs2002 700 XC SP M-10 F/O (S02NE7CS) - Chaincase S02np7cs/ (4973447344C08)2002 800 XC SP F/O BUILT AFTER 3/1/01 (S02NP8CS) - Chaincase S02ne8cs//Csa/Csb2002 800 XC SP F/O BUILT AFTER 3/1/01 (S02NP8CS) - Chaincase S02ne8cs//Csa/Csb (4973467346C08)2002 800 XC SP M-10 F/O (S02NE8CS) - Chaincase /S02np8cs/Csa/Csb2002 800 XC SP M-10 F/O (S02NE8CS) - Chaincase /S02np8cs/Csa/Csb (4973467346C08)2002 800 XC SP STOCK (S02NP8CSA) - Chaincase S02ne8cs/S02np8cs/Csa/Csb2002 800 XC SP STOCK (S02NP8CSA) - Chaincase S02ne8cs/S02np8cs/Csa/Csb (4973467346C08)2002 800 XC SP STOCK (S02NP8CSB) - Chaincase S02ne8cs/S02np8cs/Csa/Csb2002 800 XC SP STOCK (S02NP8CSB) - Chaincase S02ne8cs/S02np8cs/Csa/Csb (4973467346C08)2003 600/700/800 PRO X (S03NX6ES/S03NX7CS/S03NX8CS) - Chaincase2003 700 CLASSIC (S03ND7CS) - Chaincase2003 700 XC EDGE F/O (S03NP7CS) - Chaincase /7Csa/7Csb/8Cs/8Csa/8Csbs03na7cs/8Css03nf7cs/8Css03ne7cs/8Cs2003 700 XC EDGE F/O (S03NP7CS) - Chaincase /8Css03na7cs/8Css03nf7cs/8Css03ne7cs/8Cs (4977847784C02)2003 700 XC SP EDGE (S03NP7CSA/B) - Chaincase S03np7cs/7Csa/7Csb/8Cs/8Csa/8Csbs03na7cs/8Css03nf7cs/8Css03ne7cs/8Cs2003 700 XC SP EDGE M-10 F/O (S03NE7CS) - Chaincase S03np7cs/7Csa/7Csb/8Cs/8Csa/8Csbs03na7cs/8Css03nf7cs/8Cs/8Cs2003 700 XC SP EDGE M-10 F/O (S03NE7CS) - Chaincase S03np7cs/8Css03na7cs/8Css03nf7cs/8Cs/8Cs (4977847784C02)2003 700 XC SP EDGE M-10 F/O (S03NF7CS) - Chaincase S03np7cs/7Csa/7Csb/8Cs/8Csa/8Csbs03na7cs/8Cs/8Css03ne7cs/8Cs2003 700 XC SP EDGE M-10 F/O (S03NF7CS) - Chaincase S03np7cs/8Css03na7cs/8Cs/8Css03ne7cs/8Cs (4977847784C02)2003 700 XC SP EDGE X F/O (S03NA7CS) - Chaincase S03np7cs/7Csa/7Csb/8Cs/8Csa/8Csb/8Css03nf7cs/8Css03ne7cs/8Cs2003 700 XC SP EDGE X F/O (S03NA7CS) - Chaincase S03np7cs/8Cs/8Css03nf7cs/8Css03ne7cs/8Cs (4977847784C02)2003 800 XC EDGE F/O (S03NP8CS) - Chaincase S03np7cs/7Csa/7Csb/8Cs/8Csa/8Csbs03na7cs/8Css03nf7cs/8Css03ne7cs/8Cs2003 800 XC EDGE F/O (S03NP8CS) - Chaincase S03np7cs/8Css03na7cs/8Css03nf7cs/8Css03ne7cs/8Cs (4977847784C02)2003 800 XC SP EDGE (S03NP8CSA/B) - Chaincase S03np7cs/7Csa/7Csb/8Cs/8Csa/8Csbs03na7cs/8Css03nf7cs/8Css03ne7cs/8Cs2003 800 XC SP EDGE (S03NP8CSA/B) - Chaincase S03np7cs/8Css03na7cs/8Css03nf7cs/8Css03ne7cs/8Cs (4977847784C02)2003 800 XC SP EDGE M-10 F/O (S03NE8CS) - Chaincase S03np7cs/7Csa/7Csb/8Cs/8Csa/8Csbs03na7cs/8Css03nf7cs/8Css03ne7cs/8Cs2003 800 XC SP EDGE M-10 F/O (S03NE8CS) - Chaincase S03np7cs/8Css03na7cs/8Css03nf7cs/8Css03ne7cs/8Cs (4977847784C02)2003 800 XC SP EDGE M-10 F/O (S03NF8CS) - Chaincase S03np7cs/7Csa/7Csb/8Cs/8Csa/8Csbs03na7cs/8Css03nf7cs/8Css03ne7cs/8Cs2003 800 XC SP EDGE M-10 F/O (S03NF8CS) - Chaincase S03np7cs/8Css03na7cs/8Css03nf7cs/8Css03ne7cs/8Cs (4977847784C02)2003 800 XC SP EDGE X F/O (S03NA8CS) - Chaincase S03np7cs/7Csa/7Csb/8Cs/8Csa/8Csbs03na7cs/8Css03nf7cs/8Css03ne7cs/8Cs2003 800 XC SP EDGE X F/O (S03NA8CS) - Chaincase S03np7cs/8Css03na7cs/8Css03nf7cs/8Css03ne7cs/8Cs (4977847784C02)2004 600/700/800 PRO X/PRO X2 (S04NX6ES) - Chaincase /Ee/S04ny6es/Ee/S04nx7cs/8Cs/S04ny7cs/Ce/8Cs/8Ce2004 700/800 CLASSIC (S04ND7CS/8CS) - Chaincase S04nd7cs/Csa/8Cs/Csa/Csb2004 700/800 XC EDGE F/O (S04NP7CS) - Chaincase /7Csa/7Csb/7Csc/8Cs/8Csa/8Csb/8Cscs04ne7cs/8Cs2004 800 PRO XR (S04NZ8CS) - Chaincase /Csa/Ce2005 700/800 XC SP M-10 F/O (S05NE7CS) - Chaincase /7Csa/Np7cs/7Csa/7Csb/Ne8cs/8Csa/Np8cs/8Csa/8Csb2006 700/900 FUSION F/O (S06MP7HS) - Chaincase /Hsa/Hsb/Me7hs/Mp8ds/Dsa/Dsb/Me8ds2006 900 SWITCHBACK (S06PS8DS) - Chaincase /Dsa2008 600/700 IQ DRAGON/700 IQ/600 IQ LX/EURO ALL OPTIONS (S08PD6/PB6/PB7/PP6/PP7) - Drive Train, Chaincase All Options2008 800 IQ (S08PB8ES/EE) - Drive Train, Chaincase2009 800 DRAGON SP/ES EURO (S09PE8ES/EEL) - Drive Train, Chaincase2009 800 IQ/ES (S09PB8ES/ESL) - Drive Train, Chaincase2009 800 SWITCHBACK/DRAGON/EURO (S09PR8ESL/PS8ESL/EEL) - Drive Train, Chaincase2010 800 DRAGON IQ/ES/INTL ALL OPTIONS (S10PP8) - Drive Train, Chaincase All Options2010 800 DRAGON SWITCHBACK/ES/INTL ALL OPTIONS (S10PS8) - Drive Train, Chaincase All Options2010 800 IQ/ES (S10PB8ESA/ESL) - Drive Train, Chaincase2010 800 SWITCHBACK/ES (S10PR8ESA/ESL) - Drive Train, ChaincaseFOR ANY QUESTIONS OR IF THERE IS ANOTHER USED PART YOU ARE LOOKING FOR, CALL US AT 920-788-0220.SHIPPING RATES ARE LISTED FOR LOWER 48 STATES ONLY! INTERNATIONAL RESIDENTS ARE SUBJECT TO ANY TAXES AND/OR FEES. KEN'S SPORTS DOES NOT CHARGE THIS, IT IS CHARGED BY CARRIER AT TIME OF DELIVERY.ALL SALES ARE FINAL, NO RETURNS ON USED PARTS.# U3221102