Mercedes W210 E320 CLK320 C320 ML350 Ignition Coil Pack Set Of 6 OEM 0001587803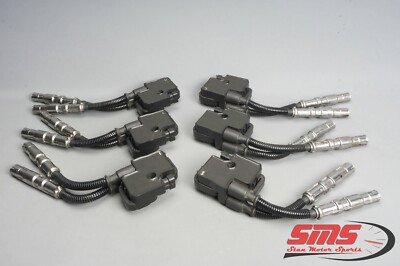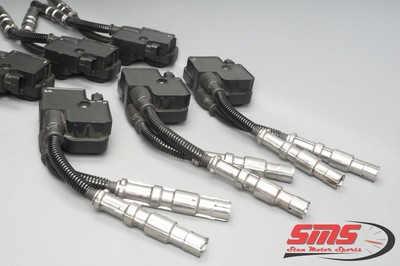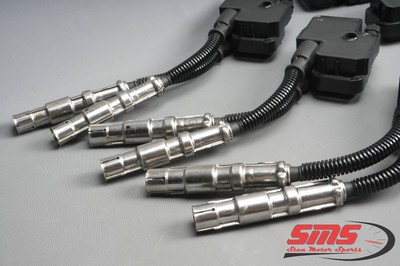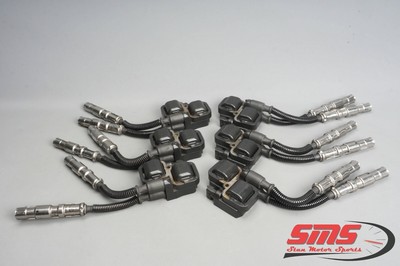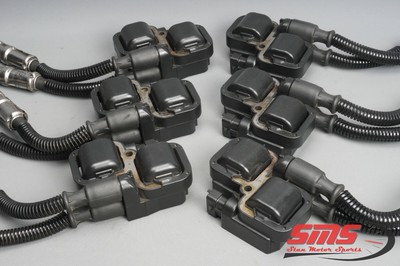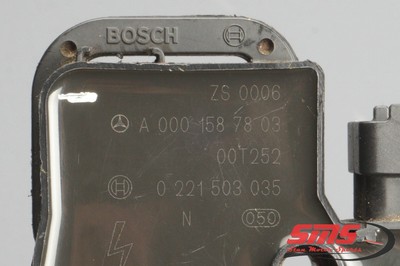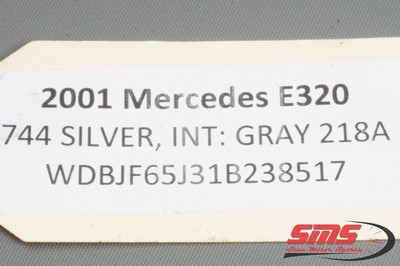 This part is no longer available for purchase.
It might be out of stock, or no longer available to purchase online. Find similar used parts online using the search box, or place a part request and let our network of trusted sellers find the part for you.
Mercedes-benz Part No: 0001587803 / A0001587803 / A 000 158 78 03 7803
Manufacturer: Mercedes-benz
Part Number: 0001587803 / A0001587803 / A 000 158 78 03 7803
Other Part Number: 0221503035 / 0 221 503 035
Interchange Part Number: 0001587303 / A0001587303 / A 000 158 73 03 7303
Fitment Type: Direct Replacement
Up for sale is a set of ignition coils (set of 6). Came off a 2001 Mercedes Benz E320. This item is used but in good working condition with just some normal wear (see photos for details). Contact us with your vehicle's vin number to insure exact fitments. Part # 0001587803 ***Please make sure the part numbers match***Note: It's the buyer's responsibility to make sure that the listed item is compatible with your vehicle. Contact us if unknown. Business hours Monday through Friday 9am-6pm. PT With the Purchase of any items you agree to these terms and conditions Terms and Conditions Item Condition · All our items are used but in good working condition · All body panels, fenders, doors, trunks etc. have road wear imperfections such as minor rock chips, scratches and scuffs. · It is the buyers responsibly to familiarize themselves with the item before purchase · All items presented in the pictures will be included in the purchase. Attention: We are not responsible for any paint match on body panels. Return and Refund · 30 Days return accepted · Buyer pays return shipping · All refunded transactions bought incorrectly will receive a 20% restocking Policy · ALL USED ENGINE, TRANSMISSION, AND ELECTRICAL ITEMS MUST BE INSTALLED BY AN ASE CERTIFIED REPAIR FACILITY. ANY ISSUE WITH OUR USED PRODUCT FOR WARRANTY PURPOSES MUST BE STATED ON A VAILD RECIPT FROM CERTIFIED REPAIR FACILITY. · Buyer assumes ALL LIABILITY by installing and using the parts. · Contact Information Monday- Friday 9am-6pm. Pacific Time Zone About US Stan Motor Spots is located in Central California. We are dedicate to provide our customers with high quality service. We specialize in three make brands Mitsubishi, Honda and Subaru.
Part number 0001587803 / A0001587803 / A 000 158 78 03 7803 is compatible with the following vehicles:
Year/Make/Model
Body & Trim
Engine
1997 Mercedes-Benz CLK320
Elegance Convertible 2-Door
Elegance Coupe 2-Door
3.2L V6 SOHC
1998 Mercedes-Benz C280
Base Sedan 4-Door
2.8L V6 SOHC
1998 Mercedes-Benz CLK320
Base Convertible 2-Door
Base Coupe 2-Door
3.2L V6 SOHC
1998 Mercedes-Benz E320
4Matic Sedan 4-Door
4Matic Wagon 4-Door
Base Sedan 4-Door
Base Wagon 4-Door
3.2L V6 SOHC
3.2L V6 DOHC
1998 Mercedes-Benz ML320
Base Sport Utility 4-Door
3.2L V6 OHV
3.2L V6 SOHC
1999 Mercedes-Benz C280
Base Sedan 4-Door
Elegance Sedan 4-Door
2.8L V6 SOHC
1999 Mercedes-Benz CLK320
Base Convertible 2-Door
Base Coupe 2-Door
3.2L V6 SOHC
1999 Mercedes-Benz E320
4Matic Sedan 4-Door
4Matic Wagon 4-Door
Base Sedan 4-Door
Base Wagon 4-Door
3.2L V6 SOHC
3.2L V6 DOHC
1999 Mercedes-Benz ML320
Base Sport Utility 4-Door
3.2L V6 OHV
3.2L V6 SOHC
2000 Mercedes-Benz C280
Base Sedan 4-Door
Elegance Sedan 4-Door
2.8L V6 SOHC
2000 Mercedes-Benz CLK320
Base Convertible 2-Door
Base Coupe 2-Door
3.2L V6 SOHC
2000 Mercedes-Benz E320
4Matic Sedan 4-Door
4Matic Wagon 4-Door
Base Sedan 4-Door
Base Wagon 4-Door
3.2L V6 SOHC
3.2L V6 DOHC
2000 Mercedes-Benz ML320
Base Sport Utility 4-Door
3.2L V6 OHV
3.2L V6 SOHC
2001 Mercedes-Benz C240
Base Sedan 4-Door
Elegance Sedan 4-Door
2.6L V6 SOHC
2001 Mercedes-Benz C320
Avantgarde Sedan 4-Door
Base Sedan 4-Door
Elegance Sedan 4-Door
3.2L V6 SOHC
2001 Mercedes-Benz CLK320
Base Convertible 2-Door
Base Coupe 2-Door
3.2L V6 SOHC
2001 Mercedes-Benz E320
4Matic Sedan 4-Door
4Matic Wagon 4-Door
Base Sedan 4-Door
Base Wagon 4-Door
3.2L V6 SOHC
2001 Mercedes-Benz ML320
Base Sport Utility 4-Door
3.2L V6 OHV
3.2L V6 SOHC
2001 Mercedes-Benz SLK320
Base Convertible 2-Door
3.2L V6 SOHC
2002 Mercedes-Benz C240
Base Sedan 4-Door
Elegance Sedan 4-Door
2.6L V6 SOHC
2002 Mercedes-Benz C32 AMG
Base Sedan 4-Door
3.2L V6 SOHC Supercharged
2002 Mercedes-Benz C320
Avantgarde Sedan 4-Door
Base Sedan 4-Door
Base Wagon 4-Door
Classic Sedan 4-Door
Elegance Sedan 4-Door
3.2L V6 SOHC
2002 Mercedes-Benz CLK320
Base Convertible 2-Door
Base Coupe 2-Door
3.2L V6 SOHC
2002 Mercedes-Benz E320
4Matic Sedan 4-Door
4Matic Wagon 4-Door
Base Sedan 4-Door
Base Wagon 4-Door
3.2L V6 SOHC
2002 Mercedes-Benz ML320
Base Sport Utility 4-Door
3.2L V6 OHV
3.2L V6 SOHC
2002 Mercedes-Benz SLK32 AMG
Base Convertible 2-Door
3.2L V6 SOHC Supercharged
2002 Mercedes-Benz SLK320
Base Convertible 2-Door
3.2L V6 SOHC
2003 Mercedes-Benz C240
4Matic Sedan 4-Door
4Matic Wagon 4-Door
Base Sedan 4-Door
Base Wagon 4-Door
2.6L V6 SOHC
2003 Mercedes-Benz C32 AMG
Base Sedan 4-Door
3.2L V6 SOHC Supercharged
2003 Mercedes-Benz C320
4Matic Sedan 4-Door
4Matic Wagon 4-Door
Base Coupe 2-Door
Base Sedan 4-Door
Base Wagon 4-Door
Classic Sedan 4-Door
Elegance Sedan 4-Door
3.2L V6 SOHC
2003 Mercedes-Benz CLK320
Base Convertible 2-Door
Base Coupe 2-Door
3.2L V6 SOHC
2003 Mercedes-Benz E320
4Matic Wagon 4-Door
Base Sedan 4-Door
Base Wagon 4-Door
3.2L V6 SOHC
2003 Mercedes-Benz ML320
Base Sport Utility 4-Door
3.2L V6 SOHC
2003 Mercedes-Benz ML350
Base Sport Utility 4-Door
3.7L V6 SOHC
2003 Mercedes-Benz SLK32 AMG
Base Convertible 2-Door
3.2L V6 SOHC Supercharged
2003 Mercedes-Benz SLK320
Base Convertible 2-Door
3.2L V6 SOHC
2004 Mercedes-Benz C240
4Matic Sedan 4-Door
4Matic Wagon 4-Door
Base Sedan 4-Door
Base Wagon 4-Door
2.6L V6 SOHC
2004 Mercedes-Benz C32 AMG
Base Sedan 4-Door
3.2L V6 SOHC Supercharged
2004 Mercedes-Benz C320
4Matic Sedan 4-Door
4Matic Wagon 4-Door
Base Coupe 2-Door
Base Sedan 4-Door
Base Wagon 4-Door
Elegance Sedan 4-Door
3.2L V6 SOHC
3.2L V6 FLEX SOHC
2004 Mercedes-Benz CLK320
Base Convertible 2-Door
Base Coupe 2-Door
3.2L V6 SOHC
2004 Mercedes-Benz E320
4Matic Sedan 4-Door
4Matic Wagon 4-Door
Base Sedan 4-Door
Base Wagon 4-Door
3.2L V6 SOHC
2004 Mercedes-Benz ML350
Base Sport Utility 4-Door
3.7L V6 SOHC
2004 Mercedes-Benz SLK32 AMG
Base Convertible 2-Door
3.2L V6 SOHC Supercharged
2004 Mercedes-Benz SLK320
Base Convertible 2-Door
3.2L V6 SOHC
2005 Chrysler Crossfire
Base Convertible 2-Door
Base Coupe 2-Door
Limited Convertible 2-Door
Limited Coupe 2-Door
SRT-6 Convertible 2-Door
SRT-6 Coupe 2-Door
3.2L V6 SOHC
3.2L V6 SOHC Supercharged
2005 Mercedes-Benz C240
4Matic Sedan 4-Door
4Matic Wagon 4-Door
Base Sedan 4-Door
Base Wagon 4-Door
2.6L V6 SOHC
2005 Mercedes-Benz C320
4Matic Sedan 4-Door
Base Coupe 2-Door
Base Sedan 4-Door
Elegance Sedan 4-Door
3.2L V6 SOHC
3.2L V6 FLEX SOHC
2005 Mercedes-Benz CLK320
Base Convertible 2-Door
Base Coupe 2-Door
3.2L V6 SOHC
2005 Mercedes-Benz E320
4Matic Sedan 4-Door
4Matic Wagon 4-Door
Base Sedan 4-Door
Base Wagon 4-Door
CDI Sedan 4-Door
3.2L V6 SOHC
3.2L l6 DIESEL DOHC Turbocharged
2005 Mercedes-Benz ML350
Base Sport Utility 4-Door
3.7L V6 SOHC
2006 Chrysler Crossfire
Base Convertible 2-Door
Base Coupe 2-Door
Limited Convertible 2-Door
Limited Coupe 2-Door
SRT-6 Convertible 2-Door
SRT-6 Coupe 2-Door
3.2L V6 SOHC
3.2L V6 SOHC Supercharged
2006 Mercedes-Benz S350
Base Sedan 4-Door
3.7L V6 SOHC
Warranty: 30 Day
Returns Accepted: Yes
Item must be returned within: 30 Days
Refund will be given as: Money back or replacement (buyer's choice)
Return shipping will be paid by: Buyer
Restocking Fee: 20%