Toyota 22RE, 22R,Toyota pickup, 4Runner, Tacoma '85-'95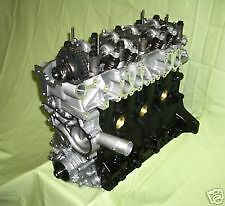 This part is no longer available for purchase.
It might be out of stock, or no longer available to purchase online. Find similar used parts online using the search box, or place a part request and let our network of trusted sellers find the part for you.
Restocking Fee: No.
Returns Accepted: Returns Accepted.
Item must be returned within: 30 Days.
Refund will be given as: Money Back.
Return shipping will be paid by: Buyer.
Core Charge: $600.
Number of Cylinders: 4.
Engine Size: 2.4L.
Warranty: Lifetime.
SquareTra Oregon Engine Rebuilders Inc. was established in 1983 and remanufactures all types of engines for automotive, light truck, industrial and marine applications. OERI car and light truck engines come with a LIFE TIME UNLIMITED MILEAGE WARRANTY to the original buyer. As long as you own your vehicle, we will stand behind our product. If you have any problem with the motor, just return it to our shop and we will repair it free of charge, as long as it has not been abused, no matter how many miles have been put on it! This kind of offer is unheard of in the industry and the only exception is industrial, commercial or marine units. In addition, we are offering an exclusive 30-DAY SATISFACTION GUARANTEE. If you are not 100% satisfied with our product, after installing it and driving it - assuming it has not been abused - return it to OERI and we will refund to you 100% of the purchase price! All OERI engines are stripped to a bare block, hot-tanked, and re-machined bringing every surface and every tolerance back to original specifications through the use of state-of-the-art Sunnen equipment. Shipping cost vary depending on location, commercial v/s residential and loading capabilities. Contact us for an exact quote on shipping prior to committing to buy. This Long Block Engine is sold exchange for your re-buildable core. Instead, a deposit for the core can be made.
This part is compatible with the following vehicles:
Year/Make/Model
Body & Trim
Engine
1983 Toyota Celica
GT Coupe 2-Door
GT Hatchback 2-Door
GTS Coupe 2-Door
GTS Hatchback 2-Door
ST Coupe 2-Door
Supra Hatchback 2-Door
2.4L l4 SOHC
2.8L l6 DOHC
1984 Toyota 4Runner
DLX Sport Utility 2-Door
SR5 Sport Utility 2-Door
2.4L l4 SOHC
1984 Toyota Celica
GT Coupe 2-Door
GT Hatchback 2-Door
GTS Convertible 2-Door
GTS Coupe 2-Door
GTS Hatchback 2-Door
ST Coupe 2-Door
Supra Hatchback 2-Door
2.4L l4 SOHC
2.8L l6 DOHC
1984 Toyota Pickup
Base Cab & Chassis 2-Door
Base Standard Cab Pickup 2-Door
DLX Cab & Chassis 2-Door
DLX Standard Cab Pickup 2-Door
LN56 Extended Cab Pickup 2-Door
SR5 Cab & Chassis 2-Door
SR5 Extended Cab Pickup 2-Door
SR5 Standard Cab Pickup 2-Door
2.4L l4 SOHC
2.4L l4 DIESEL SOHC
2.4L l4 DIESEL
1985 Toyota 4Runner
DLX Sport Utility 2-Door
SR5 Sport Utility 2-Door
2.4L l4 SOHC
2.4L l4 SOHC Turbocharged
1985 Toyota Celica
GT Coupe 2-Door
GT Hatchback 2-Door
GTS Convertible 2-Door
GTS Coupe 2-Door
GTS Hatchback 2-Door
ST Coupe 2-Door
Supra Hatchback 2-Door
2.4L l4 SOHC
2.8L l6 DOHC
1985 Toyota Pickup
Base Cab & Chassis 2-Door
Base Standard Cab Pickup 2-Door
DLX Cab & Chassis 2-Door
DLX Extended Cab Pickup 2-Door
DLX Standard Cab Pickup 2-Door
DLX Turbo Standard Cab Pickup 2-Door
RN60 Standard Cab Pickup 2-Door
SR5 Cab & Chassis 2-Door
SR5 Extended Cab Pickup 2-Door
SR5 Standard Cab Pickup 2-Door
SR5 Turbo Cab & Chassis 2-Door
SR5 Turbo Extended Cab Pickup 2-Door
2.4L l4 SOHC
2.4L l4 DIESEL SOHC
2.4L l4 DIESEL SOHC Turbocharged
2.4L l4
2.4L l4 SOHC Turbocharged
1986 Toyota 4Runner
DLX Sport Utility 2-Door
SR5 Sport Utility 2-Door
2.4L l4 SOHC
2.4L l4 SOHC Turbocharged
1986 Toyota Pickup
Base Cab & Chassis 2-Door
Base Standard Cab Pickup 2-Door
Base Turbo Standard Cab Pickup 2-Door
DLX Cab & Chassis 2-Door
DLX Extended Cab Pickup 2-Door
DLX Standard Cab Pickup 2-Door
LN55 DLX Standard Cab Pickup 2-Door
LN76 Standard Cab Pickup 2-Door
RN63 Standard Cab Pickup 2-Door
SR5 Cab & Chassis 2-Door
SR5 Extended Cab Pickup 2-Door
SR5 Standard Cab Pickup 2-Door
SR5 Turbo Cab & Chassis 2-Door
SR5 Turbo Extended Cab Pickup 2-Door
2.4L l4 SOHC
2.4L l4 SOHC Turbocharged
2.4L l4 DIESEL
2.4L l4
1987 Toyota 4Runner
DLX Sport Utility 2-Door
SR5 Sport Utility 2-Door
2.4L l4 SOHC
2.4L l4 SOHC Turbocharged
1987 Toyota Pickup
Base Cab & Chassis 2-Door
Base Standard Cab Pickup 2-Door
Base Turbo Standard Cab Pickup 2-Door
DLX Cab & Chassis 2-Door
DLX Extended Cab Pickup 2-Door
DLX Standard Cab Pickup 2-Door
LN55 DLX Standard Cab Pickup 2-Door
LN67 Standard Cab Pickup 2-Door
RN63 Standard Cab Pickup 2-Door
SR5 Cab & Chassis 2-Door
SR5 Extended Cab Pickup 2-Door
SR5 Standard Cab Pickup 2-Door
SR5 Turbo Cab & Chassis 2-Door
SR5 Turbo Extended Cab Pickup 2-Door
2.4L l4 SOHC
2.4L l4 SOHC Turbocharged
2.4L l4 DIESEL
2.4L l4
1988 Toyota 4Runner
DLX Sport Utility 2-Door
SR5 Sport Utility 2-Door
2.4L l4 SOHC
2.4L l4 SOHC Turbocharged
3.0L V6 SOHC
1988 Toyota Pickup
Base Cab & Chassis 2-Door
Base Standard Cab Pickup 2-Door
DLX Cab & Chassis 2-Door
DLX Extended Cab Pickup 2-Door
DLX Standard Cab Pickup 2-Door
SR5 Cab & Chassis 2-Door
SR5 Extended Cab Pickup 2-Door
SR5 Standard Cab Pickup 2-Door
SR5 Turbo Cab & Chassis 2-Door
SR5 Turbo Extended Cab Pickup 2-Door
2.4L l4 SOHC
3.0L V6 SOHC
2.4L l4 SOHC Turbocharged
1989 Toyota 4Runner
DLX Sport Utility 2-Door
SR5 Sport Utility 2-Door
2.4L l4 SOHC
3.0L V6 SOHC
1989 Toyota Pickup
Base Cab & Chassis 2-Door
Base Standard Cab Pickup 2-Door
DLX Cab & Chassis 2-Door
DLX Extended Cab Pickup 2-Door
DLX Standard Cab Pickup 2-Door
SR5 Cab & Chassis 2-Door
SR5 Extended Cab Pickup 2-Door
SR5 Standard Cab Pickup 2-Door
2.4L l4 SOHC
3.0L V6 SOHC
1990 Toyota 4Runner
SR5 Sport Utility 2-Door
SR5 Sport Utility 4-Door
2.4L l4 SOHC
3.0L V6 SOHC
1990 Toyota Pickup
Base Cab & Chassis 2-Door
Base Standard Cab Pickup 2-Door
DLX Cab & Chassis 2-Door
DLX Extended Cab Pickup 2-Door
DLX Standard Cab Pickup 2-Door
SR5 Extended Cab Pickup 2-Door
SR5 Standard Cab Pickup 2-Door
2.4L l4 SOHC
3.0L V6 SOHC
1991 Toyota 4Runner
SR5 Sport Utility 2-Door
SR5 Sport Utility 4-Door
2.4L l4 SOHC
3.0L V6 SOHC
1991 Toyota Pickup
Base Cab & Chassis 2-Door
Base Standard Cab Pickup 2-Door
DLX Extended Cab Pickup 2-Door
DLX Standard Cab Pickup 2-Door
SR5 Extended Cab Pickup 2-Door
2.4L l4 SOHC
3.0L V6 SOHC
1992 Toyota 4Runner
SR5 Sport Utility 4-Door
2.4L l4 SOHC
3.0L V6 SOHC
1992 Toyota Pickup
Base Cab & Chassis 2-Door
Base Standard Cab Pickup 2-Door
DLX Extended Cab Pickup 2-Door
DLX Standard Cab Pickup 2-Door
SR5 Extended Cab Pickup 2-Door
2.4L l4 SOHC
3.0L V6 SOHC
1993 Toyota 4Runner
SR5 Sport Utility 4-Door
2.4L l4 SOHC
3.0L V6 SOHC
1993 Toyota Pickup
Base Cab & Chassis 2-Door
Base Standard Cab Pickup 2-Door
DLX Extended Cab Pickup 2-Door
DLX Standard Cab Pickup 2-Door
RN02 Standard Cab Pickup 2-Door
SR5 Extended Cab Pickup 2-Door
2.4L l4 SOHC
3.0L V6 SOHC
2.4L l4
1994 Toyota 4Runner
SR5 Sport Utility 4-Door
2.4L l4 SOHC
3.0L V6 SOHC
1994 Toyota Pickup
Base Standard Cab Pickup 2-Door
DLX Extended Cab Pickup 2-Door
DLX Standard Cab Pickup 2-Door
SR5 Extended Cab Pickup 2-Door
2.4L l4 SOHC
3.0L V6 SOHC
1995 Toyota 4Runner
SR5 Sport Utility 4-Door
2.4L l4 SOHC
3.0L V6 SOHC
1995 Toyota Pickup
Base Standard Cab Pickup 2-Door
DLX Extended Cab Pickup 2-Door
DLX Standard Cab Pickup 2-Door
SR5 Extended Cab Pickup 2-Door
2.4L l4 SOHC
3.0L V6 SOHC