REPAIR 4 2001-2008 BMW 750Li 750i 760Li 760i ABS Pump Control Module WE INSTALL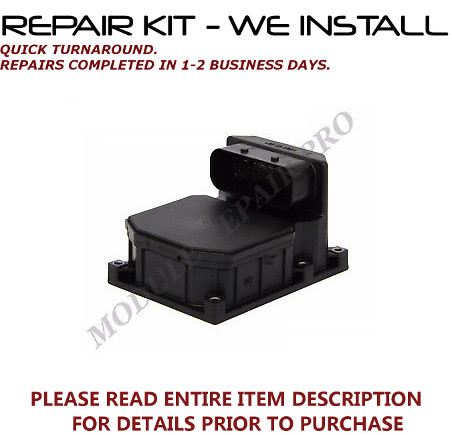 Part number 0 265 950 006 is available for purchase online. To purchase the part or to get additional information about the part before you purchase it, click on the View More Details button.
Item #:

PR-332358442154

Ships From:

Van Nuys, California
Price:

$149.00
Restocking Fee: No.
Returns Accepted: Returns Accepted.
Item must be returned within: 30 Days.
Refund will be given as: Money back or replacement (buyer's choice).
Return shipping will be paid by: Buyer.
Interchange Part Number: 0265225007.
Manufacturer Part Number: 0 265 950 006.
Other Part Number: 0265950006.
Brand: Bosch.
Warranty: Lifetime.
2001-2008 BMW 7 Series ABS Pump Control Module Repair Kit ATTENTION!!! This listing is for a REPAIR KIT THAT WE WILL INSTALL in your original ABS pump control module. You are not buying the module shown in photos. After purchasing this repair kit, you will send us your ABS pump control module. We will inspect it, install our repair kit, perform final testing, and ship it back to you. After our repairs have been made, your module will be ready to install back on your vehicle.No additional programming or coding is required. You can still drive the vehicle while the module is removed. Repairs take 1-2 business days. Fits: 2001-2008 BMW 750 and 760 series ABS pump control modules***Please, match image of ABS module pictured with your ABS module*** If you are experiencing any of the following issues, you are at the right listing: - ABS light is always on or intermittent - ABS, brake and traction lights are on - No communication with ABS module - ABS pump constantly running - Trouble codes for ABS pump, communication codes or speed sensor codes. We highly recommend having removal and installation of your module done by a professional mechanic, however, DIY instructions are available. If you would like them, please send us an email after purchasing this repair kit. Please do not send the pump - send only the control module as it is shown in the photo Disclaimer: It is your mechanic's responsibility to pinpoint the problem to the ABS pump control module. All possible causes for ABS system failure (i.e. speed sensor/s, wiring issues, power and ground supplies) must be eliminated prior to sending your module for repairs. Please, do not send us any salvage yard units, most of them have water damage and are not repairable. If you or someone else tried to repair your ABS module, we can evaluate and possibly repair it, but only in the case that no additional damage was created. After installation, you will need to erase ABS system history trouble codes on the vehicle with an appropriate scanner. Please note, not all modules are repairable. Terms of Sale In the case that your module cannot be rebuilt, or if it is damaged to the point where repair is not possible, it can be returned to you per your request. Your payment will be refunded and we will send you an invoice to cover the cost of return shipping. Cancellation of transaction is required. HOW IT WORKS:1. Click on "buy it now" and pay for the repair kit 2. Print out your PayPal payment page 3. Remove the module from the vehicle, pack it well 4. Send the module and payment page to our address (we will send you email with shipping instructions) 5. Fill out the REPAIR REQUEST FORM (link will be included in the email) WE NEED TO KNOW WHAT IS WRONG WITH IT! Repairs done to your Module are covered by our LIFETIME warranty (conditions apply). Shipping & Handling The USPS Priority Mail RETURN shipping price stated in this listing applies only when shipping within the United States. Optional USPS Express Mail (1-2 business days) is available during checkout for an additional fee. International shipping is calculated during checkout. All international orders will ship via USPS Express International. All orders shipped via USPS Express and all shipments sent to apartment buildings will require a signature at the time of delivery. We do not cover inbound shipping, you will ship it to us using any shipping carrier at your choice. Please ignore the handling time stated in the shipping details. We have customers from all over the world and need to account for the amount of time it may take for their modules to arrive at our repair shop. Actual repair time is 1-2 business days from the time that we receive your module. Contact If your question was not answered in this listing, feel free to contact us through messages, we are here to help! Due to the extremely high volume of customers we are attending to on a daily basis, we respectfully ask that you please only dial eight one eight four two nine four eight eight nine if you have a technical question regarding this listing which cannot be answered easily through messages. MODULE REPAIR PROVAN NUYS, CA
Part number 0 265 950 006 is compatible with the following vehicles:
Year/Make/Model
Body & Trim
Engine
2001 BMW 750iL
Base Sedan 4-Door
5.4L V12 SOHC
2003 BMW 760Li
Base Sedan 4-Door
6.0L V12 DOHC
2004 BMW 760Li
Base Sedan 4-Door
6.0L V12 DOHC
2004 BMW 760i
Base Sedan 4-Door
6.0L V12 DOHC
2005 BMW 760Li
Base Sedan 4-Door
6.0L V12 DOHC
2005 BMW 760i
Base Sedan 4-Door
6.0L V12 DOHC
2006 BMW 750Li
Sport Sedan 4-Door
Base Sedan 4-Door
4.8L V8 DOHC
2006 BMW 750i
Sport Sedan 4-Door
Base Sedan 4-Door
4.8L V8 DOHC
2006 BMW 760Li
Base Sedan 4-Door
6.0L V12 DOHC
2006 BMW 760i
Base Sedan 4-Door
6.0L V12 DOHC
2007 BMW 750Li
Sport Sedan 4-Door
Base Sedan 4-Door
4.8L V8 DOHC
2007 BMW 750i
Sport Sedan 4-Door
Base Sedan 4-Door
4.8L V8 DOHC
2007 BMW 760Li
Base Sedan 4-Door
6.0L V12 DOHC
2008 BMW 750Li
Sport Sedan 4-Door
Base Sedan 4-Door
Limited Edition Sedan 4-Door
Sport Limited Edition Sedan 4-Door
4.8L V8 DOHC
2008 BMW 750i
Sport Sedan 4-Door
Base Sedan 4-Door
Limited Edition Sedan 4-Door
Sport Limited Edition Sedan 4-Door
4.8L V8 DOHC
2008 BMW 760Li
Limited Edition Sedan 4-Door
6.0L V12 DOHC