POLARIS SNOWMOBILE 2015-2019 AXYS RUSH SWITCHBACK BRAKE MASTER CYLINDER 2206021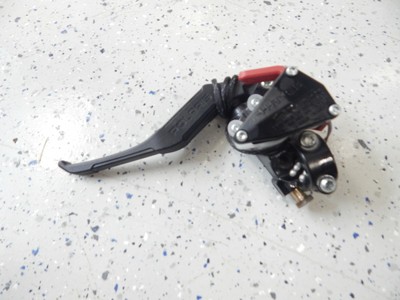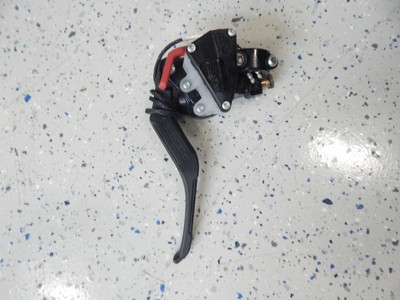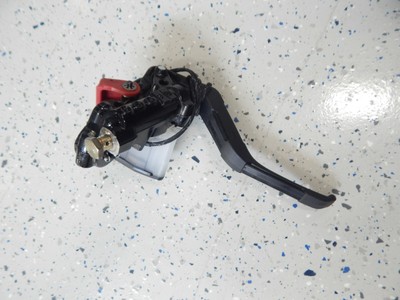 Part number 2206021 is available for purchase online. To purchase the part or to get additional information about the part before you purchase it, click on the View More Details button.
Item #:

PR-192954490791

Ships From:

Kaukauna, Wisconsin
Price:

$149.99
Returns Accepted: ReturnsNotAccepted.
Manufacturer Part Number: 2206021.
Brand: Polaris.
THIS IS A USED BRAKE MASTER CYLINDER ASSEMBLY TAKEN OFF A 2017 RUSH 600 XCR AXYS POLARIS SNOWMOBILE. POLARIS PART # 2206021. THIS RETAILS NEW FOR $289.99. -Polaris Part # 2206021-Fits Many 2015-2019 Polaris Models -Retails New For $289.99 -Used Part; Sold As Is FITS SPECIFICALLY THE FOLLOWING MODELS: 2015 600 RUSH PRO S ALL OPTIONS (S15DP6) - Brakes, Brake System All Options2015 600 RUSH PRO-X INTL (S15DF6PEL) - Brakes, Brake System2015 600 SWITCHBACK ADVENTURE ALL OPTIONS (S15DA6PSL/PSM/PEL) - Brakes, Brake System S15da6 All Options2015 600 SWITCHBACK PRO S ALL OPTIONS (S15DS6) - Brakes, Brake System All Options2015 600 SWITCHBACK PRO-X ES INTL (S15DR6PEL) - Brakes, Brake System2015 800 RUSH PRO S ALL OPTIONS (S15DP8) - Brakes, Brake System All Options2015 800 RUSH PRO X ALL OPTIONS (S15DF8PEL/PS) - Brakes, Brake System S15df8 All Options2015 800 SWITCHBACK PRO S ALL OPTIONS (S15DS8PS/PSA/PSL) - Brakes, Brake System S15ds8 All Options2015 800 SWITCHBACK PRO-X ALL OPTIONS (S15DR8PS/PEL) - Brakes, Brake System All Options2016 600 RUSH PRO-S ALL OPTIONS (S16DP6) - Brakes, Brake System All Options2016 600 RUSH PRO-X INTL ALL OPTIONS (S16DF6) - Brakes, Brake System Pe/Pel2016 600 SWITCHBACK ADVENTURE/INTL (S16DA6PEL/PSL) - Brakes, Brake System2016 600 SWITCHBACK PRO-S ALL OPTIONS (S16DS6) - Brakes, Brake System All Options2016 600 SWITCHBACK PRO-X INTL ALL OPTIONS (S16DR6PE/PEL) - Brakes, Brake System All Options2016 800 RUSH PRO-S ALL OPTIONS (S16DP8) - Brakes, Brake System All Options2016 800 RUSH PRO-X ALL OPTIONS (S16DF8) - Brakes, Brake System All Options2016 800 SWITCHBACK ADVENTURE/INTL (S16DA8PSL/PEL) - Brakes, Brake System2016 800 SWITCHBACK PRO X/INTL ALL OPTIONS (S16DR8) - Brakes, Brake System All Options2016 800 SWITCHBACK PRO-S ALL OPTIONS (S16DS8) - Brakes, Brake System All Options2017 600 RMK/ES 144 (S17EEG6PSA/PSL) - Brakes, Brake System2017 600 RUSH PRO S ALL OPTIONS (S17DCH6) - Brakes, Brake System All Options2017 600 RUSH XCR/INTL ES (S17DCL6PSA/PEL) - Brakes, Brake System2017 600 SWITCHBACK ADVENTURE (S17DDE6PSL) - Brakes, Brake System2017 600 SWITCHBACK ASSAULT 144 ALL OPTIONS (S17EEC6) - Brakes, Brake System All Options2017 600 SWITCHBACK PRO S ALL OPTIONS (S17DDH6) - Brakes, Brake System All Options2017 600 SWITCHBACK PRO X INTL (S17DDJ6PEM) - Brakes, Brake System2017 600 SWITCHBACK SP ALL OPTIONS (S17EER6) - Brakes, Brake System All Options2017 600 VOYAGEUR/INTL 144 (S17EEF6PSL/PEL) - Brakes, Brake System2017 800 RUSH PRO S ALL OPTIONS (S17DCH8) - Brakes, Brake System All Options2017 800 RUSH PRO X SC (S17DCJ8PS) - Brakes, Brake System All Options2017 800 RUSH XCR/INTL ES (S17DCL8PSA/PEL) - Brakes, Brake System2017 800 SWITCHBACK ADVENTURE/INTL (S17DDE8PSL/PEL) - Brakes, Brake System2017 800 SWITCHBACK ASSAULT 144 ALL OPTIONS (S17EEC8) - Brakes, Brake System All Options2017 800 SWITCHBACK PRO S ALL OPTIONS (S17DDH8) - Brakes, Brake System All Options2017 800 SWITCHBACK PRO X/INTL ALL OPTIONS (S17DDJ8) - Brakes, Brake System All Options2018 600 RMK/ES 144 (S18EEG6PSA/PSL) - Brakes, Brake System2018 600 RUSH PRO-S ALL OPTIONS (S18DCH6PS) - Brakes, Brake System All Options2018 600 RUSH XCR/INTL ALL OPTIONS (S18DCL6PS/PEM) - Brakes, Brake System2018 600 SWITCHBACK ADVENTURE 137 ES (S18DDE6PSL) - Brakes, Brake System2018 600 SWITCHBACK ASSAULT 144 ALL OPTIONS (S18EEC6P) - Brakes, Brake System All Options2018 600 SWITCHBACK PRO-S ALL OPTIONS (S18DDH6PS) - Brakes, Brake System All Options2018 600 SWITCHBACK SP 144 (S18EER6PSA/PSL/PEL) - Brakes, Brake System2018 600 SWITCHBACK XCR/INTL ALL OPTIONS (S18DDL6PS/PEM) - Brakes, Brake System2018 600 VOYAGEUR 144 ES/INTL (S18EEF6PSL/PEL) - Brakes, Brake System2018 800 AXYS SKS 146 ALL OPTIONS (S18ELS8P) - Brakes, Brake System2018 800 RUSH PRO-S ALL OPTIONS (S18DCH8PS) - Brakes, Brake System All Options2018 800 RUSH PRO-X SC SELECT (S18DCJ8PS) - Brakes, Brake System All Options2018 800 RUSH XCR/INTL ALL OPTIONS (S18DCL8PS/PEM) - Brakes, Brake System2018 800 SWITCHBACK ADVENTURE 137 ES (S18DDE8PSL) - Brakes, Brake System2018 800 SWITCHBACK ASSAULT 144 ALL OPTIONS (S18EEC8P) - Brakes, Brake System All Options2018 800 SWITCHBACK PRO-S ALL OPTIONS (S18DDH8PS) - Brakes, Brake System All Options2018 800 SWITCHBACK PRO-X SC SELECT (S18DDJ8PS) - Brakes, Brake System All Options2018 800 SWITCHBACK XCR/INTL ALL OPTIONS (S18DDL8PS/PEM) - Brakes, Brake System2019 600 INDY SP 129 ES (S19EKB6PSL) - Brakes, Brake System2019 600 INDY XC 129 SC SELECT ALL OPTIONS (S19EKP6PS/PEM) - Brakes, Brake System2019 600 RMK 144/ES (S19EEG6PSA/PSL) - Brakes, Brake System2019 600 RUSH PRO-S SC SELECT (S19DCH6PS) - Brakes, Brake System All Options2019 600 RUSH XCR SC SELECT ALL OPTIONS (S19DCL6PS/6PEM) - Brakes, Brake System2019 600 SWITCHBACK ADVENTURE ES (S19DDE6PSL) - Brakes, Brake System2019 600 SWITCHBACK ASSAULT 144/INTL SC SELECT ALL OPTIONS (S19EEC6PS/PER) - Brakes, Brake System All Options2019 600 SWITCHBACK PRO-S SC SELECT ALL OPTIONS (S19DDH6PS) - Brakes, Brake System All Options2019 600 SWITCHBACK SP 144 ES/INTL (S19EER6PSL/PEL) - Brakes, Brake System2019 600 SWITCHBACK XCR/INTL SC SELECT ALL OPTIONS (S19DDL6PS/PEM) - Brakes, Brake System2019 600 VOYAGEUR 144 ES/INTL (S19EEF6PSL/PEL) - Brakes, Brake System2019 800 AXYS SKS 146/INTL ALL OPTIONS (S19ELS8PS/PEB) - Brakes, Brake System2019 800 INDY XC 129 ES/SC SELECT (S19EKP8PS/PSL) - Brakes, Brake System2019 800 RUSH PRO-S SC SELECT (S19DCH8PS) - Brakes, Brake System All Options2019 800 SWITCHBACK ADVENTURE ES (S19DDE8PSL) - Brakes, Brake System2019 800 SWITCHBACK ASSAULT 144/INTL SC SELECT ALL OPTIONS (S19EEC8PS/PEB) - Brakes, Brake System All Options2019 800 SWITCHBACK PRO-S SC SELECT ALL OPTIONS (S19DDH8PS) - Brakes, Brake System All Options FOR ANY QUESTIONS OR IF THERE IS ANOTHER USED PART YOU ARE LOOKING FOR, CALL US AT 920-788-0220.SHIPPING RATES ARE LISTED FOR LOWER 48 STATES ONLY! INTERNATIONAL RESIDENTS ARE SUBJECT TO ANY TAXES AND/OR FEES. KEN'S SPORTS DOES NOT CHARGE THIS, IT IS CHARGED BY CARRIER AT TIME OF DELIVERY.ALL SALES ARE FINAL, NO RETURNS ON USED PARTS.# U2206021