JA11B48 91-93 NISSAN SENTRA / INFINITI G20 ECM ECU 1.6 Manual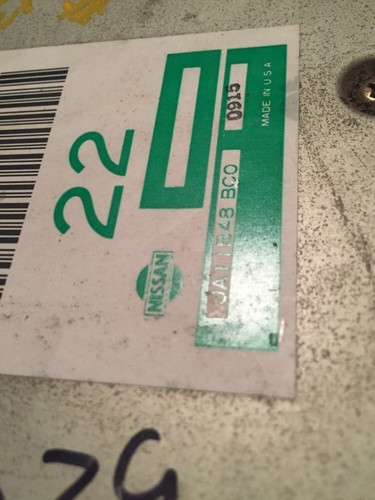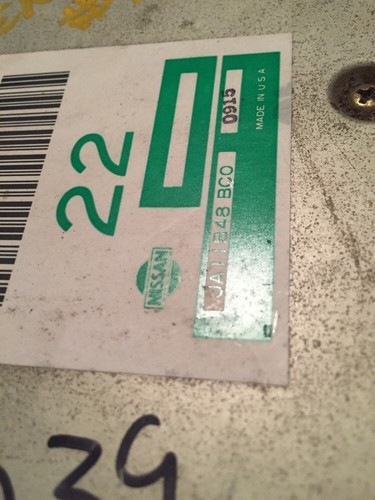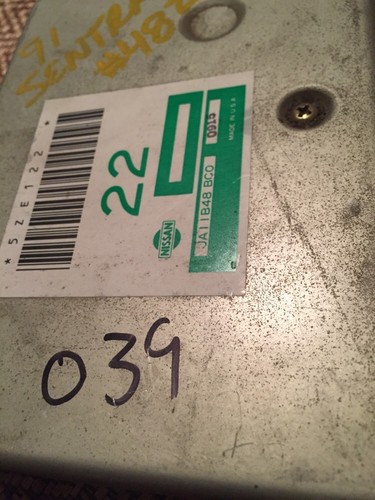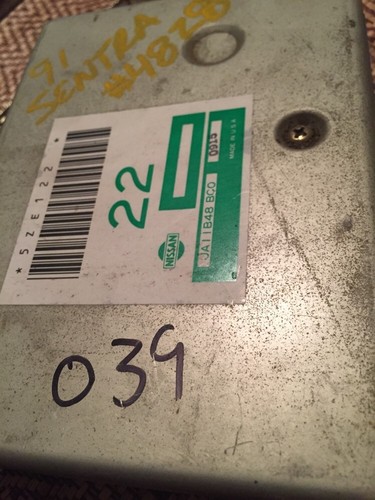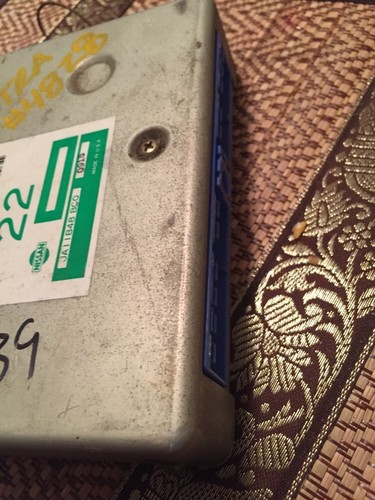 Part number A11-B58 C71 , A11B58C71 is available for purchase online. To purchase the part or to get additional information about the part before you purchase it, click on the View More Details button.
Item #:

PR-113421490269

Ships From:

Newberg, Oregon
Price:

$75.00
Restocking Fee: No.
Returns Accepted: Returns Accepted.
Item must be returned within: 30 Days.
Refund will be given as: Money Back.
Return shipping will be paid by: Buyer.
Manufacturer Part Number: A11-B58 C71 , A11B58C71.
Interchange Part Number: 23710-63J10 , 2371063J10.
Other Part Number: C193.
Surface Finish: As shown in picture.
Warranty: Yes.
Hablamos Espanol Free ShippingGreat ProductsGreat Service ECU Ramcharger LLCIMPORTANT:PLEASE make sure that this is the part you need. We spend MONEY and TIME in cleaning the parts so you can have the best quality,  packing and shipping. -It's important to verify your part number against our listings if in doubt feel free to ask us and we will do our best to help you and guide you.-MAKE SURE TO read the entire description, see photos, see interchange part numbers. -If for any reason there is a problem with the part make sure to contact us first so we can either provide you a replacement or provide you with a refund (when necessary) or when opening a return make sure to select "Doesn't fit" for the reason that each defective return affects us monetary and service metrics*** We are honest  people and work very hard and do our best to provide the best service, to be attentive with each order and messages we receive, we do our best  to send you good quality used parts worth your $$   We appreciate your business and  are grateful you have purchased from us ***JA11B48 91-93 NISSAN SENTRA / INFINITI G20 ECM ECU 1.6 Manual 91 Nissan Sentra 120K Engine 1.6 Manual  !!!JA11B48 !!!! Excl. Rav4 Crossmember Your order will be dispatched within 1 working business day (Monday-Friday) of receiving payment. Expedited shipping available upon request at your own cost. Please contact us right away if EXPEDITED SHIPPING will be requested.  ​​​​​​​If and when RETURNS are accepted it is IMPORTANT that you make sure to send us back the item well packed according to it's need and complete with NO MISSING PARTS.. PLEASE COMPLY WITH WARRANTY GRANTED ON LISTING NO MORE THAN WHATS WRITTEN ON RETURN POLICY. By purchasing from us (ECU Ramcharger LLC) you acknowledge that you: - Have verified your part number against our listing - Seen photos for item condition details - Read the entire listing checking for interchange part numbers, color, condition, and fitment of part.  Please understand when purchasing a SOLD AS IS, NO Warranty, NO Returns you acknowledge that you are AWARE you are purchasing a NON REFUNDABLE PART. IN the event something goes wrong with your purchase PLEASE MAKE SURE to contact us FIRST and DO NOT open a return request with "Doesn't work or Defective" "Doesn't Match Item Description" CONTACT US FIRST WE WILL DO OUR BEST to help you.. So please help us help you!!  You MATTER to us!!! Our valued customers, you are important without you and your feedback we wouldn't be here. We appreciate your business and hope you return and visit our store. Please don't forget to leave us FEEDBACK in advance we THANK YOU! We hope that we have met our goals YOUR SASTIFACTION with your purchase and that our CUSTOMER SERVICE TEAM gave you the best service.  Our goal is to provide you with the best customer service. We focus in selling quality used parts so you can save $$ from start to end we take our time to clean each part, close up photos for item condition details so you can see if any major or noticeable damage on part, storing it according to its need,  pack each part with such deligence to make sure you receive it intact.​​​​​​.  See our other items91 Nissan Sentra 120K Engine 1.6 Manual !!!JA11B48 !!!! Full refund Free ShippingGreat Service Hablamos Espanol ECU Ramcharger LLCIMPORTANT:PLEASE make sure that this is the part you need. We spend MONEY and TIME in cleaning the parts so you can have the best quality,  packing and shipping. -It's important to verify your part number against our listings if in doubt feel free to ask us and we will do our best to help you and guide you.-MAKE SURE TO read the entire description, see photos, see interchange part numbers. -If for any reason there is a problem with the part make sure to contact us first so we can either provide you a replacement or provide you with a refund (when necessary) or when opening a return make sure to select "Doesn't fit" for the reason that each defective return affects us monetary and service metrics*** We are honest  people and work very hard and do our best to provide the best service, to be attentive with each order and messages we receive, we do our best  to send you good quality used parts worth your $$   We appreciate your business and  are grateful you have purchased from us ***JA11B48 91-93 NISSAN SENTRA / INFINITI G20 ECM ECU 1.6 Manual 91 Nissan Sentra 120K Engine 1.6 Manual  !!!JA11B48 !!!! Excl. Rav4 Crossmember Your order will be dispatched within 1 working business day (Monday-Friday) of receiving payment. Expedited shipping available upon request at your own cost. Please contact us right away if EXPEDITED SHIPPING will be requested. Returns ​​​​​​​If and when RETURNS are accepted it is IMPORTANT that you make sure to send us back the item well packed according to it's need and complete with NO MISSING PARTS.. PLEASE COMPLY WITH WARRANTY GRANTED ON LISTING NO MORE THAN WHATS WRITTEN ON RETURN POLICY. By purchasing from us (ECU Ramcharger LLC) you acknowledge that you: - Have verified your part number against our listing - Seen photos for item condition details - Read the entire listing checking for interchange part numbers, color, condition, and fitment of part.  Please understand when purchasing a SOLD AS IS, NO Warranty, NO Returns you acknowledge that you are AWARE you are purchasing a NON REFUNDABLE PART. IN the event something goes wrong with your purchase PLEASE MAKE SURE to contact us FIRST and DO NOT open a return request with "Doesn't work or Defective" "Doesn't Match Item Description" CONTACT US FIRST WE WILL DO OUR BEST to help you.. So please help us help you!! Your Feedback You MATTER to us!!! Our valued customers, you are important without you and your feedback we wouldn't be here. We appreciate your business and hope you return and visit our store. Please don't forget to leave us FEEDBACK in advance we THANK YOU! We hope that we have met our goals YOUR SASTIFACTION with your purchase and that our CUSTOMER SERVICE TEAM gave you the best service.  About Us Our goal is to provide you with the best customer service. We focus in selling quality used parts so you can save $$ from start to end we take our time to clean each part, close up photos for item condition details so you can see if any major or noticeable damage on part, storing it according to its need,  pack each part with such deligence to make sure you receive it intact.​​​​​​.  See our other items 91 Nissan Sentra 120K Engine 1.6 Manual  !!!JA11B48 !!!! Full refund