FITS BMW BOSCH 5.7 ABS ATC PUMP CONTROL MODULE REPAIR REBUILD SERVICE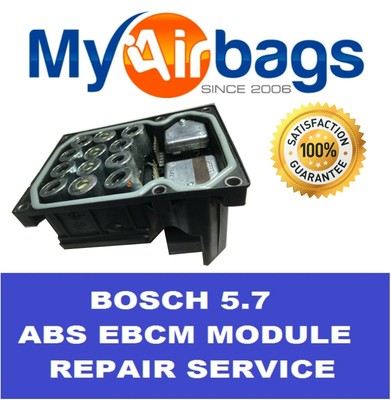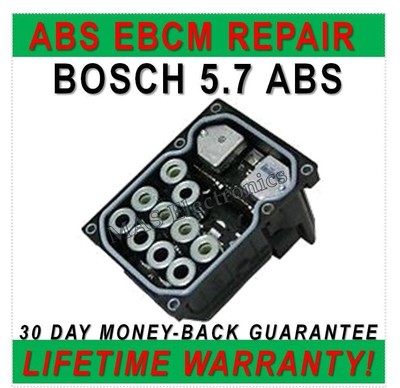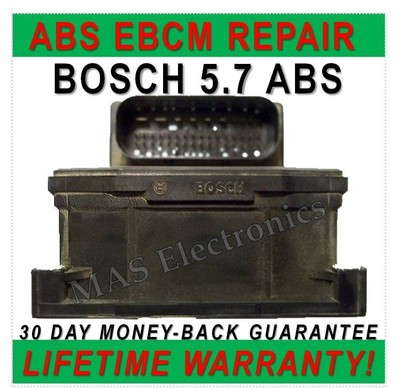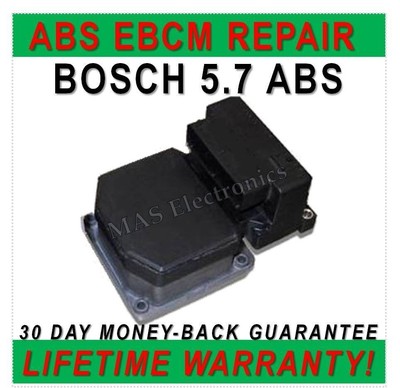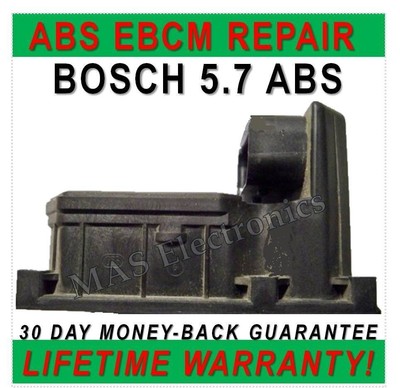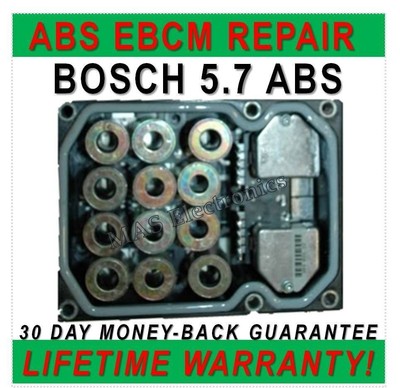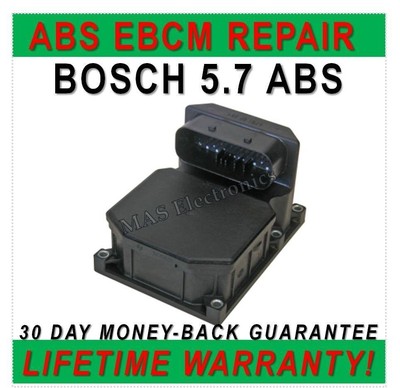 This part is no longer available for purchase.
It might be out of stock, or no longer available to purchase online. Find similar used parts online using the search box, or place a part request and let our network of trusted sellers find the part for you.
Restocking Fee: No.
Returns Accepted: Returns Accepted.
Item must be returned within: 14 Days.
Refund will be given as: Money Back.
Return shipping will be paid by: Buyer.
Brand: Bosch.
Warranty: 1 Year.
Manufacturer Part Number: Does Not Apply.
Track Page Views With Auctiva's FREE Counter
This part is compatible with the following vehicles:
Year/Make/Model
Body & Trim
Engine
1995 Saab 900
S Convertible 2-Door
S Hatchback 2-Door
S Hatchback 4-Door
SE Convertible 2-Door
SE Hatchback 4-Door
SE Turbo Convertible 2-Door
SE Turbo Hatchback 2-Door
2.3L l4 DOHC
2.5L V6 DOHC
2.0L l4 DOHC Turbocharged
1995 Saab 9000
Aero Hatchback 4-Door
CDE Sedan 4-Door
CS Hatchback 4-Door
CSE Hatchback 4-Door
CSE Turbo Hatchback 4-Door
2.3L l4 DOHC Turbocharged
3.0L V6 DOHC
1995 Volkswagen Cabrio
Base Convertible 2-Door
2.0L l4 SOHC
1995 Volkswagen Golf
Base Hatchback 2-Door
Celebration Edition Hatchback 2-Door
Celebration Edition Hatchback 4-Door
City Hatchback 2-Door
City Hatchback 4-Door
CL Hatchback 2-Door
CL Hatchback 4-Door
GL Hatchback 2-Door
GL Hatchback 4-Door
GTI Hatchback 2-Door
GTI VR6 Hatchback 2-Door
Manhattan Hatchback 4-Door
Sport Hatchback 2-Door
Sport Hatchback 4-Door
1.8L l4
1.9L l4 DIESEL Turbocharged
2.0L l4 SOHC
1.8L l4 SOHC
2.0L l4
2.8L V6 SOHC
1995 Volkswagen Jetta
Base Sedan 4-Door
Carat Sedan 4-Door
Celebration Edition Sedan 4-Door
City Sedan 4-Door
CL Sedan 4-Door
GL Sedan 4-Door
GLS Sedan 4-Door
GLX Sedan 4-Door
VR6 Sedan 4-Door
1.8L l4
1.9L l4 DIESEL Turbocharged
2.0L l4 SOHC
1.8L l4 SOHC
2.8L V6 SOHC
1996 Saab 900
S Convertible 2-Door
S Hatchback 2-Door
S Hatchback 4-Door
SE Convertible 2-Door
SE Hatchback 2-Door
SE Hatchback 4-Door
SE Turbo Convertible 2-Door
SE Turbo Hatchback 2-Door
SE Turbo Hatchback 4-Door
2.3L l4 DOHC
2.5L V6 DOHC
2.0L l4 DOHC Turbocharged
1996 Saab 9000
Aero Hatchback 4-Door
CS Hatchback 4-Door
CSE Hatchback 4-Door
CSE Turbo Hatchback 4-Door
2.3L l4 DOHC Turbocharged
3.0L V6 DOHC
1996 Volkswagen Cabrio
Base Convertible 2-Door
Equipado Convertible 2-Door
2.0L l4 SOHC
1996 Volkswagen Golf
Atlanta Hatchback 4-Door
City Hatchback 4-Door
CL Hatchback 2-Door
GL Hatchback 4-Door
GTI Hatchback 2-Door
GTI VR6 Hatchback 2-Door
Manhattan Hatchback 4-Door
Sport Hatchback 2-Door
TDI Hatchback 2-Door
1.8L l4 SOHC
1.8L l4
2.0L l4 SOHC
2.8L V6 SOHC
1.9L l4 DIESEL Turbocharged
1996 Volkswagen Jetta
Atlanta Sedan 4-Door
Europa Sedan 4-Door
GL Sedan 4-Door
GLS Sedan 4-Door
GLX Sedan 4-Door
TDI Sedan 4-Door
Trek Sedan 4-Door
VR6 Sedan 4-Door
Wolfsburg Edition Sedan 4-Door
1.8L l4 SOHC
2.0L l4
2.0L l4 SOHC
2.8L V6 SOHC
1.9L l4 DIESEL SOHC Turbocharged
1.9L l4 DIESEL Turbocharged
1996 Volkswagen Passat
GLS Sedan 4-Door
GLX Sedan 4-Door
GLX VR6 Sedan 4-Door
GLX Wagon 4-Door
TDI Sedan 4-Door
TDI Wagon 4-Door
2.0L l4 SOHC
2.8L V6 SOHC
1.9L l4 DIESEL SOHC Turbocharged
1.9L l4 DIESEL Turbocharged
1997 Audi A8
Base Sedan 4-Door
3.7L V8 DOHC
1997 Cadillac Catera
Base Sedan 4-Door
3.0L V6 DOHC
1997 Pontiac Grand Prix
GT Coupe 2-Door
GT Sedan 4-Door
GTP Coupe 2-Door
GTP Sedan 4-Door
SE Coupe 2-Door
SE Sedan 4-Door
3.8L V6 DOHC
3.8L V6 OHV
3.8L V6 OHV Supercharged
3.1L V6 OHV
3.1L V6 OHV
1997 Saab 900
S Convertible 2-Door
S Hatchback 2-Door
S Hatchback 4-Door
SE Convertible 2-Door
SE Hatchback 2-Door
SE Hatchback 4-Door
SE Turbo Convertible 2-Door
SE Turbo Hatchback 2-Door
SE Turbo Hatchback 4-Door
2.3L l4 DOHC
2.5L V6 DOHC
2.0L l4 DOHC Turbocharged
1997 Saab 9000
Aero Hatchback 4-Door
CS Hatchback 4-Door
CSE Hatchback 4-Door
CSE Turbo Hatchback 4-Door
2.3L l4 DOHC Turbocharged
3.0L V6 DOHC
1997 Volkswagen Cabrio
Base Convertible 2-Door
High Line Convertible 2-Door
2.0L l4 SOHC
1997 Volkswagen Golf
Atlanta Hatchback 4-Door
City Hatchback 4-Door
CL Hatchback 2-Door
GL Hatchback 4-Door
GTI Hatchback 2-Door
GTI VR6 Hatchback 2-Door
Jazz Hatchback 4-Door
K2 Hatchback 4-Door
TDI Hatchback 2-Door
Trek Hatchback 4-Door
1.8L l4 SOHC
1.8L l4
1.9L l4 DIESEL Turbocharged
2.0L l4 SOHC
2.8L V6 SOHC
1997 Volkswagen Jetta
CL Sedan 4-Door
Europa Sedan 4-Door
GL Sedan 4-Door
GLS Sedan 4-Door
GLX Sedan 4-Door
GT Sedan 4-Door
Jazz Sedan 4-Door
TDI Sedan 4-Door
VR6 Sedan 4-Door
1.8L l4 SOHC
2.0L l4 SOHC
2.8L V6 SOHC
1.9L l4 DIESEL SOHC Turbocharged
1.9L l4 DIESEL Turbocharged
1997 Volkswagen Passat
GLX Sedan 4-Door
GLX VR6 Sedan 4-Door
GLX Wagon 4-Door
TDI Sedan 4-Door
TDI Wagon 4-Door
2.8L V6 SOHC
2.8L V6 DOHC
1.9L l4 DIESEL SOHC Turbocharged
1.9L l4 DIESEL Turbocharged
1998 Audi A4
Avant Wagon 4-Door
Base Sedan 4-Door
1.8L l4 DOHC Turbocharged
2.8L V6 DOHC
1998 Audi A6
Base Sedan 4-Door
2.8L V6 DOHC
1998 Audi A8
Base Sedan 4-Door
3.7L V8 DOHC
1998 BMW 528i
Base Sedan 4-Door
2.8L l6 DOHC
1998 BMW 540i
Base Sedan 4-Door
4.4L V8 DOHC
1998 Cadillac Catera
Base Sedan 4-Door
3.0L V6 DOHC
1998 Pontiac Grand Prix
GT Coupe 2-Door
GT Sedan 4-Door
GTP Coupe 2-Door
GTP Sedan 4-Door
SE Sedan 4-Door
3.8L V6 DOHC
3.8L V6 OHV
3.8L V6 OHV Supercharged
3.1L V6 OHV
3.1L V6 OHV
1998 Saab 900
S Convertible 2-Door
S Hatchback 4-Door
S Turbo Hatchback 2-Door
SE Turbo Convertible 2-Door
SE Turbo Hatchback 2-Door
SE Turbo Hatchback 4-Door
2.3L l4 DOHC
2.0L l4 DOHC Turbocharged
1998 Saab 9000
CSE Turbo Hatchback 4-Door
2.3L l4 DOHC Turbocharged
1998 Volkswagen Cabrio
Base Convertible 2-Door
GL Convertible 2-Door
GLS Convertible 2-Door
2.0L l4 SOHC
1998 Volkswagen Golf
Atlanta Hatchback 4-Door
CL Hatchback 2-Door
GL Hatchback 4-Door
GTI Hatchback 2-Door
GTI VR6 Hatchback 2-Door
K2 Hatchback 4-Door
MI Hatchback 4-Door
TDI Hatchback 2-Door
1.8L l4 SOHC
1.8L l4
2.0L l4 SOHC
2.8L V6 SOHC
1.9L l4 DIESEL Turbocharged
1.9L l4 DIESEL SOHC Turbocharged
1998 Volkswagen Jetta
CL Sedan 4-Door
Europa Sedan 4-Door
GL Sedan 4-Door
GLS Sedan 4-Door
GLX Sedan 4-Door
GT Sedan 4-Door
K2 Sedan 4-Door
TDI Sedan 4-Door
VR6 Sedan 4-Door
Wolfsburg Edition Sedan 4-Door
1.8L l4 SOHC
2.0L l4 SOHC
2.8L V6 SOHC
1.9L l4 DIESEL SOHC Turbocharged
1998 Volkswagen Passat
GLS Sedan 4-Door
GLS Wagon 4-Door
GLX Sedan 4-Door
1.8L l4 DOHC Turbocharged
2.8L V6 DOHC
1999 Audi A4
Avant Wagon 4-Door
Base Sedan 4-Door
1.8L l4 DOHC Turbocharged
2.8L V6 DOHC
1999 Audi A6
Avant Wagon 4-Door
Base Sedan 4-Door
2.8L V6 DOHC
1999 Audi A8
Base Sedan 4-Door
3.7L V8 DOHC
1999 BMW 528i
Base Sedan 4-Door
Base Wagon 4-Door
2.8L l6 DOHC
1999 BMW 540i
Base Sedan 4-Door
Base Wagon 4-Door
4.4L V8 DOHC
1999 Cadillac Catera
Base Sedan 4-Door
Sport Sedan 4-Door
3.0L V6 DOHC
1999 Pontiac Grand Prix
GT Coupe 2-Door
GT Sedan 4-Door
GTP Coupe 2-Door
GTP Sedan 4-Door
SE Sedan 4-Door
3.8L V6 DOHC
3.8L V6 OHV
3.8L V6 OHV Supercharged
3.1L V6 OHV
1999 Saab 9-3
Base Convertible 2-Door
Base Hatchback 2-Door
Base Hatchback 4-Door
SE Convertible 2-Door
SE Hatchback 4-Door
Viggen Hatchback 2-Door
2.0L l4 DOHC Turbocharged
2.3L l4 DOHC Turbocharged
1999 Saab 9-5
Base Sedan 4-Door
Base Wagon 4-Door
SE Sedan 4-Door
2.3L l4 DOHC Turbocharged
3.0L V6 DOHC Turbocharged
1999 Volkswagen Cabrio
Base Convertible 2-Door
GL Convertible 2-Door
GLS Convertible 2-Door
2.0L l4 SOHC
1999 Volkswagen EuroVan
GLS Standard Passenger Van 3-Door
MV Standard Passenger Van 3-Door
MV Van Camper 3-Door
2.8L V6 SOHC
1999 Volkswagen Golf
GL Hatchback 4-Door
GLS Hatchback 4-Door
GTI Hatchback 2-Door
GTI VR6 Hatchback 2-Door
MI Hatchback 4-Door
TDI Hatchback 2-Door
TDI Hatchback 4-Door
Wolfsburg Edition Hatchback 4-Door
1.9L l4 DIESEL SOHC Turbocharged
2.0L l4 SOHC
2.8L V6 SOHC
1.8L l4 SOHC
1999 Volkswagen Jetta
Base Sedan 4-Door
CL Sedan 4-Door
GL Sedan 4-Door
GLS Confort Sedan 4-Door
GLS Sedan 4-Door
GLS VR6 Sedan 4-Door
GLX Sedan 4-Door
GLX VR6 Sedan 4-Door
TDI Sedan 4-Door
VR6 Carat Sedan 4-Door
Wolfsburg Edition Sedan 4-Door
2.0L l4 SOHC
1.8L l4 SOHC
2.0L l4 OHV
2.8L V6 SOHC
1.8L l4 DOHC Turbocharged
1.9L l4 DIESEL SOHC Turbocharged
1999 Volkswagen Passat
1.8T Sedan 4-Door
GLS Sedan 4-Door
GLS Wagon 4-Door
GLX Sedan 4-Door
GLX Wagon 4-Door
V6 Sedan 4-Door
1.8L l4 DOHC Turbocharged
2.8L V6 DOHC
2000 Audi A4
Avant Wagon 4-Door
Base Sedan 4-Door
1.8L l4 DOHC Turbocharged
2.8L V6 DOHC
2000 Audi A6
Avant Wagon 4-Door
Base Sedan 4-Door
2.8L V6 DOHC
2000 Audi S4
Base Sedan 4-Door
2.7L V6 DOHC Turbocharged
2000 BMW 528i
Base Sedan 4-Door
Base Wagon 4-Door
2.8L l6 DOHC
2000 BMW 540i
Base Sedan 4-Door
Base Wagon 4-Door
4.4L V8 DOHC
2000 BMW X5
4.4i Lujo Sport Utility 4-Door
4.4i Sport Utility 4-Door
4.4i Top Line Sport Utility 4-Door
4.4L V8 DOHC
2000 Cadillac Catera
Base Sedan 4-Door
Sport Sedan 4-Door
3.0L V6 DOHC
2000 Pontiac Grand Prix
GT Coupe 2-Door
GT Sedan 4-Door
GTP Coupe 2-Door
GTP Sedan 4-Door
SE Sedan 4-Door
3.8L V6 DOHC
3.8L V6 OHV
3.8L V6 OHV Supercharged
3.1L V6 OHV
2000 Saab 9-3
Base Convertible 2-Door
Base Hatchback 2-Door
Base Hatchback 4-Door
SE Convertible 2-Door
SE Hatchback 4-Door
Viggen Convertible 2-Door
Viggen Hatchback 2-Door
Viggen Hatchback 4-Door
2.0L l4 DOHC Turbocharged
2.3L l4 DOHC Turbocharged
2000 Saab 9-5
2.3t Sedan 4-Door
2.3t Wagon 4-Door
Aero Sedan 4-Door
Aero Wagon 4-Door
Gary Fisher Wagon 4-Door
SE Sedan 4-Door
SE Wagon 4-Door
2.3L l4 DOHC Turbocharged
3.0L V6 DOHC Turbocharged
2000 Volkswagen Cabrio
GL Convertible 2-Door
GLS Convertible 2-Door
2.0L l4 SOHC
2000 Volkswagen EuroVan
GLS Standard Passenger Van 3-Door
MV Standard Passenger Van 3-Door
MV Van Camper 3-Door
VR6 Mini Passenger Van 3-Door
2.8L V6 SOHC
2000 Volkswagen Golf
Base Hatchback 4-Door
Confort Hatchback 2-Door
GL Hatchback 2-Door
GLS Hatchback 4-Door
GTI GLS Hatchback 2-Door
GTI GLX Hatchback 2-Door
GTI Hatchback 2-Door
Lujo Hatchback 2-Door
Verano Hatchback 2-Door
2.0L l4 SOHC
1.9L l4 DIESEL SOHC Turbocharged
1.8L l4 DOHC Turbocharged
2.8L V6 SOHC
2000 Volkswagen Jetta
GL Confort Sedan 4-Door
GL Sedan 4-Door
GLS Sedan 4-Door
GLS Turbo Sedan 4-Door
GLS VR6 Sedan 4-Door
GLX Sedan 4-Door
GLX VR6 Sedan 4-Door
TDI Sedan 4-Door
2.0L l4 SOHC
1.8L l4 DOHC Turbocharged
2.8L V6 SOHC
1.9L l4 DIESEL SOHC Turbocharged
2000 Volkswagen Passat
1.8T Sedan 4-Door
4 Motion Sedan 4-Door
4 Motion Wagon 4-Door
GLS Sedan 4-Door
GLS Wagon 4-Door
GLX Sedan 4-Door
GLX Wagon 4-Door
V6 Sedan 4-Door
1.8L l4 DOHC Turbocharged
2.8L V6 DOHC
2.8L V6 DOHC
2000 Volvo V40
2.0T Wagon 4-Door
Base Wagon 4-Door
T4 Wagon 4-Door
1.9L l4 DOHC Turbocharged
2001 Audi A4
Avant Confort Wagon 4-Door
Avant Luxury Wagon 4-Door
Base Sedan 4-Door
Basico Sedan 4-Door
Confort Sedan 4-Door
Luxury Sedan 4-Door
Sport Sedan 4-Door
1.8L l4 DOHC Turbocharged
2.8L V6 DOHC
2001 Audi A6
Base Sedan 4-Door
2.8L V6 DOHC
2001 Audi S4
Avant Wagon 4-Door
Base Sedan 4-Door
2.7L V6 DOHC Turbocharged
2001 BMW 525i
Base Sedan 4-Door
Base Wagon 4-Door
2.5L l6 DOHC
2001 BMW 540i
Base Sedan 4-Door
Base Wagon 4-Door
4.4L V8 DOHC
2001 BMW X5
3.0i Sport Utility 4-Door
4.4i Sport Utility 4-Door
3.0L l6 DOHC
4.4L V8 DOHC
2001 Cadillac Catera
Base Sedan 4-Door
Sport Sedan 4-Door
3.0L V6 DOHC
2001 Lincoln Town Car
Base Limousine 4-Door
Cartier L Sedan 4-Door
Cartier Sedan 4-Door
Executive L Sedan 4-Door
Executive Limousine 4-Door
Executive Sedan 4-Door
Signature Sedan 4-Door
4.6L V8 SOHC
2001 Pontiac Grand Prix
GT Coupe 2-Door
GT Sedan 4-Door
GTP Coupe 2-Door
GTP Sedan 4-Door
SE Sedan 4-Door
3.8L V6 DOHC
3.8L V6 OHV
3.8L V6 OHV Supercharged
3.1L V6 OHV
2001 Saab 9-3
Base Hatchback 2-Door
Base Hatchback 4-Door
SE Convertible 2-Door
SE Hatchback 4-Door
Turbo Convertible 2-Door
Turbo Hatchback 4-Door
Viggen Convertible 2-Door
Viggen Hatchback 2-Door
Viggen Hatchback 4-Door
2.0L l4 DOHC Turbocharged
2.0L l4 DOHC Turbocharged
2.3L l4 DOHC Turbocharged
2001 Saab 9-5
2.3t Sedan 4-Door
2.3t Wagon 4-Door
Aero Sedan 4-Door
Aero Wagon 4-Door
SE Sedan 4-Door
SE Wagon 4-Door
2.3L l4 DOHC Turbocharged
3.0L V6 DOHC Turbocharged
2001 Volkswagen EuroVan
Base Mini Passenger Van 3-Door
GLS Standard Passenger Van 3-Door
MV Standard Passenger Van 3-Door
MV Van Camper 3-Door
2.5L l5
2.8L V6 DOHC
2001 Volkswagen Passat
1.8T Sedan 4-Door
GLS 4 Motion Sedan 4-Door
GLS 4 Motion Wagon 4-Door
GLS Sedan 4-Door
GLS Wagon 4-Door
GLX 4 Motion Sedan 4-Door
GLX 4 Motion Wagon 4-Door
GLX Sedan 4-Door
GLX Wagon 4-Door
V6 Sedan 4-Door
1.8L l4 DOHC Turbocharged
2.8L V6 DOHC
2001 Volvo V40
2.0T Wagon 4-Door
Base Wagon 4-Door
T4 Wagon 4-Door
1.9L l4 DOHC Turbocharged
2002 Audi A4
Base Sedan 4-Door
Confort Sedan 4-Door
Luxury Sedan 4-Door
1.8L l4 DOHC Turbocharged
3.0L V6 DOHC
2002 Audi A6
Base Sedan 4-Door
Luxury Sedan 4-Door
Premium Sedan 4-Door
3.0L V6 DOHC
2002 Audi S4
Avant Wagon 4-Door
Base Sedan 4-Door
2.7L V6 DOHC Turbocharged
2002 Audi S6
Avant Wagon 4-Door
Base Sedan 4-Door
4.2L V8 DOHC
2002 BMW 525i
Base Sedan 4-Door
Base Wagon 4-Door
2.5L l6 DOHC
2002 BMW 540i
Base Sedan 4-Door
Base Wagon 4-Door
4.4L V8 DOHC
2002 BMW X5
3.0i Sport Utility 4-Door
4.4i Lujo Sport Utility 4-Door
4.4i Sport Utility 4-Door
4.4i Top Line Sport Utility 4-Door
4.6is Sport Utility 4-Door
3.0L l6 DOHC
4.4L V8 DOHC
4.6L V8 DOHC
2002 Jaguar X-Type
Base Sedan 4-Door
2.5L V6 DOHC
3.0L V6 DOHC
2002 Lincoln Town Car
Base Limousine 4-Door
Cartier L Sedan 4-Door
Cartier Sedan 4-Door
Executive L Sedan 4-Door
Executive Limousine 4-Door
Executive Sedan 4-Door
Signature Sedan 4-Door
4.6L V8 SOHC
2002 Pontiac Grand Prix
GT Coupe 2-Door
GT Sedan 4-Door
GTP Coupe 2-Door
GTP Sedan 4-Door
SE Sedan 4-Door
3.8L V6 OHV
3.8L V6 OHV Supercharged
3.1L V6 OHV
2002 Saab 9-3
SE Convertible 2-Door
SE Hatchback 4-Door
Turbo Convertible 2-Door
Turbo Hatchback 4-Door
Viggen Convertible 2-Door
Viggen Hatchback 2-Door
Viggen Hatchback 4-Door
2.0L l4 DOHC Turbocharged
2.0L l4 DOHC Turbocharged
2.3L l4 DOHC Turbocharged
2002 Saab 9-5
2.3t Sedan 4-Door
2.3t Wagon 4-Door
Aero Sedan 4-Door
Aero Wagon 4-Door
Arc Sedan 4-Door
Arc Wagon 4-Door
Linear Sedan 4-Door
Linear Wagon 4-Door
SE Sedan 4-Door
2.3L l4 DOHC Turbocharged
3.0L V6 DOHC Turbocharged
3.0L V6 DOHC
2002 Volkswagen EuroVan
Base Mini Passenger Van 3-Door
GLS Standard Passenger Van 3-Door
MV Standard Passenger Van 3-Door
MV Van Camper 3-Door
2.5L l5
2.8L V6 DOHC
2002 Volkswagen Passat
1.8T Sedan 4-Door
GLS 4 Motion Sedan 4-Door
GLS 4 Motion Wagon 4-Door
GLS Sedan 4-Door
GLS Wagon 4-Door
GLX 4 Motion Sedan 4-Door
GLX 4 Motion Wagon 4-Door
GLX Sedan 4-Door
GLX Wagon 4-Door
V6 4Motion Sedan 4-Door
V6 Sedan 4-Door
W8 Sedan 4-Door
W8 Wagon 4-Door
1.8L l4 DOHC Turbocharged
2.8L V6 DOHC
4.0L W8 DOHC
2003 Audi A4
Base Sedan 4-Door
Cabrio Convertible 2-Door
Cabriolet Convertible 2-Door
Confort Sedan 4-Door
Luxury Sedan 4-Door
Vangard Sedan 4-Door
1.8L l4 DOHC Turbocharged
3.0L V6 DOHC
2003 Audi A6
Base Sedan 4-Door
Confort Sedan 4-Door
Luxury Sedan 4-Door
3.0L V6 DOHC
2003 Audi S6
Avant Wagon 4-Door
Base Sedan 4-Door
4.2L V8 DOHC
2003 BMW 525i
Base Sedan 4-Door
Base Wagon 4-Door
2.5L l6 DOHC
2003 BMW 540i
Base Sedan 4-Door
Base Wagon 4-Door
4.4L V8 DOHC
2003 BMW X5
3.0i Sport Utility 4-Door
4.4i Formula 1 Sport Utility 4-Door
4.4i Lujo Sport Utility 4-Door
4.4i Sport Utility 4-Door
4.4i Top Line Sport Utility 4-Door
4.6is Sport Utility 4-Door
3.0L l6 DOHC
4.4L V8 DOHC
4.6L V8 DOHC
2003 Jaguar X-Type
Base Sedan 4-Door
2.5L V6 DOHC
3.0L V6 DOHC
2003 Lincoln Town Car
Base Limousine 4-Door
Cartier L Sedan 4-Door
Cartier Sedan 4-Door
Executive L Sedan 4-Door
Executive Limousine 4-Door
Executive Protection Series Sedan 4-Door
Executive Sedan 4-Door
Signature Sedan 4-Door
4.6L V8 SOHC
2003 Pontiac Grand Prix
GT Coupe 2-Door
GT Sedan 4-Door
GTP Coupe 2-Door
GTP Sedan 4-Door
SE Sedan 4-Door
3.8L V6 OHV
3.8L V6 OHV Supercharged
3.1L V6 OHV
2003 Saab 9-3
Arc Sedan 4-Door
Linear Sedan 4-Door
SE Convertible 2-Door
Vector Sedan 4-Door
2.0L l4 DOHC Turbocharged
2.0L l4 DOHC Turbocharged
2003 Saab 9-5
2.3t Sedan 4-Door
Aero Sedan 4-Door
Aero Wagon 4-Door
Arc Sedan 4-Door
Arc Wagon 4-Door
Linear Sedan 4-Door
Linear Wagon 4-Door
2.3L l4 DOHC Turbocharged
3.0L V6 DOHC Turbocharged
2003 Volkswagen EuroVan
Base Mini Passenger Van 3-Door
GLS Standard Passenger Van 3-Door
MV Standard Passenger Van 3-Door
MV Van Camper 3-Door
2.5L l5
2.8L V6 DOHC
2003 Volkswagen Passat
1.8T Sedan 4-Door
GL Sedan 4-Door
GL Wagon 4-Door
GLS Sedan 4-Door
GLS Wagon 4-Door
GLX 4 Motion Sedan 4-Door
GLX 4 Motion Wagon 4-Door
GLX Sedan 4-Door
GLX Wagon 4-Door
V6 4Motion Sedan 4-Door
V6 Sedan 4-Door
W8 Sedan 4-Door
W8 Wagon 4-Door
1.8L l4 DOHC Turbocharged
2.8L V6 DOHC
4.0L W8 DOHC
2004 Audi A4
Avant Wagon 4-Door
Base Sedan 4-Door
Cabrio Convertible 2-Door
Cabriolet Convertible 2-Door
Confort Sedan 4-Door
Luxury Sedan 4-Door
S Line Sedan 4-Door
Vangard Sedan 4-Door
1.8L l4 DOHC Turbocharged
3.0L V6 DOHC
2004 Audi A6
Base Sedan 4-Door
Confort Sedan 4-Door
Luxury Sedan 4-Door
3.0L V6 DOHC
2004 Audi S4
Avant Wagon 4-Door
Base Sedan 4-Door
Cabriolet Convertible 2-Door
4.2L V8 DOHC
2004 BMW 525i
Base Sedan 4-Door
2.5L l6 DOHC
2004 BMW 760i
Base Sedan 4-Door
6.0L V12 DOHC
2004 Dodge Durango
Limited Sport Utility 4-Door
SLT Sport Utility 4-Door
ST Sport Utility 4-Door
4.7L V8 SOHC
5.7L V8 OHV
3.7L V6 SOHC
2004 Jaguar X-Type
Base Sedan 4-Door
Sport Sedan 4-Door
2.5L V6 DOHC
3.0L V6 DOHC
2004 Lincoln Town Car
Executive L Sedan 4-Door
Executive Limousine 4-Door
Executive Sedan 4-Door
Signature Sedan 4-Door
Ultimate L Sedan 4-Door
Ultimate Sedan 4-Door
4.6L V8 SOHC
2004 Pontiac Grand Prix
GT1 Sedan 4-Door
GT2 Sedan 4-Door
GTP Sedan 4-Door
3.8L V6 OHV
3.8L V6 OHV Supercharged
2004 Saab 9-3
Aero Convertible 2-Door
Aero Sedan 4-Door
Arc Convertible 2-Door
Arc Sedan 4-Door
Linear Sedan 4-Door
Vector Sedan 4-Door
2.0L l4 DOHC Turbocharged
2.0L l4 DOHC Turbocharged
2004 Saab 9-5
2.3t Sedan 4-Door
Aero Sedan 4-Door
Aero Wagon 4-Door
Arc Sedan 4-Door
Arc Wagon 4-Door
Linear Wagon 4-Door
2.3L l4 DOHC Turbocharged
2004 Volkswagen Passat
1.8T Sedan 4-Door
GL Sedan 4-Door
GL TDI Sedan 4-Door
GL TDI Wagon 4-Door
GL Wagon 4-Door
GLS 4 Motion Sedan 4-Door
GLS 4 Motion Wagon 4-Door
GLS Sedan 4-Door
GLS TDI Sedan 4-Door
GLS TDI Wagon 4-Door
GLS Wagon 4-Door
GLX 4 Motion Sedan 4-Door
GLX 4 Motion Wagon 4-Door
GLX Sedan 4-Door
GLX Wagon 4-Door
V6 4Motion Sedan 4-Door
V6 Sedan 4-Door
W8 Sedan 4-Door
W8 Wagon 4-Door
1.8L l4 DOHC Turbocharged
2.8L V6 DOHC
2.0L l4 DIESEL SOHC Turbocharged
4.0L W8 DOHC
2005 Audi A4
Avant Wagon 4-Door
Base Sedan 4-Door
Cabrio Convertible 2-Door
Cabriolet Convertible 2-Door
Elite Sedan 4-Door
Luxury Sedan 4-Door
S Line Sedan 4-Door
S Line Sport Sedan 4-Door
Trendy Sedan 4-Door
Vangard Sedan 4-Door
1.8L l4 DOHC Turbocharged
2.0L l4 DOHC Turbocharged
3.0L V6 DOHC
3.2L V6 DOHC
2005 Audi S4
Avant Wagon 4-Door
Base Sedan 4-Door
Cabriolet Convertible 2-Door
4.2L V8 DOHC
2005 BMW 760i
Base Sedan 4-Door
6.0L V12 DOHC
2005 Buick LaCrosse
CX Sedan 4-Door
CXL Sedan 4-Door
CXS Sedan 4-Door
3.8L V6 OHV
3.6L V6 DOHC
2005 Dodge Dakota
Laramie Crew Cab Pickup 4-Door
Laramie Extended Cab Pickup 4-Door
SLT Crew Cab Pickup 4-Door
SLT Extended Cab Pickup 4-Door
Sport Crew Cab Pickup 4-Door
Sport Extended Cab Pickup 4-Door
ST Crew Cab Pickup 4-Door
ST Extended Cab Pickup 4-Door
3.7L V6 SOHC
4.7L V8 SOHC
2005 Dodge Durango
Limited Sport Utility 4-Door
SLT Sport Utility 4-Door
ST Sport Utility 4-Door
SXT Sport Utility 4-Door
4.7L V8 SOHC
5.7L V8 OHV
3.7L V6 SOHC
2005 Lincoln Town Car
Executive L Limousine 4-Door
Executive L Sedan 4-Door
Executive Sedan 4-Door
Signature L Sedan 4-Door
Signature Limited Sedan 4-Door
Signature Sedan 4-Door
4.6L V8 SOHC
2005 Mercury Sable
GS Sedan 4-Door
GS Wagon 4-Door
LS Sedan 4-Door
LS Wagon 4-Door
Platinum Edition Sedan 4-Door
3.0L V6 FLEX OHV
3.0L V6 OHV
3.0L V6 DOHC
2005 Pontiac Grand Prix
Base Sedan 4-Door
GT Sedan 4-Door
GTP Sedan 4-Door
GXP Sedan 4-Door
3.8L V6 OHV
3.8L V6 OHV Supercharged
5.3L V8 OHV
2005 Saab 9-3
Aero Convertible 2-Door
Aero Sedan 4-Door
Arc Convertible 2-Door
Arc Sedan 4-Door
Linear Convertible 2-Door
Linear Sedan 4-Door
2.0L l4 DOHC Turbocharged
2.0L l4 DOHC Turbocharged
2005 Saab 9-5
2.3t Sedan 4-Door
Aero Sedan 4-Door
Aero Wagon 4-Door
Arc Sedan 4-Door
Arc Wagon 4-Door
Linear Sedan 4-Door
Linear Wagon 4-Door
2.3L l4 DOHC Turbocharged
2005 Volkswagen Passat
1.8T Sedan 4-Door
GL Sedan 4-Door
GL TDI Sedan 4-Door
GL TDI Wagon 4-Door
GL Wagon 4-Door
GLS 4 Motion Sedan 4-Door
GLS 4 Motion Wagon 4-Door
GLS Sedan 4-Door
GLS TDI Sedan 4-Door
GLS TDI Wagon 4-Door
GLS Wagon 4-Door
GLX 4 Motion Sedan 4-Door
GLX 4 Motion Wagon 4-Door
GLX Sedan 4-Door
GLX Wagon 4-Door
V6 4Motion Sedan 4-Door
V6 Sedan 4-Door
1.8L l4 DOHC Turbocharged
2.0L l4 DIESEL SOHC Turbocharged
2.8L V6 DOHC
2006 BMW 325Ci
Base Convertible 2-Door
Base Coupe 2-Door
2.5L l6 DOHC
2006 BMW 330Ci
Base Convertible 2-Door
Base Coupe 2-Door
3.0L l6 DOHC
2006 BMW 750i
Base Sedan 4-Door
Sport Sedan 4-Door
4.8L V8 DOHC
2006 BMW 760i
Base Sedan 4-Door
6.0L V12 DOHC
2006 Buick LaCrosse
CX Sedan 4-Door
CXL Sedan 4-Door
CXS Sedan 4-Door
3.8L V6 OHV
3.6L V6 DOHC
2006 Dodge Dakota
Laramie Crew Cab Pickup 4-Door
Laramie Extended Cab Pickup 4-Door
SLT Crew Cab Pickup 4-Door
SLT Extended Cab Pickup 4-Door
ST Crew Cab Pickup 4-Door
ST Extended Cab Pickup 4-Door
3.7L V6 SOHC
4.7L V8 SOHC
3.7L V6 SOHC
2006 Dodge Durango
Adventurer Sport Utility 4-Door
Limited Sport Utility 4-Door
SLT Sport Utility 4-Door
SXT Sport Utility 4-Door
4.7L V8 FLEX SOHC
4.7L V8 SOHC
5.7L V8 OHV
3.7L V6 SOHC
2006 Lincoln Town Car
Designer Series Sedan 4-Door
Executive L Limousine 4-Door
Executive L Sedan 4-Door
Executive Sedan 4-Door
Signature L Sedan 4-Door
Signature Limited Sedan 4-Door
Signature Sedan 4-Door
4.6L V8 FLEX SOHC
4.6L V8 SOHC
2006 Pontiac Grand Prix
Base Sedan 4-Door
GT Sedan 4-Door
GXP Sedan 4-Door
3.8L V6 OHV
3.8L V6 OHV Supercharged
5.3L V8 OHV
2006 Saab 9-3
2.0T Convertible 2-Door
2.0T Sedan 4-Door
2.0T Wagon 4-Door
Aero Convertible 2-Door
Aero Sedan 4-Door
Aero Wagon 4-Door
Arc Sedan 4-Door
Linear Sedan 4-Door
2.0L l4 DOHC Turbocharged
2.8L V6 DOHC Turbocharged
2.0L l4 DOHC Turbocharged
2006 Saab 9-5
2.3t Sedan 4-Door
2.3t Wagon 4-Door
Aero Sedan 4-Door
Arc Sedan 4-Door
2.3L l4 DOHC Turbocharged
2006 Volkswagen Passat
2.0T Sedan 4-Door
3.6 Sedan 4-Door
Value Edition Sedan 4-Door
2.0L l4 DOHC Turbocharged
3.6L V6 DOHC
2007 BMW 328i
Base Convertible 2-Door
Base Coupe 2-Door
Base Sedan 4-Door
Base Wagon 4-Door
3.0L l6 DOHC
2007 BMW 335i
Base Convertible 2-Door
Base Coupe 2-Door
Base Sedan 4-Door
3.0L l6 DOHC Turbocharged
2007 BMW 335xi
Base Sedan 4-Door
3.0L l6 DOHC Turbocharged
2007 BMW 750i
Base Sedan 4-Door
Sport Sedan 4-Door
4.8L V8 DOHC
2007 Buick LaCrosse
CX Sedan 4-Door
CXL Sedan 4-Door
CXS Sedan 4-Door
3.8L V6 OHV
3.6L V6 DOHC
2007 Dodge Dakota
Laramie Crew Cab Pickup 4-Door
Laramie Extended Cab Pickup 4-Door
SLT Crew Cab Pickup 4-Door
SLT Extended Cab Pickup 4-Door
ST Crew Cab Pickup 4-Door
ST Extended Cab Pickup 4-Door
3.7L V6 SOHC
3.7L V6 SOHC
4.7L V8 FLEX SOHC
4.7L V8 SOHC
2007 Dodge Durango
Adventurer Sport Utility 4-Door
Base Sport Utility 4-Door
Limited Sport Utility 4-Door
SLT Sport Utility 4-Door
SXT Sport Utility 4-Door
4.7L V8 FLEX SOHC
4.7L V8 SOHC
5.7L V8 OHV
3.7L V6 SOHC
2007 Lincoln Town Car
Designer Sedan 4-Door
Designer Series Sedan 4-Door
Executive L Limousine 4-Door
Executive L Sedan 4-Door
Executive Sedan 4-Door
Signature L Sedan 4-Door
Signature Limited Sedan 4-Door
Signature Sedan 4-Door
4.6L V8 SOHC
4.6L V8 FLEX SOHC
2007 Pontiac Grand Prix
Base Sedan 4-Door
GT Sedan 4-Door
GXP Sedan 4-Door
3.8L V6 OHV
3.8L V6 OHV Supercharged
5.3L V8 OHV
2007 Volkswagen Passat
2.0T Sedan 4-Door
2.0T Wagon 4-Door
3.6 Sedan 4-Door
3.6 Wagon 4-Door
Value Edition Sedan 4-Door
Value Edition Wagon 4-Door
Wolfsburg Edition Sedan 4-Door
2.0L l4 DOHC Turbocharged
3.6L V6 DOHC
2008 BMW 328i
Base Convertible 2-Door
Base Coupe 2-Door
Base Sedan 4-Door
Base Wagon 4-Door
3.0L l6 DOHC
2008 BMW 335i
Base Convertible 2-Door
Base Coupe 2-Door
Base Sedan 4-Door
M Sport Sedan 4-Door
3.0L l6 DOHC Turbocharged
2008 BMW 335xi
Base Coupe 2-Door
Base Sedan 4-Door
3.0L l6 DOHC Turbocharged
2008 BMW 750i
Base Sedan 4-Door
Limited Edition Sedan 4-Door
Sport Limited Edition Sedan 4-Door
Sport Sedan 4-Door
4.8L V8 DOHC
2008 Buick LaCrosse
CX Sedan 4-Door
CXL Sedan 4-Door
CXS Sedan 4-Door
Super Sedan 4-Door
3.8L V6 OHV
3.6L V6 DOHC
5.3L V8 OHV
2008 Dodge Dakota
Laramie Crew Cab Pickup 4-Door
Laramie Extended Cab Pickup 4-Door
SLT Crew Cab Pickup 4-Door
SLT Extended Cab Pickup 4-Door
Sport Crew Cab Pickup 4-Door
Sport Extended Cab Pickup 4-Door
ST Crew Cab Pickup 4-Door
ST Extended Cab Pickup 4-Door
SXT Crew Cab Pickup 4-Door
SXT Extended Cab Pickup 4-Door
TRX Crew Cab Pickup 4-Door
TRX Extended Cab Pickup 4-Door
TRX4 Crew Cab Pickup 4-Door
TRX4 Extended Cab Pickup 4-Door
4.7L V8 FLEX SOHC
3.7L V6 SOHC
4.7L V8 SOHC
2008 Dodge Durango
Adventurer Sport Utility 4-Door
Limited Sport Utility 4-Door
SLT Plus Sport Utility 4-Door
SLT Sport Utility 4-Door
SXT Sport Utility 4-Door
4.7L V8 FLEX SOHC
4.7L V8 SOHC
5.7L V8 OHV
3.7L V6 SOHC
2008 Lincoln Town Car
Executive L Limousine 4-Door
Executive L Sedan 4-Door
Executive Sedan 4-Door
Signature L Sedan 4-Door
Signature Limited Sedan 4-Door
4.6L V8 FLEX SOHC
4.6L V8 SOHC
2008 Mercury Sable
Base Sedan 4-Door
Premier Sedan 4-Door
3.5L V6 DOHC
2008 Volkswagen Passat
2.0T Sedan 4-Door
2.0T Wagon 4-Door
3.6 Sedan 4-Door
3.6 Wagon 4-Door
Base Sedan 4-Door
Base Wagon 4-Door
Komfort Sedan 4-Door
Komfort Wagon 4-Door
Lux Sedan 4-Door
Lux Wagon 4-Door
Turbo Sedan 4-Door
Turbo Wagon 4-Door
VR6 Sedan 4-Door
VR6 Wagon 4-Door
2.0L l4 DOHC Turbocharged
3.6L V6 DOHC
2009 BMW 328i
Base Convertible 2-Door
Base Coupe 2-Door
Base Sedan 4-Door
Base Wagon 4-Door
3.0L l6 DOHC
2009 BMW 335d
Base Sedan 4-Door
3.0L l6 DIESEL DOHC Turbocharged
2009 BMW 335i
Base Convertible 2-Door
Base Coupe 2-Door
Base Sedan 4-Door
M Sport Sedan 4-Door
3.0L l6 DOHC Turbocharged
2010 BMW 328i
Base Convertible 2-Door
Base Coupe 2-Door
Base Sedan 4-Door
Base Wagon 4-Door
3.0L l6 DOHC
2010 BMW 335d
Base Sedan 4-Door
3.0L l6 DIESEL DOHC Turbocharged
2010 BMW 335i
Base Convertible 2-Door
Base Coupe 2-Door
Base Sedan 4-Door
M Sport Sedan 4-Door
3.0L l6 DOHC Turbocharged
2011 BMW 328i
Base Convertible 2-Door
Base Coupe 2-Door
Base Sedan 4-Door
Base Wagon 4-Door
3.0L l6 DOHC
2011 BMW 335d
Base Sedan 4-Door
3.0L l6 DIESEL DOHC Turbocharged
2011 BMW 335i
Base Convertible 2-Door
Base Coupe 2-Door
Base Sedan 4-Door
3.0L l6 DOHC Turbocharged