Driver Left Side View Mirror Cable Fits 82-96 CENTURY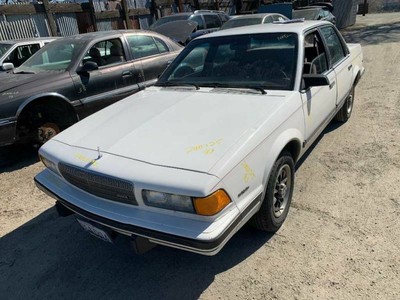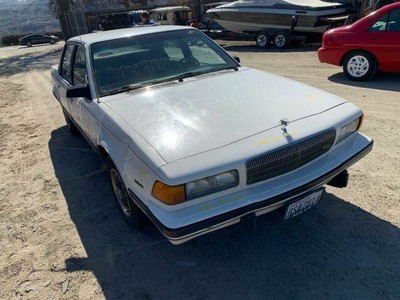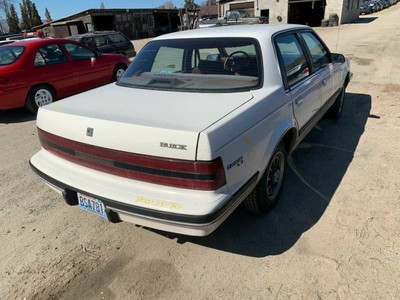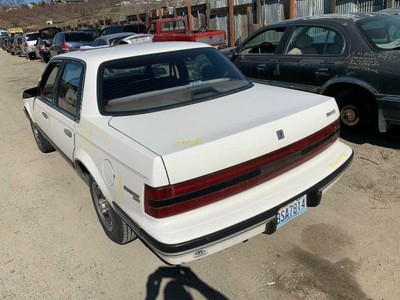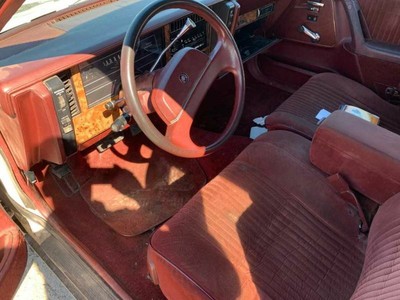 Item #:

PR-392732839082

Ships From:

East Wenatchee, Washington
Powered by


Price:

$35.00
This is a used genuine OEM part from a 1990 Buick Century with VIN number 1G4AH54R1L6443340.
Interchange Part Number: 128-02004L
Genuine OEM Part: Yes
Important Vehicle Attributes: WHT,4DR
Mileage: 164000
Driver Left Side View Mirror Cable Fits 82-96 CENTURY 602758 Description--> Description Donor Vehicle VIN: 1G4AH54R1L6443340 Model: CENTURY Year: 1990 Mileage: 164000 (0 = not available or unknown) Stock Number: 200125 Store Number: 1 Part Detail Part Grade: A Part Category: Y Part Placement: Driver/Left Notes: WHT,4DR This part will fit these makes and models with these options CELEBRITY 82-90 Cable; L. SKYLARK 83-85 Cable; (L.) CITATION 83-85 Cable; (L.) CENTURY 82-94 Cable; L. PHOENIX 83-84 Cable; (L.) CIERA 82 Cable; (L.) OMEGA 83-84 Cable; (L.) CIERA 94-96 Cable; (L.) 6000 82-91 Cable; L. CIERA 83-93 Cable; L. CENTURY 95-96 Cable; (L.) The 30 day period starts when you take possession of the part. No labor warranty is provided.   In the event a part sold with a warranty fails to operate within the warranty period we will replace the part(s) with a functionally equivalent part or refund the part purchase price, at our option. No refund on deposits or unwanted special order parts or special "cut" items.   Original shipping charges and return shipping charges are not refunded.   Once you obtain an RMA number, ship the item back to  E-Z Auto Wrecking 1855 Rock Island Road East Wenatchee, WA 98802 along with the RMA number. --> SHIPPING NOTES ABOUT US HELP   E-Z Auto Wrecking ships to US addresses within the 48 states only via UPS ground.   No Alaska, Hawaii, Puerto Rico, APO, FPO or PO Box please.   No International shipping available.   Pick up at our facilities is available. Please email us prior to your purchase to arrange pick up.   Items will be shipped within 1-2 days of purchase.   Please allow 5-10 days for delivery. Most areas in the US are within 5 days. No expedited shipping is available. Due to high demand, short supply or human error, occasionally we may be out of stock on an item. If this happens, we will contact you immediately and offer you the option of waiting for the part to come in stock, or a full refund.   If you have a question about a part message us BEFORE purchasing.   If we are unable to answer your questions before the listing ends the item will be re-listed again soon for you to purchase.   Core Charge. Core is an acronym for 'Cash On Return'. A core charge is sometimes applied to rebuildable parts such as engines or alternators that can be redeemed for a portion of their original price. If the part you are purchasing has a core charge applied, it will be noted in the description. Parts Grading. A standard code system is used to communicate the condition and quality of a part between automotive recyclers, automotive repair shops, and insurers. Knowing how these codes are used will help you understand whether the part meets your expectations before you buy it and what you can expect from the part when you receive it. A Grade - The highest quality part. It is of low miles and/or exceptional condition for its age. B Grade - The second level quality part. It is of average miles and normal condition for its age. C Grade - The third level quality part. It has high miles and/or light damage. No Grade - A part that has not yet been graded.
This part is compatible with the following vehicles:
Year/Make/Model
Body & Trim
Engine
1982 Buick Century
Custom Coupe 2-Door
Custom Sedan 4-Door
Limited Coupe 2-Door
Limited Sedan 4-Door
2.8L V6 OHV
3.0L V6 OHV
4.3L V6 DIESEL OHV
1982 Chevrolet Celebrity
Base Coupe 2-Door
Base Sedan 4-Door
CL Coupe 2-Door
CL Sedan 4-Door
CS Coupe 2-Door
CS Sedan 4-Door
2.8L V6 OHV
4.3L V6 DIESEL OHV
1982 Pontiac 6000
Base Coupe 2-Door
Base Sedan 4-Door
LE Coupe 2-Door
LE Sedan 4-Door
2.8L V6 OHV
4.3L V6 DIESEL OHV
1983 Buick Century
Custom Coupe 2-Door
Custom Sedan 4-Door
Limited Coupe 2-Door
Limited Sedan 4-Door
T-Type Coupe 2-Door
T-Type Sedan 4-Door
3.0L V6 OHV
4.3L V6 DIESEL OHV
2.8L V6
1983 Buick Skylark
Custom Coupe 2-Door
Custom Sedan 4-Door
Limited Coupe 2-Door
Limited Sedan 4-Door
Sport Coupe 2-Door
2.8L V6 OHV
1983 Chevrolet Celebrity
Base Coupe 2-Door
Base Sedan 4-Door
CL Coupe 2-Door
CL Sedan 4-Door
2.8L V6 OHV
4.3L V6 DIESEL OHV
1983 Chevrolet Citation
Base Coupe 2-Door
Base Hatchback 2-Door
Base Hatchback 4-Door
X-11 Coupe 2-Door
X-11 Hatchback 2-Door
2.8L V6 OHV
1983 Oldsmobile Omega
Base Coupe 2-Door
Base Sedan 4-Door
Brougham Coupe 2-Door
Brougham Sedan 4-Door
ES Coupe 2-Door
ES Sedan 4-Door
ESC Coupe 2-Door
2.8L V6 OHV
1983 Pontiac 6000
Base Coupe 2-Door
Base Sedan 4-Door
LE Coupe 2-Door
LE Sedan 4-Door
STE Coupe 2-Door
2.8L V6 OHV
4.3L V6 DIESEL OHV
1983 Pontiac Phoenix
Base Coupe 2-Door
LJ Coupe 2-Door
LJ Hatchback 4-Door
SJ Coupe 2-Door
2.8L V6 OHV
1984 Buick Century
Custom Coupe 2-Door
Custom Sedan 4-Door
Custom Wagon 4-Door
Estate Wagon 4-Door
Limited Coupe 2-Door
Limited Sedan 4-Door
Olympia Limited Sedan 4-Door
T-Type Coupe 2-Door
T-Type Sedan 4-Door
2.8L V6
3.0L V6 OHV
4.3L V6 DIESEL OHV
1984 Buick Skylark
Custom Coupe 2-Door
Custom Sedan 4-Door
Limited Coupe 2-Door
Limited Sedan 4-Door
T-Type Coupe 2-Door
2.8L V6 OHV
1984 Chevrolet Celebrity
Base Coupe 2-Door
Base Sedan 4-Door
Base Wagon 4-Door
Eurosport Coupe 2-Door
Eurosport Sedan 4-Door
Eurosport Wagon 4-Door
2.8L V6 OHV
4.3L V6 DIESEL OHV
1984 Chevrolet Citation II
Base Hatchback 2-Door
Base Hatchback 4-Door
Base Sedan 2-Door
X-11 Hatchback 2-Door
X-11 Sedan 2-Door
2.8L V6 OHV
1984 Oldsmobile Omega
Base Coupe 2-Door
Base Sedan 4-Door
Brougham Coupe 2-Door
Brougham Sedan 4-Door
2.8L V6 OHV
1984 Pontiac 6000
Base Coupe 2-Door
Base Wagon 4-Door
LE Coupe 2-Door
LE Sedan 4-Door
LE Wagon 4-Door
STE Sedan 4-Door
2.8L V6 OHV
4.3L V6 DIESEL OHV
1984 Pontiac Phoenix
Base Coupe 2-Door
Base Hatchback 4-Door
LE Coupe 2-Door
LE Hatchback 4-Door
SE Coupe 2-Door
2.8L V6 OHV
1985 Buick Century
Custom Coupe 2-Door
Custom Sedan 4-Door
Custom Wagon 4-Door
Estate Wagon Wagon 4-Door
Limited Coupe 2-Door
Limited Sedan 4-Door
3.0L V6 OHV
4.3L V6 DIESEL OHV
1985 Buick Skylark
Custom Sedan 4-Door
Limited Sedan 4-Door
2.8L V6 OHV
1985 Chevrolet Celebrity
Base Coupe 2-Door
Base Sedan 4-Door
Base Wagon 4-Door
Classic Coupe 2-Door
Classic Sedan 4-Door
Estate Wagon 4-Door
Eurosport Coupe 2-Door
Eurosport Sedan 4-Door
Eurosport Wagon 4-Door
2.8L V6 OHV
4.3L V6 DIESEL OHV
1985 Chevrolet Citation II
Base Hatchback 2-Door
Base Hatchback 4-Door
Base Sedan 2-Door
X-11 Hatchback 2-Door
2.8L V6 OHV
1985 Pontiac 6000
Base Coupe 2-Door
Base Sedan 4-Door
Base Wagon 4-Door
LE Coupe 2-Door
LE Sedan 4-Door
LE Wagon 4-Door
STE Sedan 4-Door
2.8L V6 OHV
4.3L V6 DIESEL OHV
1986 Buick Century
Custom Coupe 2-Door
Custom Sedan 4-Door
Custom Wagon 4-Door
Estate Wagon Wagon 4-Door
Limited Coupe 2-Door
Limited Sedan 4-Door
2.8L V6 OHV
1986 Chevrolet Celebrity
Base Coupe 2-Door
Base Sedan 4-Door
Base Wagon 4-Door
Estate Wagon 4-Door
Eurosport Coupe 2-Door
Eurosport Sedan 4-Door
Eurosport Wagon 4-Door
2.8L V6 OHV
1986 Pontiac 6000
Base Coupe 2-Door
Base Sedan 4-Door
Base Wagon 4-Door
LE Coupe 2-Door
LE Sedan 4-Door
SE Wagon 4-Door
STE Sedan 4-Door
2.8L V6 OHV
1987 Buick Century
Custom Coupe 2-Door
Custom Sedan 4-Door
Custom Wagon 4-Door
Estate Wagon Wagon 4-Door
Limited Coupe 2-Door
Limited Sedan 4-Door
2.8L V6 OHV
1987 Chevrolet Celebrity
Base Coupe 2-Door
Base Sedan 4-Door
Base Wagon 4-Door
Estate Wagon 4-Door
Eurosport Coupe 2-Door
Eurosport Sedan 4-Door
2.8L V6 OHV
1987 Pontiac 6000
Base Coupe 2-Door
Base Sedan 4-Door
LE Sedan 4-Door
LE Wagon 4-Door
SE Wagon 4-Door
2.8L V6 OHV
1988 Buick Century
Custom Coupe 2-Door
Custom Sedan 4-Door
Custom Wagon 4-Door
Estate Wagon Wagon 4-Door
Limited Coupe 2-Door
Limited Sedan 4-Door
2.8L V6 OHV
1988 Chevrolet Celebrity
Base Coupe 2-Door
Base Sedan 4-Door
Base Wagon 4-Door
Eurosport Coupe 2-Door
Eurosport Sedan 4-Door
Eurosport Wagon 4-Door
2.8L V6 OHV
1988 Pontiac 6000
Base Sedan 4-Door
Base Wagon 4-Door
LE Sedan 4-Door
LE Wagon 4-Door
SE Sedan 4-Door
SE Wagon 4-Door
2.8L V6 OHV
1989 Buick Century
Custom Coupe 2-Door
Custom Sedan 4-Door
Custom Wagon 4-Door
Estate Wagon Wagon 4-Door
Limited Coupe 2-Door
Limited Sedan 4-Door
2.8L V6 OHV
3.3L V6 OHV
1989 Chevrolet Celebrity
Base Sedan 4-Door
Base Wagon 4-Door
CL Sedan 4-Door
CL Wagon 4-Door
Eurosport Sedan 4-Door
Eurosport Wagon 4-Door
2.8L V6 OHV
1989 Pontiac 6000
LE Sedan 4-Door
Special Edition Sedan 4-Door
Special Edition Wagon 4-Door
STE Sedan 4-Door
2.8L V6 OHV
3.1L V6 OHV
1990 Buick Century
Custom Coupe 2-Door
Custom Sedan 4-Door
Custom Wagon 4-Door
Limited Sedan 4-Door
Limited Wagon 4-Door
3.3L V6 OHV
1990 Chevrolet Celebrity
Base Wagon 4-Door
Eurosport Wagon 4-Door
3.1L V6 OHV
1990 Pontiac 6000
Special Edition Sedan 4-Door
3.1L V6 OHV
1991 Buick Century
Custom Coupe 2-Door
Custom Sedan 4-Door
Custom Wagon 4-Door
Limited Sedan 4-Door
Limited Wagon 4-Door
Special Sedan 4-Door
3.3L V6 OHV
1991 Pontiac 6000
LE Wagon 4-Door
Special Edition Sedan 4-Door
3.1L V6 OHV
1992 Buick Century
Custom Coupe 2-Door
Custom Sedan 4-Door
Custom Wagon 4-Door
Limited Sedan 4-Door
Limited Wagon 4-Door
Special Sedan 4-Door
3.3L V6 OHV
1993 Buick Century
Custom Coupe 2-Door
Custom Sedan 4-Door
Custom Wagon 4-Door
Limited Sedan 4-Door
Special Sedan 4-Door
Special Wagon 4-Door
3.3L V6 OHV
1994 Buick Century
Custom Sedan 4-Door
Special Sedan 4-Door
Special Wagon 4-Door
3.1L V6 OHV
1995 Buick Century
Custom Sedan 4-Door
Special Sedan 4-Door
Special Wagon 4-Door
3.1L V6 OHV
1996 Buick Century
Custom Sedan 4-Door
Special Sedan 4-Door
Special Wagon 4-Door
3.1L V6 OHV
Returns Accepted: Yes
Item must be returned within: 30 Days
Refund will be given as: Money back or replacement (buyer's choice)
Return shipping will be paid by: Buyer