Crossmember/K-Frame Front Suspension Crossmember City Fits 99-11 GOLF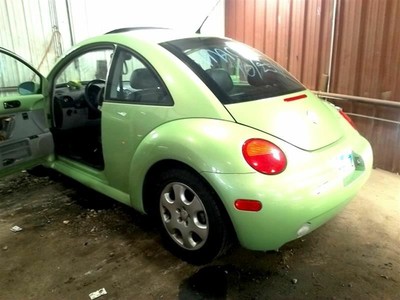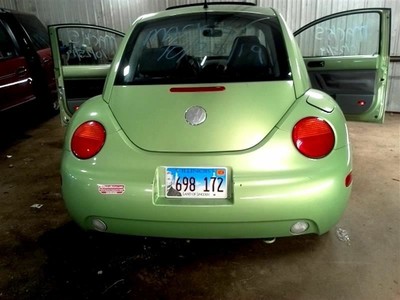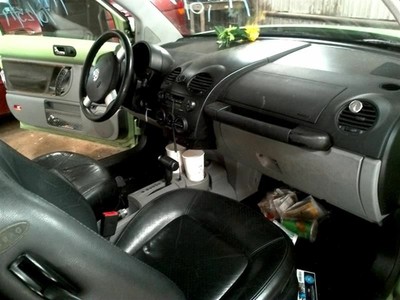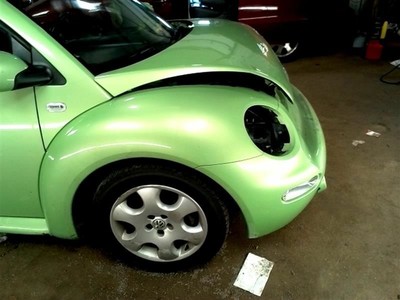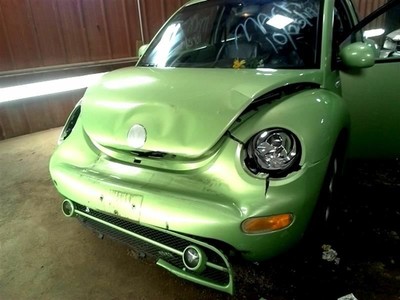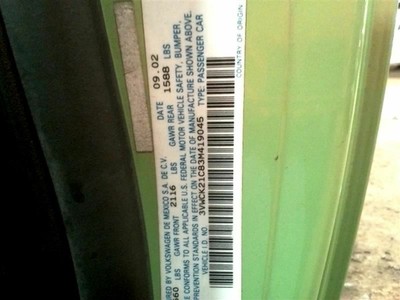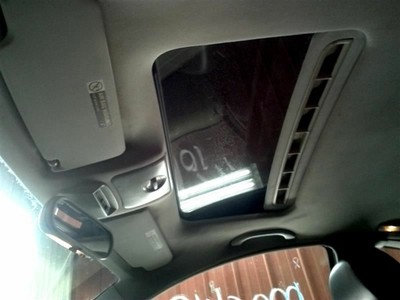 Item #:

PR-113950734462

Ships From:

Channahon, Illinois
Price:

$125.00
This is a used genuine OEM part from a 2003 Volkswagen Beetle with VIN number 3VWCK21C83M419045.
Interchange Part Number: 477-58978
Genuine OEM Part: Yes
Important Vehicle Attributes: Front
Mileage: 105000
Crossmember/K-Frame Front Suspension Crossmember City Fits 99-11 GOLF 1153189 Description--> Description Donor Vehicle VIN: 3VWCK21C83M419045 Model: BEETLE Year: 2003 Mileage: 105000 (0 = not available or unknown) Stock Number: 30636 Store Number: 1 Part Detail Part Grade: B Part Category: Y Part Placement: Notes: Front This part will fit these makes and models with these options GOLF 07 Front; (suspension crossmember), (VIN J, 8th digit), (includes City) GOLF GTI 00-05 Front; (suspension crossmember) GOLF 10-11 Front; (suspension crossmember), Htbk, City (Canada only) GOLF 99 Front; Htbk, VIN J (8th digit), (suspension crossmember) GOLF 04 Front; (suspension crossmember), exc. The 60 day period starts when you take possession of the part. No labor warranty is provided. --> SHIPPING NOTES ABOUT US HELP I-55 Auto Salvage ships to US addresses within the 48 states via USPS & UPS ground. No Alaska, Hawaii, Puerto Rico, APO, FPO or PO Box please. Freight items require a commercial address. Pick up at our facilities is available. Please message us prior to your purchase to arrange pick up. Please allow up to 5 days for delivery.  Most areas in the US are within 5 days. Expedited shipping is available at additional cost, please message us prior to purchase to make arrangements. If an item arrives damaged, please message us within 24 hours for instructions. I-55 Auto Salvage 22701 Thomas Dillon Dr. Channahon IL 60410  Business Hours Monday - Friday 8:00 A.M. to 5:30 P.M. Saturday 8:00 A.M to 2:00 P.M. Core Charge. Core is an acronym for 'Cash On Return'. A core charge is sometimes applied to rebuildable parts such as engines or alternators that can be redeemed for a portion of their original price. If the part you are purchasing has a core charge applied, it will be noted in the description. Parts Grading. A standard code system is used to communicate the condition and quality of a part between automotive recyclers, automotive repair shops, and insurers. Knowing how these codes are used will help you understand whether the part meets your expectations before you buy it and what you can expect from the part when you receive it. A Grade - The highest quality part. It is of low miles and/or exceptional condition for its age. B Grade - The second level quality part. It is of average miles and normal condition for its age. C Grade - The third level quality part. It has high miles and/or light damage. No Grade - A part that has not yet been graded.  
This part is compatible with the following vehicles:
Year/Make/Model
Body & Trim
Engine
1998 Volkswagen Beetle
Base Hatchback 2-Door
TDI Hatchback 2-Door
2.0L l4 SOHC
1.9L l4 DIESEL SOHC Turbocharged
1999 Volkswagen Beetle
GL Hatchback 2-Door
GLS Hatchback 2-Door
GLX Hatchback 2-Door
1.8L l4 DOHC Turbocharged
1.9L l4 DIESEL SOHC Turbocharged
2.0L l4 SOHC
1999 Volkswagen Golf
GL Hatchback 4-Door
GLS Hatchback 4-Door
GTI Hatchback 2-Door
TDI Hatchback 2-Door
TDI Hatchback 4-Door
Wolfsburg Edition Hatchback 4-Door
1.9L l4 DIESEL SOHC Turbocharged
2.0L l4 SOHC
2.8L V6 SOHC
1999 Volkswagen Jetta
GL Sedan 4-Door
GLS Sedan 4-Door
GLX Sedan 4-Door
TDI Sedan 4-Door
Wolfsburg Edition Sedan 4-Door
2.0L l4 OHV
2.0L l4 SOHC
2.8L V6 SOHC
1.9L l4 DIESEL SOHC Turbocharged
2000 Volkswagen Beetle
GL Hatchback 2-Door
GLS Hatchback 2-Door
GLX Hatchback 2-Door
1.8L l4 DOHC Turbocharged
1.9L l4 DIESEL SOHC Turbocharged
2.0L l4 SOHC
2000 Volkswagen Golf
GL Hatchback 2-Door
GLS Hatchback 4-Door
GTI GLS Hatchback 2-Door
GTI GLX Hatchback 2-Door
1.9L l4 DIESEL SOHC Turbocharged
2.0L l4 SOHC
1.8L l4 DOHC Turbocharged
2.8L V6 SOHC
2000 Volkswagen Jetta
GL Sedan 4-Door
GLS Sedan 4-Door
GLX Sedan 4-Door
TDI Sedan 4-Door
2.0L l4 SOHC
1.8L l4 DOHC Turbocharged
2.8L V6 SOHC
1.9L l4 DIESEL SOHC Turbocharged
2001 Volkswagen Beetle
GL Hatchback 2-Door
GLS Hatchback 2-Door
GLX Hatchback 2-Door
Sport Hatchback 2-Door
1.8L l4 DOHC Turbocharged
1.9L l4 DIESEL SOHC Turbocharged
2.0L l4 SOHC
2.0L l4 DOHC
2001 Volkswagen Golf
GL Hatchback 2-Door
GLS Hatchback 4-Door
GTI GLS Hatchback 2-Door
GTI GLX Hatchback 2-Door
1.9L l4 DIESEL SOHC Turbocharged
2.0L l4 SOHC
1.8L l4 DOHC Turbocharged
2.8L V6 SOHC
2001 Volkswagen Jetta
GL Sedan 4-Door
GLS Sedan 4-Door
GLS Wagon 4-Door
GLX Sedan 4-Door
GLX Wagon 4-Door
TDI Sedan 4-Door
Wolfsburg Edition Sedan 4-Door
2.0L l4 SOHC
1.8L l4 DOHC Turbocharged
2.8L V6 SOHC
1.9L l4 DIESEL SOHC Turbocharged
2002 Volkswagen Beetle
GL Hatchback 2-Door
GLS Hatchback 2-Door
GLX Hatchback 2-Door
Sport Hatchback 2-Door
Turbo S Hatchback 2-Door
1.8L l4 DOHC Turbocharged
1.9L l4 DIESEL SOHC Turbocharged
2.0L l4 SOHC
2.0L l4 DOHC
2002 Volkswagen Golf
GL Hatchback 2-Door
GL Hatchback 4-Door
GLS Hatchback 4-Door
GTI 1.8T Hatchback 2-Door
GTI 337 Hatchback 2-Door
GTI VR6 Hatchback 2-Door
1.9L l4 DIESEL SOHC Turbocharged
2.0L l4 SOHC
1.8L l4 DOHC Turbocharged
2.8L V6 SOHC
2002 Volkswagen Jetta
GL Sedan 4-Door
GL Wagon 4-Door
GLS Sedan 4-Door
GLS Wagon 4-Door
GLX Sedan 4-Door
GLX Wagon 4-Door
TDI Sedan 4-Door
TDI Wagon 4-Door
2.0L l4 SOHC
1.8L l4 DOHC Turbocharged
2.8L V6 SOHC
1.9L l4 DIESEL SOHC Turbocharged
2003 Volkswagen Beetle
GL Convertible 2-Door
GL Hatchback 2-Door
GLS Convertible 2-Door
GLS Hatchback 2-Door
GLX Convertible 2-Door
GLX Hatchback 2-Door
Turbo S Hatchback 2-Door
1.8L l4 DOHC Turbocharged
1.9L l4 DIESEL SOHC Turbocharged
2.0L l4 SOHC
2003 Volkswagen Golf
GL Hatchback 2-Door
GL Hatchback 4-Door
GLS Hatchback 4-Door
GTI 1.8T Hatchback 2-Door
GTI 20th Anniversary Hatchback 2-Door
GTI VR6 Hatchback 2-Door
1.9L l4 DIESEL SOHC Turbocharged
2.0L l4 SOHC
1.8L l4 DOHC Turbocharged
2.8L V6 DOHC
2003 Volkswagen Jetta
GL Sedan 4-Door
GL Wagon 4-Door
GLS Sedan 4-Door
GLS Wagon 4-Door
TDI Sedan 4-Door
TDI Wagon 4-Door
Wolfsburg Edition Sedan 4-Door
Wolfsburg Edition Wagon 4-Door
1.8L l4 DOHC Turbocharged
2.0L l4 SOHC
1.9L l4 DIESEL SOHC Turbocharged
2004 Volkswagen Beetle
GL Convertible 2-Door
GL Hatchback 2-Door
GLS Convertible 2-Door
GLS Hatchback 2-Door
GLX Convertible 2-Door
Turbo S Hatchback 2-Door
2.0L l4 SOHC
1.8L l4 DOHC Turbocharged
2004 Volkswagen Golf
GL Hatchback 2-Door
GL Hatchback 4-Door
GL TDI Hatchback 4-Door
GLS Hatchback 2-Door
GLS Hatchback 4-Door
GLS TDI Hatchback 4-Door
GTI 1.8T Hatchback 2-Door
GTI VR6 Hatchback 2-Door
2.0L l4 SOHC
1.9L l4 DIESEL SOHC Turbocharged
1.8L l4 DOHC Turbocharged
2.8L V6 DOHC
2004 Volkswagen Jetta
GL Sedan 4-Door
GL Wagon 4-Door
GLI Sedan 4-Door
GLS Sedan 4-Door
GLS Wagon 4-Door
TDI Sedan 4-Door
TDI Wagon 4-Door
1.8L l4 DOHC Turbocharged
2.0L l4 SOHC
1.9L l4 DIESEL SOHC Turbocharged
2005 Volkswagen Beetle
GLS Convertible 2-Door
GLS Hatchback 2-Door
GLS TDI Hatchback 2-Door
1.8L l4 DOHC Turbocharged
1.9L l4 DIESEL SOHC Turbocharged
2005 Volkswagen Golf
GL Hatchback 2-Door
GL Hatchback 4-Door
GLS Hatchback 4-Door
GTI 1.8T Hatchback 2-Door
GTI VR6 Hatchback 2-Door
TDI Hatchback 4-Door
2.0L l4 SOHC
1.8L l4 DOHC Turbocharged
2.8L V6 DOHC
1.9L l4 DIESEL SOHC Turbocharged
2005 Volkswagen Jetta
2.5 Sedan 4-Door
GL Sedan 4-Door
GL TDI Sedan 4-Door
GL TDI Wagon 4-Door
GL Wagon 4-Door
GLI Sedan 4-Door
GLS Sedan 4-Door
GLS TDI Sedan 4-Door
GLS TDI Wagon 4-Door
GLS Wagon 4-Door
TDI Sedan 4-Door
2.5L l5 DOHC
1.8L l4 DOHC Turbocharged
2.0L l4 SOHC
1.9L l4 DIESEL SOHC Turbocharged
2006 Volkswagen Beetle
2.5 Convertible 2-Door
2.5 Hatchback 2-Door
TDI Hatchback 2-Door
2.5L l5 DOHC
1.9L l4 DIESEL SOHC Turbocharged
2006 Volkswagen GTI
Base Hatchback 2-Door
2.0L l4 DOHC Turbocharged
2006 Volkswagen Golf
GL Hatchback 4-Door
GLS Hatchback 4-Door
GLS TDI Hatchback 4-Door
GTI 1.8T Hatchback 2-Door
2.0L l4 SOHC
1.9L l4 DIESEL SOHC Turbocharged
1.8L l4 DOHC Turbocharged
2007 Volkswagen Beetle
2.5 Convertible 2-Door
2.5 Hatchback 2-Door
2.5L l5 DOHC
2007 Volkswagen GTI
Base Hatchback 2-Door
Base Hatchback 4-Door
Fahrenheit Hatchback 2-Door
Fahrenheit Hatchback 4-Door
2.0L l4 DOHC Turbocharged
2007 Volkswagen Golf City
Base Hatchback 4-Door
2.0L l4 SOHC
2007 Volkswagen Jetta
2.0T Sedan 4-Door
GLI Sedan 4-Door
2.0L l4 DOHC Turbocharged
2007 Volkswagen Jetta City
Base Sedan 4-Door
2.0L l4 SOHC
2008 Volkswagen Beetle
2.5 Convertible 2-Door
2.5 Hatchback 2-Door
S Convertible 2-Door
S Hatchback 2-Door
SE Convertible 2-Door
SE Hatchback 2-Door
2.5L l5 DOHC
2008 Volkswagen GTI
Base Hatchback 2-Door
Base Hatchback 4-Door
2.0L l4 DOHC Turbocharged
2008 Volkswagen Golf City
Base Hatchback 4-Door
2.0L l4 SOHC
2008 Volkswagen Jetta
2.0T Sedan 4-Door
GLI Sedan 4-Door
Wolfsburg Edition Sedan 4-Door
2.0L l4 DOHC Turbocharged
2008 Volkswagen Jetta City
Base Sedan 4-Door
2.0L l4 SOHC
2008 Volkswagen R32
Base Hatchback 2-Door
3.2L V6 DOHC
2009 Volkswagen Beetle
Base Convertible 2-Door
Base Hatchback 2-Door
Comfortline Convertible 2-Door
Comfortline Hatchback 2-Door
Trendline Convertible 2-Door
Trendline Hatchback 2-Door
2.5L l5 DOHC
2009 Volkswagen GTI
Base Hatchback 2-Door
Base Hatchback 4-Door
2.0L l4 DOHC Turbocharged
2009 Volkswagen Golf City
Base Hatchback 4-Door
2.0L l4 SOHC
2009 Volkswagen Jetta
GLI Sedan 4-Door
SEL Sedan 4-Door
SEL Wagon 4-Door
TDI Sedan 4-Door
TDI Wagon 4-Door
Wolfsburg Edition Sedan 4-Door
2.0L l4 DOHC Turbocharged
2.0L l4 DIESEL DOHC Turbocharged
2009 Volkswagen Jetta City
Base Sedan 4-Door
2.0L l4 SOHC
2010 Volkswagen Beetle
Base Convertible 2-Door
Base Hatchback 2-Door
Comfortline Convertible 2-Door
Comfortline Hatchback 2-Door
2.5L l5 DOHC
2010 Volkswagen GTI
Base Hatchback 2-Door
Base Hatchback 4-Door
2.0L l4 DOHC Turbocharged
2010 Volkswagen Golf
Base Hatchback 2-Door
Base Hatchback 4-Door
Comfortline Hatchback 2-Door
Comfortline Hatchback 4-Door
Highline Hatchback 2-Door
Highline Hatchback 4-Door
TDI Hatchback 2-Door
TDI Hatchback 4-Door
Trendline Hatchback 2-Door
Trendline Hatchback 4-Door
2.5L l5 DOHC
2.0L l4 DIESEL DOHC Turbocharged
2010 Volkswagen Golf City
Base Hatchback 4-Door
2.0L l4 SOHC
2010 Volkswagen Jetta
TDI Cup Edition Sedan 4-Door
TDI Sedan 4-Door
TDI Wagon 4-Door
Trendline Sedan 4-Door
Wolfsburg Edition Sedan 4-Door
2.0L l4 DIESEL DOHC Turbocharged
2.0L l4 SOHC
2.0L l4 DOHC Turbocharged
2011 Volkswagen Golf
Base Hatchback 2-Door
Base Hatchback 4-Door
Comfortline Hatchback 2-Door
Comfortline Hatchback 4-Door
Highline Hatchback 2-Door
Highline Hatchback 4-Door
Sportline Hatchback 2-Door
Sportline Hatchback 4-Door
TDI Comfortline Hatchback 2-Door
TDI Comfortline Hatchback 4-Door
TDI Hatchback 2-Door
TDI Hatchback 4-Door
TDI Highline Hatchback 2-Door
TDI Highline Hatchback 4-Door
Trendline Hatchback 2-Door
Trendline Hatchback 4-Door
2.5L l5 DOHC
2.0L l4 DIESEL DOHC Turbocharged
2011 Volkswagen Jetta
Base Sedan 4-Door
S Sedan 4-Door
TDI Comfortline Sedan 4-Door
TDI Highline Sedan 4-Door
TDI Sedan 4-Door
2.0L l4 SOHC
2.0L l4 DIESEL DOHC Turbocharged
Returns Accepted: Yes
Item must be returned within: 60 Days
Refund will be given as: Money back or replacement (buyer's choice)
Return shipping will be paid by: Buyer