COOLANT RESERVOIR / RADIATOR OVERFLOW BOTTLE FITS 2002-2007 RENDEZVOUS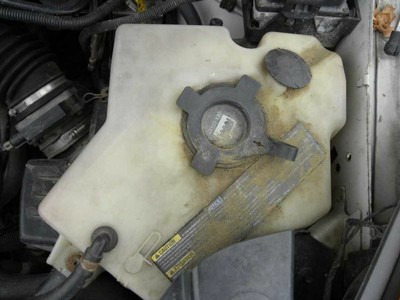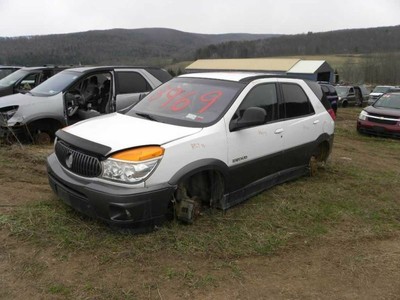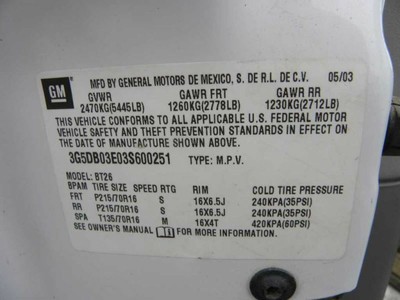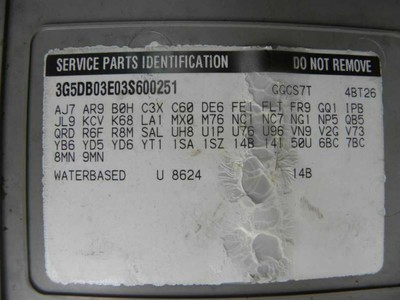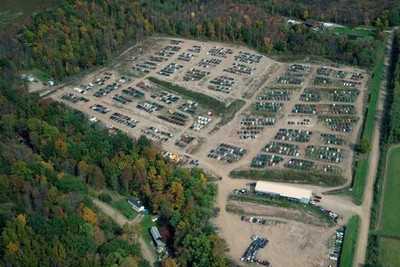 Item #:

PR-223995643105

Ships From:

Woodhull, New York
Powered by


Price:

$32.50
This is a used genuine OEM part from a 2003 Buick Rendezvou with VIN number 3G5DB03E03S600251.
Interchange Part Number: 671-00121
Genuine OEM Part: Yes
COOLANT RESERVOIR / RADIATOR OVERFLOW BOTTLE FITS 02 03 04 05 06 07 RENDEZVOUS Description--> Description Donor Vehicle VIN: 3G5DB03E03S600251 Model: RENDEZVOU Year: 2003 Mileage: 0 (0 = not available or unknown) Stock Number: 008969 Store Number: 1 Part Detail Part Grade: A Part Category: Y Part Placement: Notes: Please make sure your vehicle is on the lower interchange list. The 45 Day period starts when you purchase the part. No labor or return shipping is covered. In the event a part sold with a warranty fails to operate within the warranty period we will replace the part(s) with a functionally equivalent part or refund the purchase price, at our option. All failed parts must be returned before a refund will be issued. Return shipping charges are not refunded. Once you obtain confirmation, ship the item back to: Woodhull Auto Supply  5567 McCaslin Rd. Woodhull, NY, 14898 along with the invoice number. --> SHIPPING NOTES ABOUT US HELP   Woodhull Auto Supply ships to US addresses within the 48 states via Fed Ex Ground, USPS or Freight truck. All freight shipments must go to a business that can unload a semi truck. We will NOT send a freight truck to a home based business or residential area. Pick up at our facilities or a freight terminal in your area can be arranged. Please message us prior to your purchase to arrange pick up. Items will be shipped within 1-2 days of purchase. Please allow 5-10 days for delivery. Most areas in the US are within 5 days.   Quality Sales and Service Since 1986! Since 1986, we have been supplying quality used and new aftermarket parts to the Southern Tier area of NY and the Northern Tioga area of PA. Under the same management since 2004, we strive to supply good parts at a fair price. We have a 45-Day Standard Warranty on everything we sell; extended warranties are available for a fee by request. With over 30 acres of cars, we carry all makes and models. Our expert counter sales people can locate anything you might need with our nationwide parts locating service. We also offer nationwide shipping by FedEx, USPS, or freight. If you have a question about a part please contact us BEFORE purchasing or if you would like more pictures please send us a message. We try to answer all messages within 48 hours. Our hours of business are: Monday - Friday: 8am - 5pm Eastern Time Saturday - Sunday: By appointment only   Parts Grading. A standard code system is used to communicate the condition and quality of a part between automotive recyclers, automotive repair shops, and insurers. Knowing how these codes are used will help you understand whether the part meets your expectations before you buy it and what you can expect from the part when you receive it. NIQ means Not Insurance Quality. A Grade - The highest quality part. It is of low miles and/or exceptional condition for its age. B Grade - The second level quality part. It is of average miles and normal condition for its age. C Grade - The third level quality part. It has high miles and/or light damage. No Grade - A part that has not yet been graded. To learn more about Parts Grading click here.
This part is compatible with the following vehicles:
Year/Make/Model
Body & Trim
Engine
1997 Chevrolet Venture
Base Mini Passenger Van 3-Door
Base Mini Passenger Van 4-Door
LS Mini Passenger Van 3-Door
LS Mini Passenger Van 4-Door
3.4L V6 OHV
1997 Oldsmobile Silhouette
Base Mini Passenger Van 3-Door
Base Mini Passenger Van 4-Door
GL Mini Passenger Van 3-Door
GL Mini Passenger Van 4-Door
GLS Mini Passenger Van 3-Door
GLS Mini Passenger Van 4-Door
3.4L V6 OHV
1997 Pontiac Trans Sport
Base Mini Passenger Van 3-Door
Base Mini Passenger Van 4-Door
3.4L V6 OHV
1998 Chevrolet Venture
Base Mini Passenger Van 3-Door
Base Mini Passenger Van 4-Door
LS Mini Passenger Van 3-Door
LS Mini Passenger Van 4-Door
3.4L V6 OHV
1998 Oldsmobile Silhouette
GL Mini Passenger Van 4-Door
GLS Mini Passenger Van 4-Door
GS Mini Passenger Van 4-Door
Premiere Mini Passenger Van 4-Door
3.4L V6 OHV
1998 Pontiac Trans Sport
Base Mini Passenger Van 3-Door
Base Mini Passenger Van 4-Door
Montana Mini Passenger Van 3-Door
Montana Mini Passenger Van 4-Door
3.4L V6 OHV
1999 Chevrolet Venture
Base Mini Passenger Van 3-Door
Base Mini Passenger Van 4-Door
LS Mini Passenger Van 3-Door
LS Mini Passenger Van 4-Door
3.4L V6 OHV
1999 Oldsmobile Silhouette
GL Mini Passenger Van 4-Door
GLS Mini Passenger Van 4-Door
GS Mini Passenger Van 4-Door
Premiere Mini Passenger Van 4-Door
3.4L V6 OHV
1999 Pontiac Montana
Base Mini Passenger Van 3-Door
Base Mini Passenger Van 4-Door
3.4L V6 OHV
1999 Pontiac Trans Sport
Base Mini Passenger Van 3-Door
Base Mini Passenger Van 4-Door
3.4L V6 OHV
2000 Chevrolet Venture
Base Mini Passenger Van 4-Door
LS Mini Passenger Van 4-Door
LT Mini Passenger Van 4-Door
Plus Mini Passenger Van 4-Door
Value Mini Passenger Van 4-Door
Warner Bros. Mini Passenger Van 4-Door
3.4L V6 OHV
2000 Oldsmobile Silhouette
GL Mini Passenger Van 4-Door
GLS Mini Passenger Van 4-Door
Premiere Mini Passenger Van 4-Door
3.4L V6 OHV
2000 Pontiac Montana
Base Mini Cargo Van 4-Door
Base Mini Passenger Van 4-Door
3.4L V6 OHV
2001 Chevrolet Venture
LS Mini Passenger Van 4-Door
LT Mini Passenger Van 4-Door
Plus Mini Passenger Van 4-Door
Value Mini Passenger Van 4-Door
Warner Bros. Mini Passenger Van 4-Door
3.4L V6 OHV
2001 Oldsmobile Silhouette
GL Mini Passenger Van 4-Door
GLS Mini Passenger Van 4-Door
Premiere Mini Passenger Van 4-Door
3.4L V6 OHV
2001 Pontiac Aztek
Base Sport Utility 4-Door
GT Sport Utility 4-Door
3.4L V6 OHV
2001 Pontiac Montana
Base Mini Cargo Van 4-Door
Base Mini Passenger Van 4-Door
3.4L V6 OHV
2002 Buick Rendezvous
CX Plus Sport Utility 4-Door
CX Sport Utility 4-Door
CXL Plus Sport Utility 4-Door
CXL Sport Utility 4-Door
3.4L V6 OHV
2002 Chevrolet Venture
Base Mini Passenger Van 4-Door
LS Mini Passenger Van 4-Door
LT Mini Passenger Van 4-Door
Plus Mini Passenger Van 4-Door
Value Mini Passenger Van 4-Door
Warner Bros. Mini Passenger Van 4-Door
3.4L V6 OHV
2002 Oldsmobile Silhouette
GL Mini Passenger Van 4-Door
GLS Mini Passenger Van 4-Door
Premiere Mini Passenger Van 4-Door
3.4L V6 OHV
2002 Pontiac Aztek
Base Sport Utility 4-Door
3.4L V6 OHV
2002 Pontiac Montana
Base Mini Cargo Van 4-Door
Base Mini Passenger Van 4-Door
3.4L V6 OHV
2003 Buick Rendezvous
CX Plus Sport Utility 4-Door
CX Sport Utility 4-Door
CXL Plus Sport Utility 4-Door
CXL Sport Utility 4-Door
3.4L V6 OHV
2003 Chevrolet Venture
LS Mini Passenger Van 4-Door
LT Mini Passenger Van 4-Door
Plus Mini Passenger Van 4-Door
Value Mini Passenger Van 4-Door
Warner Bros. Mini Passenger Van 4-Door
3.4L V6 OHV
2003 Oldsmobile Silhouette
GL Mini Passenger Van 4-Door
GLS Mini Passenger Van 4-Door
Premiere Mini Passenger Van 4-Door
3.4L V6 OHV
2003 Pontiac Aztek
Base Sport Utility 4-Door
3.4L V6 OHV
2003 Pontiac Montana
Base Mini Cargo Van 4-Door
Base Mini Passenger Van 4-Door
3.4L V6 OHV
2004 Buick Rendezvous
CX Sport Utility 4-Door
CXL Sport Utility 4-Door
Ultra Sport Utility 4-Door
3.4L V6 OHV
3.6L V6 DOHC
2004 Chevrolet Venture
LS Mini Passenger Van 4-Door
LT Mini Passenger Van 4-Door
Plus Mini Passenger Van 4-Door
3.4L V6 OHV
2004 Oldsmobile Silhouette
GL Mini Passenger Van 4-Door
GLS Mini Passenger Van 4-Door
Premiere Mini Passenger Van 4-Door
3.4L V6 OHV
2004 Pontiac Aztek
Base Sport Utility 4-Door
Rally Sport Utility 4-Door
3.4L V6 OHV
2004 Pontiac Montana
Base Mini Cargo Van 4-Door
Base Mini Passenger Van 4-Door
3.4L V6 OHV
2005 Buick Rendezvous
CX Plus Sport Utility 4-Door
CX Sport Utility 4-Door
CXL Plus Sport Utility 4-Door
CXL Sport Utility 4-Door
Ultra Sport Utility 4-Door
3.4L V6 OHV
3.6L V6 DOHC
2005 Buick Terraza
CX Mini Passenger Van 4-Door
CXL Mini Passenger Van 4-Door
3.5L V6 OHV
2005 Chevrolet Uplander
Base Mini Passenger Van 4-Door
LS Mini Passenger Van 4-Door
LT Mini Passenger Van 4-Door
3.5L V6 OHV
2005 Chevrolet Venture
LS Mini Passenger Van 4-Door
LT Mini Passenger Van 4-Door
Plus Mini Passenger Van 4-Door
3.4L V6 OHV
2005 Pontiac Aztek
Base Sport Utility 4-Door
Rally Sport Utility 4-Door
3.4L V6 OHV
2005 Pontiac Montana
Base Mini Passenger Van 4-Door
SV6 Mini Passenger Van 4-Door
3.4L V6 OHV
3.5L V6 OHV
3.5L V6 OHV
2005 Saturn Relay
2 Mini Passenger Van 4-Door
3 Mini Passenger Van 4-Door
3.5L V6 OHV
2006 Buick Rendezvous
CX Sport Utility 4-Door
CXL Sport Utility 4-Door
3.5L V6 OHV
3.6L V6 DOHC
2006 Buick Terraza
CX Mini Passenger Van 4-Door
CXL Mini Passenger Van 4-Door
3.5L V6 OHV
3.9L V6 OHV
2006 Chevrolet Uplander
Base Mini Cargo Van 4-Door
LS Mini Passenger Van 4-Door
LT Mini Passenger Van 4-Door
3.5L V6 OHV
3.9L V6 OHV
2006 Pontiac Montana
SV6 Mini Passenger Van 4-Door
3.5L V6 OHV
3.5L V6 OHV
3.9L V6 OHV
2006 Saturn Relay
2 Mini Passenger Van 4-Door
3 Mini Passenger Van 4-Door
3.5L V6 OHV
3.9L V6 OHV
2007 Buick Rendezvous
CX Sport Utility 4-Door
CXL Sport Utility 4-Door
3.5L V6 OHV
2007 Buick Terraza
CX Mini Passenger Van 4-Door
CXL Mini Passenger Van 4-Door
3.9L V6 FLEX OHV
3.9L V6 OHV
2007 Chevrolet Uplander
Base Mini Cargo Van 4-Door
Base Mini Passenger Van 5-Door
LS Mini Passenger Van 4-Door
LS Mini Passenger Van 5-Door
LT Mini Passenger Van 4-Door
LT Mini Passenger Van 5-Door
3.9L V6 FLEX OHV
3.9L V6 OHV
2007 Pontiac Montana
SV6 Mini Passenger Van 4-Door
3.9L V6 OHV
2007 Saturn Relay
1 Mini Passenger Van 4-Door
2 Mini Passenger Van 4-Door
3 Mini Passenger Van 4-Door
3.9L V6 FLEX OHV
3.9L V6 OHV
2008 Chevrolet Uplander
Base Mini Cargo Van 4-Door
Base Mini Passenger Van 5-Door
LS Mini Passenger Van 4-Door
LS Mini Passenger Van 5-Door
LT Mini Passenger Van 4-Door
LT Mini Passenger Van 5-Door
3.9L V6 FLEX OHV
3.9L V6 OHV
2008 Pontiac Montana
SV6 Mini Passenger Van 4-Door
3.9L V6 FLEX OHV
3.9L V6 OHV
2009 Chevrolet Uplander
Base Mini Cargo Van 4-Door
Base Mini Passenger Van 5-Door
LS Mini Passenger Van 4-Door
LS Mini Passenger Van 5-Door
LT Mini Passenger Van 4-Door
LT Mini Passenger Van 5-Door
3.9L V6 FLEX OHV
3.9L V6 OHV
2009 Pontiac Montana
SV6 Mini Passenger Van 4-Door
3.9L V6 OHV
Returns Accepted: Yes
Item must be returned within: 30 Days
Refund will be given as: Money back or replacement (buyer's choice)
Return shipping will be paid by: Buyer