CHEVROLET EQUINOX Carrier Assembly Rear Axle 2010-2015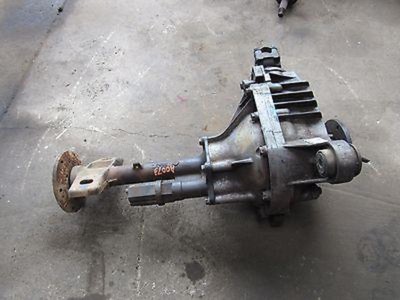 The part listed below is available for purchase online. To purchase the part or to get additional information about the part before you purchase it, click on the View More Details button.
Stock #:

PR-112216118329

Ships From:

KITCHENER,ON
Price:

$450.00
Mileage: 143019.
Stock Number: DG1414.
Brand: CHEVROLET.
Tag Number: 0000174026.
Year: 2012.
Condition and Options: Rear Axle.
Model: EQUINOX.
EQUINOX 2012 Item Details Make / Model CHEVROLET EQUINOX Year 2012 Stock Number DG1414 VIN 2GNFLEEK8C6323661 Odometer 143019 Kms km Colour Red Part also fits EQUINOX 2010 - 2015 Rear Axle TERRAIN 2010 - 2015 Rear Axle Photos General Information and Conditions Logel's Auto Parts is a family owned and operated Auto Recycling Facility in Kitchener, Ontario. Since Clarence Logel first opened our doors in 1959, we have committed ourselves to becoming the best option for automotive recycling in Kitchener, Waterloo, Cambridge, and the surrounding area. Picture may be a generic photo and not the actual part up for sale !!!!!ALL PARTS ARE IN KILOMETERS!!!!! Shipping and Handling FREE SHIPPING......... We Only ship to the Continental United States and Canada. Brokerage and border fees may apply and are the responsibility of the buyer Payment PAYPAL OR PAYMENT AT PICKUP Warranty and Returns 60 Day part replacement warranty Item Location and Contact Information Logel's Auto Parts 116 Bridge st east Kitchener, Ont N2K1J6 Phone: 1800-818-9118 Email: info@logels.com Website: www.logels.com
This part is compatible with the following vehicles:
Year/Make/Model
Body & Trim
Engine
2010 Chevrolet Equinox
LS Sport Utility 4-Door
LT Sport Utility 4-Door
LTZ Sport Utility 4-Door
2.4L l4 DOHC
3.0L V6 DOHC
2010 GMC Terrain
SLE Sport Utility 4-Door
SLT Sport Utility 4-Door
2.4L l4 DOHC
3.0L V6 DOHC
2011 Chevrolet Equinox
LS Sport Utility 4-Door
LT Sport Utility 4-Door
LTZ Sport Utility 4-Door
2.4L l4 DOHC
3.0L V6 FLEX DOHC
2011 GMC Terrain
SLE Sport Utility 4-Door
SLT Sport Utility 4-Door
2.4L l4 DOHC
3.0L V6 FLEX DOHC
3.0L V6 DOHC
2012 Chevrolet Equinox
LS Sport Utility 4-Door
LT Sport Utility 4-Door
LTZ Sport Utility 4-Door
2.4L l4 FLEX DOHC
2.4L l4 DOHC
3.0L V6 FLEX DOHC
3.0L V6 DOHC
2012 GMC Terrain
SLE Sport Utility 4-Door
SLT Sport Utility 4-Door
2.4L l4 FLEX DOHC
2.4L l4 DOHC
3.0L V6 FLEX DOHC
3.0L V6 DOHC
2013 Chevrolet Equinox
LS Sport Utility 4-Door
LT Sport Utility 4-Door
LTZ Sport Utility 4-Door
2.4L l4 FLEX DOHC
2.4L l4 DOHC
3.6L V6 FLEX DOHC
3.6L V6 DOHC
2013 GMC Terrain
Denali Sport Utility 4-Door
SLE Sport Utility 4-Door
SLT Sport Utility 4-Door
2.4L l4 FLEX DOHC
2.4L l4 DOHC
3.6L V6 FLEX DOHC
3.6L V6 DOHC
3.6L V6 DOHC
2014 Chevrolet Equinox
LS Sport Utility 4-Door
LT Sport Utility 4-Door
LTZ Sport Utility 4-Door
2.4L l4 FLEX DOHC
2.4L l4 DOHC
3.6L V6 FLEX DOHC
3.6L V6 DOHC
2014 GMC Terrain
Denali Sport Utility 4-Door
SLE Sport Utility 4-Door
SLT Sport Utility 4-Door
2.4L l4 FLEX DOHC
2.4L l4 DOHC
3.6L V6 FLEX DOHC
3.6L V6 DOHC
3.6L V6 DOHC
2015 Chevrolet Equinox
L Sport Utility 4-Door
LS Sport Utility 4-Door
LT Sport Utility 4-Door
LTZ Sport Utility 4-Door
2.4L l4 FLEX DOHC
2.4L l4 DOHC
3.6L V6 FLEX DOHC
3.6L V6 DOHC
2015 GMC Terrain
Denali Sport Utility 4-Door
SL Sport Utility 4-Door
SLE Sport Utility 4-Door
SLT Sport Utility 4-Door
2.4L l4 FLEX DOHC
2.4L l4 DOHC
3.6L V6 FLEX DOHC
3.6L V6 DOHC
3.6L V6 DOHC