Blower Motor Fits 09-17 370Z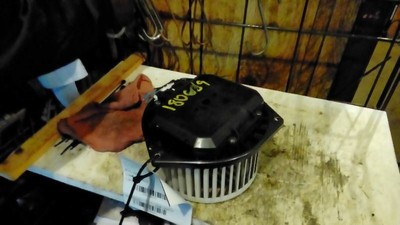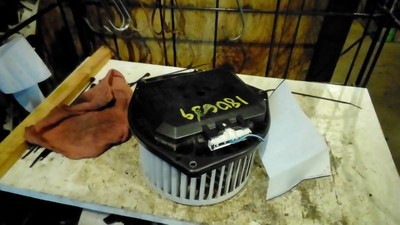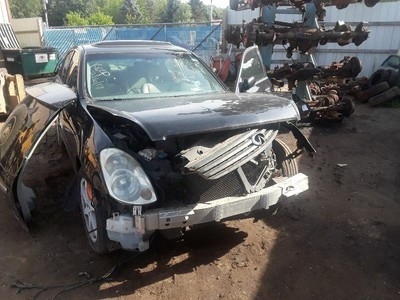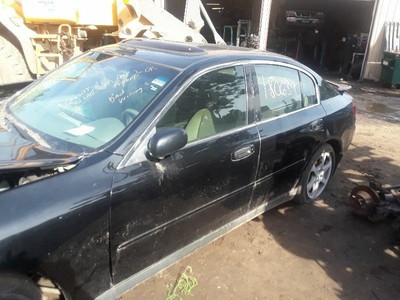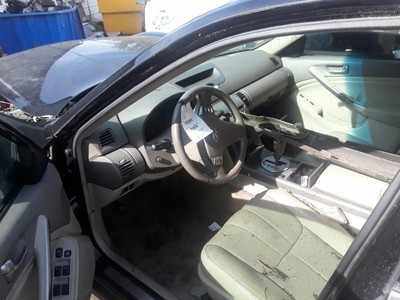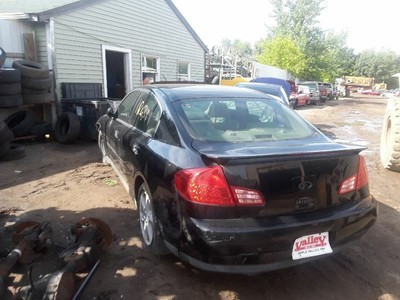 This part is no longer available for purchase.
It might be out of stock, or no longer available to purchase online. Find similar used parts online using the search box, or place a part request and let our network of trusted sellers find the part for you.
This is a used genuine OEM part with VIN number JNKCV51E23M001801.
Year: 2003
Manufacturer: Infiniti
VIN: JNKCV51E23M001801
Interchange Part Number: 615-58593
Genuine OEM Part: Yes
Important Vehicle Attributes: NIQ
    The 30 day period starts when you take possession of the part.   No labor warranty is provided.                       In the event a part sold with a warranty fails to operate within the warranty period we will replace the part(s) with a functionally equivalent part or refund the part purchase price, at our option.     No refund on deposits or unwanted special order parts or special "cut" items.           Original shipping charges and return shipping charges are not refunded.           Once you obtain an RMA number, ship the item back to     Lunds Auto, 10521 Nassau St. NE, Blaine, MN  55449.     along with the RMA number.     --> SHIPPING NOTES ABOUT US HELP Lunds Auto ships to US addresses within the 48 states primarily USPS with UPS  used at our discretion or per request for an additonal charge charge.           No Alaska, Hawaii, Puerto Rico, APO, FPO or PO Box please.           No International shipping available.           Pick up at our facilities is available. Please email us prior to your purchase to arrange pick up.     Items will be shipped within 1-2 days of purchase.           Please allow 5-10 days for delivery. Most areas in the US are within 5 days. No expedited shipping is available.     If you have a question about a part please contact us BEFORE purchasing. We try to answer all messages within 24 hours.                       If we are unable to answer your questions before the listing ends the item will be re-listed again soon for you to purchase.     Core Charge. Core is an acronym for 'Cash On Return'. A core charge is sometimes applied to rebuildable parts such as engines or alternators that can be redeemed for a portion of their original price. If the part you are purchasing has a core charge applied, it will be noted in the description.   Parts Grading. A standard code system is used to communicate the condition and quality of a part between automotive recyclers, automotive repair shops, and insurers. Knowing how these codes are used will help you understand whether the part meets your expectations before you buy it and what you can expect from the part when you receive it.     A Grade - The highest quality part. It is of low miles and/or exceptional condition for its age. B Grade - The second level quality part. It is of average miles and normal condition for its age. C Grade - The third level quality part. It has high miles and/or light damage. No Grade - A part that has not yet been graded.     To learn more about Parts Grading click here.  
This part is compatible with the following vehicles:
Year/Make/Model
Body & Trim
Engine
2002 Infiniti Q45
Base Sedan 4-Door
4.5L V8 DOHC
2003 Infiniti FX35
Base Sport Utility 4-Door
3.5L V6 DOHC
2003 Infiniti FX45
Base Sport Utility 4-Door
4.5L V8 DOHC
2003 Infiniti G35
Base Coupe 2-Door
Base Sedan 4-Door
3.5L V6 DOHC
2003 Infiniti M45
Base Sedan 4-Door
4.5L V8 DOHC
2003 Infiniti Q45
Base Sedan 4-Door
4.5L V8 DOHC
2003 Nissan 350Z
Base Coupe 2-Door
Enthusiast Coupe 2-Door
Performance Coupe 2-Door
Touring Coupe 2-Door
Track Coupe 2-Door
3.5L V6 DOHC
2003 Nissan Murano
SE Sport Utility 4-Door
SL Sport Utility 4-Door
3.5L V6 DOHC
2004 Infiniti FX35
Base Sport Utility 4-Door
3.5L V6 DOHC
2004 Infiniti FX45
Base Sport Utility 4-Door
4.5L V8 DOHC
2004 Infiniti G35
Base Coupe 2-Door
Base Sedan 4-Door
X Sedan 4-Door
3.5L V6 DOHC
2004 Infiniti M45
Base Sedan 4-Door
4.5L V8 DOHC
2004 Infiniti Q45
Base Sedan 4-Door
4.5L V8 DOHC
2004 Nissan 350Z
Base Coupe 2-Door
Enthusiast Convertible 2-Door
Enthusiast Coupe 2-Door
Performance Coupe 2-Door
Touring Convertible 2-Door
Touring Coupe 2-Door
Track Coupe 2-Door
3.5L V6 DOHC
2005 Infiniti FX35
Base Sport Utility 4-Door
3.5L V6 DOHC
2005 Infiniti FX45
Base Sport Utility 4-Door
4.5L V8 DOHC
2005 Infiniti G35
Base Coupe 2-Door
Base Sedan 4-Door
X Sedan 4-Door
3.5L V6 DOHC
2005 Infiniti Q45
Base Sedan 4-Door
4.5L V8 DOHC
2005 Nissan 350Z
35th Anniversary Edition Coupe 2-Door
Base Coupe 2-Door
Enthusiast Convertible 2-Door
Enthusiast Coupe 2-Door
Grand Touring Convertible 2-Door
Performance Coupe 2-Door
Touring Convertible 2-Door
Touring Coupe 2-Door
Track Coupe 2-Door
3.5L V6 DOHC
2006 Infiniti FX35
Base Sport Utility 4-Door
3.5L V6 DOHC
2006 Infiniti FX45
Base Sport Utility 4-Door
4.5L V8 DOHC
2006 Infiniti G35
Base Coupe 2-Door
Base Sedan 4-Door
X Sedan 4-Door
3.5L V6 DOHC
2006 Infiniti Q45
Base Sedan 4-Door
4.5L V8 DOHC
2006 Nissan 350Z
Base Convertible 2-Door
Base Coupe 2-Door
Enthusiast Convertible 2-Door
Enthusiast Coupe 2-Door
Grand Touring Convertible 2-Door
Grand Touring Coupe 2-Door
Touring Convertible 2-Door
Touring Coupe 2-Door
Track Coupe 2-Door
3.5L V6 DOHC
2007 Infiniti FX35
Base Sport Utility 4-Door
3.5L V6 DOHC
2007 Infiniti FX45
Base Sport Utility 4-Door
4.5L V8 DOHC
2007 Infiniti G35
Base Coupe 2-Door
Sport Coupe 2-Door
3.5L V6 DOHC
2007 Nissan 350Z
Base Coupe 2-Door
Enthusiast Convertible 2-Door
Enthusiast Coupe 2-Door
Grand Touring Convertible 2-Door
Grand Touring Coupe 2-Door
Nismo Coupe 2-Door
Touring Convertible 2-Door
Touring Coupe 2-Door
3.5L V6 DOHC
2008 Infiniti FX35
Base Sport Utility 4-Door
3.5L V6 DOHC
2008 Infiniti FX45
Base Sport Utility 4-Door
4.5L V8 DOHC
2008 Nissan 350Z
Base Coupe 2-Door
Enthusiast Convertible 2-Door
Enthusiast Coupe 2-Door
Grand Touring Convertible 2-Door
Grand Touring Coupe 2-Door
Nismo Coupe 2-Door
Touring Convertible 2-Door
Touring Coupe 2-Door
3.5L V6 DOHC
2009 Nissan 350Z
Enthusiast Convertible 2-Door
Grand Touring Convertible 2-Door
Touring Convertible 2-Door
3.5L V6 DOHC
2009 Nissan 370Z
Base Coupe 2-Door
Nismo Coupe 2-Door
Touring Coupe 2-Door
3.7L V6 DOHC
2010 Nissan 370Z
40th Anniversary Edition Coupe 2-Door
Base Convertible 2-Door
Base Coupe 2-Door
Nismo Coupe 2-Door
Touring Convertible 2-Door
Touring Coupe 2-Door
3.7L V6 DOHC
3.7L V6 DOHC
2011 Nissan 370Z
Base Convertible 2-Door
Base Coupe 2-Door
Nismo Coupe 2-Door
Touring Convertible 2-Door
Touring Coupe 2-Door
3.7L V6 DOHC
3.7L V6 DOHC
2012 Nissan 370Z
Base Convertible 2-Door
Base Coupe 2-Door
Nismo Coupe 2-Door
Touring Convertible 2-Door
Touring Coupe 2-Door
3.7L V6 DOHC
3.7L V6 DOHC
2013 Nissan 370Z
Base Convertible 2-Door
Base Coupe 2-Door
Nismo Coupe 2-Door
Touring Convertible 2-Door
Touring Coupe 2-Door
3.7L V6 DOHC
3.7L V6 DOHC
2014 Nissan 370Z
Base Convertible 2-Door
Base Coupe 2-Door
Nismo Coupe 2-Door
Touring Convertible 2-Door
Touring Coupe 2-Door
3.7L V6 DOHC
3.7L V6 DOHC
2015 Nissan 370Z
Base Convertible 2-Door
Base Coupe 2-Door
Nismo Coupe 2-Door
Nismo Tech Coupe 2-Door
Sport Coupe 2-Door
Sport Tech Coupe 2-Door
Touring Convertible 2-Door
Touring Coupe 2-Door
Touring Sport Convertible 2-Door
3.7L V6 DOHC
3.7L V6 DOHC
2016 Nissan 370Z
Base Convertible 2-Door
Base Coupe 2-Door
Nismo Coupe 2-Door
Nismo Tech Coupe 2-Door
Sport Coupe 2-Door
Sport Tech Coupe 2-Door
Touring Convertible 2-Door
Touring Coupe 2-Door
Touring Sport Convertible 2-Door
3.7L V6 DOHC
3.7L V6 DOHC
2017 Nissan 370Z
Base Convertible 2-Door
Base Coupe 2-Door
Nismo Coupe 2-Door
Nismo Tech Coupe 2-Door
Sport Coupe 2-Door
Sport Tech Coupe 2-Door
Touring Convertible 2-Door
Touring Coupe 2-Door
Touring Sport Convertible 2-Door
3.7L V6 DOHC
2018 Nissan 370Z
Base Convertible 2-Door
Base Coupe 2-Door
Heritage Edition Coupe 2-Door
Nismo Coupe 2-Door
Nismo Tech Coupe 2-Door
Sport Coupe 2-Door
Sport Tech Coupe 2-Door
Touring Convertible 2-Door
Touring Coupe 2-Door
Touring Sport Convertible 2-Door
Touring Sport Coupe 2-Door
3.7L V6 DOHC
2019 Nissan 370Z
Base Convertible 2-Door
Base Coupe 2-Door
Heritage Edition Coupe 2-Door
Nismo Coupe 2-Door
Sport Coupe 2-Door
Sport Touring Convertible 2-Door
Sport Touring Coupe 2-Door
Touring Convertible 2-Door
Touring Coupe 2-Door
3.7L V6 DOHC
2020 Nissan 370Z
Base Coupe 2-Door
Nismo Coupe 2-Door
Sport Coupe 2-Door
Sport Touring Coupe 2-Door
Touring Coupe 2-Door
3.7L V6 DOHC
Returns Accepted: Yes
Item must be returned within: 30 Days
Refund will be given as: Money back or replacement (buyer's choice)
Return shipping will be paid by: Buyer