Air Condition AC Condenser Pressure Hose Line Assy OEM BMW F01 F02 F07 F10 F13 #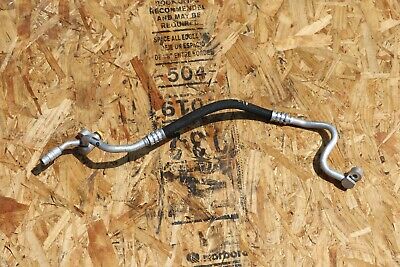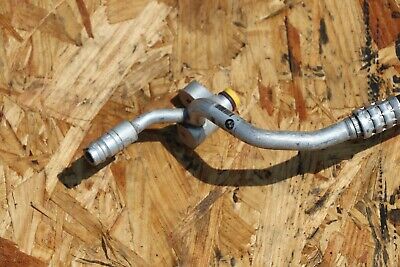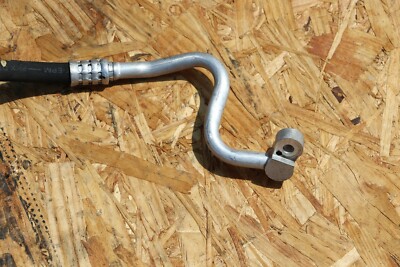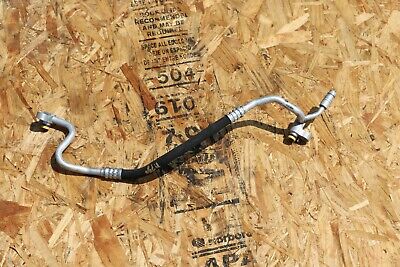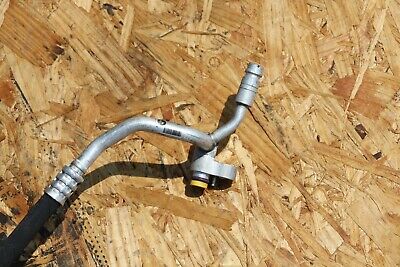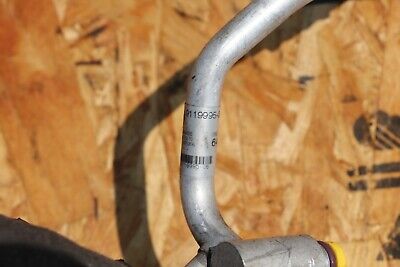 Part number 64539119995 is available for purchase online. To purchase the part or to get additional information about the part before you purchase it, click on the View More Details button.
Item #:

PR-123903408606

Ships From:

Garland, Texas
Price:

$52.00
Restocking Fee: 15%.
Returns Accepted: Returns Accepted.
Item must be returned within: 30 Days.
Refund will be given as: Money back or replacement (buyer's choice).
Return shipping will be paid by: Buyer.
Interchange Part Number: 6453 9119995.
Interchange Part Number: 64 53 9 119 995.
Manufacturer Part Number: 64539119995.
Brand: ORIGINAL FACTORY GENUINE Compressor Pipe.
UP FOR SALE IS AN ORIGINAL BMW PART IT CAME OUT OF A 2011 BMW 750Li WITH 120k MILES VIN NUMBER IS WBAKB8C5XBCY64657 COLOR CODE IS CARBONSCHWARZ METALLIC (416) GREAT WORKING CONDITION TESTED AND GUARANTEED!
Part number 64539119995 is compatible with the following vehicles:
Year/Make/Model
Body & Trim
Engine
2009 BMW 750Li
Base Sedan 4-Door
Limited Edition Sedan 4-Door
Sport Limited Edition Sedan 4-Door
4.4L V8 DOHC Turbocharged
4.8L V8 DOHC
2010 BMW 550i GT
Base Hatchback 4-Door
4.4L V8 DOHC Turbocharged
2010 BMW 750Li
Base Sedan 4-Door
4.4L V8 DOHC Turbocharged
2010 BMW 750Li xDrive
Base Sedan 4-Door
4.4L V8 DOHC Turbocharged
2010 BMW 750i xDrive
Base Sedan 4-Door
4.4L V8 DOHC Turbocharged
2011 BMW 550i
Base Sedan 4-Door
4.4L V8 DOHC Turbocharged
2011 BMW 550i GT
Base Hatchback 4-Door
4.4L V8 DOHC Turbocharged
2011 BMW 550i GT xDrive
Base Hatchback 4-Door
4.4L V8 DOHC Turbocharged
2011 BMW 550i xDrive
Base Sedan 4-Door
4.4L V8 DOHC Turbocharged
2011 BMW 750Li
ActiveHybrid Sedan 4-Door
Base Sedan 4-Door
4.4L V8 ELECTRIC/ DOHC Turbocharged
4.4L V8 DOHC Turbocharged
2011 BMW 750Li xDrive
Base Sedan 4-Door
4.4L V8 DOHC Turbocharged
2011 BMW 750i xDrive
Base Sedan 4-Door
4.4L V8 DOHC Turbocharged
2012 BMW 550i
Base Sedan 4-Door
4.4L V8 DOHC Turbocharged
2012 BMW 550i GT
Base Hatchback 4-Door
4.4L V8 DOHC Turbocharged
2012 BMW 550i GT xDrive
Base Hatchback 4-Door
4.4L V8 DOHC Turbocharged
2012 BMW 550i xDrive
Base Sedan 4-Door
4.4L V8 DOHC Turbocharged
2012 BMW 650i
Base Convertible 2-Door
Base Coupe 2-Door
M Sport Convertible 2-Door
M Sport Coupe 2-Door
4.4L V8 DOHC Turbocharged
4.4L V8 DOHC Turbocharged
2012 BMW 650i xDrive
Base Convertible 2-Door
Base Coupe 2-Door
4.4L V8 DOHC Turbocharged
2012 BMW 750Li
ActiveHybrid Sedan 4-Door
Base Sedan 4-Door
4.4L V8 ELECTRIC/ DOHC Turbocharged
4.4L V8 DOHC Turbocharged
2012 BMW 750Li xDrive
Base Sedan 4-Door
4.4L V8 DOHC Turbocharged
2012 BMW 750i xDrive
Base Sedan 4-Door
4.4L V8 DOHC Turbocharged
2013 BMW 550i
Base Sedan 4-Door
M Sport Sedan 4-Door
Top Sedan 4-Door
4.4L V8 DOHC Turbocharged
4.4L V8 DOHC Turbocharged
2013 BMW 550i GT
Base Hatchback 4-Door
M Sport Hatchback 4-Door
4.4L V8 DOHC Turbocharged
4.4L V8 DOHC Turbocharged
2013 BMW 550i GT xDrive
Base Hatchback 4-Door
4.4L V8 DOHC Turbocharged
2013 BMW 550i xDrive
Base Sedan 4-Door
4.4L V8 DOHC Turbocharged
2013 BMW 650i
Base Convertible 2-Door
Base Coupe 2-Door
M Sport Convertible 2-Door
M Sport Coupe 2-Door
4.4L V8 DOHC Turbocharged
4.4L V8 DOHC Turbocharged
2013 BMW 650i Gran Coupe
Base Sedan 4-Door
4.4L V8 DOHC Turbocharged
2013 BMW 650i xDrive
Base Convertible 2-Door
Base Coupe 2-Door
4.4L V8 DOHC Turbocharged
2013 BMW 650i xDrive Gran Coupe
Base Sedan 4-Door
4.4L V8 DOHC Turbocharged
2013 BMW 750Li
Base Sedan 4-Door
4.4L V8 DOHC Turbocharged
2013 BMW 750Li xDrive
Base Sedan 4-Door
4.4L V8 DOHC Turbocharged
2013 BMW 750i xDrive
Base Sedan 4-Door
4.4L V8 DOHC Turbocharged
2013 BMW ActiveHybrid 7
Base Sedan 4-Door
3.0L l6 ELECTRIC/ DOHC Turbocharged
2014 BMW 550i
Base Sedan 4-Door
Luxury Sedan 4-Door
M Sport Sedan 4-Door
4.4L V8 DOHC Turbocharged
4.4L V8 DOHC Turbocharged
2014 BMW 550i GT
Base Hatchback 4-Door
4.4L V8 DOHC Turbocharged
2014 BMW 550i GT xDrive
Base Hatchback 4-Door
4.4L V8 DOHC Turbocharged
2014 BMW 550i xDrive
Base Sedan 4-Door
4.4L V8 DOHC Turbocharged
2014 BMW 650i
Base Convertible 2-Door
Base Coupe 2-Door
Base Sedan 4-Door
M Sport Convertible 2-Door
M Sport Coupe 2-Door
4.4L V8 DOHC Turbocharged
4.4L V8 DOHC Turbocharged
2014 BMW 650i Gran Coupe
Base Sedan 4-Door
4.4L V8 DOHC Turbocharged
2014 BMW 650i xDrive
Base Convertible 2-Door
Base Coupe 2-Door
4.4L V8 DOHC Turbocharged
2014 BMW 650i xDrive Gran Coupe
Base Sedan 4-Door
4.4L V8 DOHC Turbocharged
2014 BMW 750Li
Base Sedan 4-Door
4.4L V8 DOHC Turbocharged
2014 BMW 750Li xDrive
Base Sedan 4-Door
4.4L V8 DOHC Turbocharged
2014 BMW 750i xDrive
Base Sedan 4-Door
4.4L V8 DOHC Turbocharged
2014 BMW ActiveHybrid 7
Base Sedan 4-Door
3.0L l6 ELECTRIC/ DOHC Turbocharged
2015 BMW 550i
Base Sedan 4-Door
Luxury Sedan 4-Door
M Sport Sedan 4-Door
4.4L V8 DOHC Turbocharged
4.4L V8 DOHC Turbocharged
2015 BMW 550i GT
Base Hatchback 4-Door
4.4L V8 DOHC Turbocharged
2015 BMW 550i GT xDrive
Base Hatchback 4-Door
4.4L V8 DOHC Turbocharged
2015 BMW 550i xDrive
Base Sedan 4-Door
4.4L V8 DOHC Turbocharged
2015 BMW 650i
Base Convertible 2-Door
Base Coupe 2-Door
M Sport Convertible 2-Door
M Sport Coupe 2-Door
4.4L V8 DOHC Turbocharged
4.4L V8 DOHC Turbocharged
2015 BMW 650i Gran Coupe
Base Sedan 4-Door
4.4L V8 DOHC Turbocharged
2015 BMW 650i xDrive
Base Convertible 2-Door
Base Coupe 2-Door
4.4L V8 DOHC Turbocharged
2015 BMW 650i xDrive Gran Coupe
Base Sedan 4-Door
4.4L V8 DOHC Turbocharged
2015 BMW 750Li
Base Sedan 4-Door
4.4L V8 DOHC Turbocharged
2015 BMW 750Li xDrive
Base Sedan 4-Door
4.4L V8 DOHC Turbocharged
2015 BMW 750i xDrive
Base Sedan 4-Door
4.4L V8 DOHC Turbocharged
2015 BMW ActiveHybrid 7
Base Sedan 4-Door
3.0L l6 ELECTRIC/ DOHC Turbocharged