ABS MODULE 1K0907379AA 1K0614517T AUDI A3 VW EOS GTI GOLF JETTA RABBIT 06-14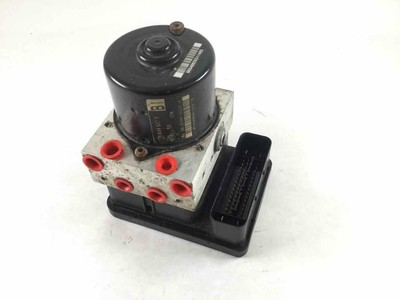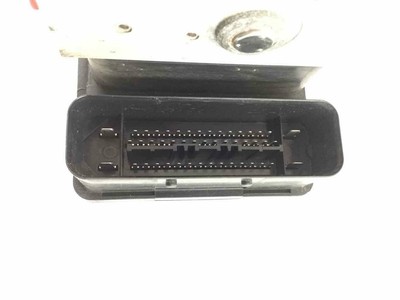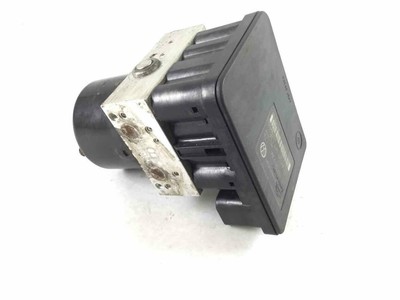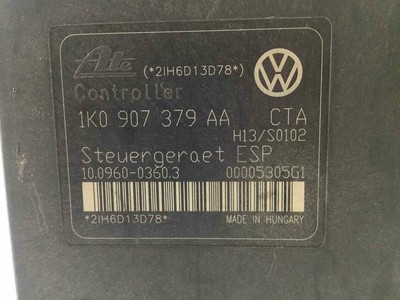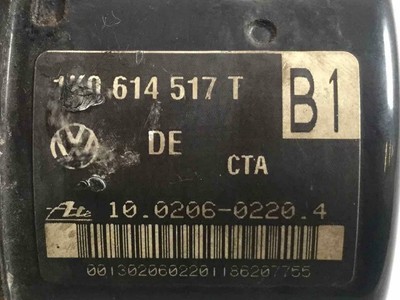 The part listed below is available for purchase online. To purchase the part or to get additional information about the part before you purchase it, click on the View More Details button.
Item #:

PR-123964230364

Ships From:

Paterson, New Jersey
Price:

$81.95
Restocking Fee: No.
Returns Accepted: Returns Accepted.
Item must be returned within: 30 Days.
Refund will be given as: Money back or replacement (buyer's choice).
Return shipping will be paid by: Buyer.
Fitment Type: Direct Replacement.
Brand: VOLKSWAGEN.
Manufacturer Part Number: Does not apply.
ID: 0A70ED31-583F-4EC7-8CA2-955A5F7E9617.
Interchange: 591-52622.
Year: 06.
Model: JETTA EXCEPT GLI.
Stock: 842397.
City; SW, electronic stability control, ID 1K0907375AC JETTA EXCEPT GLI 12-14 ABS, (on ABS pump), SW, electronic stability control, ID 1K0907375AC VOLKSWAGEN JETTA GLI 06-09 ABS, (VIN K, 8th digit), electronic stability control VOLKSWAGEN RABBIT (INCL PICKUP) 06-09 ABS, (LH engine compartment) Description Abs Module 1k0907379aa 1k0614517t Audi A3 Vw Eos Gti Golf Jetta Rabbit 06-14 Buyer Agreement We provide a picture and part number for the buyer to review. If you have questions or concerns about fitment, please contact us prior to purchase with the VIN of the vehicle for which the part is intended. Buyer agrees to all terms stated here and in the store policy. Payment We accept Paypal, Visa, MasterCard, Discover, and American Express Sales tax will be applied to all orders shipped to the state of New Jersey. Shipping Most orders ship in one business day. Express delivery is avilable upon request. Contact us for combined shipping. Listed shipping cost is for the continental US only. Contact us for shipping outside of the continental US. If you have questions or concerns about fitment, please contact us prior to purchase. If there is ever any issue with your order, or if you have any questions or needs, please do not hesitate to contact us. We answer every single message and never ever miss a single one =) Powered by Checkmate
This part is compatible with the following vehicles:
Year/Make/Model
Body & Trim
Engine
2006 Audi A3
Ambiente Hatchback 4-Door
Attraction Hatchback 4-Door
Attraction Plus Hatchback 4-Door
Base Hatchback 4-Door
S Line Hatchback 4-Door
2.0L l4 DOHC
2.0L l4 DOHC Turbocharged
2006 Audi A3 Quattro
Base Hatchback 4-Door
2.0L l4 DOHC
2.0L l4 DOHC Turbocharged
3.2L V6 DOHC
2006 Volkswagen GTI
Base Hatchback 2-Door
2.0L l4 DOHC Turbocharged
2006 Volkswagen Golf
Europa Hatchback 4-Door
GL Hatchback 4-Door
GLS Hatchback 4-Door
GLS TDI Hatchback 4-Door
GTI 1.8T Hatchback 2-Door
2.0L l4 SOHC
1.9L l4 DIESEL SOHC Turbocharged
1.8L l4 DOHC Turbocharged
2006 Volkswagen Jetta
2.0T Sedan 4-Door
2.5 Sedan 4-Door
475 Aniversario Sedan 4-Door
Europa Sedan 4-Door
GLI Sedan 4-Door
Soccer 1 Sedan 4-Door
Soccer 2 Sedan 4-Door
TDI Sedan 4-Door
TDI Wagon 4-Door
Trendline Sedan 4-Door
Value Edition Sedan 4-Door
Winter 1 Sedan 4-Door
Winter 2 Sedan 4-Door
2.0L l4 DOHC Turbocharged
2.5L l5 DOHC
2.0L l4 SOHC
1.9L l4 DIESEL SOHC Turbocharged
1.9L l4 DIESEL Turbocharged
2006 Volkswagen Rabbit
2.5 Hatchback 2-Door
2.5 Hatchback 4-Door
2.5L l5 DOHC
2007 Audi A3
Ambiente Hatchback 4-Door
Attraction Hatchback 4-Door
Attraction Plus Hatchback 4-Door
Base Hatchback 4-Door
LE Hatchback 4-Door
S Line Hatchback 4-Door
X Aniversario Hatchback 4-Door
2.0L l4 DOHC
2.0L l4 DOHC Turbocharged
2007 Audi A3 Quattro
Base Hatchback 4-Door
2.0L l4 DOHC
2.0L l4 DOHC Turbocharged
3.2L V6 DOHC
2007 Volkswagen Eos
2.0T Convertible 2-Door
3.2 Convertible 2-Door
Base Convertible 2-Door
2.0L l4 DOHC Turbocharged
3.2L V6 DOHC
2007 Volkswagen GTI
Base Hatchback 2-Door
Base Hatchback 4-Door
Fahrenheit Hatchback 2-Door
Fahrenheit Hatchback 4-Door
2.0L l4 DOHC Turbocharged
2007 Volkswagen Jetta
2.0T Sedan 4-Door
2.5 Sedan 4-Door
Europa Sedan 4-Door
GLI Sedan 4-Door
TDI Sedan 4-Door
Trendline Sedan 4-Door
Wolfsburg Edition Sedan 4-Door
2.0L l4 DOHC Turbocharged
2.5L l5 DOHC
2.0L l4 SOHC
1.9L l4 DIESEL DOHC Turbocharged
2007 Volkswagen Jetta City
Base Sedan 4-Door
2.0L l4 SOHC
2007 Volkswagen Rabbit
2.5 Hatchback 2-Door
2.5 Hatchback 4-Door
2.5L l5 DOHC
2008 Audi A3
Ambiente Hatchback 4-Door
Attraction Hatchback 4-Door
Attraction Plus Hatchback 4-Door
Base Hatchback 4-Door
S Line Hatchback 4-Door
1.4L l4 DOHC Turbocharged
1.8L l4 DOHC Turbocharged
2.0L l4 DOHC
2.0L l4 DOHC Turbocharged
2008 Audi A3 Quattro
Base Hatchback 4-Door
2.0L l4 DOHC
2.0L l4 DOHC Turbocharged
3.2L V6 DOHC
2008 Volkswagen Eos
2.0T Convertible 2-Door
Komfort Convertible 2-Door
Lux Convertible 2-Door
Turbo Convertible 2-Door
VR6 Convertible 2-Door
2.0L l4 DOHC Turbocharged
3.2L V6 DOHC
2008 Volkswagen GTI
Base Hatchback 2-Door
Base Hatchback 4-Door
2.0L l4 DOHC Turbocharged
2008 Volkswagen Jetta
2.0T Sedan 4-Door
2.5 Sedan 4-Door
2.5 Wagon 4-Door
Europa Sedan 4-Door
GLI Sedan 4-Door
S Sedan 4-Door
SE Sedan 4-Door
SEL Sedan 4-Door
TDI Sedan 4-Door
Trendline Sedan 4-Door
Wolfsburg Edition Sedan 4-Door
2.0L l4 DOHC Turbocharged
2.5L l5 DOHC
2.0L l4 SOHC
1.9L l4 DIESEL DOHC Turbocharged
2008 Volkswagen Jetta City
Base Sedan 4-Door
2.0L l4 SOHC
2008 Volkswagen Rabbit
2.5 Hatchback 2-Door
2.5 Hatchback 4-Door
S Hatchback 2-Door
S Hatchback 4-Door
2.5L l5 DOHC
2009 Volkswagen GTI
Base Hatchback 2-Door
Base Hatchback 4-Door
2.0L l4 DOHC Turbocharged
2009 Volkswagen Golf City
Base Hatchback 4-Door
2.0L l4 SOHC
2009 Volkswagen Jetta
Comfortline Sedan 4-Door
Comfortline Wagon 4-Door
Europa Sedan 4-Door
GLI Sedan 4-Door
Highline Sedan 4-Door
Highline Wagon 4-Door
S Sedan 4-Door
S Wagon 4-Door
SE Sedan 4-Door
SE Wagon 4-Door
SEL Sedan 4-Door
SEL Wagon 4-Door
TDI Sedan 4-Door
TDI Wagon 4-Door
Trendline Sedan 4-Door
Trendline Wagon 4-Door
Wolfsburg Edition Sedan 4-Door
2.5L l5 DOHC
2.0L l4 SOHC
1.8L l4 SOHC Turbocharged
2.0L l4 DOHC Turbocharged
1.9L l4 DIESEL DOHC Turbocharged
2.0L l4 DIESEL DOHC Turbocharged
2009 Volkswagen Jetta City
Base Sedan 4-Door
2.0L l4 SOHC
2009 Volkswagen Rabbit
Comfortline Hatchback 2-Door
Comfortline Hatchback 4-Door
S Hatchback 2-Door
S Hatchback 4-Door
Trendline Hatchback 2-Door
Trendline Hatchback 4-Door
2.5L l5 DOHC
2010 Volkswagen GTI
Base Hatchback 2-Door
Base Hatchback 4-Door
2.0L l4 DOHC Turbocharged
2010 Volkswagen Golf
Base Hatchback 2-Door
Base Hatchback 4-Door
Comfortline Hatchback 2-Door
Comfortline Hatchback 4-Door
Comfortline Wagon 4-Door
Highline Hatchback 2-Door
Highline Hatchback 4-Door
Highline Wagon 4-Door
TDI Hatchback 2-Door
TDI Hatchback 4-Door
TDI Wagon 4-Door
Trendline Hatchback 2-Door
Trendline Hatchback 4-Door
Trendline Wagon 4-Door
2.5L l5 DOHC
2.0L l4 DIESEL DOHC Turbocharged
2010 Volkswagen Golf City
Base Hatchback 4-Door
2.0L l4 SOHC
2010 Volkswagen Jetta
Base Sedan 4-Door
City Sedan 4-Door
Clasico Sedan 4-Door
Comfortline Sedan 4-Door
Comfortline Wagon 4-Door
Europa Sedan 4-Door
GLI Sedan 4-Door
Highline Sedan 4-Door
Highline Wagon 4-Door
S Sedan 4-Door
S Wagon 4-Door
SE Sedan 4-Door
SE Wagon 4-Door
SEL Sedan 4-Door
SEL Wagon 4-Door
TDI Cup Edition Sedan 4-Door
TDI Sedan 4-Door
TDI Wagon 4-Door
Trendline Sedan 4-Door
Trendline Wagon 4-Door
Wolfsburg Edition Sedan 4-Door
1.9L l4 DIESEL SOHC Turbocharged
2.0L l4 SOHC
2.5L l5 DOHC
1.8L l4 SOHC Turbocharged
2.0L l4 DIESEL DOHC Turbocharged
2.0L l4 DOHC Turbocharged
2011 Volkswagen GTI
Base Hatchback 2-Door
Base Hatchback 4-Door
2.0L l4 DOHC Turbocharged
2011 Volkswagen Golf
Base Hatchback 2-Door
Base Hatchback 4-Door
Comfortline Hatchback 2-Door
Comfortline Hatchback 4-Door
Comfortline Wagon 4-Door
Highline Hatchback 2-Door
Highline Hatchback 4-Door
Highline Wagon 4-Door
Sportline Hatchback 2-Door
Sportline Hatchback 4-Door
TDI Comfortline Hatchback 2-Door
TDI Comfortline Hatchback 4-Door
TDI Comfortline Wagon 4-Door
TDI Hatchback 2-Door
TDI Hatchback 4-Door
TDI Highline Hatchback 2-Door
TDI Highline Hatchback 4-Door
TDI Highline Wagon 4-Door
Trendline Hatchback 2-Door
Trendline Hatchback 4-Door
Trendline Wagon 4-Door
2.5L l5 DOHC
2.0L l4 DIESEL DOHC Turbocharged
2011 Volkswagen Jetta
Active Sedan 4-Door
Base Sedan 4-Door
Bicentenario Sedan 4-Door
Comfortline Sedan 4-Door
Comfortline Wagon 4-Door
Highline Sedan 4-Door
Highline Wagon 4-Door
S Sedan 4-Door
S Wagon 4-Door
SE Sedan 4-Door
SE Wagon 4-Door
SEL Sedan 4-Door
Sport Sedan 4-Door
Sportline Sedan 4-Door
Sportline Wagon 4-Door
Style Sedan 4-Door
TDI Comfortline Sedan 4-Door
TDI Comfortline Wagon 4-Door
TDI Highline Sedan 4-Door
TDI Highline Wagon 4-Door
TDI Sedan 4-Door
TDI Wagon 4-Door
Trendline Sedan 4-Door
Trendline Wagon 4-Door
2.5L l5 DOHC
2.0L l4 SOHC
2.0L l4 DIESEL DOHC Turbocharged
2012 Volkswagen GTI
Base Hatchback 2-Door
Base Hatchback 4-Door
2.0L l4 DOHC Turbocharged
2012 Volkswagen Golf
Base Hatchback 2-Door
Base Hatchback 4-Door
Comfortline Hatchback 2-Door
Comfortline Hatchback 4-Door
Comfortline TDI Hatchback 2-Door
Comfortline TDI Hatchback 4-Door
Comfortline TDI Wagon 4-Door
Comfortline Wagon 4-Door
Highline Hatchback 2-Door
Highline Hatchback 4-Door
Highline TDI Hatchback 2-Door
Highline TDI Hatchback 4-Door
Highline TDI Wagon 4-Door
Sportline Hatchback 2-Door
Sportline Hatchback 4-Door
TDI Hatchback 2-Door
TDI Hatchback 4-Door
Trendline Hatchback 2-Door
Trendline Hatchback 4-Door
Trendline Wagon 4-Door
2.5L l5 DOHC
2.0L l4 DIESEL DOHC Turbocharged
2012 Volkswagen Golf R
Base Hatchback 2-Door
Base Hatchback 4-Door
2.0L l4 DOHC Turbocharged
2012 Volkswagen Jetta
Active Sedan 4-Door
Comfortline Sedan 4-Door
Comfortline TDI Sedan 4-Door
Comfortline TDI Wagon 4-Door
Comfortline Wagon 4-Door
GLI Sedan 4-Door
Highline Sedan 4-Door
Highline TDI Sedan 4-Door
Highline TDI Wagon 4-Door
Highline Wagon 4-Door
S Sedan 4-Door
S Wagon 4-Door
SE Sedan 4-Door
SE Wagon 4-Door
SEL Sedan 4-Door
Sport Sedan 4-Door
Sportline Sedan 4-Door
Sportline Wagon 4-Door
Style Sedan 4-Door
TDI Premium Sedan 4-Door
TDI Sedan 4-Door
TDI Wagon 4-Door
Trendline Sedan 4-Door
Trendline Wagon 4-Door
2.5L l5 DOHC
2.0L l4 DIESEL DOHC Turbocharged
2.0L l4 DOHC Turbocharged
2.0L l4 SOHC
2013 Volkswagen GTI
Base Hatchback 2-Door
Base Hatchback 4-Door
2.0L l4 DOHC Turbocharged
2013 Volkswagen Golf
Base Hatchback 2-Door
Base Hatchback 4-Door
Comfortline Hatchback 4-Door
Comfortline TDI Hatchback 4-Door
Comfortline TDI Wagon 4-Door
Comfortline Wagon 4-Door
GTI Hatchback 2-Door
GTI Hatchback 4-Door
Highline TDI Hatchback 4-Door
Highline TDI Wagon 4-Door
Sportline Wagon 4-Door
TDI Hatchback 2-Door
TDI Hatchback 4-Door
Trendline Hatchback 2-Door
Trendline Wagon 4-Door
2.5L l5 DOHC
1.4L l4 SOHC Turbocharged
2.0L l4 DIESEL DOHC Turbocharged
2.0L l4 DOHC Turbocharged
2013 Volkswagen Golf R
Base Hatchback 2-Door
Base Hatchback 4-Door
2.0L l4 DOHC Turbocharged
2013 Volkswagen Jetta
Active Sedan 4-Door
Base Sedan 4-Door
Comfortline Sedan 4-Door
GLI Sedan 4-Door
Highline Sedan 4-Door
Hybrid Comfortline Sedan 4-Door
Hybrid Highline Sedan 4-Door
Hybrid SE Sedan 4-Door
Hybrid Sedan 4-Door
Hybrid SEL Sedan 4-Door
Hybrid Trendline Sedan 4-Door
S Sedan 4-Door
S Wagon 4-Door
SE Sedan 4-Door
SE Wagon 4-Door
SEL Sedan 4-Door
Sport Sedan 4-Door
Sportline Sedan 4-Door
Style Sedan 4-Door
TDI Premium Sedan 4-Door
TDI Sedan 4-Door
TDI Wagon 4-Door
Trendline Sedan 4-Door
2.5L l5 DOHC
2.0L l4 SOHC
2.0L l4 DOHC Turbocharged
1.4L l4 ELECTRIC/ DOHC Turbocharged
2.0L l4 DIESEL DOHC Turbocharged
2014 Volkswagen GTI
Driver's Edition Hatchback 4-Door
Wolfsburg Edition Hatchback 4-Door
2.0L l4 DOHC Turbocharged
2014 Volkswagen Golf
Base Hatchback 4-Door
Comfortline TDI Wagon 4-Door
Comfortline Wagon 4-Door
Highline TDI Wagon 4-Door
TDI Hatchback 4-Door
Trendline TDI Wagon 4-Door
Trendline Wagon 4-Door
2.5L l5 DOHC
2.0L l4 DIESEL DOHC Turbocharged
2014 Volkswagen Jetta
Active Sedan 4-Door
Base Sedan 4-Door
Comfort Sedan 4-Door
Comfort TDI Sedan 4-Door
Comfort TDI Wagon 4-Door
Comfort Wagon 4-Door
GLI Sedan 4-Door
Highline Sedan 4-Door
Highline TDI Sedan 4-Door
Hybrid Comfortline Sedan 4-Door
Hybrid Highline Sedan 4-Door
Hybrid SE Sedan 4-Door
Hybrid Sedan 4-Door
Hybrid SEL Premium Sedan 4-Door
Hybrid SEL Sedan 4-Door
Hybrid Trendline Sedan 4-Door
S Sedan 4-Door
S Wagon 4-Door
SE Sedan 4-Door
SE Wagon 4-Door
SEL Sedan 4-Door
Sport Sedan 4-Door
Style Sedan 4-Door
TDI Premium Sedan 4-Door
TDI Sedan 4-Door
TDI Wagon 4-Door
Trendline Sedan 4-Door
Trendline Wagon 4-Door
Trendline+ Sedan 4-Door
2.5L l5 DOHC
2.0L l4 SOHC
1.8L l4 DOHC Turbocharged
2.0L l4 DIESEL DOHC Turbocharged
2.0L l4 DOHC Turbocharged
1.4L l4 ELECTRIC/ DOHC Turbocharged
-Cu. In. --