98-04 *REBUILT CHRYSLER CONCORDE 300M INTREPID SEBRING CLIMATE CONTROL AC HEATER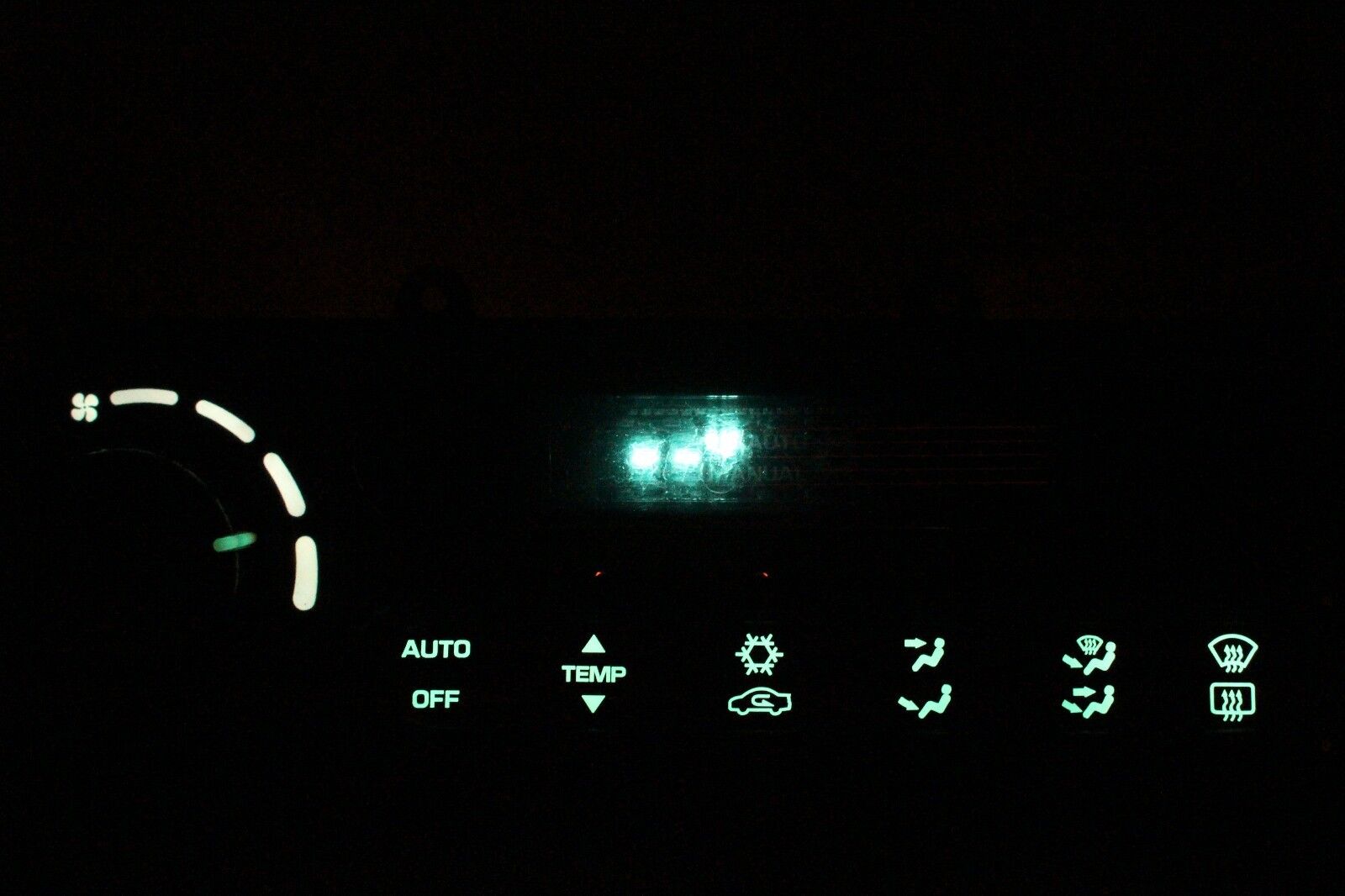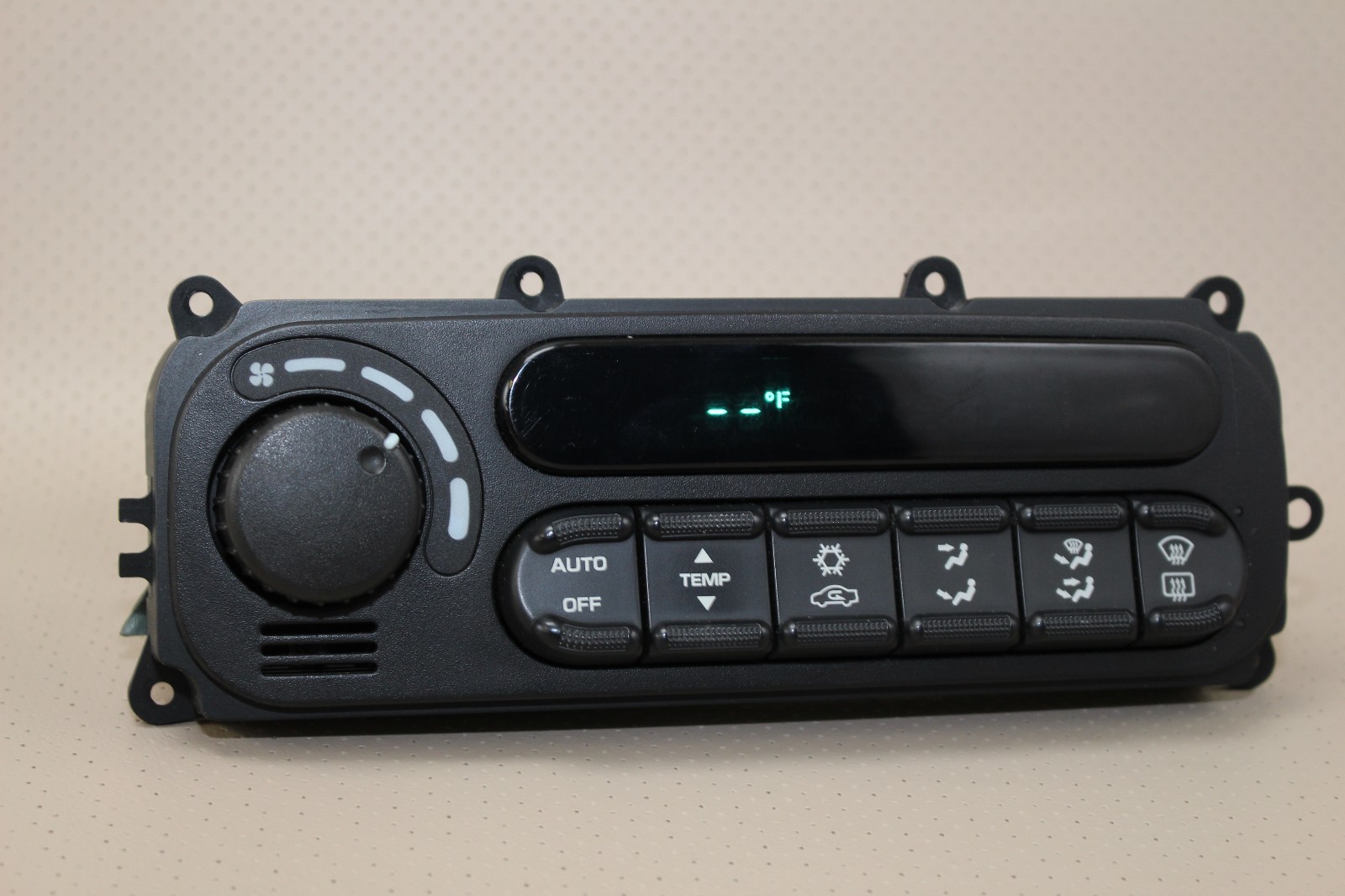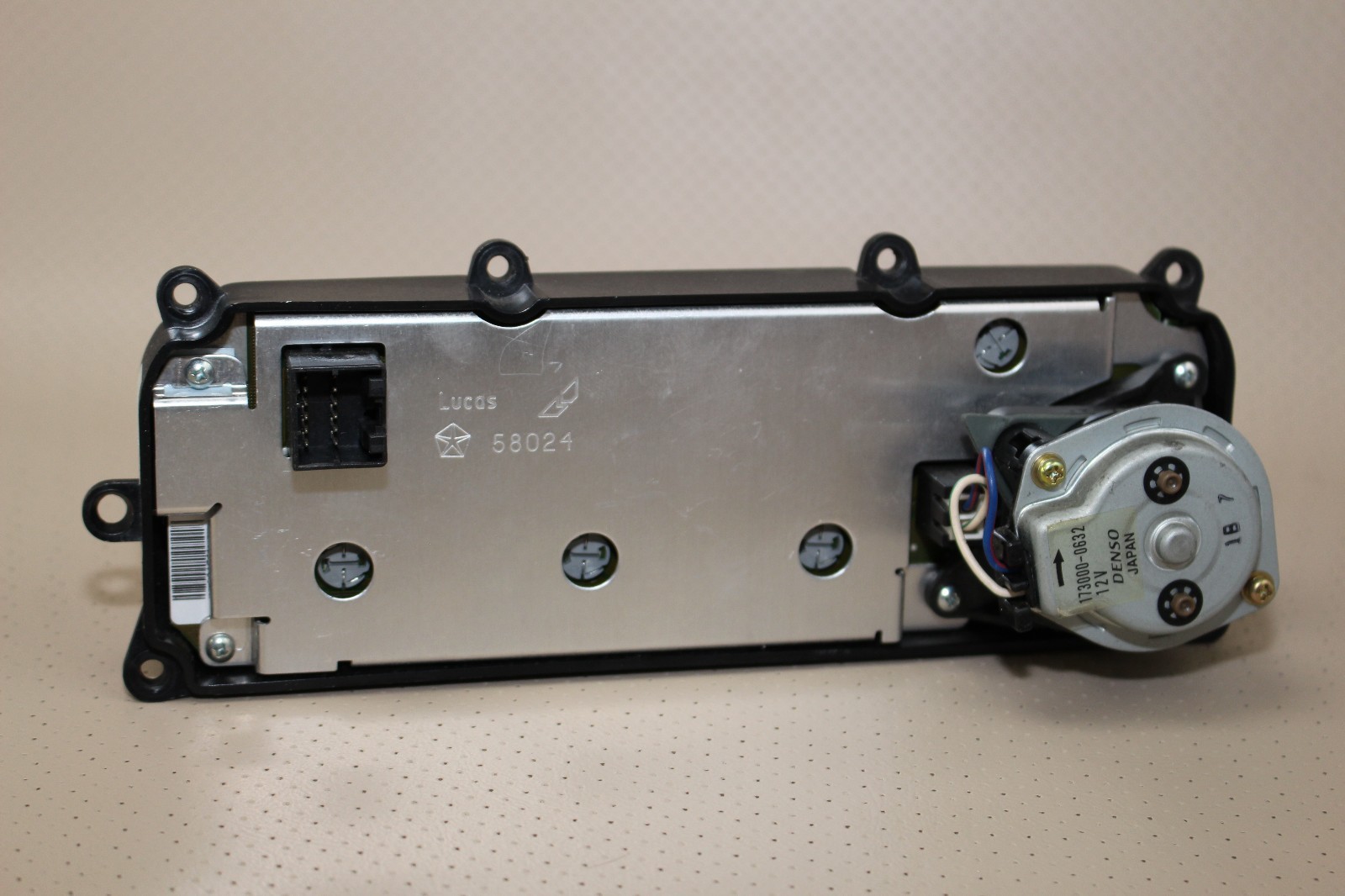 The part listed below is available for purchase online. To purchase the part or to get additional information about the part before you purchase it, click on the View More Details button.
Item #:

PR-222365181862

Ships From:

Millstadt, Illinois
Price:

$67.99
Restocking Fee: No.
Returns Accepted: Returns Accepted.
Item must be returned within: 60 Days.
Refund will be given as: Money back or replacement (buyer's choice).
Return shipping will be paid by: Seller.
Country/Region of Manufacture: United States.
Surface Finish: Black.
Manufacturer Part Number: Does Not Apply.
Brand: Chrysler.
Warranty: 60 Day.
WE SHIP EVERY SINGLE BUSINESS DAY...AND SATURDAY TOO!!SAME DAY SHIPPING MON-FRI ON ORDERS BEFORE NOON (CST) - GUARANTEED! ALL COMPONENTS AND BULBS WERE COMPLETELY REBUILT! UNIT LIGHTS UP BRIGHT AND EVEN! IT HAS NO BROKEN PARTS AND ALL BUTTONS FUNCTION AS THEY SHOULD. THIS WOULD MAKE A NICE USED REPLACEMENT.SHOULD FIT 1998 TO 2004 CHRYSLER AND DODGE "LH BODY" VEHICLES INCLUDING: CHRYSLER 300M, LHS, CONCORDE, AND DODGE INTREPID MODELS. SHOULD ALSO FIT 2002 TO 2005 CHRYSLER SEBRING MODELS EQUIPPED WITH THE DIGITAL STYLE CONTROL. PLEASE VERIFY FITMENT WITH A DEALER OR SIMILARLY QUALIFIED TECHNICIAN PRIOR TO PURCHASE. THE SHIPPING PRICE AND METHOD AS STATED IN THE LISTING IS FOR THE LOWER 48 STATES ONLY (CONTINENTAL U.S.)---Shipping to Alaska, Hawaii, and Puerto Rico is likely to be delivered via USPS Parcel Post---------------------------------------------------------------------------------------------------------------------------------------------------------------------------------------THANK YOU FOR VISITING US AT k5 AUTO RESOURCE!We know it's frustrating to have your vehicle off the road for even a short time, and getting it up and running again can cost you a lot of money and some serious headaches. It's hard to find quality replacement parts--buyers usually wind up paying for new parts at the dealership, trying to source the parts on their own with almost no help or purchasing cheaper aftermarket replacement parts that are not manufactured to the standards automakers were bound to when the car was first built. NO MORE WORRIES! MOST IMPORTANTLY, WE KNOW HOW TO SAVE YOU MONEY! After many years of experience sourcing used parts for buyers, we have learned how to track down the hard to find parts you'll need for your repair, offer them to you at a reasonable price and then ship them to your door in a hurry! Each part that leaves our warehouse is thoroughly inspected and cleaned with effective products. We package each item carefully with brand new shipping materials so that it arrives safely, and then provide detailed tracking information in the sales record as soon as it ships so that you know when to expect your package.WE WANT YOU TO FEEL GREAT ABOUT YOUR PURCHASE. All you have to do is click on "Contact Seller" for the item you purchased or have an interest in and send us a brief message. We generally are able to send you a reply within a few hours or even sooner...WE ARE AVAILABLE 365 DAYS A YEAR-THIS IS OUR PLEDGE TO YOU! RETURNS:Every part we sell comes with a standard 60 day warranty unless otherwise specified. If the part you receive does not function as intended, PLEASE SEND US A CORRESPONDENCE IMMEDIATELY. There are often a variety of different things can create a problem. PLEASE CONTACT US BEFORE OPENING A CASE OR LEAVING A POOR REVIEW--WE ARE A VERY REASONABLE COMPANY AND KNOW THAT NEARLY ALL BUYERS ARE REASONABLE TOO AS LONG AS THE SELLER IS WILLING TO TAKE THE TIME TO WORK WITH THEM TO MAKE THINGS RIGHT. WE ARE ALWAYS WILLING TO DO THIS FOR YOU! FEEDBACK:We want to earn 5 stars on every transaction. If something happened during your buying experience that falls short of your expectations, PLEASE LET US KNOW RIGHT AWAY. Simply follow the instructions laid out above and we will respond swiftly. We are eager to help solve any problem you might be experiencing and are confident that we can work with you to reach a positive resolution no matter what the situation might be.WE ARE 100% COMMITTED TO YOUR SATISFACTION!
This part is compatible with the following vehicles:
Year/Make/Model
Body & Trim
Engine
1998 Chrysler 300M
Base Sedan 4-Door
3.5L V6 SOHC
1998 Chrysler Concorde
LX Sedan 4-Door
LXi Sedan 4-Door
2.7L V6 DOHC
3.2L V6 SOHC
1998 Dodge Intrepid
Base Sedan 4-Door
SXT Sedan 4-Door
ES Sedan 4-Door
2.7L V6 DOHC
3.2L V6 SOHC
1999 Chrysler 300M
Base Sedan 4-Door
3.5L V6 SOHC
1999 Chrysler Concorde
LX Sedan 4-Door
LXi Sedan 4-Door
2.7L V6 DOHC
3.2L V6 SOHC
1999 Chrysler LHS
Base Sedan 4-Door
3.5L V6 SOHC
1999 Dodge Intrepid
ES Sedan 4-Door
2.7L V6 DOHC
3.2L V6 SOHC
2000 Chrysler 300M
Base Sedan 4-Door
3.5L V6 SOHC
2000 Chrysler Concorde
LX Sedan 4-Door
LXi Sedan 4-Door
2.7L V6 DOHC
3.2L V6 SOHC
2000 Chrysler LHS
Base Sedan 4-Door
3.5L V6 SOHC
2000 Dodge Intrepid
ES Sedan 4-Door
R/T Sedan 4-Door
2.7L V6 DOHC
3.2L V6 SOHC
3.5L V6 SOHC
2001 Chrysler 300M
Base Sedan 4-Door
3.5L V6 SOHC
2001 Chrysler Concorde
LX Sedan 4-Door
LXi Sedan 4-Door
2.7L V6 DOHC
3.2L V6 SOHC
2001 Chrysler LHS
Base Sedan 4-Door
3.5L V6 SOHC
2001 Dodge Intrepid
SE Sedan 4-Door
R/T Sedan 4-Door
2.7L V6 DOHC
3.5L V6 SOHC
2002 Chrysler 300M
Special Sedan 4-Door
Base Sedan 4-Door
3.5L V6 SOHC
2002 Chrysler Concorde
LXi Sedan 4-Door
LX Sedan 4-Door
3.5L V6 SOHC
2.7L V6 DOHC
2002 Chrysler Sebring
LXi Sedan 4-Door
Limited Convertible 2-Door
LX Sedan 4-Door
LX Convertible 2-Door
LX Coupe 2-Door
LXi Convertible 2-Door
LXi Coupe 2-Door
2.7L V6 DOHC
2.4L l4 SOHC
2.4L l4 DOHC
3.0L V6 SOHC
2002 Dodge Intrepid
SE Sedan 4-Door
R/T Sedan 4-Door
3.5L V6 SOHC
2.7L V6 DOHC
2003 Chrysler 300M
Special Sedan 4-Door
Pro-Am Sedan 4-Door
3.5L V6 SOHC
2003 Chrysler Concorde
LXi Sedan 4-Door
LX Sedan 4-Door
3.5L V6 SOHC
2.7L V6 DOHC
2003 Chrysler Sebring
LXi Sedan 4-Door
Limited Convertible 2-Door
LX Sedan 4-Door
LX Convertible 2-Door
LX Coupe 2-Door
LXi Convertible 2-Door
LXi Coupe 2-Door
2.7L V6 FLEX DOHC
2.7L V6 DOHC
2.4L l4 SOHC
2.4L l4 DOHC
3.0L V6 SOHC
2003 Dodge Intrepid
SXT Sedan 4-Door
SE Sedan 4-Door
3.5L V6 SOHC
2.7L V6 DOHC
2004 Chrysler 300M
Special Sedan 4-Door
3.5L V6 SOHC
2004 Chrysler Concorde
LXi Sedan 4-Door
LX Sedan 4-Door
3.5L V6 SOHC
2.7L V6 DOHC
2004 Chrysler Sebring
LX Sedan 4-Door
Touring Sedan 4-Door
Base Coupe 2-Door
Base Sedan 4-Door
GTC Convertible 2-Door
Limited Convertible 2-Door
Limited Coupe 2-Door
LX Convertible 2-Door
Touring Convertible 2-Door
2.4L l4 SOHC
2.4L l4 DOHC
2.7L V6 FLEX DOHC
2.7L V6 DOHC
3.0L V6 SOHC
2004 Dodge Intrepid
SXT Sedan 4-Door
Police Sedan 4-Door
SE Sedan 4-Door
3.5L V6 SOHC
2.7L V6 DOHC
2005 Chrysler Sebring
Base Sedan 4-Door
Base Coupe 2-Door
Touring Sedan 4-Door
TSi Sedan 4-Door
Limited Convertible 2-Door
Limited Sedan 4-Door
Limited Coupe 2-Door
Touring Convertible 2-Door
2.4L l4 SOHC
2.4L l4 DOHC
2.7L V6 FLEX DOHC
2.7L V6 DOHC
3.0L V6 SOHC