37909-90 HARLEY-DAVIDSON CLUTCH BASKET HUB INTERNAL RETAINING RING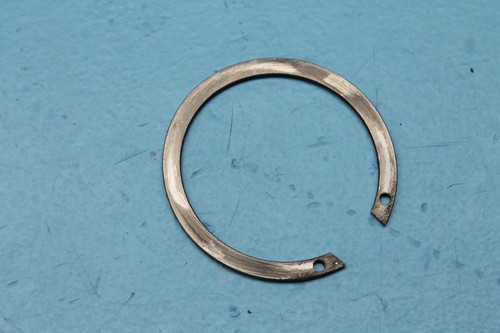 Part number 37909-90 is available for purchase online. To purchase the part or to get additional information about the part before you purchase it, click on the View More Details button.
Item #:

PR-254213917763

Ships From:

Bradenton, Florida
Price:

$4.95
Brand: Harley-Davidson.
eBay Product ID (ePID): 1823120476.
Type: CLUTCH PART.
Modified Item: No.
Placement on Vehicle: Left.
Non-Domestic Product: No.
MPN: 3790990.
BRAND: Harley-Davidson.
Manufacturer Part Number: 37909-90.
Restocking Fee: 15%.
Returns Accepted: Returns Accepted.
Item must be returned within: 30 Days.
Refund will be given as: Money Back.
Return shipping will be paid by: Buyer.
37909-90 HARLEY-DAVIDSON CLUTCH BASKET HUB INTERNAL RETAINING RING CLUTCH PART is in great serviceable condition with signs of wear consistent with normal use & age. Visit my store for more items off this bike. This part came off of a 2009 Harley-Davidson Mileage on the bike was N/A All parts are checked, cleaned and ready to be installed. Guaranteed to be fully functional and come with a 30 day return policy.COMPATIBILITY CHARTS AND ITEM CONDITION Some items are as good as new, some may show signs of normal use, and some may be considered damaged but repairable. We do our best to carefully clean, inspect, and photograph each item and describe it as accurately as possible.PLEASE EXAMINE PICTURES CLOSELY!Consult your local dealer to be sure part will fit your vehicle. May fit other years and models, check with your local dealer. BUSINESS HOURSHIGHSIDE CYCLES INC. is a licensed Florida Salvage Dealer. HIGHSIDE CYCLES is open Monday through Friday 9 to 5 est. (Florida). Items shipped to FL require 7% sales tax. We do our best to describe each item accurately, if you don't see something in the pictures, PLEASE ASK! Do not assume anything. Items less than 100 lbs. normally shipped via FedEx with tracking unless otherwise stated. Please realize economy shipping takes longer and keeps our prices low. Buyer may request alternative methods at Buyer's expense. Large/Heavy Items may require special handling and/or shipment to a business address with a contact name and phone number. Shipping to Alaska, Hawaii, Puerto Rico, and international may be higher. Timing: We try to ship most items within 1 business days after PAYMENT CONFIRMATION, but some items may take up to 3 days. We ship Monday thur Friday. PAYMENT POLICY PayPal only please! Payment must be confirmed prior to shipment, so please allow time for your payment to clear. Customer satisfaction is very important to us! If you have any problems, please contact us before filing a claim or providing negative feedback, and we will do our best to resolve your issue in a quick and professional manner. Positive feedback helps reduce our fees, which helps us keep our prices low!
Part number 37909-90 is compatible with the following vehicles:
| Year/Make/Model | Body & Trim | Engine |
| --- | --- | --- |
| 1991 Harley-Davidson Dyna | | |
| 1991 Harley-Davidson Electra Glide | | |
| 1991 Harley-Davidson Fatboy | | |
| 1991 Harley-Davidson Heritage Softail | | |
| 1991 Harley-Davidson Low Rider | | |
| 1991 Harley-Davidson Softail | | |
| 1991 Harley-Davidson Softail Springer | | |
| 1991 Harley-Davidson Sport Glide | | |
| 1991 Harley-Davidson Sportster 1200 | | |
| 1991 Harley-Davidson Sportster 883 | | |
| 1991 Harley-Davidson Super Glide | | |
| 1991 Harley-Davidson Tour Glide | | |
| 1992 Harley-Davidson Dyna | | |
| 1992 Harley-Davidson Dyna Glide | | |
| 1992 Harley-Davidson Electra Glide | | |
| 1992 Harley-Davidson Fatboy | | |
| 1992 Harley-Davidson Heritage Softail | | |
| 1992 Harley-Davidson Low Rider | | |
| 1992 Harley-Davidson Softail | | |
| 1992 Harley-Davidson Softail Springer | | |
| 1992 Harley-Davidson Sport Glide | | |
| 1992 Harley-Davidson Sportster 1200 | | |
| 1992 Harley-Davidson Sportster 883 | | |
| 1992 Harley-Davidson Super Glide | | |
| 1992 Harley-Davidson Tour Glide | | |
| 1993 Harley-Davidson Dyna | | |
| 1993 Harley-Davidson Electra Glide | | |
| 1993 Harley-Davidson Fatboy | | |
| 1993 Harley-Davidson Heritage Softail | | |
| 1993 Harley-Davidson Softail | | |
| 1993 Harley-Davidson Softail Springer | | |
| 1993 Harley-Davidson Sportster 1200 | | |
| 1993 Harley-Davidson Sportster 883 | | |
| 1993 Harley-Davidson Super Glide | | |
| 1993 Harley-Davidson Tour Glide | | |
| 1994 Harley-Davidson Dyna | | |
| 1994 Harley-Davidson Electra Glide | | |
| 1994 Harley-Davidson Fatboy | | |
| 1994 Harley-Davidson Heritage Softail | | |
| 1994 Harley-Davidson Road King | | |
| 1994 Harley-Davidson Softail | | |
| 1994 Harley-Davidson Softail Springer | | |
| 1994 Harley-Davidson Sportster 1200 | | |
| 1994 Harley-Davidson Sportster 883 | | |
| 1994 Harley-Davidson Super Glide | | |
| 1994 Harley-Davidson Tour Glide | | |
| 1995 Harley-Davidson Bad Boy | | |
| 1995 Harley-Davidson Dyna | | |
| 1995 Harley-Davidson Electra Glide | | |
| 1995 Harley-Davidson Fatboy | | |
| 1995 Harley-Davidson Heritage Softail | | |
| 1995 Harley-Davidson Road King | | |
| 1995 Harley-Davidson Softail | | |
| 1995 Harley-Davidson Softail Springer | | |
| 1995 Harley-Davidson Sportster 1200 | | |
| 1995 Harley-Davidson Sportster 883 | | |
| 1995 Harley-Davidson Tour Glide | | |
| 1996 Harley-Davidson Bad Boy | | |
| 1996 Harley-Davidson Dyna | | |
| 1996 Harley-Davidson Electra Glide | | |
| 1996 Harley-Davidson Fatboy | | |
| 1996 Harley-Davidson Heritage Softail | | |
| 1996 Harley-Davidson Road King | | |
| 1996 Harley-Davidson Softail | | |
| 1996 Harley-Davidson Softail Springer | | |
| 1996 Harley-Davidson Sportster 1200 | | |
| 1996 Harley-Davidson Sportster 883 | | |
| 1996 Harley-Davidson Tour Glide | | |
| 1997 Harley-Davidson Bad Boy | | |
| 1997 Harley-Davidson Dyna | | |
| 1997 Harley-Davidson Electra Glide | | |
| 1997 Harley-Davidson Fatboy | | |
| 1997 Harley-Davidson Heritage Softail | | |
| 1997 Harley-Davidson Heritage Springer | | |
| 1997 Harley-Davidson Road King | | |
| 1997 Harley-Davidson Softail | | |
| 1997 Harley-Davidson Softail Springer | | |
| 1997 Harley-Davidson Sportster 1200 | | |
| 1997 Harley-Davidson Sportster 883 | | |
| 1998 Harley-Davidson Dyna | | |
| 1998 Harley-Davidson Electra Glide | | |
| 1998 Harley-Davidson Fatboy | | |
| 1998 Harley-Davidson Heritage Softail | | |
| 1998 Harley-Davidson Heritage Springer | | |
| 1998 Harley-Davidson Road Glide | | |
| 1998 Harley-Davidson Road King | | |
| 1998 Harley-Davidson Softail | | |
| 1998 Harley-Davidson Softail Springer | | |
| 1998 Harley-Davidson Sportster 1200 | | |
| 1998 Harley-Davidson Sportster 883 | | |
| 1999 Harley-Davidson Dyna | | |
| 1999 Harley-Davidson Electra Glide | | |
| 1999 Harley-Davidson Fatboy | | |
| 1999 Harley-Davidson Heritage Softail | | |
| 1999 Harley-Davidson Heritage Springer | | |
| 1999 Harley-Davidson Night Train | | |
| 1999 Harley-Davidson Road Glide | | |
| 1999 Harley-Davidson Road King | | |
| 1999 Harley-Davidson Softail | | |
| 1999 Harley-Davidson Softail Springer | | |
| 1999 Harley-Davidson Sportster 1200 | | |
| 1999 Harley-Davidson Sportster 883 | | |
| 1999 Harley-Davidson Super Glide | | |
| 2000 Harley-Davidson Dyna | | |
| 2000 Harley-Davidson Electra Glide | | |
| 2000 Harley-Davidson Fatboy | | |
| 2000 Harley-Davidson Heritage Softail | | |
| 2000 Harley-Davidson Heritage Springer | | |
| 2000 Harley-Davidson Night Train | | |
| 2000 Harley-Davidson Road Glide | | |
| 2000 Harley-Davidson Road King | | |
| 2000 Harley-Davidson Softail | | |
| 2000 Harley-Davidson Softail Springer | | |
| 2000 Harley-Davidson Sportster 1200 | | |
| 2000 Harley-Davidson Sportster 883 | | |
| 2001 Harley-Davidson Dyna | | |
| 2001 Harley-Davidson Electra Glide | | |
| 2001 Harley-Davidson Fatboy | | |
| 2001 Harley-Davidson Heritage Softail | | |
| 2001 Harley-Davidson Heritage Springer | | |
| 2001 Harley-Davidson Night Train | | |
| 2001 Harley-Davidson Road Glide | | |
| 2001 Harley-Davidson Road King | | |
| 2001 Harley-Davidson Softail | | |
| 2001 Harley-Davidson Softail Springer | | |
| 2001 Harley-Davidson Sportster 1200 | | |
| 2001 Harley-Davidson Sportster 883 | | |
| 2002 Harley-Davidson Dyna | | |
| 2002 Harley-Davidson Electra Glide | | |
| 2002 Harley-Davidson Fatboy | | |
| 2002 Harley-Davidson Heritage Softail | | |
| 2002 Harley-Davidson Heritage Springer | | |
| 2002 Harley-Davidson Night Train | | |
| 2002 Harley-Davidson Road Glide | | |
| 2002 Harley-Davidson Road King | | |
| 2002 Harley-Davidson Softail | | |
| 2002 Harley-Davidson Softail Springer | | |
| 2002 Harley-Davidson Sportster 1200 | | |
| 2002 Harley-Davidson Sportster 883 | | |
| 2002 Harley-Davidson V-Rod | | |
| 2003 Harley-Davidson Dyna | | |
| 2003 Harley-Davidson Electra Glide | | |
| 2003 Harley-Davidson Fatboy | | |
| 2003 Harley-Davidson Heritage Softail | | |
| 2003 Harley-Davidson Heritage Springer | | |
| 2003 Harley-Davidson Night Train | | |
| 2003 Harley-Davidson Road Glide | | |
| 2003 Harley-Davidson Road King | | |
| 2003 Harley-Davidson Softail | | |
| 2003 Harley-Davidson Softail Springer | | |
| 2003 Harley-Davidson Sportster 1200 | | |
| 2003 Harley-Davidson Sportster 883 | | |
| 2003 Harley-Davidson V-Rod | | |
| 2004 Harley-Davidson Dyna | | |
| 2004 Harley-Davidson Electra Glide | | |
| 2004 Harley-Davidson Fatboy | | |
| 2004 Harley-Davidson Heritage Softail | | |
| 2004 Harley-Davidson Night Train | | |
| 2004 Harley-Davidson Road Glide | | |
| 2004 Harley-Davidson Road King | | |
| 2004 Harley-Davidson Softail | | |
| 2004 Harley-Davidson Softail Springer | | |
| 2004 Harley-Davidson Sportster 1200 | | |
| 2004 Harley-Davidson Sportster 883 | | |
| 2004 Harley-Davidson V-Rod | | |
| 2005 Harley-Davidson Dyna | | |
| 2005 Harley-Davidson Electra Glide | | |
| 2005 Harley-Davidson Fatboy | | |
| 2005 Harley-Davidson Heritage Softail | | |
| 2005 Harley-Davidson Night Train | | |
| 2005 Harley-Davidson Road Glide | | |
| 2005 Harley-Davidson Road King | | |
| 2005 Harley-Davidson Softail | | |
| 2005 Harley-Davidson Softail Springer | | |
| 2005 Harley-Davidson Sportster 1200 | | |
| 2005 Harley-Davidson Sportster 883 | | |
| 2005 Harley-Davidson V-Rod | | |
| 2006 Harley-Davidson Dyna | | |
| 2006 Harley-Davidson Electra Glide | | |
| 2006 Harley-Davidson Fatboy | | |
| 2006 Harley-Davidson Heritage Softail | | |
| 2006 Harley-Davidson Night Rod | | |
| 2006 Harley-Davidson Night Train | | |
| 2006 Harley-Davidson Road Glide | | |
| 2006 Harley-Davidson Road King | | |
| 2006 Harley-Davidson Softail | | |
| 2006 Harley-Davidson Softail Springer | | |
| 2006 Harley-Davidson Sportster 1200 | | |
| 2006 Harley-Davidson Sportster 883 | | |
| 2006 Harley-Davidson Street Glide | | |
| 2006 Harley-Davidson Street Rod | | |
| 2006 Harley-Davidson V-Rod | | |
| 2007 Harley-Davidson Dyna | | |
| 2007 Harley-Davidson Electra Glide | | |
| 2007 Harley-Davidson Fatboy | | |
| 2007 Harley-Davidson Heritage Softail | | |
| 2007 Harley-Davidson Night Rod | | |
| 2007 Harley-Davidson Night Rod Special | | |
| 2007 Harley-Davidson Night Train | | |
| 2007 Harley-Davidson Road Glide | | |
| 2007 Harley-Davidson Road King | | |
| 2007 Harley-Davidson Softail | | |
| 2007 Harley-Davidson Softail Springer | | |
| 2007 Harley-Davidson Sportster 1200 | | |
| 2007 Harley-Davidson Sportster 883 | | |
| 2007 Harley-Davidson Street Glide | | |
| 2007 Harley-Davidson Street Rod | | |
| 2007 Harley-Davidson V-Rod | | |
| 2008 Harley-Davidson Cross Bones | | |
| 2008 Harley-Davidson Dyna | | |
| 2008 Harley-Davidson Electra Glide | | |
| 2008 Harley-Davidson Fatboy | | |
| 2008 Harley-Davidson Heritage Softail | | |
| 2008 Harley-Davidson Night Rod | | |
| 2008 Harley-Davidson Night Rod Special | | |
| 2008 Harley-Davidson Night Train | | |
| 2008 Harley-Davidson Road Glide | | |
| 2008 Harley-Davidson Road King | | |
| 2008 Harley-Davidson Rocker | | |
| 2008 Harley-Davidson Rocker C | | |
| 2008 Harley-Davidson Softail | | |
| 2008 Harley-Davidson Softail Springer | | |
| 2008 Harley-Davidson Sportster 1200 | | |
| 2008 Harley-Davidson Sportster 883 | | |
| 2008 Harley-Davidson Street Glide | | |
| 2008 Harley-Davidson V-Rod | | |
| 2009 Harley-Davidson Cross Bones | | |
| 2009 Harley-Davidson Dyna | | |
| 2009 Harley-Davidson Electra Glide | | |
| 2009 Harley-Davidson Fatboy | | |
| 2009 Harley-Davidson Heritage Softail | | |
| 2009 Harley-Davidson Iron 883 | | |
| 2009 Harley-Davidson Night Rod Special | | |
| 2009 Harley-Davidson Night Train | | |
| 2009 Harley-Davidson Road Glide | | |
| 2009 Harley-Davidson Road King | | |
| 2009 Harley-Davidson Rocker | | |
| 2009 Harley-Davidson Rocker C | | |
| 2009 Harley-Davidson Softail | | |
| 2009 Harley-Davidson Softail Springer | | |
| 2009 Harley-Davidson Sportster 1200 | | |
| 2009 Harley-Davidson Sportster 883 | | |
| 2009 Harley-Davidson Street Glide | | |
| 2009 Harley-Davidson Tri Glide | | |
| 2009 Harley-Davidson V-Rod | | |
| 2010 Harley-Davidson Cross Bones | | |
| 2010 Harley-Davidson Dyna | | |
| 2010 Harley-Davidson Electra Glide | | |
| 2010 Harley-Davidson Fatboy | | |
| 2010 Harley-Davidson Fatboy Lo | | |
| 2010 Harley-Davidson Heritage Softail | | |
| 2010 Harley-Davidson Iron 883 | | |
| 2010 Harley-Davidson Night Rod Special | | |
| 2010 Harley-Davidson Road King | | |
| 2010 Harley-Davidson Rocker C | | |
| 2010 Harley-Davidson Softail | | |
| 2010 Harley-Davidson Sportster 1200 | | |
| 2010 Harley-Davidson Sportster 883 | | |
| 2010 Harley-Davidson Street Glide | | |
| 2010 Harley-Davidson Tri Glide | | |
| 2010 Harley-Davidson V-Rod | | |
| 2011 Harley-Davidson Blackline | | |
| 2011 Harley-Davidson Cross Bones | | |
| 2011 Harley-Davidson Dyna | | |
| 2011 Harley-Davidson Electra Glide | | |
| 2011 Harley-Davidson Fatboy | | |
| 2011 Harley-Davidson Fatboy Lo | | |
| 2011 Harley-Davidson Forty Eight | | |
| 2011 Harley-Davidson Heritage Softail | | |
| 2011 Harley-Davidson Iron 883 | | |
| 2011 Harley-Davidson Night Rod Special | | |
| 2011 Harley-Davidson Road Glide | | |
| 2011 Harley-Davidson Road King | | |
| 2011 Harley-Davidson Rocker C | | |
| 2011 Harley-Davidson Softail | | |
| 2011 Harley-Davidson Sportster 1200 | | |
| 2011 Harley-Davidson Sportster 883 | | |
| 2011 Harley-Davidson Street Glide | | |
| 2011 Harley-Davidson Tri Glide | | |
| 2012 Harley-Davidson Blackline | | |
| 2012 Harley-Davidson Dyna | | |
| 2012 Harley-Davidson Electra Glide | | |
| 2012 Harley-Davidson Fatboy | | |
| 2012 Harley-Davidson Fatboy Lo | | |
| 2012 Harley-Davidson Forty Eight | | |
| 2012 Harley-Davidson Heritage Softail | | |
| 2012 Harley-Davidson Iron 883 | | |
| 2012 Harley-Davidson Night Rod Special | | |
| 2012 Harley-Davidson Road Glide | | |
| 2012 Harley-Davidson Road King | | |
| 2012 Harley-Davidson Softail | | |
| 2012 Harley-Davidson Sportster 1200 | | |
| 2012 Harley-Davidson Sportster 883 | | |
| 2012 Harley-Davidson Street Glide | | |
| 2012 Harley-Davidson V-Rod | | |
| 2013 Harley-Davidson Blackline | | |
| 2013 Harley-Davidson Breakout | | |
| 2013 Harley-Davidson Dyna | | |
| 2013 Harley-Davidson Electra Glide | | |
| 2013 Harley-Davidson Fatboy | | |
| 2013 Harley-Davidson Fatboy Lo | | |
| 2013 Harley-Davidson Forty Eight | | |
| 2013 Harley-Davidson Heritage Softail | | |
| 2013 Harley-Davidson Iron 883 | | |
| 2013 Harley-Davidson Night Rod Special | | |
| 2013 Harley-Davidson Road Glide | | |
| 2013 Harley-Davidson Road King | | |
| 2013 Harley-Davidson Seventy Two | | |
| 2013 Harley-Davidson Softail | | |
| 2013 Harley-Davidson Sportster 1200 | | |
| 2013 Harley-Davidson Sportster 883 | | |
| 2013 Harley-Davidson Street Glide | | |
| 2013 Harley-Davidson V-Rod | | |
| 2014 Harley-Davidson Breakout | | |
| 2014 Harley-Davidson CVO | | |
| 2014 Harley-Davidson Dyna | | |
| 2014 Harley-Davidson Electra Glide | | |
| 2014 Harley-Davidson Fatboy | | |
| 2014 Harley-Davidson Fatboy Lo | | |
| 2014 Harley-Davidson Forty Eight | | |
| 2014 Harley-Davidson Heritage Softail | | |
| 2014 Harley-Davidson Iron 883 | | |
| 2014 Harley-Davidson Night Rod Special | | |
| 2014 Harley-Davidson Road King | | |
| 2014 Harley-Davidson Softail | | |
| 2014 Harley-Davidson Sportster 1200 | | |
| 2014 Harley-Davidson Sportster 883 | | |
| 2014 Harley-Davidson Street Glide | | |
| 2014 Harley-Davidson Tri Glide | | |
| 2014 Harley-Davidson Ultra Limited | | |
| 2015 Harley-Davidson Breakout | | |
| 2015 Harley-Davidson CVO | | |
| 2015 Harley-Davidson Dyna | | |
| 2015 Harley-Davidson Electra Glide | | |
| 2015 Harley-Davidson Electra Glide Low | | |
| 2015 Harley-Davidson Fatboy | | |
| 2015 Harley-Davidson Fatboy Lo | | |
| 2015 Harley-Davidson Forty Eight | | |
| 2015 Harley-Davidson Freewheeler | | |
| 2015 Harley-Davidson Heritage Softail | | |
| 2015 Harley-Davidson Iron 883 | | |
| 2015 Harley-Davidson Night Rod Special | | |
| 2015 Harley-Davidson Road Glide | | |
| 2015 Harley-Davidson Road King | | |
| 2015 Harley-Davidson Seventy Two | | |
| 2015 Harley-Davidson Softail | | |
| 2015 Harley-Davidson Sportster 1200 | | |
| 2015 Harley-Davidson Sportster 883 | | |
| 2015 Harley-Davidson Street Glide | | |
| 2015 Harley-Davidson Tri Glide | | |
| 2015 Harley-Davidson Ultra Limited | | |
| 2015 Harley-Davidson V-Rod | | |
| 2016 Harley-Davidson Breakout | | |
| 2016 Harley-Davidson CVO | | |
| 2016 Harley-Davidson Dyna | | |
| 2016 Harley-Davidson Electra Glide | | |
| 2016 Harley-Davidson Electra Glide Low | | |
| 2016 Harley-Davidson Fatboy | | |
| 2016 Harley-Davidson Fatboy Lo | | |
| 2016 Harley-Davidson Forty Eight | | |
| 2016 Harley-Davidson Freewheeler | | |
| 2016 Harley-Davidson Heritage Softail | | |
| 2016 Harley-Davidson Iron 883 | | |
| 2016 Harley-Davidson Night Rod Special | | |
| 2016 Harley-Davidson Road Glide | | |
| 2016 Harley-Davidson Seventy Two | | |
| 2016 Harley-Davidson Softail | | |
| 2016 Harley-Davidson Sportster 1200 | | |
| 2016 Harley-Davidson Sportster 883 | | |
| 2016 Harley-Davidson Street Glide | | |
| 2016 Harley-Davidson Tri Glide | | |
| 2016 Harley-Davidson Ultra Limited | | |
| 2016 Harley-Davidson Ultra Limited Low | | |
| 2016 Harley-Davidson V-Rod | | |