2010 MERCEDES ML350 (W164) REAR TRUNK HATCH LID RELEASE HANDLE w/ LICENSE LIGHTS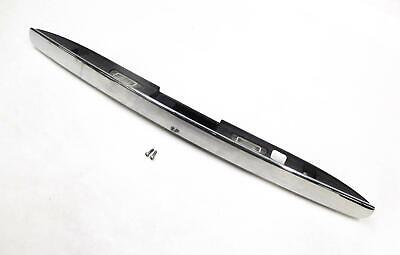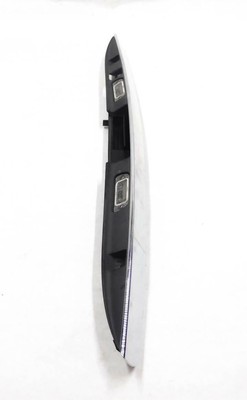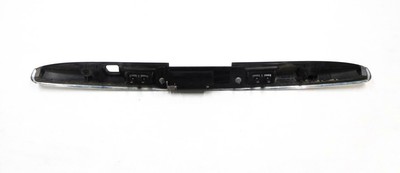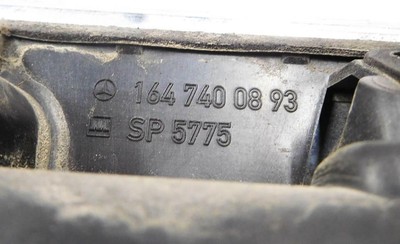 Part number 1647400893 is available for purchase online. To purchase the part or to get additional information about the part before you purchase it, click on the View More Details button.
Item #:

PR-333205008444

Ships From:

Oroville, California
Price:

$74.99
Stock: AA0256.
MPN: 1647400893.
Model: MERCEDES ML SERIES.
ID: 1EC7F856-2462-4610-9F9B-8516CBFC17DE.
Manufacturer Part Number: 1647400893.
Color: Chrome.
Placement on Vehicle: Rear.
FLAW: 1 DEEP SCRATCH IN CHROME FINISH ON RIGHT SIDE.
Modified Item: No.
Year: 10.
Brand: MERCEDES-BENZ.
Bulb Color: Chrome.
Surface Finish: Chrome.
eBay Product ID (ePID): 1017907285.
BRAND: Mercedes-Benz.
Fitment Type: Direct Replacement.
Returns Accepted: Returns Accepted.
Item must be returned within: 30 Days.
Refund will be given as: Money Back.
Return shipping will be paid by: Seller.
Viking Used Auto Parts Viking Used Auto Parts--> Paradise, CA NY DMV# NNNNNNN Business Hours (PST/PDT) Mon - Fri 8:00am - 5:00pm Closed Weekends Closed Saturday & Sunday License Lamp Year: 10 Model: MERCEDES ML SERIES Side: Type: Category: Condition: 89596 VIN: 4JGBB5GB6AA557168 Vehicle Stock #: AA0256 Part Stock #: 0000004494 Additional notes: Rear Trunk Hatch Cargo Lid Release Handle W/ License Lights (flaw: 1 Deep Scratch On Panel) 1647400893 Also fits: --> QUALITY OEM AUTO PARTS Low Prices for Quality Parts Description Item has been fully inspected and tested and found to be in good working order. There may be normal signs of wear and tear present such as scratches, scuffs, dirt, etc., but they do not impact the functioning of the item unless otherwise noted. The pictures are the ACTUAL PICTURES OF THE ITEM FOR SALE. Enjoy your shopping and please send us a message if we can help! License Lamp Vehicle Detail Model: MERCEDES ML SERIES Year: 10 Mileage: 89596 Stock #: AA0256 Store #: Part Detail Part Grade: A 89596 Part Category: Part Placement: Stock #: 0000004494 Additional notes: Rear Trunk Hatch Cargo Lid Release Handle W/ License Lights (flaw: 1 Deep Scratch On Panel) 1647400893 This part also fits: Payment We accept Paypal for all purchases Sales tax will be applied to all orders shipped to the state of CA. SHIPPING DEALS Review our shipping details before you purchase! Shipping We ship by FedEx, UPS, USPS, and regional freight/LTL carriers. Items shipped by freight MUST be shipped to a business with a dock or forklift access; otherwise, liftgate and/or residential delivery fees may apply. Local delivery and local pickup options are also available. --> ORDER PROCESSING & TIMING OF SHIPMENTS: We provide your shipment to the carrier within 1 full business day after receipt of payment. Business days are Monday through Friday, excluding holidays. The length of time from the carrier to arrival at your desired location will depend upon your location, the carrier used, and the specified shipping method (economy, expedited, etc.). SHIPPING CARRIERS & SPECIAL SHIPPING NEEDS: We use UPS, USPS, or FedEx to ship your package. In order to keep costs for you as low as possible, the choice is at our discretion. However, if you have an address that does not accept certain carriers or packages we would be happy to work with you. Please notify us before making payment so we can ensure the final price you pay includes any additional shipping charges needed to ship the item to your location the way you need it. SHIPMENTS TO HAWAII, ALASKA & PUERTO RICO: We actually do ship to Hawaii, Puerto Rico & Alaska! However, since it is quite a bit more expensive to ship to these locations and we usually offer free shipping on most items shipping to the 48 continental US States, we typically have to exclude these from our list of allowed ship-to locations in our listings. We would be happy to revise the listing to allow shipment to these locations & charge shipping a shipping fee to cover the cost. INTERNATIONAL SHIPPING: We sell & ship globally! This program works great since they are experts in international shipping which helps ensure you get your item in as timely a fashion as possible! Consequently, we can not refund shipping charges from our location or to return it. The max refund we can give on internationally sold items is the total purchase price we receive upon purchase of the part (which does not include shipping, customs or import fees as mentioned previously). We are happy to check fitment prior to purchase though so just send us your VIN# if you would like us see if we c Warranty & Returns Standard 90-day warranty on all parts --> --> We test & guarantee all of our units! All of our items come with a 90 day warranty, allowing you plenty of time to install and verify the units work as intended. If you ever receive an item damaged in shipment or otherwise not functioning as stated, we have you protected! We take quality seriously and work very hard to make sure you can trust our products! Our quality control starts at the beginning and we don't purchase cars that are too damaged or that we can't get running so we can test them. Initial testing consists of starting the vehicle, running code scans, road testing (if safe to do so), and completing an extensive testing & inspection checklist. After items are removed and cleaned they are inspected one final time before posting. Any items with minor flaws have those flaws noted in the listing. Any items that have more than minor flaws are simply thrown away. In addition, we also take lots of pictures of our parts so you can see what you will receive prior to purchasing! Warranty is for parts only (no labor) and the max refund that can be given is the total purchase price of the part. Warranty does not apply to items marked as "for parts only" or otherwise clearly noted in the listing as non-functional. FITMENT IS THE RESPONSIBILITY OF THE BUYER: We work very hard to provide useful fitment information in our listings to aid you in your determination of whether an item will fit your vehicle or not. We subscribe to fitment software and include all relevant and useful fitment information in our listings whenever possible. We also provide lots of pictures of the item and the manufacturer part number on the item in our listings so you know exactly what you will be getting. However, we do not have all the information necessary to guarantee fitment since we do not have your VIN# and there is an extermely wide range of different vehicle options out there. It is the buyers responsibility to verify fitment prior to purchase. If you have any questions on whether an item fits your vehicle or not we can offer the following recommendations: VERIFY PART # & LOOK OF PART: You can verify that the part number (and any hardware or software versions on the part if it is a computer module) and look to make sure the part shown in the pictures matches exactly with your part. CONTACT A DEALER: You can contact a dealer who can provide you with accurate information about what parts and/or part numbers are compatible or interchangeable with your vehicle. SEND US YOUR VIN# & ASK US TO CHECK FOR YOU!: You can send us your VIN# and ask us to check for you! We are often able to run your VIN# in our fitment software to see if we can verify a match or not. We're happy to do this check for you! If you check with us prior to purchase and we run your VIN# and say it will fit then we can guarantee fitment and will pay any return shipping costs in the event an item doesn't actually end up fitting your vehicle. Buyer is responsible for paying return shipping on items that don't fit their vehicle unless we receive your VIN# prior to purchase and send you an email stating it will fit. Please note that we do not charge a restocking fee so all the buyer is responsible for is the return shipping charges. GENERAL RETURNS: We want you to be happy with your purchase! We offer hassle free returns for absolutely any reason for up to 60 days after you receive an item. So, if you accidently purchased the wrong part for your vehicle, found another evil part was the actual culprit to your malfuctioning vehicle, or simply just changed your mind you may return the item for a full refund. We don't charge a restocking fee either so you're just responsible for paying the return shipping. Please make sure to include your vehicle VIN# in the comments box since we will need this to process your return. We're always happy to help! HELP CORE CHARGE Core is an acronym for ?Cash On Return?. A core charge is sometimes applied to rebuildable parts such as engines or alternators that can be redeemed for a portion of their original price. If the part you are purchasing has a core charge applied, it will be noted in the description. LEFT HAND DRIVE VEHICLES All vehicles and parts are for left hand drive vehicles made for the U.S.A. market unless otherwise specified in the listing. Consistent with industry practice, all items specified as "left" are for the driver side of the vehicle (from the orientation of the driver sitting in the driver seat). All items specified as "right" are for the passenger side of the vehicle (from the orientation of the driver sitting in the driver seat). MADE FOR U.S.A. VEHICLES All vehicles and parts are for vehicles manufactured to be sold to the U.S.A. market. Vehicles are often modified slightly by their manufacturers for each country depending on country regulations (e.g., emissions standards, side of road vehicles drive on, etc.), weather patterns (cold vs. hot, etc.), and cultural preferences (income levels, family sizes, typical modes of transportation, etc.). If you are an international buyer and/or your vehicle was not manufactured to be sold to the U.S.A. market please contact your dealer or send us a message with your VIN# to verify fitment prior to purchase. As noted above we can not refund shipping charges to ship and item to or return an item from an international location so please be sure to check before purchasing. If you have questions or concerns about fitment, please contact us prior to purchase. In order to keep costs as low as possible for you, we don't currently have a call line staffed. Please include your VIN# in any questions about fitment so we can look up your vehicle in our fitment software to make sure we're finding the right part for you. After you have received your product in satisfactory condition, please leave us positive feedback and we will do the same for you. We want you to be happy with your product! Often we can help to address any concerns and there?s no need to leave neutral or negative feedback. We will do our best to make sure your experience with us is a pleasant one. Thank you! Powered by Checkmate