2010-2012 BMW F01 7-Series F07 ICM Anti-Lock Brake Traction ABS Control Module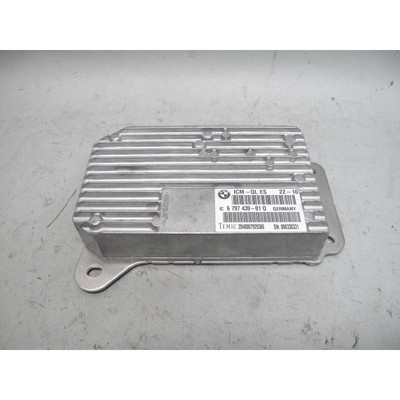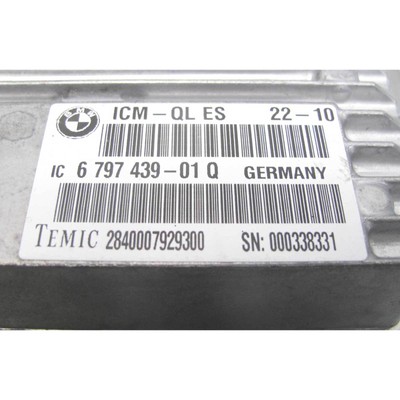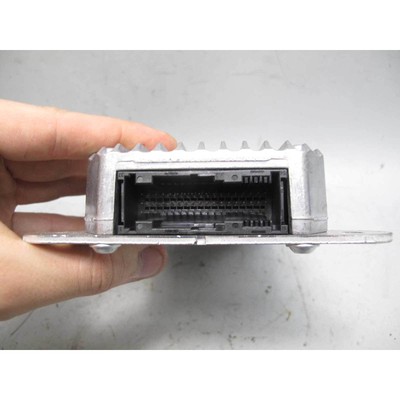 Item #:

PR-223101966246

Ships From:

Norristown, Pennsylvania
Price:

$150.00
Returns Accepted: Returns Accepted.
Item must be returned within: 30 Days.
Refund will be given as: Money back or replacement (buyer's choice).
Return policy details: .
Return shipping will be paid by: Seller.
Brand: BMW.
MPN: 34526851242.
2010-2012 BMW F01 7-Series F07 ICM Anti-Lock Brake Traction ABS Control Module STOCK #: 19761 OE PART #: 34526851242 ITEM: ICM module CONDITION: This is the Integrated Chassis Module. This module is NOT for cars that have Integral Active Steering (BMW option code S2VHA) OR Active Cruise Control w Stop and Go Function (S5DFA). The printed part number may also be 6797439. Guaranteed good working condition. This is a used original BMW part. Please note that the pictures are stock photos FITS: NOT for cars with Integral Active Steering (BMW Option Code: S2VHA) OR Active Cruise Control W/ Stop and GO (S5DFA). 5 Series F07 2010 - To 07/12 535i Gran Turismo (F07/N55) 2011 - To 07/12 535iX Gran Turismo (F07/N55) 2010-2012 550i Gran Turismo (F07/N63) 2011-2012 550iX Gran Turismo (F07/N63) 7 Series F01 2011-2012 740i Sedan (F01/N54) 2009-2012 750i Sedan (F01/N63) 2010-2012 750iX Sedan (F01/N63) 2011-2012 ALPINA B7 Sedan (F01/N63) 2011-2012 ALPINA B7X Sedan (F01/N63) 7 Series F02 2011-2012 740Li Sedan (F02/N54) 2009-2012 750Li Sedan (F02/N63) 2010-2012 750LiX Sedan (F02/N63) 2010-2012 760Li Sedan (F02/N74) 2011-2012 ALPINA B7L Sedan (F02/N63) 2011-2012 ALPINA B7LX Sedan (F02/N63) 7 Series F04 2011-2012 Hybrid 7 Sedan (F04/N63) 2011-2012 Hybrid 7L Sedan (F04/N63) OUR STORE POLICIES: Returns: Items can be returned within 30 days for any reason. Refunds will be given for the purchase price minus 15% restocking fee, excluding shipping. Buyer is responsible for return shipping cost. Warranty: All parts are guaranteed as described and working for 30 days, unless they are stated AS-IS condition. Warranty does not cover labor costs. Defective parts will be replaced or your purchase price + shipping will be refunded. Guarantee: If we verify compatibility using your vehicle VIN number we guarantee proper fitment. If for any reason your purchase does not fit you will be refunded 100% of your purchase price and we will provide a return shipping label at no cost to you. Labor costs will not be reimbursed. Shipping: We will ship your item the same or next business day after receiving cleared payment. If payment is received before 12pm Eastern Time, your part will ship out the same day. Rarely, large or difficult to package items will take a day or two longer. UPS Ground shipments are sent WITHOUT signature required. Local pickup at our garage in Norristown, PA zip code 19401 is always welcome. International Buyers: Import duties, taxes, and charges are not included in the item price or shipping cost. These charges are the buyer's responsibility. FITMENT FAQ: Which side does this part fit? Left = Driver side, Right = Passenger side Reference to driver/passenger side is for left hand drive cars, so for RHD vehicles (UK/Japan/Australia, etc.) please reverse the side indicated. What does the production month mean? When the fitment information includes a production month this means the part will only fit some of the cars within a given model year, depending on what month the car was manufactured. Production for the "model year" usually begins in September of the previous calendar year, so if you have a 1995 model BMW it will have been produced anywhere between 9/94 - 8/95. Some cars begin their production earlier than September, such as the first year production for a new model. For example, if we say the part fits 04/95 - 99 it will fit those cars with a production date of April 1995 to 1999 model year cars. Or if we say the part fits 99 - 05/99 it will fit 1999 model year vehicles and up to and including those with a production date of 04/99. Where do I find my car's production month? The production month for your vehicle can be found on a sticker located on your front driver side door jamb. See the photo below for illustration: Will this part fit my non-US market BMW? Fitment information provided is for US market spec vehicles only. Still not sure this part will fit your car? Can you help me?
Part number 34526851242 is compatible with the following vehicles:
Year/Make/Model
Body & Trim
Engine
2009 BMW 750Li
Base Sedan 4-Door
4.4L V8 DOHC Turbocharged
2009 BMW 750i
Base Sedan 4-Door
4.4L V8 DOHC Turbocharged
2010 BMW 535i GT
Base Hatchback 4-Door
3.0L l6 DOHC Turbocharged
2010 BMW 550i GT
Base Hatchback 4-Door
4.4L V8 DOHC Turbocharged
2010 BMW 750Li
Base Sedan 4-Door
4.4L V8 DOHC Turbocharged
2010 BMW 750Li xDrive
Base Sedan 4-Door
4.4L V8 DOHC Turbocharged
2010 BMW 750i
Base Sedan 4-Door
4.4L V8 DOHC Turbocharged
2010 BMW 750i xDrive
Base Sedan 4-Door
4.4L V8 DOHC Turbocharged
2010 BMW 760Li
Base Sedan 4-Door
6.0L V12 DOHC Turbocharged
2011 BMW 535i GT
Base Hatchback 4-Door
3.0L l6 DOHC Turbocharged
2011 BMW 535i GT xDrive
Base Hatchback 4-Door
3.0L l6 DOHC Turbocharged
2011 BMW 550i GT
Base Hatchback 4-Door
4.4L V8 DOHC Turbocharged
2011 BMW 550i GT xDrive
Base Hatchback 4-Door
4.4L V8 DOHC Turbocharged
2011 BMW 740Li
Base Sedan 4-Door
3.0L l6 DOHC Turbocharged
2011 BMW 740i
Base Sedan 4-Door
3.0L l6 DOHC Turbocharged
2011 BMW 750Li
ActiveHybrid Sedan 4-Door
Base Sedan 4-Door
4.4L V8 ELECTRIC/ DOHC Turbocharged
4.4L V8 DOHC Turbocharged
2011 BMW 750Li xDrive
Base Sedan 4-Door
4.4L V8 DOHC Turbocharged
2011 BMW 750i
ActiveHybrid Sedan 4-Door
Base Sedan 4-Door
4.4L V8 ELECTRIC/ DOHC Turbocharged
4.4L V8 DOHC Turbocharged
2011 BMW 750i xDrive
Base Sedan 4-Door
4.4L V8 DOHC Turbocharged
2011 BMW 760Li
Base Sedan 4-Door
6.0L V12 DOHC Turbocharged
2011 BMW Alpina B7
Base Sedan 4-Door
4.4L V8 DOHC Turbocharged
2011 BMW Alpina B7 xDrive
Base Sedan 4-Door
4.4L V8 DOHC Turbocharged
2011 BMW Alpina B7L
Base Sedan 4-Door
4.4L V8 DOHC Turbocharged
2011 BMW Alpina B7L xDrive
Base Sedan 4-Door
4.4L V8 DOHC Turbocharged
2012 BMW 535i GT
Base Hatchback 4-Door
3.0L l6 DOHC Turbocharged
2012 BMW 535i GT xDrive
Base Hatchback 4-Door
3.0L l6 DOHC Turbocharged
2012 BMW 550i GT
Base Hatchback 4-Door
4.4L V8 DOHC Turbocharged
2012 BMW 550i GT xDrive
Base Hatchback 4-Door
4.4L V8 DOHC Turbocharged
2012 BMW 740Li
Base Sedan 4-Door
3.0L l6 DOHC Turbocharged
2012 BMW 740i
Base Sedan 4-Door
3.0L l6 DOHC Turbocharged
2012 BMW 750Li
ActiveHybrid Sedan 4-Door
Base Sedan 4-Door
4.4L V8 ELECTRIC/ DOHC Turbocharged
4.4L V8 DOHC Turbocharged
2012 BMW 750Li xDrive
Base Sedan 4-Door
4.4L V8 DOHC Turbocharged
2012 BMW 750i
ActiveHybrid Sedan 4-Door
Base Sedan 4-Door
4.4L V8 ELECTRIC/ DOHC Turbocharged
4.4L V8 DOHC Turbocharged
2012 BMW 750i xDrive
Base Sedan 4-Door
4.4L V8 DOHC Turbocharged
2012 BMW 760Li
Base Sedan 4-Door
6.0L V12 DOHC Turbocharged
2012 BMW Alpina B7
Base Sedan 4-Door
4.4L V8 DOHC Turbocharged
2012 BMW Alpina B7 xDrive
Base Sedan 4-Door
4.4L V8 DOHC Turbocharged
2012 BMW Alpina B7L
Base Sedan 4-Door
4.4L V8 DOHC Turbocharged
2012 BMW Alpina B7L xDrive
Base Sedan 4-Door
4.4L V8 DOHC Turbocharged