2009 Aura Engine Computer Control Module ECU 125K Miles OE (LKQ~235574486)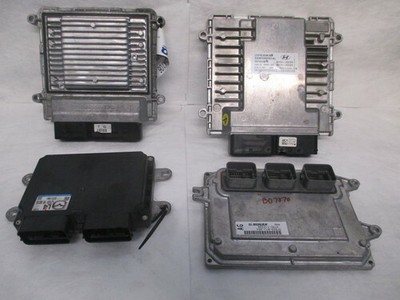 Part number Aura~235574486LKQ is available for purchase online. To purchase the part or to get additional information about the part before you purchase it, click on the View More Details button.
Item #:

PR-193204201694

Ships From:

Cumberland, Rhode Island
Price:

$41.00
Returns Accepted: Returns Accepted.
Item must be returned within: 30 Days.
Refund will be given as: Money Back.
Return shipping will be paid by: Buyer.
Brand: Saturn.
Manufacturer Part Number: Aura~235574486LKQ.
Interchange Part Number: 00862.
Warranty: 6 Month.
Warranty Length: 6 Month Warranty (Parts ONLY - NO Labor).
The Source For USED AUTO PARTS 2009 Aura Engine Computer Control Module ECU 125K Miles OE (LKQ~235574486) Vehicle Fitment & Product Details - Please Check Vehicle Fitment Below Prior To Purchasing LKQ Online is listing a used Engine Control Unit (ECU) in good, working condition. No photos of the actual Engine Control Unit (ECU) are available. A Stock photo has been used as a general representation. ****Some modules may need to be reprogrammed at a service center. Please consult your local dealer**** ****Please Note: The number (LKQ~XXXXXXXX) in the title is for internal use only. This is NOT a manufacturer part number, and can be disregarded.**** This will fit: Saturn VUE 2008-2009 Elec Cont Unit (ECU); 2.4L, VIN P, 8th digit, (opt LE5) Pontiac G6 2008-2009 Elec Cont Unit (ECU); (L. Fr eng comp), 2.4L GMC Savana 2008-2008 Elec Cont Unit (ECU); (L. Rr eng comp), gasoline GMC Savana 2009-2009 Ele Cont Unit (ECU), (L. Rr eng comp), 4.3L Pontiac G6 2010-2010 (L. Fr eng comp), 2.4L Pontiac G6 2010-2010 (L. Fr eng comp), 3.5L Pontiac G6 2010-2010 (L. Fr eng comp), 3.9L Chevrolet Malibu 2007-2007 Elec Cont Unit (ECU); 2.2L Chevrolet Malibu 2008-2008 Elec Cont Unit (ECU); classic style (emblem in grille), 2.2L Chevrolet Malibu 2008-2008 Elec Cont Unit (ECU); new style (emblem in bumper cover), 2.4L Buick Lucerne 2009-2011 Elec Cont Unit (ECU); (lower part of air cleaner box), 3.9L Pontiac G5 2008-2010 Elec Cont Unit (ECU) Pontiac G5 2007-2007 Elec Cont Unit (ECU); (LH Fr eng comp), 2.2L (VIN F, 4-134) Chevrolet Cobalt 2007-2008 Elec Cont Unit (ECU); (LH Fr eng comp), 2.2L (VIN F, 4-134) Chevrolet Cobalt 2010-2010 Elec Cont Unit (ECU); (LH Fr eng comp), 2.2L (VIN 5, 4-134) Chevrolet Cobalt 2008-2008 Elec Cont Unit (ECU); (LH Fr eng comp), 2.4L (VIN B, 4-146) Chevrolet Cobalt 2009-2009 Elec Cont Unit (ECU); (LH Fr eng comp), 2.2L (VIN H, 4-134) Saturn Aura 2008-2009 Elec Cont Unit (ECU); (RH firewall), 2.4L, exc. Hybrid Chevrolet Express Van 2008-2008 Elec Cont Unit (ECU); (LH Rr eng comp), gasoline Chevrolet Express Van 2009-2009 Elec Cont Unit (ECU); (LH Rr eng comp), 4.3L Chevrolet Malibu 2009-2010 Elec Cont Unit (ECU); 2.4L, exc. Hybrid Chevrolet Malibu 2011-2012 Elec Cont Unit (ECU); 2.4L Chevrolet Malibu 2010-2010 Elec Cont Unit (ECU); 3.5L Pontiac Solstice 2008-2010 Elec Cont Unit (ECU); (LH Fr frame rail), 2.4L Chevrolet Impala 2010-2011 Elec Cont Unit (ECU); (lower part of air cleaner box) Chevrolet Silverado 1500 2008-2008 Elec Cont Unit (ECU); (LH Fr under battery), w/4.3L Chevrolet Silverado 1500 2009-2009 Elec Cont Unit (ECU); (LH Fr under battery), non-Hybrid, w/4.3L Chevrolet Silverado 1500 2007-2007 Elec Cont Unit (ECU); new style, (LH Fr under battery), w/4.3L GMC Sierra 1500 2007-2007 Elec Cont Unit (ECU); new style, (LH Fr under battery), w/4.3L Saturn VUE 2010-2010 Elec Cont Unit (ECU); 2.4L Saturn Sky 2008-2010 Elec Cont Unit (ECU); (LH Fr frame rail), 2.4L GMC Sierra 1500 2008-2008 Elec Cont Unit (ECU); (LH front under battery), w/4.3L GMC Sierra 1500 2009-2009 Elec Cont Unit (ECU); (LH front under battery), w/o hybrid; w/4.3L GMC Savana 1500 Van 2008-2009 Electronic Control Module; (LH rear engine compartment), 4.3L Chevrolet Express 1500 Van 2008-2009 Electronic Control Module; (LH rear engine compartment), 4.3L Chevrolet HHR 2007-2011 Electronic Control Module; (LH rear engine compartment), 2.2L Chevrolet HHR 2008-2011 Electronic Control Module; (LH rear engine compartment), 2.4L Donor Vehicle & Part Information Vehicle Year: 2009 Vehicle Make: Saturn Vehicle Model: Aura Vehicle Stock #: $P27143-371 Vehicle Engine Size: 2.4 Vehicle Mileage: 125175 Part # or Vehicle Model: Aura Warranty: 6 Month Warranty (Parts ONLY - NO Labor) LKQ SKU: LKQ371 ~235574486 EBX00862 PLEASE NOTE: You will only receive what is pictured unless otherwise stated in the description. Please do not assume anything else will be included if it is not pictured. All of the parts we sell are guaranteed to be in good working condition unless otherwise noted. We ONLY guarantee the part(s) will fit the vehicle(s) listed in the description. If your vehicle was not originally equipped with the EXACT part(s) listed, it is your responsibility to consult a dealer to see if it will fit your application. Additional items may be needed if this is an upgrade or custom installation. Please consult your local dealer for ALL other applications. LKQ Online reserves the right to cancel/refund any order that had parts described incorrectly, had incorrect pricing information or was out of stock/damaged. We do our best to prevent these issues from happening and apologize for any inconvenience it may cause. SHIPPING TERMS UPS Ground - Free - Expedited shipping is not available - We do not ship to APO, military addresses, or P.O. Residents Applicable sales tax will be collected for all orders where it is required by law. Tax - Canada Residents (Part must be located in Canada) Sales tax will be charged when parts are sold to customers in Canada. Please check rates below. Quebec: 5% (GST) + 9.975% (TVQ) = (14.975%) Ontario/New Brunswick/Newfoundland (13%) HST Manitoba 5% (GST) + 8% (PST) = (13%) HST Nova Scotia (15%) HST British Columbia 5% (GST) + 7% (PST) = (12%) HST Saskatchewan 5% (GST) + 5% (PST) = 10% HST All Other Canada Provinces (5%) GST ***We cannot ship to the Canadian Yukon Territory. Orders to the Yukon will be canceled*** CA~SKU:5576964
Part number Aura~235574486LKQ is compatible with the following vehicles:
Year/Make/Model
Body & Trim
Engine
2007 Chevrolet HHR
LT Wagon 4-Door
LS Wagon 4-Door
LT Panel Wagon 2-Door
2.2L l4 DOHC
2007 Chevrolet Malibu
LT Sedan 4-Door
2.2L l4 DOHC
2007 Pontiac G5
SE Sedan 4-Door
Base Sedan 4-Door
SE Coupe 2-Door
2.2L l4 DOHC
2008 Chevrolet Express 1500
Base Standard Cargo Van 4-Door
4.3L V6 OHV
2008 Chevrolet HHR
LT Wagon 4-Door
LS Wagon 4-Door
LT Panel Wagon 2-Door
2.2L l4 DOHC
2008 Chevrolet Silverado 1500
WT Standard Cab Pickup 2-Door
WT Extended Cab Pickup 4-Door
4.3L V6 OHV
2008 GMC Savana 1500
Base Standard Cargo Van 4-Door
4.3L V6 OHV
2008 GMC Sierra 1500
WT Standard Cab Pickup 2-Door
WT Extended Cab Pickup 4-Door
4.3L V6 OHV
2008 Pontiac G5
SE Sedan 4-Door
Base Sedan 4-Door
SE Coupe 2-Door
2.2L l4 DOHC
2008 Pontiac G6
SE Sedan 4-Door
SE Convertible 2-Door
SE Coupe 2-Door
2.4L l4 DOHC
2008 Pontiac Solstice
Base Convertible 2-Door
2.4L l4 DOHC
2009 Chevrolet Express 1500
Base Standard Cargo Van 4-Door
4.3L V6 OHV
2009 Chevrolet Silverado 1500
WT Standard Cab Pickup 2-Door
WT Extended Cab Pickup 4-Door
4.3L V6 OHV
2009 GMC Savana 1500
Base Standard Cargo Van 4-Door
4.3L V6 OHV
2009 GMC Sierra 1500
WT Standard Cab Pickup 2-Door
WT Extended Cab Pickup 4-Door
4.3L V6 OHV
2009 Pontiac G5
SE Sedan 4-Door
GT Coupe 2-Door
SE Coupe 2-Door
2.2L l4 DOHC
2009 Pontiac G6
SE Sedan 4-Door
2.4L l4 DOHC
2009 Pontiac Solstice
Base Coupe 2-Door
2.4L l4 DOHC
2010 Chevrolet Impala
LT Sedan 4-Door
LTZ Sedan 4-Door
3.5L V6 FLEX OHV
3.5L V6 OHV
3.9L V6 FLEX OHV
2010 Chevrolet Malibu
LS Sedan 4-Door
3.5L V6 FLEX OHV
3.5L V6 OHV
2010 Pontiac G5
SE Sedan 4-Door
Base Sedan 4-Door
GT Coupe 2-Door
SE Coupe 2-Door
2.2L l4 DOHC
2010 Pontiac G6
Base Sedan 4-Door
GT Sedan 4-Door
2.4L l4 DOHC
3.5L V6 FLEX OHV
3.5L V6 OHV
2011 Chevrolet Impala
LT Sedan 4-Door
LTZ Sedan 4-Door
3.5L V6 FLEX OHV
3.9L V6 FLEX OHV
2011 Chevrolet Malibu
LT Sedan 4-Door
2.4L l4 DOHC
2012 Chevrolet Malibu
LT Sedan 4-Door
2.4L l4 DOHC