2007-2013 OEM Silverado Sierra Tahoe Yukon EXTENDING LIGHTED SUN VISOR SET R & L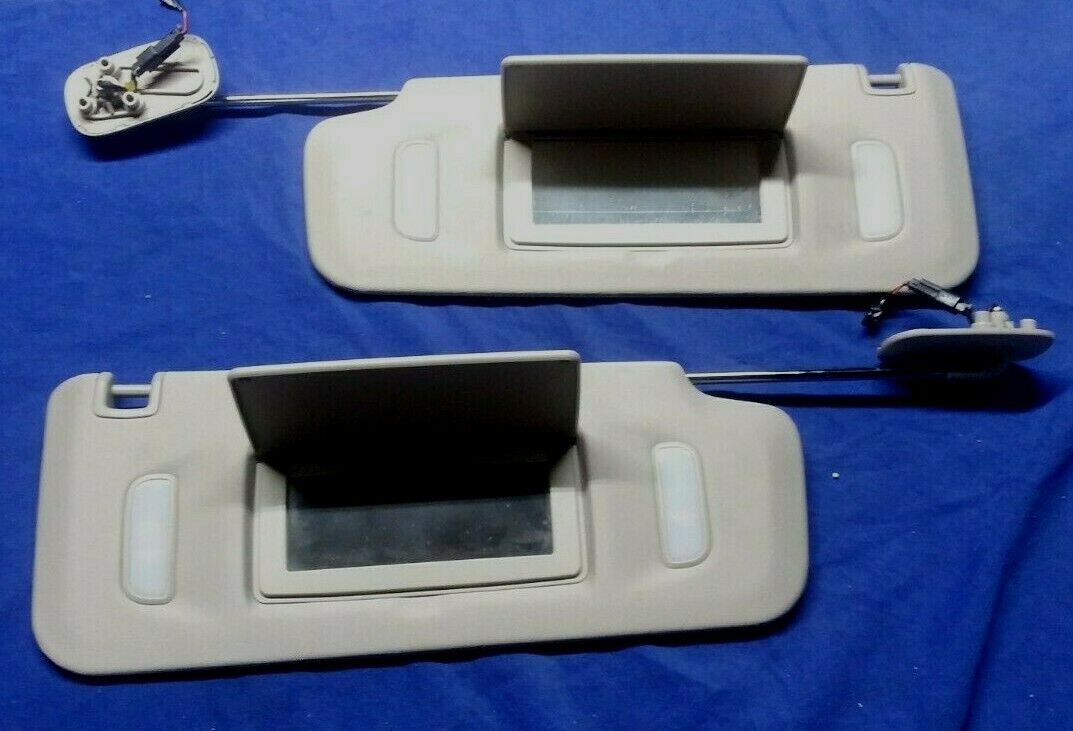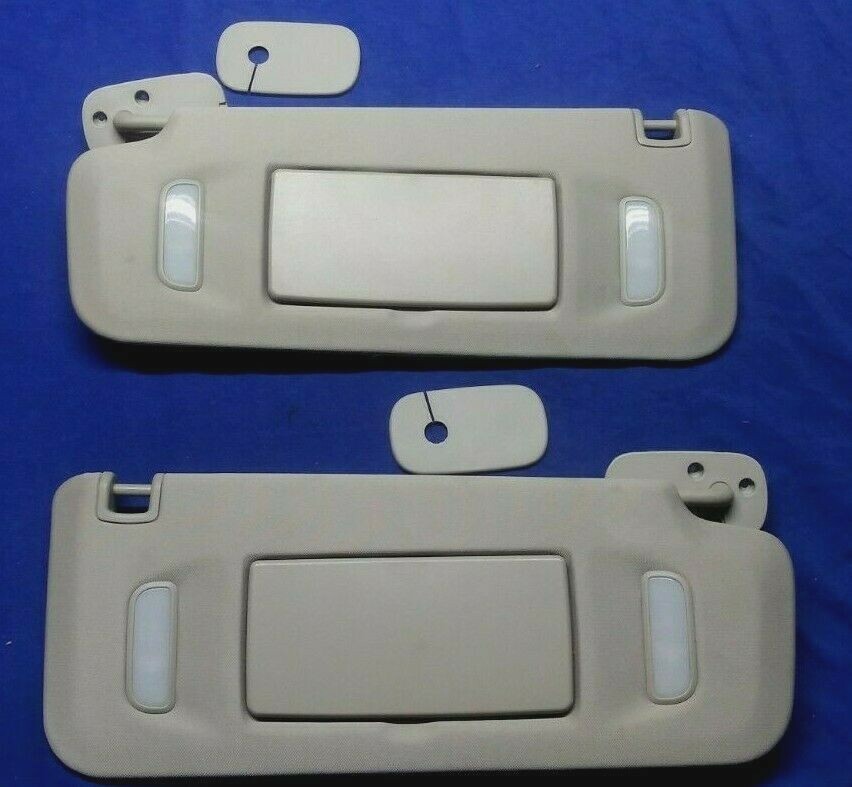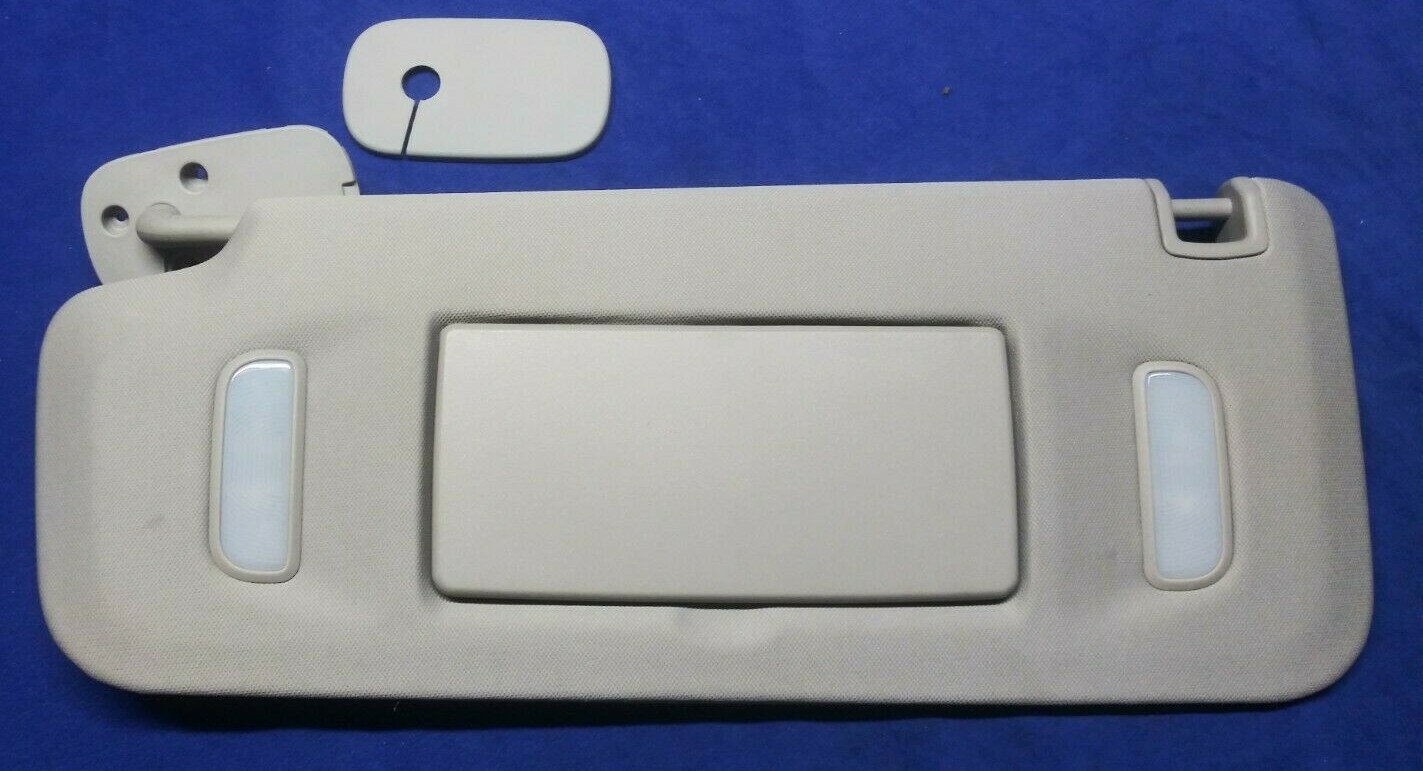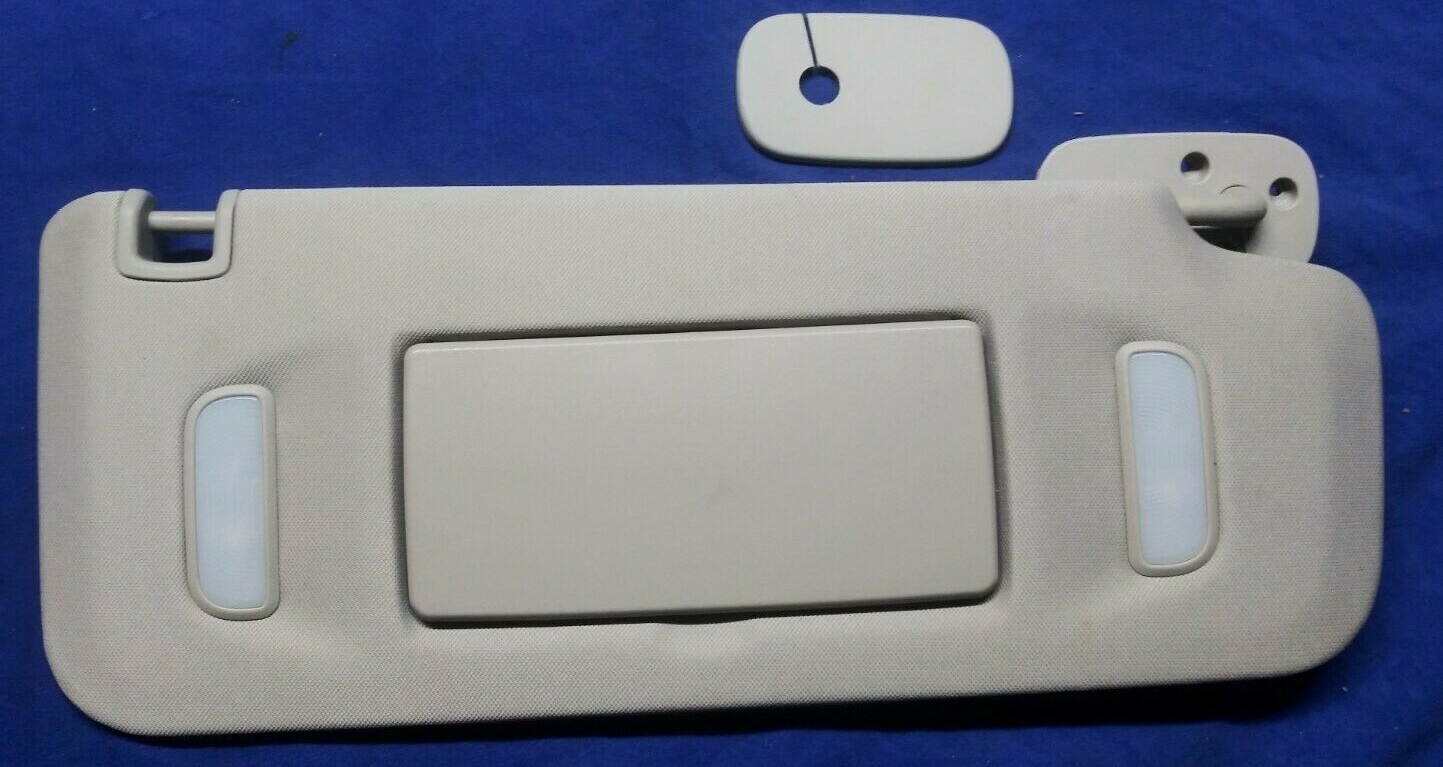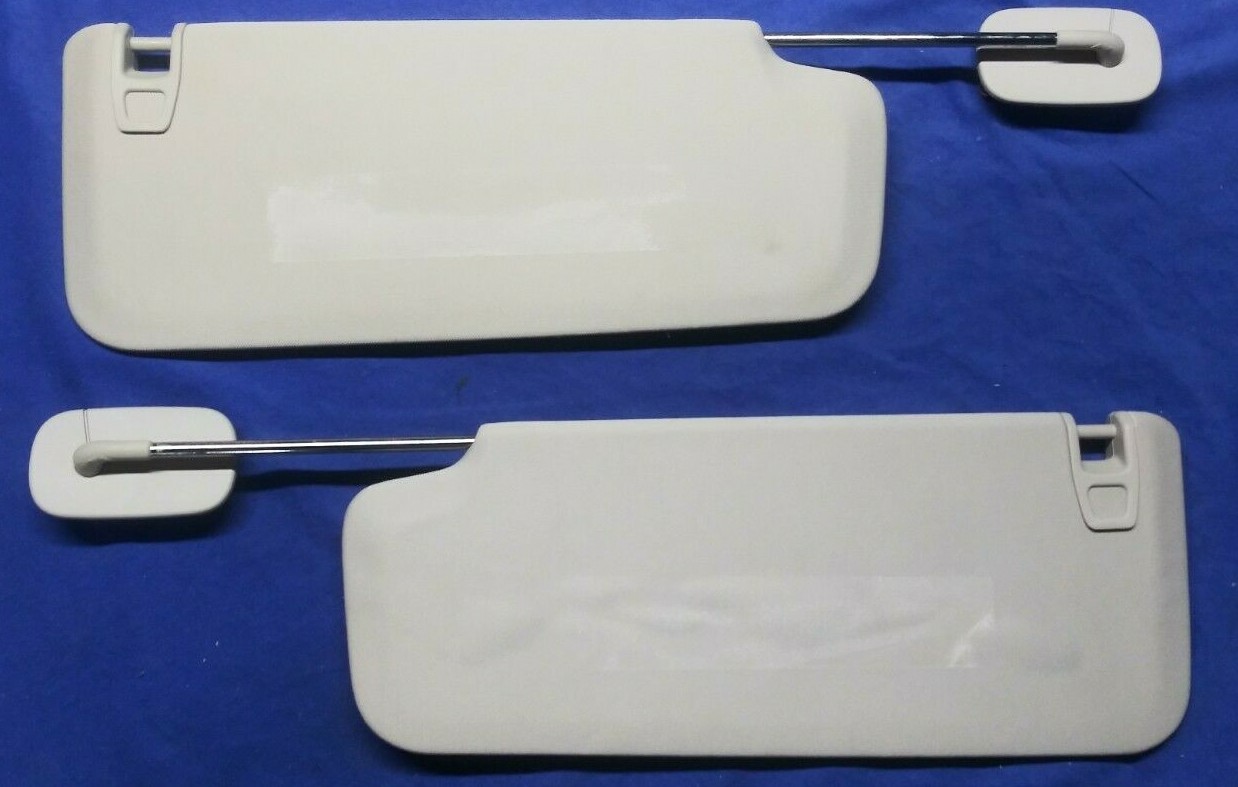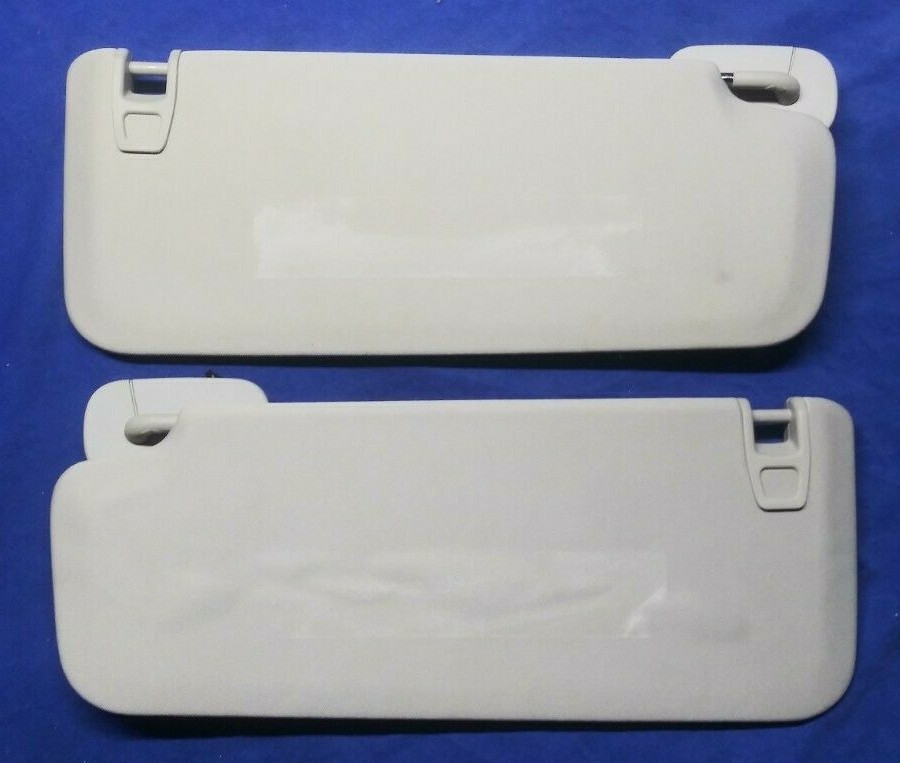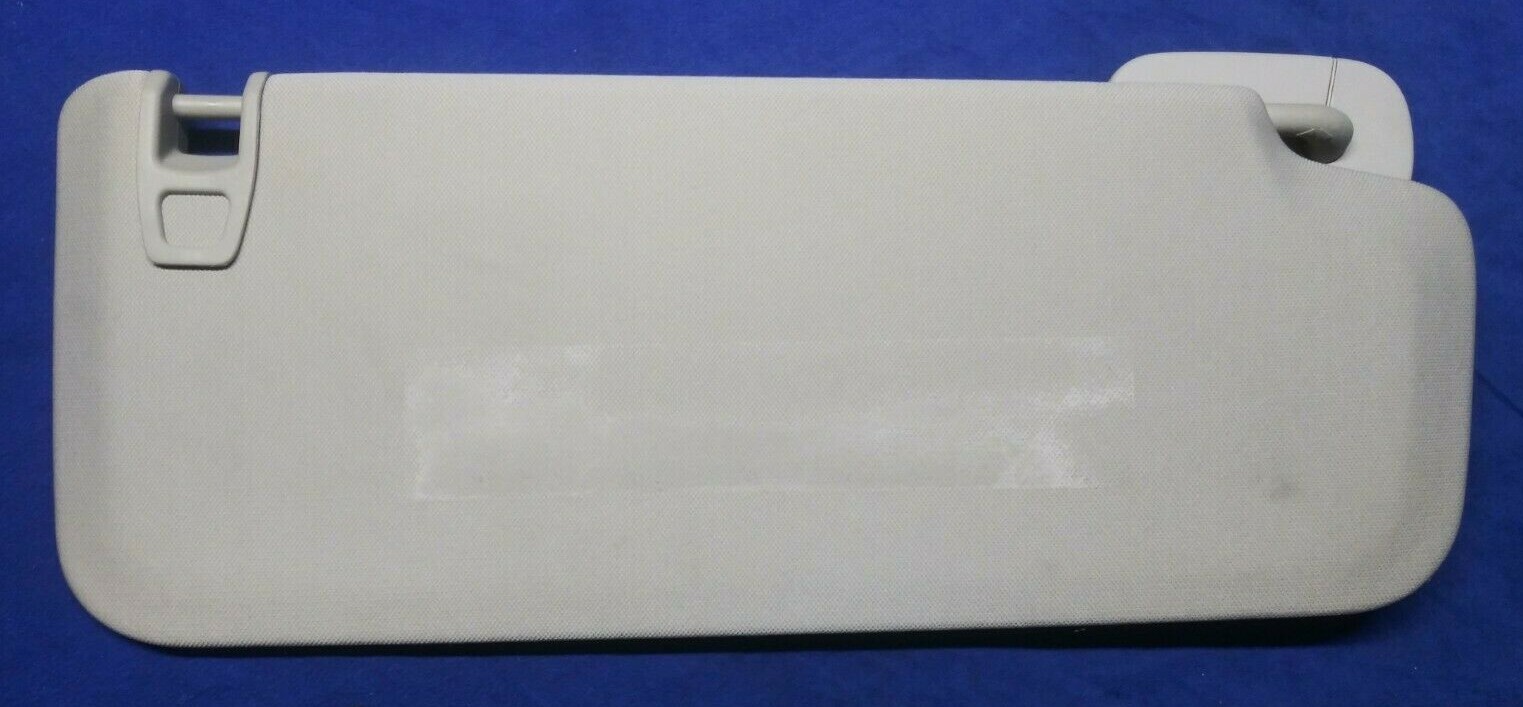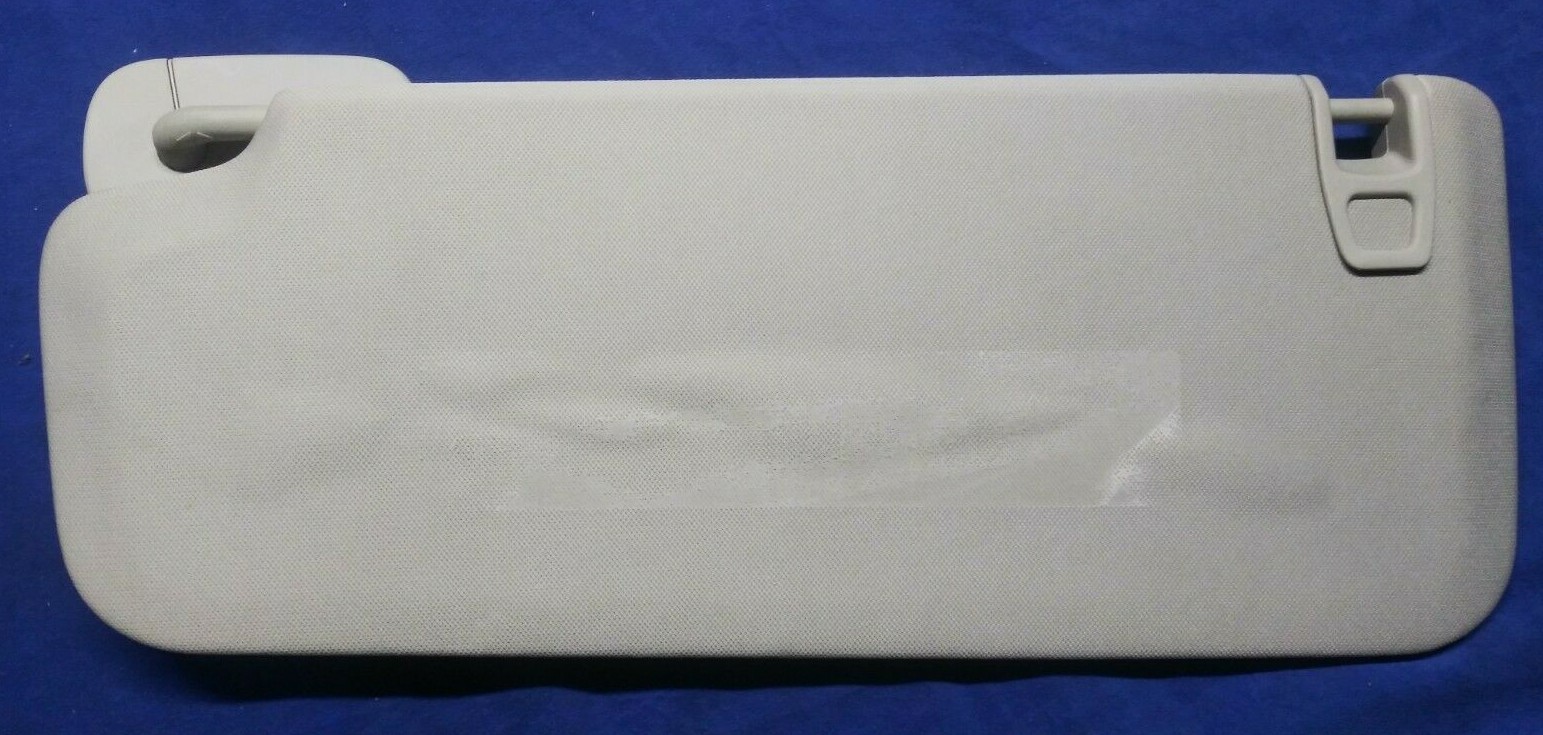 This part is no longer available for purchase.
It might be out of stock, or no longer available to purchase online. Find similar used parts online using the search box, or place a part request and let our network of trusted sellers find the part for you.
Returns Accepted: ReturnsNotAccepted.
Superseded Part Number: 22764800.
Superseded Part Number: 15949721.
Superseded Part Number: 15839415.
Superseded Part Number: 15213272.
Superseded Part Number: 25945137.
Superseded Part Number: 15824917.
Superseded Part Number: 15882946.
Modified Item: No.
Number of Pieces: 2.
Genuine OEM: Yes.
Quantity: 2.
Features: Extendable.
Features: Lights.
Features: Mirror.
Color: Tan / Light Gray.
Surface Finish: Light Gray / Tan.
Manufacturer Part Number: Multiple.
Placement on Vehicle: Left.
Placement on Vehicle: Right.
Other Part Number: 22764800, 15949721, 15839415, 15213272, 25945137.
Brand: GM.
Fitment Type: Direct Replacement.
Warranty: Other.
For sale is a nice set of light tan/ very light gray 2007-2013 full size GM truck and SUV sun visors. Both visors have mirrors, lights and are extendable, as seen in pictures. The set has been cleaned and there are only a few minor blemishes. The yellow and white stickers were peeled off by the previous owner. There are no holes, rips or tares. Both visors extend and retract smoothly. All lights worked at the time of removal. I can't warranty the light bulbs for any period of time, though. One of the mirror covers is a little weak, but will stay up if fully opened. Both mounting area covers are also included. This set isn't brand new, but it is a nice replacement set with some additional options. Please note: There may be minor variations in the color of this set, depending on the brightness and contrast of your monitor. Unless the vehicle's old visors had lights, this set's lights will not work If you need a nearly perfect set of visors like these, please check my other items. I have listed another set with the yellow and white airbag caution stickers and even fewer blemishes than these. These visors will ship within 72 hours of payment by fully insured mail. You will receive them quickly. I reserve the right to ship by Priority Mail or FedEx Ground. If you have any questions, don't hesitate to message me. Thanks for looking.
Part number Multiple is compatible with the following vehicles:
Year/Make/Model
Body & Trim
Engine
2007 Chevrolet Silverado 1500
Base Standard Cab Pickup 2-Door
LT Crew Cab Pickup 4-Door
LT Extended Cab Pickup 4-Door
LT Standard Cab Pickup 2-Door
LTZ Crew Cab Pickup 4-Door
LTZ Extended Cab Pickup 4-Door
LTZ Standard Cab Pickup 2-Door
WT Crew Cab Pickup 4-Door
WT Extended Cab Pickup 4-Door
WT Standard Cab Pickup 2-Door
5.3L V8 OHV
4.8L V8 OHV
5.3L V8 FLEX OHV
6.0L V8 OHV
4.3L V6 OHV
2007 Chevrolet Silverado 1500 Classic
Hybrid Extended Cab Pickup 4-Door
LS Crew Cab Pickup 4-Door
LS Extended Cab Pickup 4-Door
LS Standard Cab Pickup 2-Door
LT Crew Cab Pickup 4-Door
LT Extended Cab Pickup 4-Door
LT Standard Cab Pickup 2-Door
SS Extended Cab Pickup 4-Door
WT Extended Cab Pickup 4-Door
WT Standard Cab Pickup 2-Door
5.3L V8 ELECTRIC/ OHV
4.3L V6 OHV
4.8L V8 OHV
5.3L V8 FLEX OHV
5.3L V8 OHV
6.0L V8 OHV
2007 Chevrolet Silverado 1500 HD Classic
LT Crew Cab Pickup 4-Door
6.0L V8 OHV
2007 Chevrolet Silverado 2500
Base Standard Cab Pickup 2-Door
Cheyenne Standard Cab Pickup 2-Door
4.8L V8 OHV
5.3L V8 OHV
2007 Chevrolet Silverado 2500 HD
LT Cab & Chassis 2-Door
LT Cab & Chassis 4-Door
LT Crew Cab Pickup 4-Door
LT Extended Cab Pickup 4-Door
LT Standard Cab Pickup 2-Door
LTZ Cab & Chassis 4-Door
LTZ Crew Cab Pickup 4-Door
LTZ Extended Cab Pickup 4-Door
WT Cab & Chassis 2-Door
WT Cab & Chassis 4-Door
WT Crew Cab Pickup 4-Door
WT Extended Cab Pickup 4-Door
WT Standard Cab Pickup 2-Door
6.0L V8 OHV
6.6L V8 DIESEL OHV Turbocharged
2007 Chevrolet Silverado 2500 HD Classic
LS Cab & Chassis 2-Door
LS Cab & Chassis 4-Door
LS Crew Cab Pickup 4-Door
LS Extended Cab Pickup 4-Door
LS Standard Cab Pickup 2-Door
LT Cab & Chassis 2-Door
LT Cab & Chassis 4-Door
LT Crew Cab Pickup 4-Door
LT Extended Cab Pickup 4-Door
LT Standard Cab Pickup 2-Door
WT Cab & Chassis 2-Door
WT Cab & Chassis 4-Door
WT Crew Cab Pickup 4-Door
WT Extended Cab Pickup 4-Door
WT Standard Cab Pickup 2-Door
6.0L V8 OHV
6.6L V8 DIESEL OHV Turbocharged
8.1L V8 OHV
2007 Chevrolet Silverado 3500
Base Standard Cab Pickup 2-Door
5.7L V8 OHV
2007 Chevrolet Silverado 3500 Classic
LS Cab & Chassis 2-Door
LS Cab & Chassis 4-Door
LS Extended Cab Pickup 4-Door
LS Standard Cab Pickup 2-Door
LT Cab & Chassis 2-Door
LT Cab & Chassis 4-Door
LT Crew Cab Pickup 4-Door
LT Extended Cab Pickup 4-Door
LT Standard Cab Pickup 2-Door
WT Cab & Chassis 2-Door
WT Cab & Chassis 4-Door
WT Crew Cab Pickup 4-Door
WT Extended Cab Pickup 4-Door
WT Standard Cab Pickup 2-Door
6.0L V8 OHV
6.6L V8 DIESEL OHV Turbocharged
8.1L V8 OHV
2007 Chevrolet Silverado 3500 HD
LT Cab & Chassis 2-Door
LT Cab & Chassis 4-Door
LT Crew Cab Pickup 4-Door
LT Extended Cab Pickup 4-Door
LT Standard Cab Pickup 2-Door
LTZ Cab & Chassis 4-Door
LTZ Crew Cab Pickup 4-Door
LTZ Extended Cab Pickup 4-Door
LTZ Standard Cab Pickup 2-Door
WT Cab & Chassis 2-Door
WT Cab & Chassis 4-Door
WT Crew Cab Pickup 4-Door
WT Extended Cab Pickup 4-Door
WT Standard Cab Pickup 2-Door
6.0L V8 OHV
6.6L V8 DIESEL OHV Turbocharged
2007 Chevrolet Suburban 1500
Base Sport Utility 4-Door
LS Sport Utility 4-Door
LT Sport Utility 4-Door
LTZ Sport Utility 4-Door
Z71 Sport Utility 4-Door
5.3L V8 OHV
5.3L V8 FLEX OHV
6.0L V8 OHV
2007 Chevrolet Suburban 2500
LS Sport Utility 4-Door
LT Sport Utility 4-Door
LTZ Sport Utility 4-Door
6.0L V8 OHV
2007 Chevrolet Tahoe
Base Sport Utility 4-Door
LS Sport Utility 4-Door
LT Sport Utility 4-Door
LTZ Sport Utility 4-Door
5.3L V8 OHV
4.8L V8 OHV
5.3L V8 FLEX OHV
2007 GMC Sierra
Base Crew Cab Pickup 4-Door
5.3L V8 OHV
2007 GMC Sierra 1500
Denali Crew Cab Pickup 4-Door
SLE Crew Cab Pickup 4-Door
SLE Extended Cab Pickup 4-Door
SLE Standard Cab Pickup 2-Door
SLT Crew Cab Pickup 4-Door
SLT Extended Cab Pickup 4-Door
WT Crew Cab Pickup 4-Door
WT Extended Cab Pickup 4-Door
WT Standard Cab Pickup 2-Door
6.2L V8 OHV
4.8L V8 OHV
5.3L V8 FLEX OHV
5.3L V8 OHV
6.0L V8 OHV
4.3L V6 OHV
2007 GMC Sierra 1500 Classic
Denali Crew Cab Pickup 4-Door
Hybrid Extended Cab Pickup 4-Door
SL Crew Cab Pickup 4-Door
SL Extended Cab Pickup 4-Door
SL Standard Cab Pickup 2-Door
SLE Crew Cab Pickup 4-Door
SLE Extended Cab Pickup 4-Door
SLE Standard Cab Pickup 2-Door
SLT Crew Cab Pickup 4-Door
SLT Extended Cab Pickup 4-Door
WT Extended Cab Pickup 4-Door
WT Standard Cab Pickup 2-Door
6.0L V8 OHV
5.3L V8 ELECTRIC/ OHV
4.3L V6 OHV
4.8L V8 OHV
5.3L V8 FLEX OHV
5.3L V8 OHV
2007 GMC Sierra 1500 HD Classic
SLE Crew Cab Pickup 4-Door
SLT Crew Cab Pickup 4-Door
6.0L V8 OHV
2007 GMC Sierra 2500 HD
SLE Cab & Chassis 2-Door
SLE Cab & Chassis 4-Door
SLE Crew Cab Pickup 4-Door
SLE Extended Cab Pickup 4-Door
SLE Standard Cab Pickup 2-Door
SLT Cab & Chassis 4-Door
SLT Crew Cab Pickup 4-Door
SLT Extended Cab Pickup 4-Door
WT Cab & Chassis 2-Door
WT Cab & Chassis 4-Door
WT Crew Cab Pickup 4-Door
WT Extended Cab Pickup 4-Door
WT Standard Cab Pickup 2-Door
6.0L V8 OHV
6.6L V8 DIESEL OHV Turbocharged
2007 GMC Sierra 2500 HD Classic
SL Cab & Chassis 2-Door
SL Cab & Chassis 4-Door
SL Crew Cab Pickup 4-Door
SL Extended Cab Pickup 4-Door
SL Standard Cab Pickup 2-Door
SLE Cab & Chassis 2-Door
SLE Cab & Chassis 4-Door
SLE Crew Cab Pickup 4-Door
SLE Extended Cab Pickup 4-Door
SLE Standard Cab Pickup 2-Door
SLT Cab & Chassis 4-Door
SLT Crew Cab Pickup 4-Door
SLT Extended Cab Pickup 4-Door
WT Cab & Chassis 2-Door
WT Cab & Chassis 4-Door
WT Crew Cab Pickup 4-Door
WT Extended Cab Pickup 4-Door
WT Standard Cab Pickup 2-Door
6.0L V8 OHV
6.6L V8 DIESEL OHV Turbocharged
8.1L V8 OHV
2007 GMC Sierra 3500 Classic
SL Cab & Chassis 2-Door
SL Cab & Chassis 4-Door
SL Crew Cab Pickup 4-Door
SL Extended Cab Pickup 4-Door
SL Standard Cab Pickup 2-Door
SLE Cab & Chassis 2-Door
SLE Cab & Chassis 4-Door
SLE Crew Cab Pickup 4-Door
SLE Extended Cab Pickup 4-Door
SLE Standard Cab Pickup 2-Door
SLT Cab & Chassis 4-Door
SLT Crew Cab Pickup 4-Door
SLT Extended Cab Pickup 4-Door
WT Cab & Chassis 2-Door
WT Cab & Chassis 4-Door
WT Crew Cab Pickup 4-Door
WT Extended Cab Pickup 4-Door
WT Standard Cab Pickup 2-Door
6.0L V8 OHV
6.6L V8 DIESEL OHV Turbocharged
8.1L V8 OHV
2007 GMC Sierra 3500 HD
SLE Crew Cab Pickup 4-Door
SLE Extended Cab Pickup 4-Door
SLE Standard Cab Pickup 2-Door
SLT Cab & Chassis 2-Door
SLT Cab & Chassis 4-Door
SLT Crew Cab Pickup 4-Door
SLT Extended Cab Pickup 4-Door
SLT Standard Cab Pickup 2-Door
WT Cab & Chassis 2-Door
WT Cab & Chassis 4-Door
WT Crew Cab Pickup 4-Door
WT Extended Cab Pickup 4-Door
WT Standard Cab Pickup 2-Door
6.0L V8 OHV
6.6L V8 DIESEL OHV Turbocharged
2007 GMC Yukon
Base Sport Utility 4-Door
Denali Sport Utility 4-Door
SLE Sport Utility 4-Door
SLT Sport Utility 4-Door
5.3L V8 OHV
6.2L V8 OHV
4.8L V8 OHV
5.3L V8 FLEX OHV
2007 GMC Yukon XL 1500
Denali Sport Utility 4-Door
SLE Sport Utility 4-Door
SLT Sport Utility 4-Door
6.2L V8 OHV
5.3L V8 FLEX OHV
5.3L V8 OHV
6.0L V8 OHV
2007 GMC Yukon XL 2500
SLE Sport Utility 4-Door
SLT Sport Utility 4-Door
6.0L V8 OHV
2008 Chevrolet Silverado 1500
Base Standard Cab Pickup 2-Door
LS Crew Cab Pickup 4-Door
LT Crew Cab Pickup 4-Door
LT Extended Cab Pickup 4-Door
LT Standard Cab Pickup 2-Door
LTZ Crew Cab Pickup 4-Door
LTZ Extended Cab Pickup 4-Door
WT Crew Cab Pickup 4-Door
WT Extended Cab Pickup 4-Door
WT Standard Cab Pickup 2-Door
5.3L V8 OHV
4.8L V8 OHV
5.3L V8 FLEX OHV
6.0L V8 OHV
4.3L V6 OHV
2008 Chevrolet Silverado 2500
Base Standard Cab Pickup 2-Door
4.8L V8 OHV
5.3L V8 OHV
2008 Chevrolet Silverado 2500 HD
LT Cab & Chassis 2-Door
LT Cab & Chassis 4-Door
LT Crew Cab Pickup 4-Door
LT Extended Cab Pickup 4-Door
LT Standard Cab Pickup 2-Door
LTZ Cab & Chassis 4-Door
LTZ Crew Cab Pickup 4-Door
LTZ Extended Cab Pickup 4-Door
WT Cab & Chassis 2-Door
WT Cab & Chassis 4-Door
WT Crew Cab Pickup 4-Door
WT Extended Cab Pickup 4-Door
WT Standard Cab Pickup 2-Door
6.0L V8 OHV
6.6L V8 DIESEL OHV Turbocharged
2008 Chevrolet Silverado 3500
Base Standard Cab Pickup 2-Door
6.0L V8 OHV
2008 Chevrolet Silverado 3500 HD
LT Cab & Chassis 2-Door
LT Cab & Chassis 4-Door
LT Crew Cab Pickup 4-Door
LT Extended Cab Pickup 4-Door
LT Standard Cab Pickup 2-Door
LTZ Cab & Chassis 4-Door
LTZ Crew Cab Pickup 4-Door
LTZ Extended Cab Pickup 4-Door
WT Cab & Chassis 2-Door
WT Cab & Chassis 4-Door
WT Crew Cab Pickup 4-Door
WT Extended Cab Pickup 4-Door
WT Standard Cab Pickup 2-Door
6.0L V8 OHV
6.6L V8 DIESEL OHV Turbocharged
2008 Chevrolet Suburban 1500
Base Sport Utility 4-Door
LS Sport Utility 4-Door
LT Sport Utility 4-Door
LTZ Sport Utility 4-Door
5.3L V8 OHV
5.3L V8 FLEX OHV
6.0L V8 OHV
2008 Chevrolet Suburban 2500
LS Sport Utility 4-Door
LT Sport Utility 4-Door
6.0L V8 OHV
2008 Chevrolet Tahoe
Base Sport Utility 4-Door
Hybrid Sport Utility 4-Door
LS Sport Utility 4-Door
LT Sport Utility 4-Door
LTZ Sport Utility 4-Door
Z71 Sport Utility 4-Door
5.3L V8 OHV
6.0L V8 ELECTRIC/ OHV
4.8L V8 OHV
5.3L V8 FLEX OHV
6.2L V8 OHV
2008 GMC Sierra
Base Crew Cab Pickup 4-Door
Denali Crew Cab Pickup 4-Door
5.3L V8 OHV
6.2L V8 OHV
2008 GMC Sierra 1500
Denali Crew Cab Pickup 4-Door
SL Crew Cab Pickup 4-Door
SLE Crew Cab Pickup 4-Door
SLE Extended Cab Pickup 4-Door
SLE Standard Cab Pickup 2-Door
SLT Crew Cab Pickup 4-Door
SLT Extended Cab Pickup 4-Door
WT Crew Cab Pickup 4-Door
WT Extended Cab Pickup 4-Door
WT Standard Cab Pickup 2-Door
6.2L V8 OHV
4.8L V8 OHV
5.3L V8 FLEX OHV
5.3L V8 OHV
6.0L V8 OHV
4.3L V6 OHV
2008 GMC Sierra 2500 HD
SLE Cab & Chassis 2-Door
SLE Cab & Chassis 4-Door
SLE Crew Cab Pickup 4-Door
SLE Extended Cab Pickup 4-Door
SLE Standard Cab Pickup 2-Door
SLT Cab & Chassis 4-Door
SLT Crew Cab Pickup 4-Door
SLT Extended Cab Pickup 4-Door
WT Cab & Chassis 2-Door
WT Cab & Chassis 4-Door
WT Crew Cab Pickup 4-Door
WT Extended Cab Pickup 4-Door
WT Standard Cab Pickup 2-Door
6.0L V8 OHV
6.6L V8 DIESEL OHV Turbocharged
2008 GMC Sierra 3500 HD
SLE Cab & Chassis 2-Door
SLE Cab & Chassis 4-Door
SLE Crew Cab Pickup 4-Door
SLE Extended Cab Pickup 4-Door
SLE Standard Cab Pickup 2-Door
SLT Cab & Chassis 4-Door
SLT Crew Cab Pickup 4-Door
SLT Extended Cab Pickup 4-Door
WT Cab & Chassis 2-Door
WT Cab & Chassis 4-Door
WT Crew Cab Pickup 4-Door
WT Extended Cab Pickup 4-Door
WT Standard Cab Pickup 2-Door
6.0L V8 OHV
6.6L V8 DIESEL OHV Turbocharged
2008 GMC Yukon
Base Sport Utility 4-Door
Denali Sport Utility 4-Door
Hybrid Sport Utility 4-Door
SLE Sport Utility 4-Door
SLT Sport Utility 4-Door
5.3L V8 OHV
6.2L V8 OHV
6.0L V8 ELECTRIC/ OHV
4.8L V8 OHV
5.3L V8 FLEX OHV
2008 GMC Yukon XL 1500
Denali Sport Utility 4-Door
SLE Sport Utility 4-Door
SLT Sport Utility 4-Door
6.2L V8 OHV
5.3L V8 FLEX OHV
5.3L V8 OHV
6.0L V8 OHV
2008 GMC Yukon XL 2500
SLE Sport Utility 4-Door
SLT Sport Utility 4-Door
6.0L V8 OHV
2009 Chevrolet Silverado 1500
Base Standard Cab Pickup 2-Door
Hybrid Crew Cab Pickup 4-Door
LS Crew Cab Pickup 4-Door
LT Crew Cab Pickup 4-Door
LT Extended Cab Pickup 4-Door
LT Standard Cab Pickup 2-Door
LTZ Crew Cab Pickup 4-Door
LTZ Extended Cab Pickup 4-Door
WT Crew Cab Pickup 4-Door
WT Extended Cab Pickup 4-Door
WT Standard Cab Pickup 2-Door
4.3L V6 OHV
6.0L V8 ELECTRIC/ OHV
4.8L V8 OHV
5.3L V8 FLEX OHV
5.3L V8 OHV
6.0L V8 OHV
6.2L V8 FLEX OHV
2009 Chevrolet Silverado 2500
Base Standard Cab Pickup 2-Door
4.8L V8 OHV
5.3L V8 OHV
2009 Chevrolet Silverado 2500 HD
LT Cab & Chassis 2-Door
LT Cab & Chassis 4-Door
LT Crew Cab Pickup 4-Door
LT Extended Cab Pickup 4-Door
LT Standard Cab Pickup 2-Door
LTZ Cab & Chassis 4-Door
LTZ Crew Cab Pickup 4-Door
LTZ Extended Cab Pickup 4-Door
WT Cab & Chassis 2-Door
WT Cab & Chassis 4-Door
WT Crew Cab Pickup 4-Door
WT Extended Cab Pickup 4-Door
WT Standard Cab Pickup 2-Door
6.0L V8 OHV
6.6L V8 DIESEL OHV Turbocharged
2009 Chevrolet Silverado 3500
Base Standard Cab Pickup 2-Door
6.0L V8 OHV
2009 Chevrolet Silverado 3500 HD
LT Cab & Chassis 2-Door
LT Cab & Chassis 4-Door
LT Crew Cab Pickup 4-Door
LT Extended Cab Pickup 4-Door
LT Standard Cab Pickup 2-Door
LTZ Cab & Chassis 4-Door
LTZ Crew Cab Pickup 4-Door
LTZ Extended Cab Pickup 4-Door
WT Cab & Chassis 2-Door
WT Cab & Chassis 4-Door
WT Crew Cab Pickup 4-Door
WT Extended Cab Pickup 4-Door
WT Standard Cab Pickup 2-Door
6.0L V8 OHV
6.6L V8 DIESEL OHV Turbocharged
2009 Chevrolet Suburban 1500
Base Sport Utility 4-Door
LS Sport Utility 4-Door
LT Sport Utility 4-Door
LTZ Sport Utility 4-Door
5.3L V8 OHV
5.3L V8 FLEX OHV
6.0L V8 OHV
2009 Chevrolet Suburban 2500
Base Sport Utility 4-Door
LS Sport Utility 4-Door
LT Sport Utility 4-Door
6.0L V8 OHV
2009 Chevrolet Tahoe
Base Sport Utility 4-Door
Hybrid Sport Utility 4-Door
LS Sport Utility 4-Door
LT Sport Utility 4-Door
LTZ Sport Utility 4-Door
Z71 Sport Utility 4-Door
5.3L V8 OHV
6.0L V8 ELECTRIC/ OHV
4.8L V8 OHV
5.3L V8 FLEX OHV
6.2L V8 FLEX OHV
2009 GMC Sierra
Base Crew Cab Pickup 4-Door
Denali Crew Cab Pickup 4-Door
5.3L V8 OHV
6.2L V8 OHV
2009 GMC Sierra 1500
Denali Crew Cab Pickup 4-Door
Hybrid Crew Cab Pickup 4-Door
SL Crew Cab Pickup 4-Door
SLE Crew Cab Pickup 4-Door
SLE Extended Cab Pickup 4-Door
SLE Standard Cab Pickup 2-Door
SLT Crew Cab Pickup 4-Door
SLT Extended Cab Pickup 4-Door
WT Crew Cab Pickup 4-Door
WT Extended Cab Pickup 4-Door
WT Standard Cab Pickup 2-Door
6.2L V8 FLEX OHV
6.0L V8 ELECTRIC/ OHV
4.8L V8 OHV
5.3L V8 FLEX OHV
5.3L V8 OHV
6.0L V8 OHV
4.3L V6 OHV
2009 GMC Sierra 2500 HD
SLE Cab & Chassis 2-Door
SLE Cab & Chassis 4-Door
SLE Crew Cab Pickup 4-Door
SLE Extended Cab Pickup 4-Door
SLE Standard Cab Pickup 2-Door
SLT Cab & Chassis 4-Door
SLT Crew Cab Pickup 4-Door
SLT Extended Cab Pickup 4-Door
WT Cab & Chassis 2-Door
WT Cab & Chassis 4-Door
WT Crew Cab Pickup 4-Door
WT Extended Cab Pickup 4-Door
WT Standard Cab Pickup 2-Door
6.0L V8 OHV
6.6L V8 DIESEL OHV Turbocharged
2009 GMC Sierra 3500 HD
SLE Cab & Chassis 2-Door
SLE Cab & Chassis 4-Door
SLE Crew Cab Pickup 4-Door
SLE Extended Cab Pickup 4-Door
SLE Standard Cab Pickup 2-Door
SLT Cab & Chassis 4-Door
SLT Crew Cab Pickup 4-Door
SLT Extended Cab Pickup 4-Door
WT Cab & Chassis 2-Door
WT Cab & Chassis 4-Door
WT Crew Cab Pickup 4-Door
WT Extended Cab Pickup 4-Door
WT Standard Cab Pickup 2-Door
6.0L V8 OHV
6.6L V8 DIESEL OHV Turbocharged
2009 GMC Yukon
Base Sport Utility 4-Door
Denali Sport Utility 4-Door
Hybrid Sport Utility 4-Door
SLE Sport Utility 4-Door
SLT Sport Utility 4-Door
5.3L V8 OHV
6.2L V8 FLEX OHV
6.2L V8 OHV
6.0L V8 ELECTRIC/ OHV
4.8L V8 OHV
5.3L V8 FLEX OHV
2009 GMC Yukon XL 1500
Denali Sport Utility 4-Door
SLE Sport Utility 4-Door
SLT Sport Utility 4-Door
6.2L V8 FLEX OHV
5.3L V8 FLEX OHV
5.3L V8 OHV
6.0L V8 OHV
2009 GMC Yukon XL 2500
SLE Sport Utility 4-Door
SLT Sport Utility 4-Door
6.0L V8 OHV
2010 Chevrolet Silverado 1500
Base Standard Cab Pickup 2-Door
Hybrid Crew Cab Pickup 4-Door
LS Crew Cab Pickup 4-Door
LS Extended Cab Pickup 4-Door
LT Crew Cab Pickup 4-Door
LT Extended Cab Pickup 4-Door
LT Standard Cab Pickup 2-Door
LTZ Crew Cab Pickup 4-Door
LTZ Extended Cab Pickup 4-Door
WT Crew Cab Pickup 4-Door
WT Extended Cab Pickup 4-Door
WT Standard Cab Pickup 2-Door
XFE Crew Cab Pickup 4-Door
4.3L V6 OHV
6.0L V8 ELECTRIC/FLEX OHV
4.8L V8 FLEX OHV
5.3L V8 FLEX OHV
6.2L V8 FLEX OHV
4.3L V6 OHV
2010 Chevrolet Silverado 2500
Base Crew Cab Pickup 4-Door
Base Standard Cab Pickup 2-Door
4.8L V8 OHV
5.3L V8 OHV
2010 Chevrolet Silverado 2500 HD
LT Cab & Chassis 2-Door
LT Cab & Chassis 4-Door
LT Crew Cab Pickup 4-Door
LT Extended Cab Pickup 4-Door
LT Standard Cab Pickup 2-Door
LTZ Cab & Chassis 4-Door
LTZ Crew Cab Pickup 4-Door
LTZ Extended Cab Pickup 4-Door
WT Cab & Chassis 2-Door
WT Cab & Chassis 4-Door
WT Crew Cab Pickup 4-Door
WT Extended Cab Pickup 4-Door
WT Standard Cab Pickup 2-Door
6.0L V8 FLEX OHV
6.0L V8 OHV
6.6L V8 DIESEL OHV Turbocharged
2010 Chevrolet Silverado 3500
Base Standard Cab Pickup 2-Door
6.0L V8 OHV
2010 Chevrolet Silverado 3500 HD
LT Cab & Chassis 2-Door
LT Cab & Chassis 4-Door
LT Crew Cab Pickup 4-Door
LT Extended Cab Pickup 4-Door
LT Standard Cab Pickup 2-Door
LTZ Cab & Chassis 4-Door
LTZ Crew Cab Pickup 4-Door
LTZ Extended Cab Pickup 4-Door
WT Cab & Chassis 2-Door
WT Cab & Chassis 4-Door
WT Crew Cab Pickup 4-Door
WT Extended Cab Pickup 4-Door
WT Standard Cab Pickup 2-Door
6.0L V8 FLEX OHV
6.0L V8 OHV
6.6L V8 DIESEL OHV Turbocharged
2010 Chevrolet Suburban 1500
Base Sport Utility 4-Door
LS Sport Utility 4-Door
LT Sport Utility 4-Door
LTZ Sport Utility 4-Door
5.3L V8 OHV
6.0L V8 OHV
5.3L V8 FLEX OHV
2010 Chevrolet Suburban 2500
LS Sport Utility 4-Door
LT Sport Utility 4-Door
6.0L V8 FLEX OHV
2010 Chevrolet Tahoe
Hybrid Sport Utility 4-Door
LS Sport Utility 4-Door
LT Sport Utility 4-Door
LTZ Sport Utility 4-Door
6.0L V8 ELECTRIC/FLEX OHV
5.3L V8 FLEX OHV
5.3L V8 OHV
2010 GMC Sierra
Base Crew Cab Pickup 4-Door
Denali Crew Cab Pickup 4-Door
5.3L V8 OHV
6.2L V8 OHV
2010 GMC Sierra 1500
Denali Crew Cab Pickup 4-Door
Hybrid Crew Cab Pickup 4-Door
SL Crew Cab Pickup 4-Door
SL Extended Cab Pickup 4-Door
SLE Crew Cab Pickup 4-Door
SLE Extended Cab Pickup 4-Door
SLE Standard Cab Pickup 2-Door
SLT Crew Cab Pickup 4-Door
SLT Extended Cab Pickup 4-Door
WT Crew Cab Pickup 4-Door
WT Extended Cab Pickup 4-Door
WT Standard Cab Pickup 2-Door
XFE Crew Cab Pickup 4-Door
6.2L V8 FLEX OHV
6.0L V8 ELECTRIC/FLEX OHV
4.8L V8 FLEX OHV
5.3L V8 FLEX OHV
4.3L V6 OHV
2010 GMC Sierra 2500 HD
SLE Cab & Chassis 2-Door
SLE Cab & Chassis 4-Door
SLE Crew Cab Pickup 4-Door
SLE Extended Cab Pickup 4-Door
SLE Standard Cab Pickup 2-Door
SLT Cab & Chassis 4-Door
SLT Crew Cab Pickup 4-Door
SLT Extended Cab Pickup 4-Door
WT Cab & Chassis 2-Door
WT Cab & Chassis 4-Door
WT Crew Cab Pickup 4-Door
WT Extended Cab Pickup 4-Door
WT Standard Cab Pickup 2-Door
6.0L V8 FLEX OHV
6.0L V8 OHV
6.6L V8 DIESEL OHV Turbocharged
2010 GMC Sierra 3500 HD
SLE Cab & Chassis 2-Door
SLE Cab & Chassis 4-Door
SLE Crew Cab Pickup 4-Door
SLE Extended Cab Pickup 4-Door
SLE Standard Cab Pickup 2-Door
SLT Cab & Chassis 4-Door
SLT Crew Cab Pickup 4-Door
SLT Extended Cab Pickup 4-Door
WT Cab & Chassis 2-Door
WT Cab & Chassis 4-Door
WT Crew Cab Pickup 4-Door
WT Extended Cab Pickup 4-Door
WT Standard Cab Pickup 2-Door
6.0L V8 FLEX OHV
6.0L V8 OHV
6.6L V8 DIESEL OHV Turbocharged
2010 GMC Yukon
Denali Hybrid Sport Utility 4-Door
Denali Sport Utility 4-Door
Hybrid Sport Utility 4-Door
SLE Sport Utility 4-Door
SLT Sport Utility 4-Door
6.0L V8 ELECTRIC/FLEX OHV
5.3L V8 OHV
6.2L V8 FLEX OHV
5.3L V8 FLEX OHV
2010 GMC Yukon XL 1500
Denali Sport Utility 4-Door
SLE Sport Utility 4-Door
SLT Sport Utility 4-Door
6.2L V8 FLEX OHV
5.3L V8 FLEX OHV
2010 GMC Yukon XL 2500
SLE Sport Utility 4-Door
SLT Sport Utility 4-Door
6.0L V8 FLEX OHV
2011 Chevrolet Silverado 1500
Base Standard Cab Pickup 2-Door
Hybrid Crew Cab Pickup 4-Door
LS Crew Cab Pickup 4-Door
LS Extended Cab Pickup 4-Door
LT Crew Cab Pickup 4-Door
LT Extended Cab Pickup 4-Door
LT Standard Cab Pickup 2-Door
LTZ Crew Cab Pickup 4-Door
LTZ Extended Cab Pickup 4-Door
WT Crew Cab Pickup 4-Door
WT Extended Cab Pickup 4-Door
WT Standard Cab Pickup 2-Door
XFE Crew Cab Pickup 4-Door
4.3L V6 OHV
6.0L V8 ELECTRIC/FLEX OHV
4.8L V8 FLEX OHV
5.3L V8 FLEX OHV
6.2L V8 FLEX OHV
4.3L V6 OHV
2011 Chevrolet Silverado 2500
Base Crew Cab Pickup 4-Door
Base Extended Cab Pickup 4-Door
Base Standard Cab Pickup 2-Door
4.8L V8 OHV
5.3L V8 OHV
2011 Chevrolet Silverado 2500 HD
LT Cab & Chassis 2-Door
LT Cab & Chassis 4-Door
LT Crew Cab Pickup 4-Door
LT Extended Cab Pickup 4-Door
LT Standard Cab Pickup 2-Door
LTZ Cab & Chassis 4-Door
LTZ Crew Cab Pickup 4-Door
LTZ Extended Cab Pickup 4-Door
WT Cab & Chassis 2-Door
WT Cab & Chassis 4-Door
WT Crew Cab Pickup 4-Door
WT Extended Cab Pickup 4-Door
WT Standard Cab Pickup 2-Door
6.0L V8 FLEX OHV
6.0L V8 OHV
6.6L V8 DIESEL OHV Turbocharged
2011 Chevrolet Silverado 3500
Base Cab & Chassis 2-Door
6.0L V8 OHV
2011 Chevrolet Silverado 3500 HD
LT Cab & Chassis 2-Door
LT Cab & Chassis 4-Door
LT Crew Cab Pickup 4-Door
LT Extended Cab Pickup 4-Door
LT Standard Cab Pickup 2-Door
LTZ Cab & Chassis 4-Door
LTZ Crew Cab Pickup 4-Door
LTZ Extended Cab Pickup 4-Door
WT Cab & Chassis 2-Door
WT Cab & Chassis 4-Door
WT Crew Cab Pickup 4-Door
WT Extended Cab Pickup 4-Door
WT Standard Cab Pickup 2-Door
6.0L V8 FLEX OHV
6.0L V8 OHV
6.6L V8 DIESEL OHV Turbocharged
2011 Chevrolet Suburban 1500
Base Sport Utility 4-Door
LS Sport Utility 4-Door
LT Sport Utility 4-Door
LTZ Sport Utility 4-Door
5.3L V8 OHV
6.0L V8 OHV
5.3L V8 FLEX OHV
2011 Chevrolet Suburban 2500
LS Sport Utility 4-Door
LT Sport Utility 4-Door
6.0L V8 FLEX OHV
2011 Chevrolet Tahoe
Base Sport Utility 4-Door
Hybrid Sport Utility 4-Door
LS Sport Utility 4-Door
LT Sport Utility 4-Door
LTZ Sport Utility 4-Door
5.3L V8 OHV
6.0L V8 ELECTRIC/FLEX OHV
5.3L V8 FLEX OHV
2011 GMC Sierra
Base Crew Cab Pickup 4-Door
Base Standard Cab Pickup 2-Door
Denali Crew Cab Pickup 4-Door
5.3L V8 OHV
6.2L V8 OHV
2011 GMC Sierra 1500
Denali Crew Cab Pickup 4-Door
Hybrid Crew Cab Pickup 4-Door
SL Crew Cab Pickup 4-Door
SL Extended Cab Pickup 4-Door
SLE Crew Cab Pickup 4-Door
SLE Extended Cab Pickup 4-Door
SLE Standard Cab Pickup 2-Door
SLT Crew Cab Pickup 4-Door
SLT Extended Cab Pickup 4-Door
WT Crew Cab Pickup 4-Door
WT Extended Cab Pickup 4-Door
WT Standard Cab Pickup 2-Door
XFE Crew Cab Pickup 4-Door
6.2L V8 FLEX OHV
6.0L V8 ELECTRIC/FLEX OHV
4.8L V8 FLEX OHV
5.3L V8 FLEX OHV
4.3L V6 OHV
2011 GMC Sierra 2500 HD
Denali Crew Cab Pickup 4-Door
SLE Cab & Chassis 2-Door
SLE Cab & Chassis 4-Door
SLE Crew Cab Pickup 4-Door
SLE Extended Cab Pickup 4-Door
SLE Standard Cab Pickup 2-Door
SLT Cab & Chassis 4-Door
SLT Crew Cab Pickup 4-Door
SLT Extended Cab Pickup 4-Door
WT Cab & Chassis 2-Door
WT Cab & Chassis 4-Door
WT Crew Cab Pickup 4-Door
WT Extended Cab Pickup 4-Door
WT Standard Cab Pickup 2-Door
6.0L V8 FLEX OHV
6.6L V8 DIESEL OHV Turbocharged
6.0L V8 OHV
2011 GMC Sierra 3500 HD
Denali Crew Cab Pickup 4-Door
SLE Cab & Chassis 2-Door
SLE Cab & Chassis 4-Door
SLE Crew Cab Pickup 4-Door
SLE Extended Cab Pickup 4-Door
SLE Standard Cab Pickup 2-Door
SLT Cab & Chassis 4-Door
SLT Crew Cab Pickup 4-Door
SLT Extended Cab Pickup 4-Door
WT Cab & Chassis 2-Door
WT Cab & Chassis 4-Door
WT Crew Cab Pickup 4-Door
WT Extended Cab Pickup 4-Door
WT Standard Cab Pickup 2-Door
6.0L V8 FLEX OHV
6.6L V8 DIESEL OHV Turbocharged
6.0L V8 OHV
2011 GMC Yukon
Base Sport Utility 4-Door
Denali Hybrid Sport Utility 4-Door
Denali Sport Utility 4-Door
Hybrid Sport Utility 4-Door
SLE Sport Utility 4-Door
SLT Sport Utility 4-Door
6.2L V8 OHV
6.0L V8 ELECTRIC/FLEX OHV
6.2L V8 FLEX OHV
5.3L V8 FLEX OHV
2011 GMC Yukon XL 1500
Denali Sport Utility 4-Door
SLE Sport Utility 4-Door
SLT Sport Utility 4-Door
6.2L V8 FLEX OHV
5.3L V8 FLEX OHV
2011 GMC Yukon XL 2500
SLE Sport Utility 4-Door
SLT Sport Utility 4-Door
6.0L V8 FLEX OHV
2012 Chevrolet Silverado 1500
Base Standard Cab Pickup 2-Door
Hybrid Crew Cab Pickup 4-Door
LS Crew Cab Pickup 4-Door
LS Extended Cab Pickup 4-Door
LT Crew Cab Pickup 4-Door
LT Extended Cab Pickup 4-Door
LT Standard Cab Pickup 2-Door
LTZ Crew Cab Pickup 4-Door
LTZ Extended Cab Pickup 4-Door
WT Crew Cab Pickup 4-Door
WT Extended Cab Pickup 4-Door
WT Standard Cab Pickup 2-Door
XFE Crew Cab Pickup 4-Door
4.3L V6 OHV
6.0L V8 ELECTRIC/FLEX OHV
4.8L V8 FLEX OHV
5.3L V8 FLEX OHV
6.2L V8 FLEX OHV
4.3L V6 OHV
2012 Chevrolet Silverado 2500
Base Crew Cab Pickup 4-Door
Base Extended Cab Pickup 4-Door
Base Standard Cab Pickup 2-Door
4.8L V8 OHV
5.3L V8 OHV
2012 Chevrolet Silverado 2500 HD
LT Cab & Chassis 2-Door
LT Cab & Chassis 4-Door
LT Crew Cab Pickup 4-Door
LT Extended Cab Pickup 4-Door
LT Standard Cab Pickup 2-Door
LTZ Cab & Chassis 4-Door
LTZ Crew Cab Pickup 4-Door
LTZ Extended Cab Pickup 4-Door
WT Cab & Chassis 2-Door
WT Cab & Chassis 4-Door
WT Crew Cab Pickup 4-Door
WT Extended Cab Pickup 4-Door
WT Standard Cab Pickup 2-Door
6.0L V8 FLEX OHV
6.0L V8 OHV
6.6L V8 DIESEL OHV Turbocharged
2012 Chevrolet Silverado 3500
Base Cab & Chassis 2-Door
6.0L V8 OHV
2012 Chevrolet Silverado 3500 HD
LT Cab & Chassis 2-Door
LT Cab & Chassis 4-Door
LT Crew Cab Pickup 4-Door
LT Extended Cab Pickup 4-Door
LT Standard Cab Pickup 2-Door
LTZ Cab & Chassis 4-Door
LTZ Crew Cab Pickup 4-Door
LTZ Extended Cab Pickup 4-Door
WT Cab & Chassis 2-Door
WT Cab & Chassis 4-Door
WT Crew Cab Pickup 4-Door
WT Extended Cab Pickup 4-Door
WT Standard Cab Pickup 2-Door
6.0L V8 FLEX OHV
6.0L V8 OHV
6.6L V8 DIESEL OHV Turbocharged
2012 Chevrolet Suburban 1500
Base Sport Utility 4-Door
LS Sport Utility 4-Door
LT Sport Utility 4-Door
LTZ Sport Utility 4-Door
5.3L V8 OHV
6.0L V8 OHV
5.3L V8 FLEX OHV
2012 Chevrolet Suburban 2500
LS Sport Utility 4-Door
LT Sport Utility 4-Door
6.0L V8 FLEX OHV
2012 Chevrolet Tahoe
Base Sport Utility 4-Door
Hybrid Sport Utility 4-Door
LS Sport Utility 4-Door
LT Sport Utility 4-Door
LTZ Sport Utility 4-Door
PPV Sport Utility 4-Door
SSV Sport Utility 4-Door
5.3L V8 OHV
6.0L V8 ELECTRIC/FLEX OHV
5.3L V8 FLEX OHV
2012 GMC Sierra
Base Crew Cab Pickup 4-Door
Base Standard Cab Pickup 2-Door
Denali Crew Cab Pickup 4-Door
5.3L V8 OHV
6.2L V8 OHV
2012 GMC Sierra 1500
Denali Crew Cab Pickup 4-Door
Hybrid Crew Cab Pickup 4-Door
SL Crew Cab Pickup 4-Door
SL Extended Cab Pickup 4-Door
SLE Crew Cab Pickup 4-Door
SLE Extended Cab Pickup 4-Door
SLE Standard Cab Pickup 2-Door
SLT Crew Cab Pickup 4-Door
SLT Extended Cab Pickup 4-Door
WT Crew Cab Pickup 4-Door
WT Extended Cab Pickup 4-Door
WT Standard Cab Pickup 2-Door
XFE Crew Cab Pickup 4-Door
6.2L V8 FLEX OHV
6.0L V8 ELECTRIC/FLEX OHV
4.8L V8 FLEX OHV
5.3L V8 FLEX OHV
4.3L V6 OHV
2012 GMC Sierra 2500 HD
Denali Crew Cab Pickup 4-Door
SLE Cab & Chassis 2-Door
SLE Cab & Chassis 4-Door
SLE Crew Cab Pickup 4-Door
SLE Extended Cab Pickup 4-Door
SLE Standard Cab Pickup 2-Door
SLT Cab & Chassis 4-Door
SLT Crew Cab Pickup 4-Door
SLT Extended Cab Pickup 4-Door
WT Cab & Chassis 2-Door
WT Cab & Chassis 4-Door
WT Crew Cab Pickup 4-Door
WT Extended Cab Pickup 4-Door
WT Standard Cab Pickup 2-Door
6.0L V8 FLEX OHV
6.6L V8 DIESEL OHV Turbocharged
6.0L V8 OHV
2012 GMC Sierra 3500 HD
Denali Crew Cab Pickup 4-Door
SLE Cab & Chassis 2-Door
SLE Cab & Chassis 4-Door
SLE Crew Cab Pickup 4-Door
SLE Extended Cab Pickup 4-Door
SLE Standard Cab Pickup 2-Door
SLT Cab & Chassis 4-Door
SLT Crew Cab Pickup 4-Door
SLT Extended Cab Pickup 4-Door
WT Cab & Chassis 2-Door
WT Cab & Chassis 4-Door
WT Crew Cab Pickup 4-Door
WT Extended Cab Pickup 4-Door
WT Standard Cab Pickup 2-Door
6.0L V8 FLEX OHV
6.6L V8 DIESEL OHV Turbocharged
6.0L V8 OHV
2012 GMC Yukon
Base Sport Utility 4-Door
Denali Hybrid Sport Utility 4-Door
Denali Sport Utility 4-Door
Hybrid Sport Utility 4-Door
SLE Sport Utility 4-Door
SLT Sport Utility 4-Door
6.2L V8 OHV
6.0L V8 ELECTRIC/FLEX OHV
6.2L V8 FLEX OHV
5.3L V8 FLEX OHV
2012 GMC Yukon XL 1500
Denali Sport Utility 4-Door
SLE Sport Utility 4-Door
SLT Sport Utility 4-Door
6.2L V8 FLEX OHV
5.3L V8 FLEX OHV
2012 GMC Yukon XL 2500
SLE Sport Utility 4-Door
SLT Sport Utility 4-Door
6.0L V8 FLEX OHV
2013 Chevrolet Silverado 1500
Base Standard Cab Pickup 2-Door
Hybrid Crew Cab Pickup 4-Door
LS Crew Cab Pickup 4-Door
LS Extended Cab Pickup 4-Door
LT Crew Cab Pickup 4-Door
LT Extended Cab Pickup 4-Door
LT Standard Cab Pickup 2-Door
LTZ Crew Cab Pickup 4-Door
LTZ Extended Cab Pickup 4-Door
WT Crew Cab Pickup 4-Door
WT Extended Cab Pickup 4-Door
WT Standard Cab Pickup 2-Door
XFE Crew Cab Pickup 4-Door
4.3L V6 OHV
6.0L V8 ELECTRIC/FLEX OHV
4.8L V8 FLEX OHV
5.3L V8 FLEX OHV
6.2L V8 FLEX OHV
2013 Chevrolet Silverado 2500
LS Crew Cab Pickup 4-Door
LS Extended Cab Pickup 4-Door
LS Standard Cab Pickup 2-Door
4.8L V8 OHV
5.3L V8 OHV
2013 Chevrolet Silverado 2500 HD
LT Cab & Chassis 2-Door
LT Cab & Chassis 4-Door
LT Crew Cab Pickup 4-Door
LT Extended Cab Pickup 4-Door
LT Standard Cab Pickup 2-Door
LTZ Cab & Chassis 4-Door
LTZ Crew Cab Pickup 4-Door
LTZ Extended Cab Pickup 4-Door
WT Cab & Chassis 2-Door
WT Cab & Chassis 4-Door
WT Crew Cab Pickup 4-Door
WT Extended Cab Pickup 4-Door
WT Standard Cab Pickup 2-Door
6.0L V8 CNG OHV
6.0L V8 FLEX OHV
6.0L V8 OHV
6.6L V8 DIESEL OHV Turbocharged
2013 Chevrolet Silverado 3500
Base Cab & Chassis 2-Door
6.0L V8 OHV
2013 Chevrolet Silverado 3500 HD
LT Cab & Chassis 2-Door
LT Cab & Chassis 4-Door
LT Crew Cab Pickup 4-Door
LT Extended Cab Pickup 4-Door
LT Standard Cab Pickup 2-Door
LTZ Cab & Chassis 4-Door
LTZ Crew Cab Pickup 4-Door
LTZ Extended Cab Pickup 4-Door
WT Cab & Chassis 2-Door
WT Cab & Chassis 4-Door
WT Crew Cab Pickup 4-Door
WT Extended Cab Pickup 4-Door
WT Standard Cab Pickup 2-Door
6.0L V8 FLEX OHV
6.0L V8 OHV
6.6L V8 DIESEL OHV Turbocharged
2013 Chevrolet Suburban 1500
LS Sport Utility 4-Door
LT Sport Utility 4-Door
LTZ Sport Utility 4-Door
5.3L V8 FLEX OHV
5.3L V8 OHV
6.0L V8 OHV
2013 Chevrolet Suburban 2500
LS Sport Utility 4-Door
LT Sport Utility 4-Door
6.0L V8 FLEX OHV
2013 Chevrolet Tahoe
Hybrid Sport Utility 4-Door
LS Sport Utility 4-Door
LT Sport Utility 4-Door
LTZ Sport Utility 4-Door
PPV Sport Utility 4-Door
SSV Sport Utility 4-Door
6.0L V8 ELECTRIC/FLEX OHV
5.3L V8 FLEX OHV
5.3L V8 OHV
2013 GMC Sierra
Base Crew Cab Pickup 4-Door
Base Standard Cab Pickup 2-Door
Denali Crew Cab Pickup 4-Door
5.3L V8 OHV
6.2L V8 OHV
2013 GMC Sierra 1500
Denali Crew Cab Pickup 4-Door
Hybrid Crew Cab Pickup 4-Door
SL Crew Cab Pickup 4-Door
SL Extended Cab Pickup 4-Door
SLE Crew Cab Pickup 4-Door
SLE Extended Cab Pickup 4-Door
SLE Standard Cab Pickup 2-Door
SLT Crew Cab Pickup 4-Door
SLT Extended Cab Pickup 4-Door
WT Crew Cab Pickup 4-Door
WT Extended Cab Pickup 4-Door
WT Standard Cab Pickup 2-Door
XFE Crew Cab Pickup 4-Door
6.2L V8 FLEX OHV
6.0L V8 ELECTRIC/FLEX OHV
4.8L V8 FLEX OHV
5.3L V8 FLEX OHV
4.3L V6 OHV
2013 GMC Sierra 2500 HD
Denali Crew Cab Pickup 4-Door
SLE Cab & Chassis 2-Door
SLE Cab & Chassis 4-Door
SLE Crew Cab Pickup 4-Door
SLE Extended Cab Pickup 4-Door
SLE Standard Cab Pickup 2-Door
SLT Cab & Chassis 4-Door
SLT Crew Cab Pickup 4-Door
SLT Extended Cab Pickup 4-Door
WT Cab & Chassis 2-Door
WT Cab & Chassis 4-Door
WT Crew Cab Pickup 4-Door
WT Extended Cab Pickup 4-Door
WT Standard Cab Pickup 2-Door
6.0L V8 FLEX OHV
6.6L V8 DIESEL OHV Turbocharged
6.0L V8 CNG OHV
6.0L V8 OHV
2013 GMC Sierra 3500 HD
Denali Crew Cab Pickup 4-Door
SLE Cab & Chassis 2-Door
SLE Cab & Chassis 4-Door
SLE Crew Cab Pickup 4-Door
SLE Extended Cab Pickup 4-Door
SLE Standard Cab Pickup 2-Door
SLT Cab & Chassis 4-Door
SLT Crew Cab Pickup 4-Door
SLT Extended Cab Pickup 4-Door
WT Cab & Chassis 2-Door
WT Cab & Chassis 4-Door
WT Crew Cab Pickup 4-Door
WT Extended Cab Pickup 4-Door
WT Standard Cab Pickup 2-Door
6.0L V8 FLEX OHV
6.6L V8 DIESEL OHV Turbocharged
6.0L V8 OHV
2013 GMC Yukon
Denali Hybrid Sport Utility 4-Door
Denali Sport Utility 4-Door
Hybrid Sport Utility 4-Door
SLE Sport Utility 4-Door
SLT Sport Utility 4-Door
6.0L V8 ELECTRIC/FLEX OHV
6.2L V8 FLEX OHV
6.2L V8 OHV
5.3L V8 FLEX OHV
2013 GMC Yukon XL 1500
Denali Sport Utility 4-Door
SLE Sport Utility 4-Door
SLT Sport Utility 4-Door
6.2L V8 FLEX OHV
5.3L V8 FLEX OHV
2013 GMC Yukon XL 2500
SLE Sport Utility 4-Door
SLT Sport Utility 4-Door
6.0L V8 FLEX OHV