1999 0 2001-2005 FORD EXPLORER AIR FLOW METER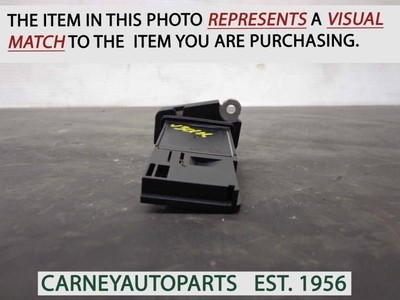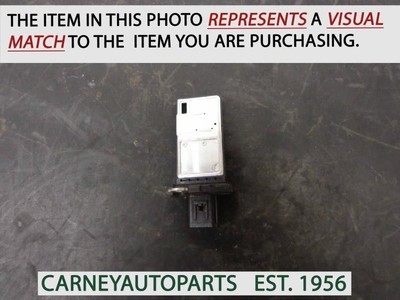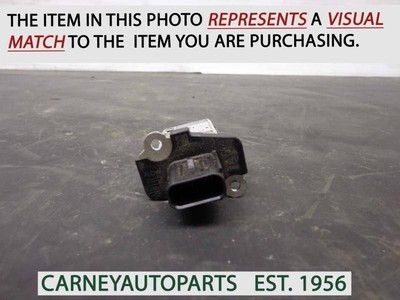 This part is no longer available for purchase.
It might be out of stock, or no longer available to purchase online. Find similar used parts online using the search box, or place a part request and let our network of trusted sellers find the part for you.
Mercury Part No: 336-05213
This is a used genuine OEM part from a 2008 Mercury Mariner with VIN number 4M2CU87158KJ44779.
Interchange Part Number: 336-05213
Genuine OEM Part: Yes
Important Vehicle Attributes: Used
Mileage: 83000
99 00 01 02 03 04 05 FORD EXPLORER AIR FLOW METER 801683 Description--> Description Used part. Guaranteed functional. Donor Vehicle VIN: 4M2CU87158KJ44779 Model: MARINER Year: 2008 Mileage: 83000 (0 = not available or unknown) Stock Number: V30101 Store Number: 1 Part Detail Part Grade: A Part Category: U Part Placement: Air Flow Meter Notes: Used KNC This part will fit these makes and models with these options EXPLORER 04-05 Sport Trac MARINER 05 3.0L EXPLORER 02-03 2 Dr (Sport package) MARINER 06-08 exc. Hybrid; 3.0L MOUNTAINEER 02-03 6-245 (4.0L) MOUNTAINEER 99-01 MAZDA TRIBUTE 01-06 6-182 (3.0L) SABLE 00-03 (6-183, 3.0L), DOHC WINDSTAR 99-00 6-232 (3.8L) ESCAPE 01-04 3.0L EXPLORER 99-01 MUSTANG 01-04 6-232 (3.8L) EXPLORER 02-03 4 Dr, Sport Trac EXPLORER 02-03 4 Dr, exc. Sport Trac; 6-245 (4.0L) FORD E250 VAN 99-03 6-255 (4.2L) RANGER 01-03 6-245 (4.0L) TAURUS 00-03 (6-183, 3.0L), DOHC FORD E150 VAN 99-03 4.2L MUSTANG 04 6-238 (3.9L) ESCAPE 05-08 exc. Hybrid; 3.0L MAZDA B-4000 01-03 WINDSTAR 01-03 (6-232, 3.8L) MAZDA TRIBUTE 08 exc. Hybrid; 3.0L --> WARRANTY / GUARANTEE --> We back up our items with a 90-day guarantee, and try very hard to provide you with the best customer service possible.  You may request a replacement or exchange, or the item can be returned for a full refund.  Buyer is responsible for return shipping.  We are selling USED auto parts that will be cleaned of heavy debris and grease before shipment, but will not appear new.  In the event that you have problems with an item, please contact us to resolve them before leaving negative feedback and ratings--we will try very hard to make things right whenever we can.    --> SHIPPING NOTES ABOUT US HELP We use UPS for most shipments going to the continental US.  We use the US Post Office for packages going to Hawaii and Alaska.  If you prefer us to use US Postal in the continental US, please include a note with your payment when you check out.  Most orders ship within one business day after the order unless questions or complications arise with that order.  We can usually take care of most questions or issues thru that platform.     Core Charge. Core is an acronym for 'Cash On Return'. A core charge is sometimes applied to rebuildable parts such as engines or alternators that can be redeemed for a portion of their original price. If the part you are purchasing has a core charge applied, it will be noted in the description. Parts Grading. A standard code system is used to communicate the condition and quality of a part between automotive recyclers, automotive repair shops, and insurers. Knowing how these codes are used will help you understand whether the part meets your expectations before you buy it and what you can expect from the part when you receive it. A Grade - The highest quality part. It is of low miles and/or exceptional condition for its age. B Grade - The second level quality part. It is of average miles and normal condition for its age. C Grade - The third level quality part. It has high miles and/or light damage. No Grade - A part that has not yet been graded.
Part number 336-05213 is compatible with the following vehicles:
Year/Make/Model
Body & Trim
Engine
1999 Ford E-150 Econoline
Base Standard Cargo Van 2-Door
XL Standard Cargo Van 2-Door
4.2L V6 OHV
1999 Ford E-150 Econoline Club Wagon
Chateau Standard Passenger Van 2-Door
Custom Standard Passenger Van 2-Door
XLT Standard Passenger Van 2-Door
4.2L V6 OHV
1999 Ford E-250 Econoline
Base Cutaway Van 2-Door
Base Extended Cargo Van 2-Door
Base Standard Cargo Van 2-Door
Base Stripped Chassis
XL Cutaway Van 2-Door
XL Extended Cargo Van 2-Door
XL Standard Cargo Van 2-Door
XL Stripped Chassis
4.2L V6 OHV
1999 Ford Explorer
Eddie Bauer Sport Utility 4-Door
Sport Sport Utility 2-Door
Sport Sport Utility 4-Door
XL Sport Utility 4-Door
XLS Sport Utility 4-Door
XLT Sport Utility 4-Door
4.0L V6 SOHC
5.0L V8 OHV
4.0L V6 OHV
1999 Ford Windstar
Base Mini Cargo Van 3-Door
Base Mini Passenger Van 3-Door
LX Mini Passenger Van 3-Door
LX Mini Passenger Van 4-Door
SE Mini Passenger Van 4-Door
SEL Mini Passenger Van 4-Door
3.8L V6 OHV
1999 Mercury Mountaineer
Base Sport Utility 4-Door
4.0L V6 SOHC
5.0L V8 OHV
2000 Ford E-150 Econoline
Base Standard Cargo Van 2-Door
XL Standard Cargo Van 2-Door
4.2L V6 OHV
2000 Ford E-150 Econoline Club Wagon
Chateau Standard Passenger Van 2-Door
Custom Standard Passenger Van 2-Door
XLT Standard Passenger Van 2-Door
4.2L V6 OHV
2000 Ford E-250 Econoline
Base Extended Cargo Van 2-Door
Base Standard Cargo Van 2-Door
Base Stripped Chassis
XL Extended Cargo Van 2-Door
XL Standard Cargo Van 2-Door
XL Stripped Chassis
4.2L V6 OHV
2000 Ford Explorer
Eddie Bauer Sport Utility 4-Door
Limited Sport Utility 4-Door
Postal Stripped Chassis
Sport Sport Utility 2-Door
Sport Sport Utility 4-Door
XL Fleet Sport Utility 4-Door
XLS Sport Utility 4-Door
XLT Sport Utility 4-Door
4.0L V6 SOHC
5.0L V8 OHV
4.0L V6 OHV
2000 Ford Taurus
SE Comfort Sedan 4-Door
SE Comfort Wagon 4-Door
SE Wagon 4-Door
SEL Sedan 4-Door
SVG Sedan 4-Door
3.0L V6 DOHC
2000 Ford Windstar
Base Mini Cargo Van 3-Door
Limited Mini Passenger Van 4-Door
LX Mini Passenger Van 3-Door
LX Mini Passenger Van 4-Door
SE Mini Passenger Van 4-Door
SEL Mini Passenger Van 4-Door
3.8L V6 OHV
2000 Mercury Mountaineer
Base Sport Utility 4-Door
4.0L V6 SOHC
5.0L V8 OHV
2000 Mercury Sable
LS Premium Sedan 4-Door
LS Premium Wagon 4-Door
LS Sedan 4-Door
LS Wagon 4-Door
3.0L V6 DOHC
2001 Ford E-150 Econoline
Base Standard Cargo Van 2-Door
4.2L V6 OHV
2001 Ford E-150 Econoline Club Wagon
Chateau Standard Passenger Van 2-Door
XL Standard Passenger Van 2-Door
XLT Standard Passenger Van 2-Door
4.2L V6 OHV
2001 Ford E-250 Econoline
Base Extended Cargo Van 2-Door
Base Standard Cargo Van 2-Door
Base Stripped Chassis
4.2L V6 OHV
2001 Ford Escape
XLS Sport Utility 4-Door
XLT Sport Utility 4-Door
3.0L V6 DOHC
2001 Ford Explorer
Eddie Bauer Sport Utility 4-Door
Limited Sport Utility 4-Door
Postal Stripped Chassis
XL Fleet Sport Utility 4-Door
XLS Sport Utility 4-Door
XLT Sport Utility 4-Door
4.0L V6 SOHC
5.0L V8 OHV
2001 Ford Explorer Sport Trac
Base Sport Utility 4-Door
4.0L V6 SOHC
2001 Ford Mustang
Base Convertible 2-Door
Base Coupe 2-Door
3.8L V6 OHV
2001 Ford Ranger
Edge Extended Cab Pickup 2-Door
Edge Extended Cab Pickup 4-Door
Edge Standard Cab Pickup 2-Door
XL Extended Cab Pickup 2-Door
XL Extended Cab Pickup 4-Door
XL Standard Cab Pickup 2-Door
XL Stripped Chassis
XLT Extended Cab Pickup 2-Door
XLT Extended Cab Pickup 4-Door
XLT Standard Cab Pickup 2-Door
4.0L V6 SOHC
2001 Ford Taurus
SE Wagon 4-Door
SEL Sedan 4-Door
3.0L V6 DOHC
2001 Ford Windstar
Base Mini Cargo Van 3-Door
Limited Mini Passenger Van 4-Door
LX Mini Passenger Van 3-Door
LX Mini Passenger Van 4-Door
SE Mini Passenger Van 4-Door
SE Sport Mini Passenger Van 4-Door
SEL Mini Passenger Van 4-Door
3.8L V6 OHV
2001 Mazda B4000
DS Extended Cab Pickup 4-Door
SE Extended Cab Pickup 4-Door
4.0L V6 SOHC
2001 Mercury Mountaineer
Base Sport Utility 4-Door
4.0L V6 SOHC
5.0L V8 OHV
2001 Mercury Sable
LS Premium Sedan 4-Door
LS Premium Wagon 4-Door
LS Sedan 4-Door
LS Wagon 4-Door
3.0L V6 DOHC
2002 Ford E-150 Econoline
Base Standard Cargo Van 2-Door
4.2L V6 OHV
2002 Ford E-150 Econoline Club Wagon
Chateau Standard Passenger Van 2-Door
XL Standard Passenger Van 2-Door
XLT Standard Passenger Van 2-Door
4.2L V6 OHV
2002 Ford E-250 Econoline
Base Extended Cargo Van 2-Door
Base Standard Cargo Van 2-Door
Base Stripped Chassis
4.2L V6 OHV
2002 Ford Explorer
Eddie Bauer Sport Utility 4-Door
Limited Sport Utility 4-Door
XLS Sport Utility 4-Door
XLT Sport Utility 4-Door
4.0L V6 FLEX SOHC
4.0L V6 SOHC
4.6L V8 SOHC
2002 Ford Explorer Sport Trac
XL Sport Utility 4-Door
4.0L V6 SOHC
2002 Ford Mustang
Base Convertible 2-Door
Base Coupe 2-Door
3.8L V6 OHV
2002 Ford Ranger
Edge Extended Cab Pickup 2-Door
Edge Extended Cab Pickup 4-Door
Edge Standard Cab Pickup 2-Door
XL Extended Cab Pickup 2-Door
XL Extended Cab Pickup 4-Door
XL Standard Cab Pickup 2-Door
XL Stripped Chassis
XLT Extended Cab Pickup 2-Door
XLT Extended Cab Pickup 4-Door
XLT Standard Cab Pickup 2-Door
4.0L V6 SOHC
2002 Ford Taurus
SE Wagon 4-Door
SEL Sedan 4-Door
SEL Wagon 4-Door
3.0L V6 DOHC
2002 Ford Windstar
Base Mini Cargo Van 3-Door
Limited Mini Passenger Van 4-Door
LX Mini Passenger Van 3-Door
LX Mini Passenger Van 4-Door
SE Mini Passenger Van 4-Door
SE Sport Mini Passenger Van 4-Door
SEL Mini Passenger Van 4-Door
3.8L V6 OHV
2002 Mazda B4000
Base Extended Cab Pickup 4-Door
DS Extended Cab Pickup 4-Door
4.0L V6 SOHC
2002 Mercury Mountaineer
Base Sport Utility 4-Door
4.0L V6 FLEX SOHC
4.0L V6 SOHC
2002 Mercury Sable
LS Premium Sedan 4-Door
LS Premium Wagon 4-Door
LS Sedan 4-Door
3.0L V6 DOHC
2003 Ford E-150
Base Standard Cargo Van 2-Door
4.2L V6 OHV
2003 Ford E-150 Club Wagon
Chateau Standard Passenger Van 2-Door
XL Standard Passenger Van 2-Door
XLT Standard Passenger Van 2-Door
4.2L V6 OHV
2003 Ford E-250
Base Extended Cargo Van 2-Door
Base Standard Cargo Van 2-Door
Base Stripped Chassis
4.2L V6 OHV
2003 Ford Explorer
Eddie Bauer Sport Utility 4-Door
Limited Sport Utility 4-Door
XLS Sport Utility 4-Door
XLT Sport Utility 4-Door
4.0L V6 FLEX SOHC
4.0L V6 SOHC
4.6L V8 SOHC
2003 Ford Explorer Sport Trac
XLS Sport Utility 4-Door
XLT Sport Utility 4-Door
4.0L V6 SOHC
2003 Ford Mustang
Base Convertible 2-Door
Base Coupe 2-Door
3.8L V6 OHV
2003 Ford Ranger
Edge Extended Cab Pickup 2-Door
Edge Extended Cab Pickup 4-Door
Edge Standard Cab Pickup 2-Door
Edge Stripped Chassis
XL Extended Cab Pickup 2-Door
XL Extended Cab Pickup 4-Door
XL Standard Cab Pickup 2-Door
XL Stripped Chassis
XLT Extended Cab Pickup 2-Door
XLT Extended Cab Pickup 4-Door
XLT Standard Cab Pickup 2-Door
XLT Stripped Chassis
4.0L V6 SOHC
2003 Ford Taurus
SE Comfort Sedan 4-Door
SE Comfort Wagon 4-Door
SE Wagon 4-Door
SEL Sedan 4-Door
SEL Wagon 4-Door
3.0L V6 DOHC
2003 Ford Windstar
Base Mini Cargo Van 3-Door
Base Mini Passenger Van 4-Door
Limited Mini Passenger Van 4-Door
LX Mini Passenger Van 3-Door
LX Mini Passenger Van 4-Door
SE Mini Passenger Van 4-Door
SE Sport Mini Passenger Van 4-Door
SEL Mini Passenger Van 4-Door
3.8L V6 OHV
2003 Mazda B4000
Base Extended Cab Pickup 2-Door
DS Extended Cab Pickup 4-Door
SE Extended Cab Pickup 2-Door
SE Extended Cab Pickup 4-Door
4.0L V6 SOHC
2003 Mercury Mountaineer
Base Sport Utility 4-Door
4.0L V6 FLEX SOHC
2003 Mercury Sable
LS Premium Sedan 4-Door
LS Premium Wagon 4-Door
LS Sedan 4-Door
3.0L V6 DOHC
2004 Ford Explorer
Eddie Bauer Sport Utility 4-Door
Limited Sport Utility 4-Door
NBX Sport Utility 4-Door
XLS Sport Sport Utility 4-Door
XLS Sport Utility 4-Door
XLT Sport Sport Utility 4-Door
XLT Sport Utility 4-Door
4.0L V6 FLEX SOHC
4.0L V6 SOHC
4.6L V8 SOHC
2004 Ford Explorer Sport Trac
XLS Sport Utility 4-Door
XLT Sport Utility 4-Door
4.0L V6 SOHC
4.0L V6 FLEX SOHC
2004 Ford Mustang
Base Convertible 2-Door
Base Coupe 2-Door
3.8L V6 OHV
3.9L V6 OHV
2004 Mazda Tribute
DX Sport Utility 4-Door
ES Sport Utility 4-Door
LX Sport Utility 4-Door
3.0L V6 DOHC
2005 Ford Escape
XLS Sport Utility 4-Door
3.0L V6 DOHC
2005 Ford Explorer
Eddie Bauer Sport Utility 4-Door
Limited Sport Utility 4-Door
XLS Sport Sport Utility 4-Door
XLS Sport Utility 4-Door
XLT Sport Sport Utility 4-Door
XLT Sport Utility 4-Door
4.0L V6 FLEX SOHC
4.0L V6 SOHC
4.6L V8 SOHC
2005 Ford Explorer Sport Trac
Adrenalin Sport Utility 4-Door
XLS Sport Utility 4-Door
XLT Sport Utility 4-Door
4.0L V6 FLEX SOHC
4.0L V6 SOHC
2005 Mercury Mariner
Premier Sport Utility 4-Door
3.0L V6 DOHC
2006 Ford Escape
Limited Sport Utility 4-Door
XLS Sport Utility 4-Door
XLT Sport Utility 4-Door
3.0L V6 DOHC
2006 Mazda Tribute
S Sport Utility 4-Door
3.0L V6 DOHC
2006 Mercury Mariner
Luxury Sport Utility 4-Door
Premier Sport Utility 4-Door
3.0L V6 DOHC
2007 Ford Escape
Limited Sport Utility 4-Door
XLS Sport Utility 4-Door
XLT Sport Utility 4-Door
3.0L V6 DOHC
2007 Mercury Mariner
Luxury Sport Utility 4-Door
Premier Sport Utility 4-Door
3.0L V6 DOHC
2008 Ford Escape
Limited Sport Utility 4-Door
XLS Sport Utility 4-Door
XLT Sport Utility 4-Door
3.0L V6 DOHC
2008 Mazda Tribute
GX Sport Utility 4-Door
S Sport Utility 4-Door
3.0L V6 DOHC
2008 Mercury Mariner
Base Sport Utility 4-Door
Premier Sport Utility 4-Door
3.0L V6 DOHC
Returns Accepted: Yes
Item must be returned within: 30 Days
Refund will be given as: Money back or replacement (buyer's choice)
Return shipping will be paid by: Buyer