1996 GMC Sierra 1500 Heater AC Blower Motor OEM 126K Miles (LKQ~225521456)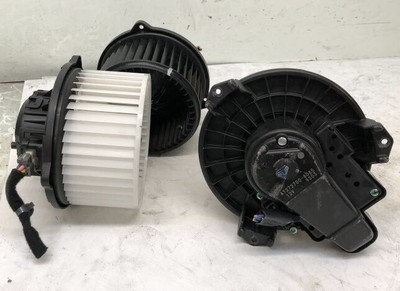 Part number Sierra 1500~225521456LKQ is available for purchase online. To purchase the part or to get additional information about the part before you purchase it, click on the View More Details button.
Item #:

PR-362795436405

Ships From:

Manchester, Tennessee
Price:

$48.00
Returns Accepted: Returns Accepted.
Item must be returned within: 30 Days.
Refund will be given as: Money Back.
Return shipping will be paid by: Buyer.
Brand: GMC.
Manufacturer Part Number: Sierra 1500~225521456LKQ.
Interchange Part Number: 00525.
Warranty: 6 Month.
Warranty Length: 6 Month Warranty (Parts ONLY - NO Labor).
The Source For USED AUTO PARTS 1996 GMC Sierra 1500 Heater AC Blower Motor OEM 126K Miles (LKQ~225521456) Vehicle Fitment & Product Details - Please Check Vehicle Fitment Below Prior To Purchasing LKQ Online is listing a used Heater AC Blower Motor in good, working condition. No photos of the actual Heater AC Blower Motor are available. A Stock photo has been used as a general representation. Please Note: The number (LKQ~XXXXXXXX) in the title is for internal use only. This is NOT a manufacturer part number, and can be disregarded.**** This will fit: Chevrolet Suburban 2500 1993-1996 Fr Chevrolet C 2500 1993-1994 w/AC Chevrolet Suburban 1500 1993-1996 Fr Chevrolet C 3500 1993-1994 w/AC GMC Sierra 2500 1993-1994 w/AC GMC Sierra 3500 1993-1994 w/AC Chevrolet C 1500 1993-1994 w/AC GMC Sierra 3500 1995-1996 GMC Sierra 1500 1995-1996 Chevrolet/GMC Blazer/Jimmy (full size) 1993-1994 Chevrolet C 2500 1995-1996 Chevrolet C 1500 1995-1996 Chevrolet C 3500 1995-1996 GMC Sierra 1500 1993-1994 w/AC GMC Sierra 2500 1995-1996 GMC Yukon 1993-1996 Chevrolet Tahoe 1995-1996 GMC GMC 3500 VAN 1978-1996 front, w/integral AC GMC GMC 2500 VAN 1978-1995 front, w/integral AC GMC GMC 1500 VAN 1978-1995 front, w/integral AC CHEVROLET CHEVROLET 30 VAN 1978-1996 front, w/integral AC CHEVROLET CHEVROLET 20 VAN 1978-1995 front, w/integral AC CHEVROLET CHEVROLET 10 VAN 1978-1995 front, w/integral AC Donor Vehicle & Part Information Vehicle Year: 1996 Vehicle Make: GMC Vehicle Model: Sierra 1500 Vehicle Stock #: $T24196-170 Vehicle Engine Size: 305.0 Vehicle Mileage: 126578 Part # or Vehicle Model: Sierra 1500 Warranty: 6 Month Warranty (Parts ONLY - NO Labor) LKQ SKU: LKQ170 ~225521456 HTM00525 PLEASE NOTE: You will only receive what is pictured unless otherwise stated in the description. Please do not assume anything else will be included if it is not pictured. All of the parts we sell are guaranteed to be in good working condition unless otherwise noted. We ONLY guarantee the part(s) will fit the vehicle(s) listed in the description. If your vehicle was not originally equipped with the EXACT part(s) listed, it is your responsibility to consult a dealer to see if it will fit your application. Additional items may be needed if this is an upgrade or custom installation. Please consult your local dealer for ALL other applications. LKQ Online reserves the right to cancel/refund any order that had parts described incorrectly, had incorrect pricing information or was out of stock/damaged. We do our best to prevent these issues from happening and apologize for any inconvenience it may cause. SHIPPING TERMS UPS Ground - Free - Expedited shipping is not available - We do not ship to APO, military addresses, or P.O. Residents Applicable sales tax will be collected for all orders where it is required by law. Tax - Canada Residents (Part must be located in Canada) Sales tax will be charged when parts are sold to customers in Canada. Please check rates below. Quebec: 5% (GST) + 9.975% (TVQ) = (14.975%) Ontario/New Brunswick/Newfoundland (13%) HST Manitoba 5% (GST) + 8% (PST) = (13%) HST Nova Scotia (15%) HST British Columbia 5% (GST) + 7% (PST) = (12%) HST Saskatchewan 5% (GST) + 5% (PST) = 10% HST All Other Canada Provinces (5%) GST ***We cannot ship to the Canadian Yukon Territory. Orders to the Yukon will be canceled*** CA~SKU:4786049
Part number Sierra 1500~225521456LKQ is compatible with the following vehicles:
Year/Make/Model
Body & Trim
Engine
1978 Chevrolet G10
Beauville Extended Passenger Van 3-Door
Chevy Van Extended Cargo Van 3-Door
Chevy Van Standard Cargo Van 3-Door
Sportvan Extended Passenger Van 3-Door
Sportvan Standard Passenger Van 3-Door
4.1L l6 OHV
5.0L V8 OHV
5.7L V8 OHV
1978 Chevrolet G20
Beauville Extended Passenger Van 3-Door
Chevy Van Extended Cargo Van 3-Door
Chevy Van Standard Cargo Van 3-Door
Sportvan Extended Passenger Van 3-Door
Sportvan Standard Passenger Van 3-Door
4.1L l6 OHV
4.8L l6 OHV
6.6L V8 OHV
5.7L V8 OHV
5.0L V8 OHV
1978 Chevrolet G30
Beauville Standard Passenger Van 3-Door
Chevy Van Cutaway Van 2-Door
Chevy Van Extended Cargo Van 3-Door
Chevy Van Standard Cargo Van 3-Door
Hi-Cube Cutaway Van 2-Door
Sportvan Standard Passenger Van 3-Door
4.8L l6 OHV
5.0L V8 OHV
5.7L V8 OHV
6.6L V8 OHV
4.1L l6 OHV
1978 Chevrolet P10
Base Stripped Chassis
Step-Van Standard Cargo Van 2-Door
5.7L V8 OHV
4.8L l6 OHV
1978 Chevrolet P30
Base Stripped Chassis
Step-Van Standard Cargo Van 2-Door
5.7L V8 OHV
7.4L V8 OHV
4.8L l6 OHV
1978 GMC G15
Rally Extended Passenger Van 3-Door
Rally Standard Passenger Van 3-Door
Rally STX Extended Passenger Van 3-Door
Vandura Extended Cargo Van 3-Door
Vandura Standard Cargo Van 3-Door
4.1L l6 OHV
5.0L V8 OHV
5.7L V8 OHV
1978 GMC G25
Rally Extended Passenger Van 3-Door
Rally Standard Passenger Van 3-Door
Rally STX Extended Passenger Van 3-Door
Vandura Extended Cargo Van 3-Door
Vandura Standard Cargo Van 3-Door
4.8L l6 OHV
6.6L V8 OHV
5.0L V8 OHV
4.1L l6 OHV
1978 GMC P15
Base Stripped Chassis
Value Van Standard Cargo Van 2-Door
4.8L l6 OHV
1978 GMC P25
Base Stripped Chassis
Value Van Standard Cargo Van 2-Door
5.7L V8 OHV
4.8L l6 OHV
1979 Chevrolet G10
Beauville Extended Passenger Van 3-Door
Chevy Van Extended Cargo Van 3-Door
Chevy Van Standard Cargo Van 3-Door
Sportvan Extended Passenger Van 3-Door
Sportvan Standard Passenger Van 3-Door
4.1L l6 OHV
5.7L V8 OHV
5.0L V8 OHV
1979 Chevrolet G20
Beauville Extended Passenger Van 3-Door
Chevy Van Extended Cargo Van 3-Door
Chevy Van Standard Cargo Van 3-Door
Sportvan Extended Passenger Van 3-Door
Sportvan Standard Passenger Van 3-Door
4.8L l6 OHV
5.0L V8 OHV
5.7L V8 OHV
4.1L l6 OHV
6.6L V8 OHV
1979 Chevrolet G30
Beauville Standard Passenger Van 3-Door
Chevy Van Cutaway Van 2-Door
Chevy Van Standard Cargo Van 3-Door
Hi-Cube Cutaway Van 2-Door
Sportvan Standard Passenger Van 3-Door
4.1L l6 OHV
5.0L V8 OHV
5.7L V8 OHV
6.6L V8 OHV
4.8L l6 OHV
1979 Chevrolet P10
Base Stripped Chassis
Step-Van Standard Cargo Van 2-Door
4.8L l6 OHV
5.0L V8 OHV
1979 Chevrolet P30
Base Stripped Chassis
Step-Van Standard Cargo Van 2-Door
4.1L l6 OHV
4.8L l6 OHV
7.4L V8 OHV
5.7L V8 OHV
1979 GMC G1500
Rally Extended Passenger Van 3-Door
Rally Standard Passenger Van 3-Door
Rally STX Extended Passenger Van 3-Door
Vandura Extended Cargo Van 3-Door
Vandura Standard Cargo Van 3-Door
4.1L l6 OHV
5.0L V8 OHV
5.7L V8 OHV
6.6L V8 OHV
1979 GMC G2500
Rally Extended Passenger Van 3-Door
Rally Standard Passenger Van 3-Door
Rally STX Extended Passenger Van 3-Door
Vandura Extended Cargo Van 3-Door
Vandura Standard Cargo Van 3-Door
4.1L l6 OHV
5.0L V8 OHV
5.7L V8 OHV
6.6L V8 OHV
1979 GMC G3500
Magnavan Cutaway Van 2-Door
Rally Camper Special Cutaway Van 2-Door
Rally Standard Passenger Van 3-Door
Rally STX Standard Passenger Van 3-Door
Vandura Special Cutaway Van 2-Door
Vandura Standard Cargo Van 3-Door
5.7L V8 OHV
6.6L V8 OHV
4.1L l6 OHV
1979 GMC P1500
Base Stripped Chassis
Value Van Standard Cargo Van 2-Door
4.8L l6 OHV
7.4L V8 OHV
1979 GMC P2500
Base Stripped Chassis
Value Van Standard Cargo Van 2-Door
4.8L l6 OHV
5.7L V8 OHV
1980 Chevrolet G10
Beauville Extended Passenger Van 3-Door
Chevy Van Extended Cargo Van 3-Door
Chevy Van Standard Cargo Van 3-Door
Sportvan Extended Passenger Van 3-Door
Sportvan Standard Passenger Van 3-Door
4.1L l6 OHV
5.0L V8 OHV
5.7L V8 OHV
1980 Chevrolet G20
Beauville Extended Passenger Van 3-Door
Chevy Van Extended Cargo Van 3-Door
Chevy Van Standard Cargo Van 3-Door
Sportvan Extended Passenger Van 3-Door
Sportvan Standard Passenger Van 3-Door
4.1L l6 OHV
5.0L V8 OHV
5.7L V8 OHV
6.6L V8 OHV
4.8L l6 OHV
1980 Chevrolet G30
Beauville Standard Passenger Van 3-Door
Chevy Van Standard Cargo Van 3-Door
Hi-Cube Cutaway Van 2-Door
Sportvan Standard Passenger Van 3-Door
5.7L V8 OHV
6.6L V8 OHV
1980 Chevrolet P10
Base Stripped Chassis
4.8L l6 OHV
1980 Chevrolet P30
Base Stripped Chassis
Step-Van Standard Cargo Van 2-Door
5.7L V8 OHV
7.4L V8 OHV
4.8L l6 OHV
1980 GMC G1500
Rally Extended Passenger Van 3-Door
Rally Standard Passenger Van 3-Door
Rally STX Extended Passenger Van 3-Door
Vandura Extended Cargo Van 3-Door
Vandura Standard Cargo Van 3-Door
4.1L l6 OHV
5.0L V8 OHV
5.7L V8 OHV
1980 GMC G2500
Rally Extended Passenger Van 3-Door
Rally Standard Passenger Van 3-Door
Rally STX Extended Passenger Van 3-Door
Vandura Extended Cargo Van 3-Door
Vandura Standard Cargo Van 3-Door
4.1L l6 OHV
5.7L V8 OHV
6.6L V8 OHV
5.0L V8 OHV
1980 GMC G3500
Magnavan Cutaway Van 2-Door
Rally Camper Special Cutaway Van 2-Door
Rally Standard Passenger Van 3-Door
Rally STX Standard Passenger Van 3-Door
Vandura Special Cutaway Van 2-Door
5.7L V8 OHV
6.6L V8 OHV
1980 GMC P1500
Base Stripped Chassis
Value Van Standard Cargo Van 2-Door
4.8L l6 OHV
1980 GMC P2500
Base Stripped Chassis
Value Van Standard Cargo Van 2-Door
4.8L l6 OHV
5.7L V8 OHV
1981 Chevrolet G10
Beauville Extended Passenger Van 3-Door
Bonaventure Extended Passenger Van 3-Door
Chevy Van Extended Cargo Van 3-Door
Chevy Van Standard Cargo Van 3-Door
Sportvan Extended Passenger Van 3-Door
Sportvan Standard Passenger Van 3-Door
4.1L l6 OHV
5.0L V8 OHV
5.7L V8 OHV
1981 Chevrolet G20
Beauville Extended Passenger Van 3-Door
Chevy Van Extended Cargo Van 3-Door
Chevy Van Standard Cargo Van 3-Door
Sportvan Extended Passenger Van 3-Door
Sportvan Standard Passenger Van 3-Door
4.1L l6 OHV
5.7L V8 OHV
5.0L V8 OHV
1981 Chevrolet G30
Beauville Standard Passenger Van 3-Door
Chevy Van Cutaway Van 2-Door
Chevy Van Standard Cargo Van 3-Door
Hi-Cube Cutaway Van 2-Door
Sportvan Standard Passenger Van 3-Door
5.7L V8 OHV
4.1L l6 OHV
1981 Chevrolet P30
Base Stripped Chassis
Step-Van Standard Cargo Van 2-Door
5.7L V8 OHV
7.4L V8 OHV
4.8L l6 OHV
1981 GMC G1500
Rally Extended Passenger Van 3-Door
Rally Standard Passenger Van 3-Door
Rally STX Extended Passenger Van 3-Door
Vandura Extended Cargo Van 3-Door
Vandura Standard Cargo Van 3-Door
4.1L l6 OHV
5.0L V8 OHV
5.7L V8 OHV
1981 GMC G2500
Rally Extended Passenger Van 3-Door
Rally Standard Passenger Van 3-Door
Rally STX Extended Passenger Van 3-Door
Vandura Extended Cargo Van 3-Door
Vandura Standard Cargo Van 3-Door
4.1L l6 OHV
5.0L V8 OHV
5.7L V8 OHV
1981 GMC G3500
Rally Camper Special Cutaway Van 2-Door
Rally Standard Passenger Van 3-Door
Rally STX Standard Passenger Van 3-Door
Vandura Standard Cargo Van 3-Door
5.7L V8 OHV
5.0L V8 OHV
1981 GMC P2500
Base Stripped Chassis
Value Van Standard Cargo Van 2-Door
4.8L l6 OHV
5.7L V8 OHV
1982 Chevrolet Camaro
Sport Coupe 2-Door
Z28 Indianapolis 500 Pace Car Coupe 2-Door
2.5L l4 OHV
2.8L V6 OHV
5.0L V8 OHV
1982 Chevrolet G10
Beauville Extended Passenger Van 3-Door
Bonaventure Extended Passenger Van 3-Door
Chevy Van Extended Cargo Van 3-Door
Chevy Van Standard Cargo Van 3-Door
Sportvan Extended Passenger Van 3-Door
Sportvan Standard Passenger Van 3-Door
4.1L l6 OHV
5.0L V8 OHV
5.7L V8 OHV
1982 Chevrolet G20
Beauville Extended Passenger Van 3-Door
Chevy Van Extended Cargo Van 3-Door
Chevy Van Standard Cargo Van 3-Door
Sportvan Extended Passenger Van 3-Door
Sportvan Standard Passenger Van 3-Door
4.1L l6 OHV
5.0L V8 OHV
5.7L V8 OHV
1982 Chevrolet G30
Beauville Standard Passenger Van 3-Door
Chevy Van Cutaway Van 2-Door
Chevy Van Standard Cargo Van 3-Door
Hi-Cube Cutaway Van 2-Door
Sportvan Standard Passenger Van 3-Door
4.1L l6 OHV
5.0L V8 OHV
5.7L V8 OHV
1982 Chevrolet P30
Base Stripped Chassis
Step-Van Standard Cargo Van 2-Door
4.8L l6 OHV
5.7L V8 OHV
6.2L V8 DIESEL OHV
1982 GMC G1500
Rally Extended Passenger Van 3-Door
Rally Standard Passenger Van 3-Door
Rally STX Extended Passenger Van 3-Door
Vandura Extended Cargo Van 3-Door
Vandura Standard Cargo Van 3-Door
4.1L l6 OHV
5.0L V8 OHV
5.7L V8 OHV
1982 GMC G2500
Rally Extended Passenger Van 3-Door
Rally Standard Passenger Van 3-Door
Rally STX Extended Passenger Van 3-Door
Vandura Extended Cargo Van 3-Door
Vandura Standard Cargo Van 3-Door
5.0L V8 OHV
5.7L V8 OHV
4.1L l6 OHV
1982 GMC G3500
Rally Camper Special Cutaway Van 2-Door
Rally Standard Passenger Van 3-Door
Rally STX Standard Passenger Van 3-Door
Vandura Special Cutaway Van 2-Door
Vandura Standard Cargo Van 3-Door
5.7L V8 OHV
4.1L l6 OHV
1982 GMC P2500
Base Stripped Chassis
Value Van Standard Cargo Van 2-Door
4.8L l6 OHV
6.2L V8 DIESEL OHV
5.7L V8 OHV
1982 Pontiac Firebird
Base Coupe 2-Door
S/E Coupe 2-Door
Trans Am Coupe 2-Door
2.5L l4 OHV
2.8L V6 OHV
5.0L V8 OHV
1983 Chevrolet Camaro
Berlinetta Coupe 2-Door
Sport Coupe 2-Door
5.0L V8 OHV
2.5L l4 OHV
2.8L V6 OHV
1983 Chevrolet G10
Base Extended Cargo Van 3-Door
Beauville Standard Passenger Van 3-Door
Bonaventure Standard Passenger Van 3-Door
Chevy Van Standard Cargo Van 3-Door
Sportvan Standard Passenger Van 3-Door
4.1L l6 OHV
5.0L V8 OHV
5.7L V8 OHV
1983 Chevrolet G20
Beauville Standard Passenger Van 3-Door
Bonaventure Standard Passenger Van 3-Door
Chevy Van Standard Cargo Van 3-Door
Sportvan Standard Passenger Van 3-Door
4.1L l6 OHV
6.2L V8 DIESEL OHV
5.0L V8 OHV
5.7L V8 OHV
1983 Chevrolet G30
Beauville Standard Passenger Van 3-Door
Bonaventure Standard Passenger Van 3-Door
Chevy Van Cutaway Van 2-Door
Chevy Van Standard Cargo Van 3-Door
Hi-Cube Cutaway Van 2-Door
Sportvan Standard Passenger Van 3-Door
4.1L l6 OHV
5.7L V8 OHV
6.2L V8 DIESEL OHV
1983 Chevrolet P30
Base Stripped Chassis
Step-Van Standard Cargo Van 2-Door
4.8L l6 OHV
5.7L V8 OHV
6.2L V8 DIESEL OHV
1983 GMC G1500
Rally Custom Standard Passenger Van 3-Door
Rally Standard Passenger Van 3-Door
Rally STX Standard Passenger Van 3-Door
Vandura Extended Cargo Van 3-Door
Vandura Standard Cargo Van 3-Door
4.1L l6 OHV
5.0L V8 OHV
5.7L V8 OHV
1983 GMC G2500
Rally Custom Standard Passenger Van 3-Door
Rally Standard Passenger Van 3-Door
Rally STX Standard Passenger Van 3-Door
Vandura Standard Cargo Van 3-Door
4.1L l6 OHV
5.0L V8 OHV
6.2L V8 DIESEL OHV
5.7L V8 OHV
1983 GMC G3500
Magnavan Cutaway Van 2-Door
Rally Camper Special Cutaway Van 2-Door
Rally Custom Standard Passenger Van 3-Door
Rally STX Standard Passenger Van 3-Door
Vandura Special Cutaway Van 2-Door
Vandura Standard Cargo Van 3-Door
6.2L V8 DIESEL OHV
5.7L V8 OHV
4.1L l6 OHV
1983 GMC P2500
Base Stripped Chassis
Value Van Standard Cargo Van 2-Door
4.8L l6 OHV
5.7L V8 OHV
6.2L V8 DIESEL OHV
1983 Pontiac Firebird
Base Coupe 2-Door
S/E Coupe 2-Door
Trans Am Coupe 2-Door
2.5L l4 OHV
2.8L V6 OHV
5.0L V8 OHV
1984 Chevrolet Camaro
Berlinetta Coupe 2-Door
Sport Coupe 2-Door
Z28 Coupe 2-Door
2.8L V6 OHV
2.5L l4 OHV
5.0L V8 OHV
1984 Chevrolet G10
Beauville Standard Passenger Van 3-Door
Bonaventure Standard Passenger Van 3-Door
Chevy Van Extended Cargo Van 3-Door
Chevy Van Standard Cargo Van 3-Door
Sportvan Standard Passenger Van 3-Door
4.1L l6 OHV
5.0L V8 OHV
5.7L V8 OHV
1984 Chevrolet G20
Beauville Standard Passenger Van 3-Door
Bonaventure Standard Passenger Van 3-Door
Chevy Van Standard Cargo Van 3-Door
Sportvan Standard Passenger Van 3-Door
4.1L l6 OHV
6.2L V8 DIESEL OHV
5.0L V8 OHV
5.7L V8 OHV
1984 Chevrolet G30
Beauville Standard Passenger Van 3-Door
Bonaventure Standard Passenger Van 3-Door
Chevy Van Cutaway Van 2-Door
Chevy Van Standard Cargo Van 3-Door
Hi-Cube Cutaway Van 2-Door
Sportvan Standard Passenger Van 3-Door
4.1L l6 OHV
5.7L V8 OHV
6.2L V8 DIESEL OHV
1984 Chevrolet P30
Base Stripped Chassis
Step-Van Standard Cargo Van 2-Door
5.7L V8 OHV
6.2L V8 DIESEL OHV
7.4L V8 OHV
4.8L l6 OHV
1984 GMC G1500
Rally Custom Standard Passenger Van 3-Door
Rally Standard Passenger Van 3-Door
Rally STX Standard Passenger Van 3-Door
Vandura Extended Cargo Van 3-Door
Vandura Standard Cargo Van 3-Door
4.1L l6 OHV
5.7L V8 OHV
5.0L V8 OHV
1984 GMC G2500
Rally Custom Standard Passenger Van 3-Door
Rally Standard Passenger Van 3-Door
Rally STX Standard Passenger Van 3-Door
Vandura Standard Cargo Van 3-Door
4.1L l6 OHV
5.0L V8 OHV
6.2L V8 DIESEL OHV
5.7L V8 OHV
1984 GMC G3500
Magnavan Cutaway Van 2-Door
Rally Camper Special Cutaway Van 2-Door
Rally Custom Standard Passenger Van 3-Door
Rally STX Standard Passenger Van 3-Door
Vandura Special Cutaway Van 2-Door
Vandura Standard Cargo Van 3-Door
6.2L V8 DIESEL OHV
5.7L V8 OHV
4.1L l6 OHV
1984 GMC P2500
Base Stripped Chassis
Value Van Standard Cargo Van 2-Door
4.8L l6 OHV
5.7L V8 OHV
6.2L V8 DIESEL OHV
1984 Pontiac Firebird
Base Coupe 2-Door
S/E Coupe 2-Door
Trans Am Coupe 2-Door
2.8L V6 OHV
5.0L V8 OHV
2.5L l4 OHV
1985 Chevrolet Astro
Base Standard Cargo Van 3-Door
Base Standard Passenger Van 3-Door
CL Standard Passenger Van 3-Door
CS Standard Passenger Van 3-Door
2.5L l4 OHV
4.3L V6 OHV
1985 Chevrolet Camaro
Berlinetta Coupe 2-Door
Iroc-Z Coupe 2-Door
Sport Coupe 2-Door
Z28 Coupe 2-Door
2.8L V6 OHV
5.0L V8 OHV
1985 Chevrolet Corvette
Base Hatchback 2-Door
5.7L V8 OHV
1985 Chevrolet G10
Beauville Extended Passenger Van 3-Door
Chevy Van Extended Cargo Van 3-Door
Chevy Van Standard Cargo Van 3-Door
Sportvan Extended Passenger Van 3-Door
Sportvan Standard Passenger Van 3-Door
5.0L V8 OHV
4.3L V6 OHV
5.7L V8 OHV
1985 Chevrolet G20
Beauville Extended Passenger Van 3-Door
Chevy Van Extended Cargo Van 3-Door
Chevy Van Standard Cargo Van 3-Door
Sportvan Extended Passenger Van 3-Door
4.3L V6 OHV
5.7L V8 OHV
6.2L V8 DIESEL OHV
5.0L V8 OHV
1985 Chevrolet G30
Beauville Extended Passenger Van 3-Door
Beauville Standard Passenger Van 3-Door
Chevy Van Cutaway Van 2-Door
Chevy Van Extended Cargo Van 3-Door
Chevy Van Standard Cargo Van 3-Door
Hi-Cube Cutaway Van 2-Door
Sportvan Extended Passenger Van 3-Door
Sportvan Standard Passenger Van 3-Door
4.3L V6 OHV
5.0L V8 OHV
5.7L V8 OHV
6.2L V8 DIESEL OHV
1985 Chevrolet P30
Base Stripped Chassis
Step-Van Standard Cargo Van 2-Door
4.8L l6 OHV
5.7L V8 OHV
6.2L V8 DIESEL OHV
1985 GMC G1500
Rally Extended Passenger Van 3-Door
Rally Standard Passenger Van 3-Door
Rally STX Extended Passenger Van 3-Door
Vandura Extended Cargo Van 3-Door
Vandura Standard Cargo Van 3-Door
4.3L V6 OHV
5.0L V8 OHV
5.7L V8 OHV
1985 GMC G2500
Rally Extended Passenger Van 3-Door
Rally STX Extended Passenger Van 3-Door
Vandura Extended Cargo Van 3-Door
Vandura Standard Cargo Van 3-Door
5.0L V8 OHV
5.7L V8 OHV
6.2L V8 DIESEL OHV
4.3L V6 OHV
1985 GMC G3500
Magnavan Cutaway Van 2-Door
Rally Camper Special Cutaway Van 2-Door
Rally Extended Passenger Van 3-Door
Rally Standard Passenger Van 3-Door
Rally STX Standard Passenger Van 3-Door
Vandura Extended Cargo Van 3-Door
Vandura Special Cutaway Van 2-Door
Vandura Standard Cargo Van 3-Door
5.7L V8 OHV
6.2L V8 DIESEL OHV
4.3L V6 OHV
1985 GMC P2500
Base Stripped Chassis
Value Van Standard Cargo Van 2-Door
4.8L l6 OHV
5.7L V8 OHV
6.2L V8 DIESEL OHV
1985 Pontiac Firebird
Base Coupe 2-Door
S/E Coupe 2-Door
Trans Am Coupe 2-Door
2.5L l4 OHV
2.8L V6 OHV
5.0L V8 OHV
1986 Chevrolet Astro
Base Standard Cargo Van 3-Door
Base Standard Passenger Van 3-Door
CS Standard Passenger Van 3-Door
2.5L l4 OHV
4.3L V6 OHV
1986 Chevrolet Camaro
Berlinetta Coupe 2-Door
Sport Coupe 2-Door
Z28 Coupe 2-Door
2.8L V6 OHV
5.0L V8 OHV
1986 Chevrolet G10
Beauville Extended Passenger Van 3-Door
Bonaventure Extended Passenger Van 3-Door
Bonaventure Standard Passenger Van 3-Door
Chevy Van Extended Cargo Van 3-Door
Chevy Van Standard Cargo Van 3-Door
Sportvan Extended Passenger Van 3-Door
Sportvan Standard Passenger Van 3-Door
5.0L V8 OHV
4.3L V6 OHV
5.7L V8 OHV
1986 Chevrolet G20
Beauville Extended Passenger Van 3-Door
Chevy Van Extended Cargo Van 3-Door
Chevy Van Standard Cargo Van 3-Door
Sportvan Extended Passenger Van 3-Door
5.7L V8 OHV
6.2L V8 DIESEL OHV
4.3L V6 OHV
5.0L V8 OHV
1986 Chevrolet G30
Beauville Extended Passenger Van 3-Door
Beauville Standard Passenger Van 3-Door
Chevy Van Cutaway Van 2-Door
Chevy Van Extended Cargo Van 3-Door
Chevy Van Standard Cargo Van 3-Door
Hi-Cube Cutaway Van 2-Door
Sportvan Extended Passenger Van 3-Door
Sportvan Standard Passenger Van 3-Door
4.3L V6 OHV
5.7L V8 OHV
6.2L V8 DIESEL OHV
1986 Chevrolet P30
Base Standard Cargo Van 2-Door
Base Stripped Chassis
4.8L l6 OHV
5.7L V8 OHV
6.2L V8 DIESEL OHV
7.4L V8 OHV
1986 GMC G1500
Rally Extended Passenger Van 3-Door
Rally Standard Passenger Van 3-Door
Rally STX Extended Passenger Van 3-Door
Vandura Extended Cargo Van 3-Door
Vandura Standard Cargo Van 3-Door
5.0L V8 OHV
5.7L V8 OHV
4.3L V6 OHV
1986 GMC G2500
Rally Extended Passenger Van 3-Door
Rally STX Extended Passenger Van 3-Door
Vandura Extended Cargo Van 3-Door
Vandura Standard Cargo Van 3-Door
5.0L V8 OHV
5.7L V8 OHV
6.2L V8 DIESEL OHV
4.3L V6 OHV
1986 GMC G3500
Magnavan Cutaway Van 2-Door
Rally Extended Passenger Van 3-Door
Rally Standard Passenger Van 3-Door
Rally STX Extended Passenger Van 3-Door
Rally STX Standard Passenger Van 3-Door
Vandura Extended Cargo Van 3-Door
Vandura Special Cutaway Van 2-Door
Vandura Standard Cargo Van 3-Door
5.7L V8 OHV
6.2L V8 DIESEL OHV
4.3L V6 OHV
1986 GMC P2500
Base Stripped Chassis
Value Van Standard Cargo Van 2-Door
5.7L V8 OHV
6.2L V8 DIESEL OHV
4.8L l6 OHV
1986 Pontiac Firebird
Base Coupe 2-Door
S/E Coupe 2-Door
Trans Am Coupe 2-Door
2.8L V6 OHV
5.0L V8 OHV
1987 Chevrolet Astro
Base Standard Cargo Van 3-Door
Base Standard Passenger Van 3-Door
CL Standard Passenger Van 3-Door
LT Standard Passenger Van 3-Door
2.5L l4 OHV
4.3L V6 OHV
1987 Chevrolet Camaro
LT Convertible 2-Door
LT Coupe 2-Door
Sport Convertible 2-Door
Sport Coupe 2-Door
Z28 Convertible 2-Door
Z28 Coupe 2-Door
2.8L V6 OHV
5.0L V8 OHV
1987 Chevrolet G10
Beauville Extended Passenger Van 3-Door
Bonaventure Extended Passenger Van 3-Door
Bonaventure Standard Passenger Van 3-Door
Chevy Van Extended Cargo Van 3-Door
Chevy Van Standard Cargo Van 3-Door
Sportvan Extended Passenger Van 3-Door
Sportvan Standard Passenger Van 3-Door
4.3L V6 OHV
5.0L V8 OHV
5.7L V8 OHV
1987 Chevrolet G20
Beauville Extended Passenger Van 3-Door
Chevy Van Extended Cargo Van 3-Door
Chevy Van Standard Cargo Van 3-Door
Sportvan Extended Passenger Van 3-Door
4.3L V6 OHV
5.7L V8 OHV
6.2L V8 DIESEL OHV
5.0L V8 OHV
1987 Chevrolet G30
Beauville Extended Passenger Van 3-Door
Beauville Standard Passenger Van 3-Door
Chevy Van Cutaway Van 2-Door
Chevy Van Extended Cargo Van 3-Door
Chevy Van Standard Cargo Van 3-Door
Hi-Cube Cutaway Van 2-Door
Sportvan Extended Passenger Van 3-Door
Sportvan Standard Passenger Van 3-Door
4.3L V6 OHV
5.7L V8 OHV
6.2L V8 DIESEL OHV
1987 Chevrolet P30
Base Stripped Chassis
Step-Van Standard Cargo Van 2-Door
4.8L l6 OHV
5.7L V8 OHV
6.2L V8 DIESEL OHV
7.4L V8 OHV
1987 GMC G1500
Rally Extended Passenger Van 3-Door
Rally Standard Passenger Van 3-Door
Rally STX Extended Passenger Van 3-Door
Vandura Standard Cargo Van 3-Door
5.0L V8 OHV
5.7L V8 OHV
4.3L V6 OHV
1987 GMC G2500
Rally Extended Passenger Van 3-Door
Rally STX Extended Passenger Van 3-Door
Vandura Extended Cargo Van 3-Door
Vandura Standard Cargo Van 3-Door
4.3L V6 OHV
5.7L V8 OHV
6.2L V8 DIESEL OHV
5.0L V8 OHV
1987 GMC G3500
Magnavan Cutaway Van 2-Door
Rally Camper Special Cutaway Van 2-Door
Rally Extended Passenger Van 3-Door
Rally Standard Passenger Van 3-Door
Rally STX Extended Passenger Van 3-Door
Rally STX Standard Passenger Van 3-Door
Vandura Extended Cargo Van 3-Door
Vandura Special Cutaway Van 2-Door
Vandura Standard Cargo Van 3-Door
5.7L V8 OHV
6.2L V8 DIESEL OHV
4.3L V6 OHV
1987 GMC P2500
Base Stripped Chassis
Value Van Standard Cargo Van 2-Door
5.7L V8 OHV
6.2L V8 DIESEL OHV
4.8L l6 OHV
1987 Pontiac Firebird
Base Coupe 2-Door
Trans Am Coupe 2-Door
2.8L V6 OHV
5.0L V8 OHV
5.7L V8 OHV
1988 Chevrolet Astro
Base Standard Cargo Van 3-Door
CS Standard Passenger Van 3-Door
LT Standard Passenger Van 3-Door
2.5L l4 OHV
4.3L V6 OHV
1988 Chevrolet Camaro
Base Convertible 2-Door
Base Coupe 2-Door
Iroc-Z Coupe 2-Door
5.0L V8 OHV
2.8L V6 OHV
5.7L V8 OHV
1988 Chevrolet G10
Beauville Extended Passenger Van 3-Door
Chevy Van Extended Cargo Van 3-Door
Chevy Van Standard Cargo Van 3-Door
Sportvan Extended Passenger Van 3-Door
Sportvan Standard Passenger Van 3-Door
4.3L V6 OHV
5.0L V8 OHV
5.7L V8 OHV
1988 Chevrolet G20
Beauville Extended Passenger Van 3-Door
Chevy Van Extended Cargo Van 3-Door
Chevy Van Standard Cargo Van 3-Door
Sportvan Extended Passenger Van 3-Door
4.3L V6 OHV
5.0L V8 OHV
5.7L V8 OHV
6.2L V8 DIESEL OHV
1988 Chevrolet G30
Beauville Extended Passenger Van 3-Door
Beauville Standard Passenger Van 3-Door
Chevy Van Cutaway Van 2-Door
Chevy Van Extended Cargo Van 3-Door
Chevy Van Standard Cargo Van 3-Door
Hi-Cube Cutaway Van 2-Door
Sportvan Extended Passenger Van 3-Door
Sportvan Standard Passenger Van 3-Door
5.7L V8 OHV
6.2L V8 DIESEL OHV
7.4L V8 OHV
4.3L V6 OHV
1988 Chevrolet P30
Base Stripped Chassis
Step-Van Standard Cargo Van 2-Door
4.8L l6 OHV
5.7L V8 OHV
7.4L V8 OHV
1988 GMC G1500
Rally Extended Passenger Van 3-Door
Rally Standard Passenger Van 3-Door
Rally STX Extended Passenger Van 3-Door
Vandura Extended Cargo Van 3-Door
Vandura Standard Cargo Van 3-Door
4.3L V6 OHV
5.0L V8 OHV
5.7L V8 OHV
1988 GMC G2500
Rally Extended Passenger Van 3-Door
Rally STX Extended Passenger Van 3-Door
Vandura Extended Cargo Van 3-Door
Vandura Standard Cargo Van 3-Door
4.3L V6 OHV
5.0L V8 OHV
5.7L V8 OHV
6.2L V8 DIESEL OHV
1988 GMC G3500
Magnavan Cutaway Van 2-Door
Rally Camper Special Cutaway Van 2-Door
Rally Extended Passenger Van 3-Door
Rally Standard Passenger Van 3-Door
Rally STX Extended Passenger Van 3-Door
Rally STX Standard Passenger Van 3-Door
Vandura Extended Cargo Van 3-Door
Vandura Special Cutaway Van 2-Door
Vandura Standard Cargo Van 3-Door
5.7L V8 OHV
7.4L V8 OHV
6.2L V8 DIESEL OHV
4.3L V6 OHV
1988 GMC P2500
Base Stripped Chassis
Value Van Standard Cargo Van 2-Door
5.7L V8 OHV
6.2L V8 DIESEL OHV
1988 Pontiac Firebird
Base Coupe 2-Door
Trans Am Coupe 2-Door
2.8L V6 OHV
5.0L V8 OHV
5.7L V8 OHV
1989 Chevrolet Astro
Base Standard Cargo Van 3-Door
CL Standard Passenger Van 3-Door
LT Standard Passenger Van 3-Door
4.3L V6 OHV
1989 Chevrolet G10
Beauville Extended Passenger Van 3-Door
Chevy Van Extended Cargo Van 3-Door
Chevy Van Standard Cargo Van 3-Door
Sportvan Extended Passenger Van 3-Door
Sportvan Standard Passenger Van 3-Door
4.3L V6 OHV
5.0L V8 OHV
5.7L V8 OHV
1989 Chevrolet G20
Beauville Extended Passenger Van 3-Door
Chevy Van Extended Cargo Van 3-Door
Chevy Van Standard Cargo Van 3-Door
Sportvan Extended Passenger Van 3-Door
4.3L V6 OHV
5.0L V8 OHV
5.7L V8 OHV
6.2L V8 DIESEL OHV
1989 Chevrolet G30
Beauville Extended Passenger Van 3-Door
Beauville Standard Passenger Van 3-Door
Chevy Van Cutaway Van 2-Door
Chevy Van Extended Cargo Van 3-Door
Chevy Van Standard Cargo Van 3-Door
Hi-Cube Cutaway Van 2-Door
Sportvan Extended Passenger Van 3-Door
Sportvan Standard Passenger Van 3-Door
5.7L V8 OHV
6.2L V8 DIESEL OHV
7.4L V8 OHV
4.3L V6 OHV
1989 Chevrolet P30
Base Stripped Chassis
Step-Van Standard Cargo Van 2-Door
4.8L l6 OHV
5.7L V8 OHV
7.4L V8 OHV
1989 GMC G1500
Rally Extended Passenger Van 3-Door
Rally Standard Passenger Van 3-Door
Rally STX Extended Passenger Van 3-Door
Vandura Extended Cargo Van 3-Door
Vandura Standard Cargo Van 3-Door
4.3L V6 OHV
5.0L V8 OHV
5.7L V8 OHV
1989 GMC G2500
Rally Extended Passenger Van 3-Door
Rally STX Extended Passenger Van 3-Door
Vandura Extended Cargo Van 3-Door
Vandura Standard Cargo Van 3-Door
4.3L V6 OHV
5.0L V8 OHV
5.7L V8 OHV
6.2L V8 DIESEL OHV
1989 GMC G3500
Magnavan Cutaway Van 2-Door
Rally Camper Special Cutaway Van 2-Door
Rally Extended Passenger Van 3-Door
Rally Standard Passenger Van 3-Door
Rally STX Extended Passenger Van 3-Door
Rally STX Standard Passenger Van 3-Door
Vandura Extended Cargo Van 3-Door
Vandura Special Cutaway Van 2-Door
Vandura Standard Cargo Van 3-Door
5.7L V8 OHV
7.4L V8 OHV
6.2L V8 DIESEL OHV
4.3L V6 OHV
1989 GMC P2500
Base Stripped Chassis
Value Van Standard Cargo Van 2-Door
4.8L l6 OHV
5.7L V8 OHV
6.2L V8 DIESEL OHV
1990 Chevrolet G10
Beauville Extended Passenger Van 3-Door
Chevy Van Extended Cargo Van 3-Door
Chevy Van Standard Cargo Van 3-Door
Sportvan Extended Passenger Van 3-Door
Sportvan Standard Passenger Van 3-Door
4.3L V6 OHV
5.0L V8 OHV
5.7L V8 OHV
1990 Chevrolet G20
Beauville Extended Passenger Van 3-Door
Chevy Van Extended Cargo Van 3-Door
Chevy Van Standard Cargo Van 3-Door
Sportvan Extended Passenger Van 3-Door
5.0L V8 OHV
5.7L V8 OHV
6.2L V8 DIESEL OHV
4.3L V6 OHV
1990 Chevrolet G30
Beauville Extended Passenger Van 3-Door
Beauville Standard Passenger Van 3-Door
Chevy Van Cutaway Van 2-Door
Chevy Van Extended Cargo Van 3-Door
Chevy Van Standard Cargo Van 3-Door
Hi-Cube Cutaway Van 2-Door
Sportvan Extended Passenger Van 3-Door
Sportvan Standard Passenger Van 3-Door
4.3L V6 OHV
5.7L V8 OHV
7.4L V8 OHV
6.2L V8 DIESEL OHV
1990 Chevrolet P30
Base Stripped Chassis
Step-Van Standard Cargo Van 2-Door
3.9L l4 DIESEL OHV Turbocharged
4.3L V6 OHV
5.7L V8 OHV
6.2L V8 DIESEL OHV
1990 GMC G1500
Rally Extended Passenger Van 3-Door
Rally Standard Passenger Van 3-Door
Rally STX Extended Passenger Van 3-Door
Vandura Extended Cargo Van 3-Door
Vandura Standard Cargo Van 3-Door
4.3L V6 OHV
5.0L V8 OHV
5.7L V8 OHV
1990 GMC G2500
Rally Extended Passenger Van 3-Door
Rally STX Extended Passenger Van 3-Door
Vandura Extended Cargo Van 3-Door
Vandura Standard Cargo Van 3-Door
4.3L V6 OHV
5.0L V8 OHV
5.7L V8 OHV
6.2L V8 DIESEL OHV
1990 GMC G3500
Magnavan Cutaway Van 2-Door
Rally Camper Special Cutaway Van 2-Door
Rally Extended Passenger Van 3-Door
Rally Standard Passenger Van 3-Door
Rally STX Extended Passenger Van 3-Door
Rally STX Standard Passenger Van 3-Door
Vandura Extended Cargo Van 3-Door
Vandura Special Cutaway Van 2-Door
Vandura Standard Cargo Van 3-Door
5.7L V8 OHV
7.4L V8 OHV
6.2L V8 DIESEL OHV
4.3L V6 OHV
1991 Chevrolet G10
Beauville Extended Passenger Van 3-Door
Chevy Van Extended Cargo Van 3-Door
Chevy Van Standard Cargo Van 3-Door
Sportvan Extended Passenger Van 3-Door
Sportvan Standard Passenger Van 3-Door
4.3L V6 OHV
5.0L V8 OHV
5.7L V8 OHV
1991 Chevrolet G20
Beauville Extended Passenger Van 3-Door
Chevy Van Extended Cargo Van 3-Door
Chevy Van Standard Cargo Van 3-Door
Sportvan Extended Passenger Van 3-Door
5.0L V8 OHV
5.7L V8 OHV
6.2L V8 DIESEL OHV
4.3L V6 OHV
1991 Chevrolet G30
Beauville Extended Passenger Van 3-Door
Beauville Standard Passenger Van 3-Door
Chevy Van Cutaway Van 2-Door
Chevy Van Extended Cargo Van 3-Door
Chevy Van Standard Cargo Van 3-Door
Hi-Cube Cutaway Van 2-Door
Sportvan Extended Passenger Van 3-Door
Sportvan Standard Passenger Van 3-Door
4.3L V6 OHV
5.7L V8 OHV
7.4L V8 OHV
6.2L V8 DIESEL OHV
1991 Chevrolet P30
Base Cab & Chassis 2-Door
Base Standard Cargo Van 2-Door
Base Stripped Chassis
3.9L l4 DIESEL OHV Turbocharged
4.3L V6 OHV
5.7L V8 OHV
6.2L V8 DIESEL OHV
7.4L V8 OHV
1991 GMC G1500
Rally Extended Passenger Van 3-Door
Rally Standard Passenger Van 3-Door
Rally STX Extended Passenger Van 3-Door
Vandura Extended Cargo Van 3-Door
4.3L V6 OHV
5.0L V8 OHV
5.7L V8 OHV
1991 GMC G2500
Rally Extended Passenger Van 3-Door
Rally STX Extended Passenger Van 3-Door
Vandura Extended Cargo Van 3-Door
Vandura Standard Cargo Van 3-Door
4.3L V6 OHV
5.0L V8 OHV
5.7L V8 OHV
6.2L V8 DIESEL OHV
1991 GMC G3500
Magnavan Cutaway Van 2-Door
Rally Camper Special Cutaway Van 2-Door
Rally Extended Passenger Van 3-Door
Rally Standard Passenger Van 3-Door
Rally STX Extended Passenger Van 3-Door
Rally STX Standard Passenger Van 3-Door
Vandura Extended Cargo Van 3-Door
Vandura Special Cutaway Van 2-Door
Vandura Standard Cargo Van 3-Door
7.4L V8 OHV
5.7L V8 OHV
6.2L V8 DIESEL OHV
4.3L V6 OHV
1992 Chevrolet G10
Beauville Extended Passenger Van 3-Door
Chevy Van Extended Cargo Van 3-Door
Chevy Van Standard Cargo Van 3-Door
Sportvan Extended Passenger Van 3-Door
Sportvan Standard Passenger Van 3-Door
4.3L V6 OHV
5.0L V8 OHV
5.7L V8 OHV
1992 Chevrolet G20
Beauville Extended Passenger Van 3-Door
Chevy Van Extended Cargo Van 3-Door
Chevy Van Standard Cargo Van 3-Door
Sportvan Extended Passenger Van 3-Door
5.0L V8 OHV
5.7L V8 OHV
6.2L V8 DIESEL OHV
4.3L V6 OHV
1992 Chevrolet G30
Beauville Extended Passenger Van 3-Door
Beauville Standard Passenger Van 3-Door
Chevy Van Cutaway Van 2-Door
Chevy Van Extended Cargo Van 3-Door
Chevy Van Standard Cargo Van 3-Door
Hi-Cube Cutaway Van 2-Door
Sportvan Extended Passenger Van 3-Door
Sportvan Standard Passenger Van 3-Door
4.3L V6 OHV
7.4L V8 OHV
5.7L V8 OHV
6.2L V8 DIESEL OHV
1992 Chevrolet P30
Base Cab & Chassis 2-Door
Base Standard Cargo Van 2-Door
Base Stripped Chassis
4.3L V6 OHV
5.7L V8 OHV
6.2L V8 DIESEL OHV
7.4L V8 OHV
1992 GMC G1500
Rally Extended Passenger Van 3-Door
Rally Standard Passenger Van 3-Door
Rally STX Extended Passenger Van 3-Door
Vandura Standard Cargo Van 3-Door
5.0L V8 OHV
5.7L V8 OHV
4.3L V6 OHV
1992 GMC G2500
Rally Extended Passenger Van 3-Door
Rally STX Extended Passenger Van 3-Door
Vandura Extended Cargo Van 3-Door
Vandura Standard Cargo Van 3-Door
4.3L V6 OHV
5.7L V8 OHV
6.2L V8 DIESEL OHV
5.0L V8 OHV
1992 GMC G3500
Magnavan Cutaway Van 2-Door
Rally Camper Special Cutaway Van 2-Door
Rally Extended Passenger Van 3-Door
Rally Standard Passenger Van 3-Door
Rally STX Extended Passenger Van 3-Door
Rally STX Standard Passenger Van 3-Door
Vandura Extended Cargo Van 3-Door
Vandura Special Cutaway Van 2-Door
Vandura Standard Cargo Van 3-Door
5.7L V8 OHV
6.2L V8 DIESEL OHV
7.4L V8 OHV
4.3L V6 OHV
1993 Chevrolet Blazer
Silverado Sport Utility 2-Door
5.7L V8 OHV
1993 Chevrolet C1500
454 SS Standard Cab Pickup 2-Door
Cheyenne Extended Cab Pickup 2-Door
Cheyenne Standard Cab Pickup 2-Door
Silverado Extended Cab Pickup 2-Door
Silverado Standard Cab Pickup 2-Door
WT Standard Cab Pickup 2-Door
7.4L V8 OHV
4.3L V6 OHV
5.0L V8 OHV
5.7L V8 OHV
6.2L V8 DIESEL OHV
5.7L V8 CNG OHV
1993 Chevrolet C1500 Suburban
Base Sport Utility 4-Door
Silverado Sport Utility 4-Door
5.7L V8 OHV
1993 Chevrolet C2500
Cheyenne Cab & Chassis 2-Door
Cheyenne Extended Cab Pickup 2-Door
Cheyenne Standard Cab Pickup 2-Door
Silverado Cab & Chassis 2-Door
Silverado Extended Cab Pickup 2-Door
Silverado Standard Cab Pickup 2-Door
4.3L V6 OHV
5.7L V8 OHV
6.2L V8 DIESEL OHV
6.5L V8 DIESEL OHV Turbocharged
5.0L V8 OHV
5.7L V8 CNG OHV
7.4L V8 OHV
1993 Chevrolet C3500
Cheyenne Cab & Chassis 2-Door
Cheyenne Cab & Chassis 4-Door
Cheyenne Crew Cab Pickup 4-Door
Cheyenne Extended Cab Pickup 2-Door
Cheyenne Standard Cab Pickup 2-Door
Silverado Cab & Chassis 2-Door
Silverado Cab & Chassis 4-Door
Silverado Crew Cab Pickup 4-Door
Silverado Extended Cab Pickup 2-Door
Silverado Standard Cab Pickup 2-Door
5.7L V8 OHV
6.2L V8 DIESEL OHV
6.5L V8 DIESEL OHV Turbocharged
7.4L V8 OHV
1993 Chevrolet Commercial Chassis
Base Limousine 4-Door
5.7L V8 OHV
1993 Chevrolet G10
Beauville Extended Passenger Van 3-Door
Chevy Van Extended Cargo Van 3-Door
Chevy Van Standard Cargo Van 3-Door
Sportvan Extended Passenger Van 3-Door
Sportvan Standard Passenger Van 3-Door
4.3L V6 OHV
5.0L V8 OHV
5.7L V8 OHV
1993 Chevrolet G20
Beauville Extended Passenger Van 3-Door
Chevy Van Extended Cargo Van 3-Door
Chevy Van Standard Cargo Van 3-Door
Sportvan Extended Passenger Van 3-Door
5.0L V8 OHV
5.7L V8 OHV
6.2L V8 DIESEL OHV
4.3L V6 OHV
1993 Chevrolet G30
Beauville Extended Passenger Van 3-Door
Beauville Standard Passenger Van 3-Door
Chevy Van Cutaway Van 2-Door
Chevy Van Extended Cargo Van 3-Door
Chevy Van Standard Cargo Van 3-Door
Hi-Cube Cutaway Van 2-Door
Sportvan Extended Passenger Van 3-Door
Sportvan Standard Passenger Van 3-Door
4.3L V6 OHV
5.7L V8 OHV
7.4L V8 OHV
6.2L V8 DIESEL OHV
1993 Chevrolet K1500
Cheyenne Extended Cab Pickup 2-Door
Cheyenne Standard Cab Pickup 2-Door
Silverado Extended Cab Pickup 2-Door
Silverado Standard Cab Pickup 2-Door
WT Standard Cab Pickup 2-Door
4.3L V6 OHV
5.0L V8 OHV
5.7L V8 OHV
6.2L V8 DIESEL OHV
1993 Chevrolet K1500 Suburban
Base Sport Utility 4-Door
Silverado Sport Utility 4-Door
5.7L V8 OHV
1993 Chevrolet K2500
Cheyenne Cab & Chassis 2-Door
Cheyenne Extended Cab Pickup 2-Door
Cheyenne Standard Cab Pickup 2-Door
Silverado Cab & Chassis 2-Door
Silverado Extended Cab Pickup 2-Door
Silverado Standard Cab Pickup 2-Door
5.0L V8 OHV
5.7L V8 CNG OHV
5.7L V8 OHV
6.5L V8 DIESEL OHV Turbocharged
7.4L V8 OHV
4.3L V6 OHV
6.2L V8 DIESEL OHV
1993 Chevrolet K3500
Cheyenne Cab & Chassis 2-Door
Cheyenne Cab & Chassis 4-Door
Cheyenne Crew Cab Pickup 4-Door
Cheyenne Extended Cab Pickup 2-Door
Cheyenne Standard Cab Pickup 2-Door
Silverado Cab & Chassis 2-Door
Silverado Cab & Chassis 4-Door
Silverado Crew Cab Pickup 4-Door
Silverado Extended Cab Pickup 2-Door
Silverado Standard Cab Pickup 2-Door
5.7L V8 OHV
6.2L V8 DIESEL OHV
6.5L V8 DIESEL OHV Turbocharged
7.4L V8 OHV
1993 Chevrolet P30
Base Cab & Chassis 2-Door
Base Standard Cargo Van 2-Door
Base Stripped Chassis
5.7L V8 OHV
6.2L V8 DIESEL OHV
7.4L V8 OHV
1993 GMC C1500 Suburban
Base Sport Utility 4-Door
5.7L V8 OHV
1993 GMC C2500
Sierra Cab & Chassis 2-Door
Sierra Extended Cab Pickup 2-Door
Sierra SLE Cab & Chassis 2-Door
Sierra SLE Extended Cab Pickup 2-Door
Sierra SLE Standard Cab Pickup 2-Door
Sierra SLX Cab & Chassis 2-Door
Sierra SLX Extended Cab Pickup 2-Door
Sierra SLX Standard Cab Pickup 2-Door
Sierra Standard Cab Pickup 2-Door
4.3L V6 OHV
5.0L V8 OHV
5.7L V8 CNG OHV
6.5L V8 DIESEL OHV Turbocharged
7.4L V8 OHV
5.7L V8 OHV
6.2L V8 DIESEL OHV
1993 GMC G1500
Rally Extended Passenger Van 3-Door
Rally Standard Passenger Van 3-Door
Rally STX Extended Passenger Van 3-Door
Vandura Extended Cargo Van 3-Door
Vandura Standard Cargo Van 3-Door
5.0L V8 OHV
5.7L V8 OHV
4.3L V6 OHV
1993 GMC G2500
Rally Extended Passenger Van 3-Door
Rally STX Extended Passenger Van 3-Door
Vandura Extended Cargo Van 3-Door
Vandura Standard Cargo Van 3-Door
5.0L V8 OHV
5.7L V8 OHV
6.2L V8 DIESEL OHV
4.3L V6 OHV
1993 GMC G3500
Magnavan Cutaway Van 2-Door
Rally Camper Special Cutaway Van 2-Door
Rally Extended Passenger Van 3-Door
Rally Standard Passenger Van 3-Door
Rally STX Extended Passenger Van 3-Door
Rally STX Standard Passenger Van 3-Door
Vandura Extended Cargo Van 3-Door
Vandura Special Cutaway Van 2-Door
Vandura Standard Cargo Van 3-Door
5.7L V8 OHV
6.2L V8 DIESEL OHV
7.4L V8 OHV
4.3L V6 OHV
1993 GMC K1500 Suburban
SLE Sport Utility 4-Door
5.7L V8 OHV
1993 GMC K2500
Sierra Cab & Chassis 2-Door
Sierra Extended Cab Pickup 2-Door
Sierra SLE Cab & Chassis 2-Door
Sierra SLE Extended Cab Pickup 2-Door
Sierra SLE Standard Cab Pickup 2-Door
Sierra SLX Cab & Chassis 2-Door
Sierra SLX Extended Cab Pickup 2-Door
Sierra SLX Standard Cab Pickup 2-Door
Sierra Standard Cab Pickup 2-Door
4.3L V6 OHV
5.0L V8 OHV
5.7L V8 OHV
6.2L V8 DIESEL OHV
6.5L V8 DIESEL OHV Turbocharged
5.7L V8 CNG OHV
7.4L V8 OHV
1993 GMC Yukon
Base Sport Utility 2-Door
GT Sport Utility 2-Door
5.7L V8 OHV
1994 Chevrolet Blazer
Base Sport Utility 2-Door
Silverado Sport Sport Utility 2-Door
Silverado Sport Utility 2-Door
6.5L V8 DIESEL OHV Turbocharged
5.7L V8 OHV
1994 Chevrolet C1500
Base Extended Cab Pickup 2-Door
Base Standard Cab Pickup 2-Door
Cheyenne Extended Cab Pickup 2-Door
Cheyenne Standard Cab Pickup 2-Door
Silverado Extended Cab Pickup 2-Door
Silverado Standard Cab Pickup 2-Door
WT Standard Cab Pickup 2-Door
4.3L V6 OHV
5.0L V8 OHV
6.5L V8 DIESEL OHV Turbocharged
6.5L V8 DIESEL OHV
5.7L V8 OHV
1994 Chevrolet C1500 Suburban
Base Sport Utility 4-Door
Silverado Sport Utility 4-Door
5.7L V8 OHV
1994 Chevrolet C2500
Base Cab & Chassis 2-Door
Base Extended Cab Pickup 2-Door
Base Standard Cab Pickup 2-Door
Cheyenne Cab & Chassis 2-Door
Cheyenne Extended Cab Pickup 2-Door
Cheyenne Standard Cab Pickup 2-Door
Silverado Cab & Chassis 2-Door
Silverado Extended Cab Pickup 2-Door
Silverado Standard Cab Pickup 2-Door
WT Standard Cab Pickup 2-Door
4.3L V6 OHV
5.0L V8 OHV
6.5L V8 DIESEL OHV
6.5L V8 DIESEL OHV Turbocharged
7.4L V8 OHV
5.7L V8 OHV
1994 Chevrolet C3500
Base Cab & Chassis 2-Door
Base Cab & Chassis 4-Door
Base Crew Cab Pickup 4-Door
Base Extended Cab Pickup 2-Door
Base Standard Cab Pickup 2-Door
Cheyenne Cab & Chassis 2-Door
Cheyenne Cab & Chassis 4-Door
Cheyenne Crew Cab Pickup 4-Door
Cheyenne Extended Cab Pickup 2-Door
Cheyenne Standard Cab Pickup 2-Door
Silverado Cab & Chassis 2-Door
Silverado Cab & Chassis 4-Door
Silverado Crew Cab Pickup 4-Door
Silverado Extended Cab Pickup 2-Door
Silverado Standard Cab Pickup 2-Door
6.5L V8 DIESEL OHV Turbocharged
7.4L V8 OHV
5.7L V8 OHV
1994 Chevrolet Commercial Chassis
Base Limousine 4-Door
5.7L V8 OHV
1994 Chevrolet G10
Beauville Extended Passenger Van 3-Door
Chevy Van Standard Cargo Van 3-Door
Sportvan Extended Passenger Van 3-Door
Sportvan Standard Passenger Van 3-Door
4.3L V6 OHV
5.0L V8 OHV
1994 Chevrolet G20
Beauville Extended Passenger Van 3-Door
Chevy Van Extended Cargo Van 3-Door
Chevy Van Standard Cargo Van 3-Door
Sportvan Extended Passenger Van 3-Door
4.3L V6 OHV
6.5L V8 DIESEL OHV
5.0L V8 OHV
5.7L V8 OHV
1994 Chevrolet G30
Beauville Extended Passenger Van 3-Door
Beauville Standard Passenger Van 3-Door
Chevy Van Cutaway Van 2-Door
Chevy Van Extended Cargo Van 3-Door
Chevy Van Standard Cargo Van 3-Door
Hi-Cube Cutaway Van 2-Door
Sportvan Extended Passenger Van 3-Door
Sportvan Standard Passenger Van 3-Door
5.7L V8 OHV
6.5L V8 DIESEL OHV
7.4L V8 OHV
4.3L V6 OHV
1994 Chevrolet K1500
Base Extended Cab Pickup 2-Door
Base Standard Cab Pickup 2-Door
Cheyenne Extended Cab Pickup 2-Door
Cheyenne Standard Cab Pickup 2-Door
Silverado Extended Cab Pickup 2-Door
Silverado Standard Cab Pickup 2-Door
WT Standard Cab Pickup 2-Door
4.3L V6 OHV
5.0L V8 OHV
5.7L V8 OHV
6.5L V8 DIESEL OHV Turbocharged
6.5L V8 DIESEL OHV
1994 Chevrolet K1500 Suburban
Silverado Sport Utility 4-Door
5.7L V8 OHV
1994 Chevrolet K2500
Base Cab & Chassis 2-Door
Base Extended Cab Pickup 2-Door
Base Standard Cab Pickup 2-Door
Cheyenne Cab & Chassis 2-Door
Cheyenne Extended Cab Pickup 2-Door
Cheyenne Standard Cab Pickup 2-Door
Silverado Cab & Chassis 2-Door
Silverado Extended Cab Pickup 2-Door
Silverado Standard Cab Pickup 2-Door
WT Standard Cab Pickup 2-Door
4.3L V6 OHV
5.0L V8 OHV
6.5L V8 DIESEL OHV
6.5L V8 DIESEL OHV Turbocharged
7.4L V8 OHV
5.7L V8 OHV
1994 Chevrolet K3500
Base Cab & Chassis 2-Door
Base Cab & Chassis 4-Door
Base Crew Cab Pickup 4-Door
Base Extended Cab Pickup 2-Door
Base Standard Cab Pickup 2-Door
Cheyenne Cab & Chassis 2-Door
Cheyenne Cab & Chassis 4-Door
Cheyenne Crew Cab Pickup 4-Door
Cheyenne Extended Cab Pickup 2-Door
Cheyenne Standard Cab Pickup 2-Door
Silverado Cab & Chassis 2-Door
Silverado Cab & Chassis 4-Door
Silverado Crew Cab Pickup 4-Door
Silverado Extended Cab Pickup 2-Door
Silverado Standard Cab Pickup 2-Door
5.7L V8 OHV
7.4L V8 OHV
6.5L V8 DIESEL OHV Turbocharged
1994 Chevrolet P30
Base Cab & Chassis 2-Door
Base Standard Cargo Van 2-Door
Base Stripped Chassis
4.3L V6 OHV
6.5L V8 DIESEL OHV Turbocharged
7.4L V8 OHV
6.5L V8 DIESEL OHV
1994 GMC C1500 Suburban
SLE Sport Utility 4-Door
5.7L V8 OHV
1994 GMC C2500
Sierra SL Cab & Chassis 2-Door
Sierra SL Extended Cab Pickup 2-Door
Sierra SL Standard Cab Pickup 2-Door
Sierra SLE Cab & Chassis 2-Door
Sierra SLE Extended Cab Pickup 2-Door
Sierra SLE Standard Cab Pickup 2-Door
Sierra SLT Cab & Chassis 2-Door
Sierra SLT Extended Cab Pickup 2-Door
4.3L V6 OHV
5.0L V8 OHV
6.5L V8 DIESEL OHV Turbocharged
7.4L V8 OHV
5.7L V8 OHV
6.5L V8 DIESEL OHV
1994 GMC G1500
Rally Extended Passenger Van 3-Door
Rally STX Extended Passenger Van 3-Door
Vandura Extended Cargo Van 3-Door
Vandura Standard Cargo Van 3-Door
5.0L V8 OHV
4.3L V6 OHV
1994 GMC G2500
Rally Extended Passenger Van 3-Door
Rally STX Extended Passenger Van 3-Door
Vandura Extended Cargo Van 3-Door
Vandura Standard Cargo Van 3-Door
5.0L V8 OHV
5.7L V8 OHV
6.5L V8 DIESEL OHV
4.3L V6 OHV
1994 GMC G3500
Magnavan Cutaway Van 2-Door
Rally Camper Special Cutaway Van 2-Door
Rally Extended Passenger Van 3-Door
Rally Standard Passenger Van 3-Door
Rally STX Extended Passenger Van 3-Door
Rally STX Standard Passenger Van 3-Door
Vandura Extended Cargo Van 3-Door
Vandura Special Cutaway Van 2-Door
Vandura Standard Cargo Van 3-Door
5.7L V8 OHV
6.5L V8 DIESEL OHV
7.4L V8 OHV
4.3L V6 OHV
1994 GMC K1500 Suburban
SLE Sport Utility 4-Door
5.7L V8 OHV
1994 GMC K2500
Sierra SL Cab & Chassis 2-Door
Sierra SL Extended Cab Pickup 2-Door
Sierra SL Standard Cab Pickup 2-Door
Sierra SLE Cab & Chassis 2-Door
Sierra SLE Extended Cab Pickup 2-Door
Sierra SLE Standard Cab Pickup 2-Door
Sierra SLT Cab & Chassis 2-Door
Sierra SLT Extended Cab Pickup 2-Door
4.3L V6 OHV
5.0L V8 OHV
6.5L V8 DIESEL OHV
6.5L V8 DIESEL OHV Turbocharged
7.4L V8 OHV
5.7L V8 OHV
1994 GMC Yukon
Base Sport Utility 2-Door
SLE Sport Utility 2-Door
Sport Sport Utility 2-Door
5.7L V8 OHV
6.5L V8 DIESEL OHV Turbocharged
1995 Chevrolet C1500
Base Extended Cab Pickup 2-Door
Base Standard Cab Pickup 2-Door
Cheyenne Extended Cab Pickup 2-Door
Cheyenne Standard Cab Pickup 2-Door
Silverado Extended Cab Pickup 2-Door
Silverado Standard Cab Pickup 2-Door
WT Standard Cab Pickup 2-Door
5.0L V8 OHV
5.7L V8 OHV
6.5L V8 DIESEL OHV
6.5L V8 DIESEL OHV Turbocharged
4.3L V6 OHV
1995 Chevrolet C1500 Suburban
Base Sport Utility 4-Door
LS Sport Utility 4-Door
LT Sport Utility 4-Door
5.7L V8 OHV
6.5L V8 DIESEL OHV Turbocharged
1995 Chevrolet C2500
Base Cab & Chassis 2-Door
Base Extended Cab Pickup 2-Door
Base Standard Cab Pickup 2-Door
Cheyenne Cab & Chassis 2-Door
Cheyenne Extended Cab Pickup 2-Door
Cheyenne Standard Cab Pickup 2-Door
Silverado Cab & Chassis 2-Door
Silverado Extended Cab Pickup 2-Door
Silverado Standard Cab Pickup 2-Door
WT Standard Cab Pickup 2-Door
5.0L V8 OHV
5.7L V8 OHV
6.5L V8 DIESEL OHV
4.3L V6 OHV
6.5L V8 DIESEL OHV Turbocharged
7.4L V8 OHV
1995 Chevrolet C3500
Base Cab & Chassis 2-Door
Base Cab & Chassis 4-Door
Base Crew Cab Pickup 4-Door
Base Extended Cab Pickup 2-Door
Base Standard Cab Pickup 2-Door
Cheyenne Cab & Chassis 2-Door
Cheyenne Cab & Chassis 4-Door
Cheyenne Crew Cab Pickup 4-Door
Cheyenne Extended Cab Pickup 2-Door
Cheyenne Standard Cab Pickup 2-Door
Silverado Cab & Chassis 2-Door
Silverado Cab & Chassis 4-Door
Silverado Crew Cab Pickup 4-Door
Silverado Extended Cab Pickup 2-Door
Silverado Standard Cab Pickup 2-Door
5.7L V8 OHV
6.5L V8 DIESEL OHV Turbocharged
7.4L V8 OHV
1995 Chevrolet G10
Beauville Extended Passenger Van 3-Door
Chevy Van Extended Cargo Van 3-Door
Chevy Van Standard Cargo Van 3-Door
Sportvan Extended Passenger Van 3-Door
Sportvan Standard Passenger Van 3-Door
4.3L V6 OHV
5.0L V8 OHV
1995 Chevrolet G20
Beauville Extended Passenger Van 3-Door
Chevy Van Extended Cargo Van 3-Door
Chevy Van Standard Cargo Van 3-Door
Sportvan Extended Passenger Van 3-Door
4.3L V6 OHV
5.0L V8 OHV
5.7L V8 OHV
6.5L V8 DIESEL OHV
1995 Chevrolet G30
Beauville Extended Passenger Van 3-Door
Beauville Standard Passenger Van 3-Door
Chevy Van Cutaway Van 2-Door
Chevy Van Extended Cargo Van 3-Door
Chevy Van Standard Cargo Van 3-Door
Hi-Cube Cutaway Van 2-Door
Sportvan Extended Passenger Van 3-Door
Sportvan Standard Passenger Van 3-Door
6.5L V8 DIESEL OHV
7.4L V8 OHV
5.7L V8 CNG OHV
4.3L V6 OHV
5.7L V8 OHV
1995 Chevrolet K1500
Base Extended Cab Pickup 2-Door
Base Extended Cab Pickup 3-Door
Base Standard Cab Pickup 2-Door
Cheyenne Extended Cab Pickup 2-Door
Cheyenne Extended Cab Pickup 3-Door
Cheyenne Standard Cab Pickup 2-Door
Silverado Extended Cab Pickup 2-Door
Silverado Extended Cab Pickup 3-Door
Silverado Standard Cab Pickup 2-Door
WT Standard Cab Pickup 2-Door
4.3L V6 OHV
5.7L V8 OHV
6.5L V8 DIESEL OHV
6.5L V8 DIESEL OHV Turbocharged
5.0L V8 OHV
1995 Chevrolet K1500 Suburban
LS Sport Utility 4-Door
LT Sport Utility 4-Door
5.7L V8 OHV
6.5L V8 DIESEL OHV Turbocharged
1995 Chevrolet K2500
Base Cab & Chassis 2-Door
Base Extended Cab Pickup 2-Door
Base Standard Cab Pickup 2-Door
Cheyenne Cab & Chassis 2-Door
Cheyenne Extended Cab Pickup 2-Door
Cheyenne Standard Cab Pickup 2-Door
Silverado Cab & Chassis 2-Door
Silverado Extended Cab Pickup 2-Door
Silverado Standard Cab Pickup 2-Door
WT Standard Cab Pickup 2-Door
4.3L V6 OHV
5.0L V8 OHV
5.7L V8 OHV
6.5L V8 DIESEL OHV
7.4L V8 OHV
6.5L V8 DIESEL OHV Turbocharged
1995 Chevrolet K3500
Base Cab & Chassis 2-Door
Base Cab & Chassis 4-Door
Base Crew Cab Pickup 4-Door
Base Extended Cab Pickup 2-Door
Base Standard Cab Pickup 2-Door
Cheyenne Cab & Chassis 2-Door
Cheyenne Cab & Chassis 4-Door
Cheyenne Crew Cab Pickup 4-Door
Cheyenne Extended Cab Pickup 2-Door
Cheyenne Standard Cab Pickup 2-Door
Silverado Cab & Chassis 2-Door
Silverado Cab & Chassis 4-Door
Silverado Crew Cab Pickup 4-Door
Silverado Extended Cab Pickup 2-Door
Silverado Standard Cab Pickup 2-Door
5.7L V8 OHV
6.5L V8 DIESEL OHV Turbocharged
7.4L V8 OHV
1995 Chevrolet P30
Base Cab & Chassis 2-Door
Base Stripped Chassis
4.3L V6 OHV
5.7L V8 OHV
6.5L V8 DIESEL OHV
7.4L V8 OHV
1995 Chevrolet Tahoe
Base Sport Utility 2-Door
Base Sport Utility 4-Door
LS Sport Utility 2-Door
LT Sport Utility 2-Door
LT Sport Utility 4-Door
5.7L V8 OHV
6.5L V8 DIESEL OHV Turbocharged
1995 GMC C1500
Sierra SL Extended Cab Pickup 2-Door
Sierra SL Extended Cab Pickup 3-Door
Sierra SL Standard Cab Pickup 2-Door
Sierra SLE Extended Cab Pickup 2-Door
Sierra SLE Extended Cab Pickup 3-Door
Sierra SLE Standard Cab Pickup 2-Door
Sierra SLT Extended Cab Pickup 2-Door
Sierra SLT Extended Cab Pickup 3-Door
Sierra SLT Standard Cab Pickup 2-Door
Sierra Special Standard Cab Pickup 2-Door
4.3L V6 OHV
5.0L V8 OHV
5.7L V8 OHV
6.5L V8 DIESEL OHV
6.5L V8 DIESEL OHV Turbocharged
1995 GMC C1500 Suburban
Base Sport Utility 4-Door
SLE Sport Utility 4-Door
SLT Sport Utility 4-Door
5.7L V8 OHV
6.5L V8 DIESEL OHV Turbocharged
1995 GMC C2500
Sierra SL Cab & Chassis 2-Door
Sierra SL Extended Cab Pickup 2-Door
Sierra SL Standard Cab Pickup 2-Door
Sierra SLE Cab & Chassis 2-Door
Sierra SLE Extended Cab Pickup 2-Door
Sierra SLE Standard Cab Pickup 2-Door
Sierra SLT Cab & Chassis 2-Door
Sierra SLT Extended Cab Pickup 2-Door
5.7L V8 OHV
6.5L V8 DIESEL OHV Turbocharged
7.4L V8 OHV
5.0L V8 OHV
4.3L V6 OHV
1995 GMC C3500
Sierra SL Cab & Chassis 2-Door
Sierra SL Cab & Chassis 4-Door
Sierra SL Crew Cab Pickup 4-Door
Sierra SL Extended Cab Pickup 2-Door
Sierra SL Standard Cab Pickup 2-Door
Sierra SLE Cab & Chassis 2-Door
Sierra SLE Cab & Chassis 4-Door
Sierra SLE Crew Cab Pickup 4-Door
Sierra SLE Extended Cab Pickup 2-Door
Sierra SLE Standard Cab Pickup 2-Door
Sierra SLT Cab & Chassis 2-Door
Sierra SLT Extended Cab Pickup 2-Door
5.7L V8 OHV
6.5L V8 DIESEL OHV Turbocharged
7.4L V8 OHV
1995 GMC G1500
Rally Extended Passenger Van 3-Door
Rally Standard Passenger Van 3-Door
Rally STX Extended Passenger Van 3-Door
Vandura Standard Cargo Van 3-Door
5.0L V8 OHV
4.3L V6 OHV
1995 GMC G2500
Rally Extended Passenger Van 3-Door
Rally STX Extended Passenger Van 3-Door
Vandura Extended Cargo Van 3-Door
Vandura Standard Cargo Van 3-Door
4.3L V6 OHV
5.7L V8 OHV
6.5L V8 DIESEL OHV
5.0L V8 OHV
1995 GMC G3500
Magnavan Cutaway Van 2-Door
Rally Camper Special Cutaway Van 2-Door
Rally Extended Passenger Van 3-Door
Rally Standard Passenger Van 3-Door
Rally STX Extended Passenger Van 3-Door
Rally STX Standard Passenger Van 3-Door
Vandura Extended Cargo Van 3-Door
Vandura Special Cutaway Van 2-Door
Vandura Standard Cargo Van 3-Door
5.7L V8 CNG OHV
5.7L V8 OHV
6.5L V8 DIESEL OHV
7.4L V8 OHV
4.3L V6 OHV
1995 GMC K1500
Sierra SL Extended Cab Pickup 2-Door
Sierra SL Extended Cab Pickup 3-Door
Sierra SL Standard Cab Pickup 2-Door
Sierra SLE Extended Cab Pickup 2-Door
Sierra SLE Extended Cab Pickup 3-Door
Sierra SLE Standard Cab Pickup 2-Door
Sierra SLS Standard Cab Pickup 2-Door
Sierra SLT Extended Cab Pickup 2-Door
Sierra SLT Extended Cab Pickup 3-Door
Sierra SLT Standard Cab Pickup 2-Door
Sierra Special Standard Cab Pickup 2-Door
5.7L V8 OHV
6.5L V8 DIESEL OHV
6.5L V8 DIESEL OHV Turbocharged
5.0L V8 OHV
4.3L V6 OHV
1995 GMC K1500 Suburban
Base Sport Utility 4-Door
SLE Sport Utility 4-Door
SLT Sport Utility 4-Door
5.7L V8 OHV
6.5L V8 DIESEL OHV Turbocharged
1995 GMC K2500
Sierra SL Cab & Chassis 2-Door
Sierra SL Extended Cab Pickup 2-Door
Sierra SL Standard Cab Pickup 2-Door
Sierra SLE Cab & Chassis 2-Door
Sierra SLE Extended Cab Pickup 2-Door
Sierra SLE Standard Cab Pickup 2-Door
Sierra SLT Cab & Chassis 2-Door
Sierra SLT Extended Cab Pickup 2-Door
4.3L V6 OHV
6.5L V8 DIESEL OHV Turbocharged
7.4L V8 OHV
5.7L V8 OHV
5.0L V8 OHV
1995 GMC K3500
Sierra SL Cab & Chassis 2-Door
Sierra SL Cab & Chassis 4-Door
Sierra SL Crew Cab Pickup 4-Door
Sierra SL Extended Cab Pickup 2-Door
Sierra SL Standard Cab Pickup 2-Door
Sierra SLE Cab & Chassis 2-Door
Sierra SLE Cab & Chassis 4-Door
Sierra SLE Crew Cab Pickup 4-Door
Sierra SLE Extended Cab Pickup 2-Door
Sierra SLE Standard Cab Pickup 2-Door
Sierra SLT Cab & Chassis 2-Door
Sierra SLT Extended Cab Pickup 2-Door
6.5L V8 DIESEL OHV Turbocharged
7.4L V8 OHV
5.7L V8 OHV
1995 GMC Yukon
Base Sport Utility 2-Door
SLE Sport Utility 2-Door
SLT Sport Utility 2-Door
SLT Sport Utility 4-Door
6.5L V8 DIESEL OHV Turbocharged
5.7L V8 OHV
1996 Chevrolet C1500
Base Extended Cab Pickup 2-Door
Base Extended Cab Pickup 3-Door
Base Standard Cab Pickup 2-Door
Cheyenne Extended Cab Pickup 2-Door
Cheyenne Extended Cab Pickup 3-Door
Cheyenne Standard Cab Pickup 2-Door
Silverado Extended Cab Pickup 2-Door
Silverado Extended Cab Pickup 3-Door
Silverado Standard Cab Pickup 2-Door
WT Standard Cab Pickup 2-Door
4.3L V6 OHV
5.0L V8 OHV
5.7L V8 OHV
6.5L V8 DIESEL OHV Turbocharged
1996 Chevrolet C1500 Suburban
Base Sport Utility 4-Door
LS Sport Utility 4-Door
LT Sport Utility 4-Door
6.5L V8 DIESEL OHV Turbocharged
5.7L V8 OHV
1996 Chevrolet C2500
Base Cab & Chassis 2-Door
Base Extended Cab Pickup 2-Door
Base Standard Cab Pickup 2-Door
Cheyenne Cab & Chassis 2-Door
Cheyenne Extended Cab Pickup 2-Door
Cheyenne Standard Cab Pickup 2-Door
Silverado Cab & Chassis 2-Door
Silverado Extended Cab Pickup 2-Door
Silverado Standard Cab Pickup 2-Door
5.0L V8 OHV
5.7L V8 CNG OHV
5.7L V8 OHV
7.4L V8 OHV
6.5L V8 DIESEL OHV Turbocharged
1996 Chevrolet C3500
Base Cab & Chassis 2-Door
Base Cab & Chassis 4-Door
Base Crew Cab Pickup 4-Door
Base Extended Cab Pickup 2-Door
Base Standard Cab Pickup 2-Door
Cheyenne Cab & Chassis 2-Door
Cheyenne Cab & Chassis 4-Door
Cheyenne Crew Cab Pickup 4-Door
Cheyenne Extended Cab Pickup 2-Door
Cheyenne Standard Cab Pickup 2-Door
Silverado Cab & Chassis 2-Door
Silverado Cab & Chassis 4-Door
Silverado Crew Cab Pickup 4-Door
Silverado Extended Cab Pickup 2-Door
Silverado Standard Cab Pickup 2-Door
5.7L V8 OHV
6.5L V8 DIESEL OHV Turbocharged
7.4L V8 OHV
1996 Chevrolet G30
Beauville Extended Passenger Van 3-Door
Beauville Standard Passenger Van 3-Door
Chevy Van Cutaway Van 2-Door
Chevy Van Extended Cargo Van 3-Door
Chevy Van Standard Cargo Van 3-Door
Hi-Cube Cutaway Van 2-Door
Sportvan Extended Passenger Van 3-Door
Sportvan Standard Passenger Van 3-Door
5.7L V8 CNG OHV
5.7L V8 OHV
6.5L V8 DIESEL OHV
7.4L V8 OHV
4.3L V6 OHV
1996 Chevrolet K1500
Base Extended Cab Pickup 2-Door
Base Extended Cab Pickup 3-Door
Base Standard Cab Pickup 2-Door
Cheyenne Extended Cab Pickup 2-Door
Cheyenne Extended Cab Pickup 3-Door
Cheyenne Standard Cab Pickup 2-Door
Silverado Extended Cab Pickup 2-Door
Silverado Extended Cab Pickup 3-Door
Silverado Standard Cab Pickup 2-Door
WT Standard Cab Pickup 2-Door
5.0L V8 OHV
5.7L V8 OHV
6.5L V8 DIESEL OHV Turbocharged
4.3L V6 OHV
1996 Chevrolet K1500 Suburban
Base Sport Utility 4-Door
LS Sport Utility 4-Door
LT Sport Utility 4-Door
5.7L V8 OHV
6.5L V8 DIESEL OHV Turbocharged
1996 Chevrolet K2500
Base Cab & Chassis 2-Door
Base Extended Cab Pickup 2-Door
Base Standard Cab Pickup 2-Door
Cheyenne Cab & Chassis 2-Door
Cheyenne Extended Cab Pickup 2-Door
Cheyenne Standard Cab Pickup 2-Door
Silverado Cab & Chassis 2-Door
Silverado Extended Cab Pickup 2-Door
Silverado Standard Cab Pickup 2-Door
5.7L V8 OHV
6.5L V8 DIESEL OHV Turbocharged
7.4L V8 OHV
5.7L V8 CNG OHV
1996 Chevrolet K3500
Base Cab & Chassis 2-Door
Base Cab & Chassis 4-Door
Base Crew Cab Pickup 4-Door
Base Extended Cab Pickup 2-Door
Base Standard Cab Pickup 2-Door
Cheyenne Cab & Chassis 2-Door
Cheyenne Cab & Chassis 4-Door
Cheyenne Crew Cab Pickup 4-Door
Cheyenne Extended Cab Pickup 2-Door
Cheyenne Standard Cab Pickup 2-Door
Silverado Cab & Chassis 2-Door
Silverado Cab & Chassis 4-Door
Silverado Crew Cab Pickup 4-Door
Silverado Extended Cab Pickup 2-Door
Silverado Standard Cab Pickup 2-Door
6.5L V8 DIESEL OHV Turbocharged
7.4L V8 OHV
5.7L V8 OHV
1996 Chevrolet P30
Base Cab & Chassis 2-Door
Base Stripped Chassis
6.5L V8 DIESEL OHV
6.5L V8 DIESEL OHV Turbocharged
7.4L V8 OHV
4.3L V6 OHV
1996 Chevrolet Tahoe
Base Sport Utility 2-Door
Base Sport Utility 4-Door
LS Sport Utility 2-Door
LS Sport Utility 4-Door
LT Sport Utility 2-Door
LT Sport Utility 4-Door
5.7L V8 OHV
6.5L V8 DIESEL OHV Turbocharged
1996 GMC C1500
Sierra SL Extended Cab Pickup 2-Door
Sierra SL Extended Cab Pickup 3-Door
Sierra SL Standard Cab Pickup 2-Door
Sierra SLE Extended Cab Pickup 2-Door
Sierra SLE Extended Cab Pickup 3-Door
Sierra SLE Standard Cab Pickup 2-Door
Sierra SLT Extended Cab Pickup 2-Door
Sierra SLT Extended Cab Pickup 3-Door
Sierra SLT Standard Cab Pickup 2-Door
Sierra Special Standard Cab Pickup 2-Door
4.3L V6 OHV
5.0L V8 OHV
5.7L V8 OHV
6.5L V8 DIESEL OHV Turbocharged
1996 GMC C1500 Suburban
Base Sport Utility 4-Door
SLE Sport Utility 4-Door
SLT Sport Utility 4-Door
5.7L V8 OHV
6.5L V8 DIESEL OHV Turbocharged
1996 GMC C2500
Sierra SL Cab & Chassis 2-Door
Sierra SL Extended Cab Pickup 2-Door
Sierra SL Standard Cab Pickup 2-Door
Sierra SLE Cab & Chassis 2-Door
Sierra SLE Extended Cab Pickup 2-Door
Sierra SLE Standard Cab Pickup 2-Door
Sierra SLT Cab & Chassis 2-Door
Sierra SLT Extended Cab Pickup 2-Door
Sierra SLT Standard Cab Pickup 2-Door
5.0L V8 OHV
5.7L V8 CNG OHV
6.5L V8 DIESEL OHV Turbocharged
7.4L V8 OHV
5.7L V8 OHV
1996 GMC C3500
Sierra SL Cab & Chassis 2-Door
Sierra SL Cab & Chassis 4-Door
Sierra SL Crew Cab Pickup 4-Door
Sierra SL Extended Cab Pickup 2-Door
Sierra SL Standard Cab Pickup 2-Door
Sierra SLE Cab & Chassis 2-Door
Sierra SLE Cab & Chassis 4-Door
Sierra SLE Crew Cab Pickup 4-Door
Sierra SLE Extended Cab Pickup 2-Door
Sierra SLE Standard Cab Pickup 2-Door
Sierra SLT Cab & Chassis 2-Door
Sierra SLT Cab & Chassis 4-Door
Sierra SLT Crew Cab Pickup 4-Door
Sierra SLT Extended Cab Pickup 2-Door
Sierra SLT Standard Cab Pickup 2-Door
5.7L V8 OHV
6.5L V8 DIESEL OHV Turbocharged
7.4L V8 OHV
1996 GMC G3500
Magnavan Cutaway Van 2-Door
Rally Camper Special Cutaway Van 2-Door
Rally Extended Passenger Van 3-Door
Rally Standard Passenger Van 3-Door
Rally STX Extended Passenger Van 3-Door
Rally STX Standard Passenger Van 3-Door
Vandura Extended Cargo Van 3-Door
Vandura Special Cutaway Van 2-Door
Vandura Standard Cargo Van 3-Door
5.7L V8 CNG OHV
5.7L V8 OHV
6.5L V8 DIESEL OHV
7.4L V8 OHV
1996 GMC K1500
Sierra SL Extended Cab Pickup 2-Door
Sierra SL Extended Cab Pickup 3-Door
Sierra SL Standard Cab Pickup 2-Door
Sierra SLE Extended Cab Pickup 2-Door
Sierra SLE Extended Cab Pickup 3-Door
Sierra SLE Standard Cab Pickup 2-Door
Sierra SLT Extended Cab Pickup 2-Door
Sierra SLT Extended Cab Pickup 3-Door
Sierra SLT Standard Cab Pickup 2-Door
Sierra Special Standard Cab Pickup 2-Door
5.7L V8 OHV
6.5L V8 DIESEL OHV Turbocharged
4.3L V6 OHV
5.0L V8 OHV
1996 GMC K1500 Suburban
Base Sport Utility 4-Door
SLE Sport Utility 4-Door
SLT Sport Utility 4-Door
5.7L V8 OHV
6.5L V8 DIESEL OHV Turbocharged
1996 GMC K2500
Sierra SL Cab & Chassis 2-Door
Sierra SL Extended Cab Pickup 2-Door
Sierra SL Standard Cab Pickup 2-Door
Sierra SLE Cab & Chassis 2-Door
Sierra SLE Extended Cab Pickup 2-Door
Sierra SLE Standard Cab Pickup 2-Door
Sierra SLT Cab & Chassis 2-Door
Sierra SLT Extended Cab Pickup 2-Door
Sierra SLT Standard Cab Pickup 2-Door
5.7L V8 OHV
6.5L V8 DIESEL OHV Turbocharged
7.4L V8 OHV
5.7L V8 CNG OHV
1996 GMC K3500
Sierra SL Cab & Chassis 2-Door
Sierra SL Cab & Chassis 4-Door
Sierra SL Crew Cab Pickup 4-Door
Sierra SL Extended Cab Pickup 2-Door
Sierra SL Standard Cab Pickup 2-Door
Sierra SLE Cab & Chassis 2-Door
Sierra SLE Cab & Chassis 4-Door
Sierra SLE Crew Cab Pickup 4-Door
Sierra SLE Extended Cab Pickup 2-Door
Sierra SLE Standard Cab Pickup 2-Door
Sierra SLT Cab & Chassis 2-Door
Sierra SLT Cab & Chassis 4-Door
Sierra SLT Crew Cab Pickup 4-Door
Sierra SLT Extended Cab Pickup 2-Door
Sierra SLT Standard Cab Pickup 2-Door
6.5L V8 DIESEL OHV Turbocharged
7.4L V8 OHV
5.7L V8 OHV