1995-1998 900 POWER STEERING PUMP RESERVOIR BOTTLE CAP OEM OE SAAB 1999 9-3 9-5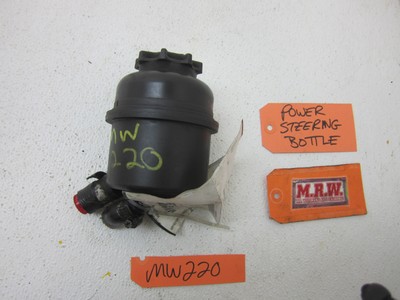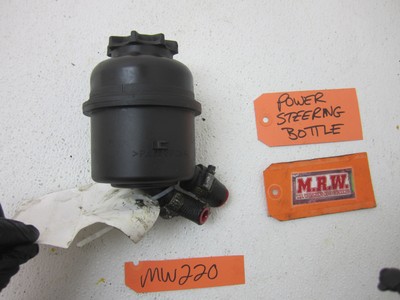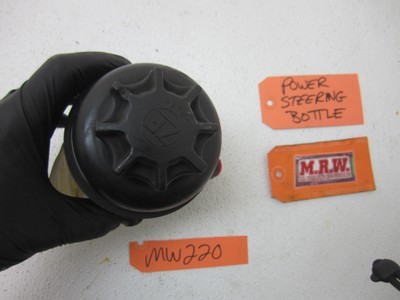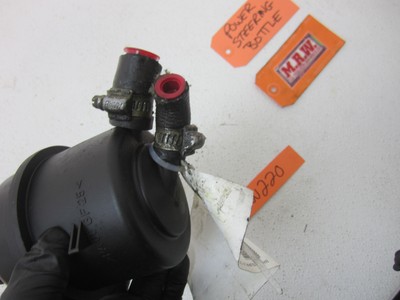 The part listed below is available for purchase online. To purchase the part or to get additional information about the part before you purchase it, click on the View More Details button.
Item #:

PR-223176680852

Ships From:

Dallas, Pennsylvania
Price:

$24.94
Returns Accepted: ReturnsNotAccepted.
Brand: Unbranded.
Fitment Type: Direct Replacement.
Other Part Number: 4482600 44 82 600 PLASTIC LINE HOSE RACK PINION.
Manufacturer Part Number: Does Not Apply.
YOU ARE LOOKING AT ONE USED POWER STEERING PUMP RESERVOIR. IT FITS A 1995-1998 SAAB 900 4 DOOR HATCHBACK. IT IS IN GOOD CONDITION FOR THE YEAR. IF YOU HAVE ANY QUESTIONS PLEASE EMAIL ME PRIOR TO BUYING. ALL SALES ARE FINAL, NO RETURNS. THANKS & GOOD LUCK! STOCK# MW220 ** PART IS PULLED OUT & READY TO SHIP, THANKS MRW **MAY FIT OTHER YEARS MAKES AND MODELS ? CHECK WITH THE DEALER.
This part is compatible with the following vehicles:
Year/Make/Model
Body & Trim
Engine
1994 Saab 900
S Hatchback 4-Door
SE Hatchback 4-Door
SE Turbo Hatchback 2-Door
2.1L l4 DOHC
2.3L l4 DOHC
2.5L V6 DOHC
2.0L l4 DOHC Turbocharged
1995 Saab 900
S Hatchback 4-Door
S Hatchback 2-Door
SE Hatchback 4-Door
SE Turbo Hatchback 2-Door
2.3L l4 DOHC
2.5L V6 DOHC
2.0L l4 DOHC Turbocharged
1996 Saab 900
S Hatchback 4-Door
S Hatchback 2-Door
SE Hatchback 4-Door
SE Hatchback 2-Door
SE Turbo Hatchback 4-Door
SE Turbo Hatchback 2-Door
2.3L l4 DOHC
2.5L V6 DOHC
2.0L l4 DOHC Turbocharged
1997 Saab 900
S Hatchback 4-Door
S Hatchback 2-Door
SE Hatchback 4-Door
SE Hatchback 2-Door
SE Turbo Hatchback 4-Door
SE Turbo Hatchback 2-Door
2.3L l4 DOHC
2.5L V6 DOHC
2.0L l4 DOHC Turbocharged
1998 Saab 900
S Hatchback 4-Door
SE Turbo Hatchback 4-Door
SE Turbo Convertible 2-Door
SE Turbo Hatchback 2-Door
2.3L l4 DOHC
2.0L l4 DOHC Turbocharged
1999 Saab 9-3
SE Hatchback 4-Door
Base Hatchback 2-Door
Base Hatchback 4-Door
SE Convertible 2-Door
Viggen Hatchback 2-Door
2.0L l4 DOHC Turbocharged
2.3L l4 DOHC Turbocharged
1999 Saab 9-5
SE Sedan 4-Door
Base Wagon 4-Door
2.3L l4 DOHC Turbocharged
3.0L V6 DOHC Turbocharged
2000 Saab 9-3
SE Hatchback 4-Door
Base Hatchback 2-Door
Base Hatchback 4-Door
SE Convertible 2-Door
Viggen Hatchback 4-Door
Viggen Hatchback 2-Door
2.0L l4 DOHC Turbocharged
2.3L l4 DOHC Turbocharged
2000 Saab 9-5
Gary Fisher Wagon 4-Door
2.3t Wagon 4-Door
Aero Sedan 4-Door
Aero Wagon 4-Door
SE Wagon 4-Door
2.3L l4 DOHC Turbocharged
3.0L V6 DOHC Turbocharged
2001 Saab 9-3
SE Hatchback 4-Door
Base Hatchback 4-Door
SE Convertible 2-Door
Turbo Hatchback 4-Door
Turbo Convertible 2-Door
Viggen Hatchback 4-Door
Viggen Hatchback 2-Door
2.0L l4 DOHC Turbocharged
2.0L l4 DOHC Turbocharged
2.3L l4 DOHC Turbocharged
2001 Saab 9-5
Aero Wagon 4-Door
2.3t Wagon 4-Door
Aero Sedan 4-Door
SE Wagon 4-Door
2.3L l4 DOHC Turbocharged
3.0L V6 DOHC Turbocharged
2002 Saab 9-3
SE Hatchback 4-Door
Turbo Hatchback 4-Door
Turbo Convertible 2-Door
Viggen Hatchback 4-Door
Viggen Hatchback 2-Door
2.0L l4 DOHC Turbocharged
2.0L l4 DOHC Turbocharged
2.3L l4 DOHC Turbocharged
2002 Saab 9-5
Linear Wagon 4-Door
2.3t Wagon 4-Door
Aero Sedan 4-Door
Aero Wagon 4-Door
Arc Wagon 4-Door
Linear Sedan 4-Door
SE Sedan 4-Door
2.3L l4 DOHC Turbocharged
3.0L V6 DOHC Turbocharged
3.0L V6 DOHC
2003 Saab 9-3
Vector Sedan 4-Door
Linear Sedan 4-Door
SE Convertible 2-Door
2.0L l4 DOHC Turbocharged
2.0L l4 DOHC Turbocharged
2003 Saab 9-5
Linear Wagon 4-Door
Aero Sedan 4-Door
Aero Wagon 4-Door
Arc Wagon 4-Door
Linear Sedan 4-Door
2.3L l4 DOHC Turbocharged
3.0L V6 DOHC Turbocharged
2004 Saab 9-3
Linear Sedan 4-Door
Aero Sedan 4-Door
Arc Convertible 2-Door
Arc Sedan 4-Door
Vector Sedan 4-Door
2.0L l4 DOHC Turbocharged
2.0L l4 DOHC Turbocharged
2004 Saab 9-5
Linear Wagon 4-Door
Aero Sedan 4-Door
Aero Wagon 4-Door
Arc Sedan 4-Door
Arc Wagon 4-Door
2.3L l4 DOHC Turbocharged
2005 Saab 9-3
Linear Sedan 4-Door
Aero Sedan 4-Door
Arc Convertible 2-Door
Arc Sedan 4-Door
Linear Convertible 2-Door
2.0L l4 DOHC Turbocharged
2.0L l4 DOHC Turbocharged
2005 Saab 9-5
Linear Wagon 4-Door
Aero Sedan 4-Door
Aero Wagon 4-Door
Arc Sedan 4-Door
Arc Wagon 4-Door
Linear Sedan 4-Door
2.3L l4 DOHC Turbocharged
2006 Saab 9-3
2.0T Wagon 4-Door
2.0T Sedan 4-Door
Aero Wagon 4-Door
Linear Sedan 4-Door
Aero Sedan 4-Door
Arc Sedan 4-Door
2.0L l4 DOHC Turbocharged
2.8L V6 DOHC Turbocharged
2.0L l4 DOHC Turbocharged
2006 Saab 9-5
Arc Sedan 4-Door
2.3t Wagon 4-Door
Aero Sedan 4-Door
2.3L l4 DOHC Turbocharged
2007 Saab 9-3
2.0T Wagon 4-Door
2.0T Sedan 4-Door
Linear Sedan 4-Door
Aero Wagon 4-Door
Aero Sedan 4-Door
Arc Sedan 4-Door
2.0L l4 DOHC Turbocharged
2.0L l4 DOHC Turbocharged
2.8L V6 DOHC Turbocharged
2007 Saab 9-5
2.3t Wagon 4-Door
2.3L l4 DOHC Turbocharged
2008 Saab 9-3
2.0T Wagon 4-Door
2.0T Sedan 4-Door
Turbo X Wagon 4-Door
Aero Sedan 4-Door
Linear Sedan 4-Door
Aero Wagon 4-Door
Aero XWD Sedan 4-Door
Aero XWD Wagon 4-Door
Linear Lujo Sedan 4-Door
Linear Premium Sedan 4-Door
Turbo X Sedan 4-Door
2.0L l4 DOHC Turbocharged
2.8L V6 DOHC Turbocharged
2.0L l4 DOHC Turbocharged
2008 Saab 9-5
Aero Wagon 4-Door
2.3t Wagon 4-Door
Aero Sedan 4-Door
2.3L l4 DOHC Turbocharged
2009 Saab 9-3
Linear Sedan 4-Door
2.0T Sedan 4-Door
2.0T Wagon 4-Door
Aero XWD Wagon 4-Door
Aero Sport Sedan 4-Door
Aero XWD Sedan 4-Door
2.0L l4 DOHC Turbocharged
2.8L V6 DOHC Turbocharged
2009 Saab 9-5
Griffin Wagon 4-Door
2.3t Wagon 4-Door
Aero Sedan 4-Door
Aero Wagon 4-Door
Griffin Sedan 4-Door
2.3L l4 DOHC Turbocharged
2010 Saab 9-3
Aero Wagon 4-Door
2.0T Sedan 4-Door
2.0T Wagon 4-Door
Aero Convertible 2-Door
Aero Sedan 4-Door
2.0L l4 DOHC Turbocharged
2010 Saab 9-5
Aero Sedan 4-Door
2.8L V6 DOHC Turbocharged
2011 Saab 9-3
Turbo4 Wagon 4-Door
Aero Sedan 4-Door
Aero Wagon 4-Door
Turbo4 Convertible 2-Door
Turbo4 Sedan 4-Door
2.0L l4 DOHC Turbocharged
2011 Saab 9-5
Turbo6 Sedan 4-Door
Turbo4 Sedan 4-Door
2.8L V6 DOHC Turbocharged
2.0L l4 DOHC Turbocharged