1982 KAWASAKI KZ305 B KZ 305 OEM LEFT REAR TURN SIGNAL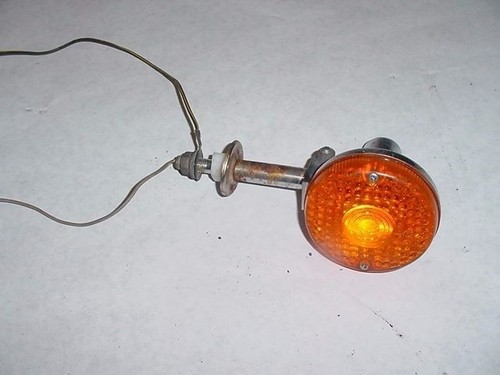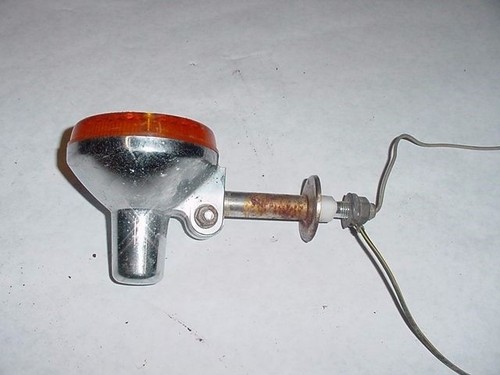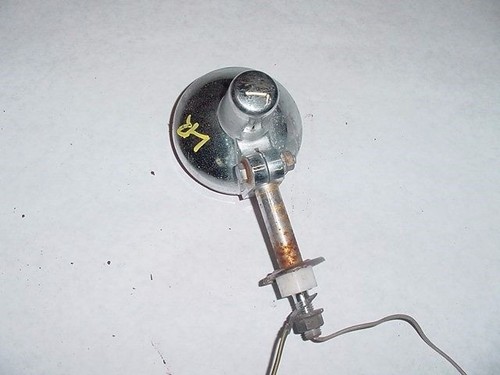 This part is no longer available for purchase.
It might be out of stock, or no longer available to purchase online. Find similar used parts online using the search box, or place a part request and let our network of trusted sellers find the part for you.
Restocking Fee: No.
Returns Accepted: Returns Accepted.
Item must be returned within: 30 Days.
Refund will be given as: Money Back.
Return shipping will be paid by: Seller.
Brand: KAWASAKI.
Manufacturer Part Number: 23040-1024.
UPC: Does Not Apply.
82 KAWASAKI KZ305 B KZ 305 OEM LEFT REAR TURN SIGNAL Description GOOD USED KAWASAKI LEFT REAR TURN SIGNAL OFF KZ305 B.  BIN#: B17M VIN: JKAK2LB1XCA001042 MOTOR: KZ305AE014160 ITEM DESCRIPTION: AS PICTURED GOOD WORKING CONDITION: MINIMAL RUST CONNECTORS GOOD MAY ALSO FIT: 1974 S3 Mach II TURN SIGNALS1975 S3-A Mach II TURN SIGNALS1976 KH400-A3 TURN SIGNALS1976 KZ900-B1 LTD TURN SIGNALS1977 KH400-A4 TURN SIGNALS1978 KH400-A5 TURN SIGNALS1978 KZ200-A1 TURN SIGNALS1978 KZ200-A1A TURN SIGNALS1978 KZ650-D1 SR TURN SIGNALS1978 KZ650-D1A SR TURN SIGNALS1979 KZ200-A2 TURN SIGNALS1979 KZ650-D2 SR TURN SIGNALS1980 KZ250-D1 KZ250 TURN SIGNALS ('80 D1)1980 KZ250-D1 KZ250 TURN SIGNALS ('81 D2)1980 KZ440-A1 LTD TURN SIGNALS (F-NO.026111-)(F-NO.500001-1980 KZ440-D1 LTD Belt TURN SIGNALS(F-NO.002301-)(F-NO.500001-)1980 KZ550-C1 LTD TURN SIGNALS ('80-'81 C1-C2)1980 KZ550-C1 LTD TURN SIGNALS ('82-'83 C3-C4)1980 KZ650-E1 LTD TURN SIGNALS1980 KZ750-H1 LTD TURN SIGNALS ('80 H1)1980 KZ750-H1 LTD TURN SIGNALS ('81-'83 H2-H3-H4)1981 KZ1000-K1 LTD TURN SIGNALS1981 KZ1000-M1 CSR TURN SIGNALS1981 KZ250-D2 CSR TURN SIGNALS ('80 D1)1981 KZ250-D2 CSR TURN SIGNALS ('81 D2)1981 KZ305-A1 CSR TURN SIGNALS1981 KZ440-A2 LTD TURN SIGNALS (F-NO.026111-)(F-NO.500001-1981 KZ440-D2 LTD Belt TURN SIGNALS(F-NO.002301-)(F-NO.500001-)1981 KZ440-D3 LTD Belt TURN SIGNALS(F-NO.002301-)(F-NO.500001-)1981 KZ550-C2 LTD TURN SIGNALS ('80-'81 C1-C2)1981 KZ550-C2 LTD TURN SIGNALS ('82-'83 C3-C4)1981 KZ650-H1 CSR TURN SIGNALS ('81-'82 H1-H2)1981 KZ650-H1 CSR TURN SIGNALS ('83 H3)1981 KZ750-H2 LTD TURN SIGNALS ('80 H1)1981 KZ750-H2 LTD TURN SIGNALS ('81-'83 H2-H3-H4)1982 KZ1000-K2 LTD TURN SIGNALS1982 KZ1000-M2 CSR TURN SIGNALS1982 KZ250-L1 CSR Belt TURN SIGNALS1982 KZ305-A2 CSR TURN SIGNALS1982 KZ305-B1 CSR Belt TURN SIGNALS1982 KZ440-A3 LTD TURN SIGNALS (F-NO.026111-)(F-NO.500001-1982 KZ440-D4 LTD Belt TURN SIGNALS(F-NO.002301-)(F-NO.500001-)1982 KZ550-C3 LTD TURN SIGNALS ('80-'81 C1-C2)1982 KZ550-C3 LTD TURN SIGNALS ('82-'83 C3-C4)1982 KZ650-H2 CSR TURN SIGNALS ('81-'82 H1-H2)1982 KZ650-H2 CSR TURN SIGNALS ('83 H3)1982 KZ750-H3 LTD TURN SIGNALS ('80 H1)1982 KZ750-H3 LTD TURN SIGNALS ('81-'83 H2-H3-H4)1982 KZ750-M1 CSR Twin TURN SIGNALS1983 KZ1100-L1 LTD Shaft TURN SIGNALS1983 KZ250-W1 LTD Belt TURN SIGNALS1983 KZ440-A4 LTD TURN SIGNALS (F-NO.026111-)(F-NO.500001-1983 KZ440-D5 LTD Belt TURN SIGNALS(F-NO.002301-)(F-NO.500001-)1983 KZ550-C4 LTD TURN SIGNALS ('80-'81 C1-C2)1983 KZ550-C4 LTD TURN SIGNALS ('82-'83 C3-C4)1983 KZ550-F1 Spectre TURN SIGNALS1983 KZ550-M1 LTD Shaft TURN SIGNALS1983 KZ650-H3 CSR TURN SIGNALS ('81-'82 H1-H2)1983 KZ650-H3 CSR TURN SIGNALS ('83 H3)1983 KZ750-F1 LTD Shaft TURN SIGNALS1983 KZ750-H4 LTD TURN SIGNALS ('80 H1)1983 KZ750-H4 LTD TURN SIGNALS ('81-'83 H2-H3-H4)1983 KZ750-K1 LTD Belt TURN SIGNALS1984 KZ550-F2 LTD Shaft TURN SIGNALS1984 KZ750-K2 CANADA ONLY TURN SIGNALS1987 KZ305-B2 LTD TURN SIGNALS1988 KZ305-B3 LTD TURN SIGNALS 02/03/16 * PLEASE DOUBLE CHECK PART NUMBER AND FITMENT. WE DO NOT GUARANTEE FITMENT, THE BIKES LISTED ABOVE ARE THOSE THAT USE THE SAME PART NUMBER AS THE LISTED PART, AND THEREFORE SHOULD FIT. THANK YOU.     Combined shipping discount!   Provided items can be Please wait for a combined invoice, so we can apply this discount.     inkfrogproseries Shipping Terms We usually ship within one day of receiving payment. We use USPS And FedEx as our shipping companies. WE DO COMBINE SHIPPING AT FULL PRICE FOR FIRST PARTS SHIPPING AND %50 OFF EACH ADDITIONAL PARTS SHIPPING COST. You can pay by PayPal or you can call our store at . M-F 9am to 4pm Pacific Time, to pay by card. We accept all debit and credit cards. inkfrog terapeak inkFrog Analytics