1978-1987 Buick 3.8 4.1 Grand National T-Type Oil Pump Pick Up Screen Tube Bolts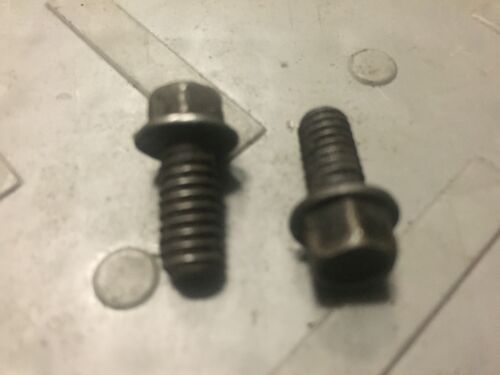 The part listed below is available for purchase online. To purchase the part or to get additional information about the part before you purchase it, click on the View More Details button.
Item #:

PR-111643569134

Ships From:

Boynton Beach, Florida
Price:

$14.96
Restocking Fee: 20%.
Returns Accepted: Returns Accepted.
Item must be returned within: 30 Days.
Refund will be given as: Money Back.
Return shipping will be paid by: Buyer.
Brand: GM.
Placement on Vehicle: Left.
Placement on Vehicle: Right.
Placement on Vehicle: Front.
Placement on Vehicle: Rear.
Warranty: Yes.
Country/Region of Manufacture: United States.
Manufacturer Part Number: Does Not Apply.
TURBO PERFORMANCE (561) 292-2043 Welcome to Turbo 6 Performance. We are your FIRST and LAST stop for all of your restoration and high performance needs. Take advantage of our WHOLESALE PRICES with our large buying power. For your convenience, we accept Paypal, Visa, Mastercard, and Discover.International buyer? No problem! We ship ALL of our products WORLDWIDE. ITEM DESCRIPTION: Factory original GM oil pump pick up screen hardware set. Includes 2 bolts. These special hex head hardened fasteners secure your screen to your block. Pulled off a 1987 Grand National. Discontinued from GM and not a part you will get at your local parts store. All threads have been inspected and guaranteed. Fits all V6 Buick applications. We are constantly parting out 1984-1987 Turbo Regal's, so inventory will change daily! Please save us in your favorite sellers and follow us. If there is something you don't see in our store, please call or message us. We have a large supply of new and used hard to find parts. SAVE, with FREE SHIPPING, HANDLING, INSURANCE, plus our PRICE MATCH GUARANTEE.BUY, with confidence with our HASSLE FREE money back return policy.TRUST, buying from a High Rated SELLER.SPEAK, to REAL LIVE SALES/TECH STAFF from 10:00 am - 6:00 pm est to answer ALL your questions and HELP you with your needs. 100% SATISFACTION GUARANTEE! SHIPPING DISCLAIMER: Please advise that free shipping rates apply to lower US states only. Additional surcharges will apply to Hawaii, Alaska, Puerto Rico, etc. We will send an invoice after the item is purchased. If you would like to know the surcharge prior to purchasing, please message me before placing an order.
This part is compatible with the following vehicles:
Year/Make/Model
Body & Trim
Engine
1973 Buick Regal
Base
Base Coupe 2-Door
5.7L V8
5.7L V8 OHV
7.5L V8
7.5L V8 OHV
1974 Buick Regal
Base
Base Coupe 2-Door
Base Sedan 4-Door
5.7L V8
5.7L V8 OHV
7.5L V8
7.5L V8 OHV
1975 Buick Regal
Base Coupe 2-Door
Base Sedan 4-Door
3.8L V6 OHV
5.7L V8 OHV
1976 Buick Regal
Base Coupe 2-Door
Base Sedan 4-Door
SR Coupe 2-Door
3.8L V6 OHV
5.7L V8 OHV
1977 Buick Regal
Base Coupe 2-Door
Base Sedan 4-Door
SR Coupe 2-Door
3.8L V6 OHV
5.0L V8 OHV
5.7L V8 OHV
1978 Buick Regal
Base Coupe 2-Door
Limited Coupe 2-Door
Sport Coupe 2-Door
3.2L V6 OHV
3.8L V6 OHV
5.0L V8 OHV
3.8L V6 OHV Turbocharged
1979 Buick Regal
Base Coupe 2-Door
Limited Coupe 2-Door
Sport Coupe 2-Door
3.2L V6 OHV
3.8L V6 OHV
3.8L V6 OHV
4.9L V8 OHV
5.0L V8 OHV
3.8L V6 OHV Turbocharged
1980 Buick Regal
Base Coupe 2-Door
Limited Coupe 2-Door
Sport Coupe 2-Door
3.8L V6 OHV
4.3L V8 OHV
4.9L V8 OHV
5.0L V8 OHV
3.8L V6 OHV Turbocharged
1981 Buick Regal
Base Coupe 2-Door
Limited Coupe 2-Door
Sport Coupe 2-Door
3.8L V6 OHV
4.3L V8 OHV
4.4L V8
5.7L V8 DIESEL OHV
3.8L V6 OHV Turbocharged
1982 Buick Regal
Base Coupe 2-Door
Base Sedan 4-Door
Estate Wagon Wagon 4-Door
Limited Coupe 2-Door
Limited Sedan 4-Door
Limited Turbo Coupe 2-Door
Sport Coupe 2-Door
3.8L V6 OHV
4.1L V6 OHV
4.3L V6 DIESEL OHV
4.4L V8
5.7L V8 DIESEL OHV
5.0L V8 OHV
3.8L V6 OHV Turbocharged
1983 Buick Regal
Base Coupe 2-Door
Base Sedan 4-Door
Estate Wagon Wagon 4-Door
Limited Coupe 2-Door
Limited Sedan 4-Door
T-Type Coupe 2-Door
3.8L V6 OHV
4.1L V6 OHV
4.3L V6 DIESEL OHV
5.0L V8 OHV
5.7L V8 DIESEL OHV
3.8L V6 OHV Turbocharged
1984 Buick Regal
Base Coupe 2-Door
Base Sedan 4-Door
Grand National Coupe 2-Door
Limited Coupe 2-Door
Limited Sedan 4-Door
T-Type Coupe 2-Door
3.8L V6 OHV
4.1L V6 OHV
4.3L V6 DIESEL OHV
5.0L V8 OHV
3.8L V6 OHV Turbocharged
1985 Buick Regal
Base Coupe 2-Door
Grand National Coupe 2-Door
Limited Coupe 2-Door
T-Type Coupe 2-Door
3.8L V6 OHV
5.0L V8 OHV
5.7L V8 DIESEL OHV
3.8L V6 OHV Turbocharged
4.3L V6 DIESEL OHV
1986 Buick Regal
Base Coupe 2-Door
Grand National Coupe 2-Door
Limited Coupe 2-Door
T-Type Coupe 2-Door
3.8L V6 OHV
5.0L V8 OHV
3.8L V6 OHV Turbocharged
1987 Buick Regal
Base Coupe 2-Door
GNX Coupe 2-Door
Grand National Coupe 2-Door
Limited Coupe 2-Door
3.8L V6 OHV
5.0L V8 OHV
3.8L V6 OHV Turbocharged