★1973 DODGE CORONET ORIGINAL DETROIT DEALER SALES BROCHURE-73 COLOR OPTIONS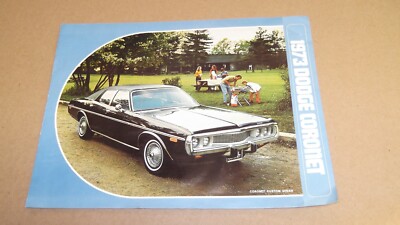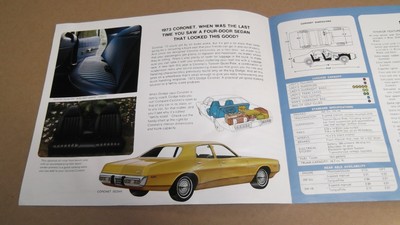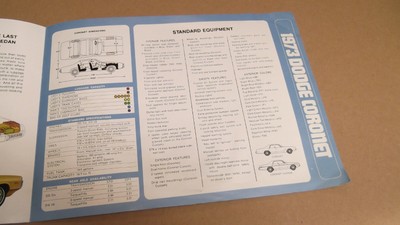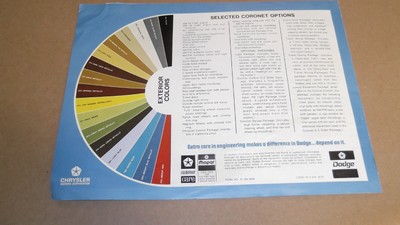 Part number nos photo picture poster pamphlet booklet flyer is available for purchase online. To purchase the part or to get additional information about the part before you purchase it, click on the View More Details button.
Item #:

PR-312497675934

Ships From:

Melvindale, Michigan
Price:

$9.19
Restocking Fee: 20%.
Returns Accepted: Returns Accepted.
Item must be returned within: 30 Days.
Refund will be given as: Money Back.
Return shipping will be paid by: Buyer.
Brand: FACTORY OEM.
Manufacturer Part Number: nos photo picture poster pamphlet booklet flyer.
If you have a passion for these cars like me this will be a great addition to your collection.Here is a rare, original, vintage 1973 DODGE CORONET ORIGINAL DETROIT DEALER SALES BROCHUREI have been collecting brochures for a long time. I bought this years ago from a family member of one of the photographers who did the shoot. It is in good condition. This is not a reproduction or reprint. Does show some wear as you can expect for something so old. This may have been your first car or just one you owned years ago or maybe you still have it today. Either way it is a Great way to bring back memories of past times. The biggest growing thing today is having as much paperwork or rare items you can have with your car. This is a must have for any car collector or to display this with your car at a show. Also if you decided to put it inside a frame it would make a perfect conversation piece to put on a wall, around any bar, or inside a restaurant. CHECK OUT MORE MOPAR BROCHURES AND PARTS IN MY OTHER LISTINGS!!Perfect rare gift to surprise that car lover! I GUARANTEE QUICK RESPONSE TO EMAILS, FAST SHIPPING AND FULL SATISFACTION, I'M A SELLER WHO TREATS YOU LIKE A PERSON NOT A NUMBER!
Part number nos photo picture poster pamphlet booklet flyer is compatible with the following vehicles:
Year/Make/Model
Body & Trim
Engine
1949 Dodge Coronet
Base
3.8L l6 L-HEAD
1950 Dodge Coronet
Base
3.8L l6 L-HEAD
1951 Dodge Coronet
Base
3.8L l6 L-HEAD
1952 Dodge Coronet
Base
3.8L l6 L-HEAD
1953 Dodge Coronet
Base
3.8L l6 L-HEAD
4.0L V8 OHV
1954 Dodge Coronet
Base
3.8L l6 L-HEAD
4.0L V8 OHV
1955 Dodge Coronet
Base
3.8L l6 L-HEAD
4.4L V8 OHV
1956 Dodge Coronet
Base
3.8L l6 L-HEAD
4.4L V8 OHV
5.1L V8 OHV
1957 Dodge Coronet
Base
3.8L l6 L-HEAD
5.3L V8 OHV
5.8L V8 OHV
1958 Dodge Coronet
Base
3.8L l6 L-HEAD
5.3L V8 OHV
5.7L V8 OHV
5.9L V8 OHV
1959 Dodge Coronet
Base
3.8L l6 L-HEAD
5.3L V8 OHV
5.9L V8 OHV
6.3L V8 OHV
1965 Dodge Coronet
440
440 Convertible 2-Door
440 Hardtop 2-Door
440 Sedan 4-Door
440 Wagon 4-Door
500
500 Convertible 2-Door
500 Hardtop 2-Door
Base
3.7L l6
3.7L l6 OHV
4.5L V8 OHV
5.2L V8 OHV
5.9L V8 OHV
6.3L V8 OHV
7.0L V8 OHV
1966 Dodge Coronet
440
440 Convertible 2-Door
440 Hardtop 2-Door
440 Sedan 4-Door
440 Wagon 4-Door
500
500 Convertible 2-Door
500 Hardtop 2-Door
500 Sedan 4-Door
Base
Deluxe
Deluxe Sedan 4-Door
Deluxe Wagon 4-Door
3.7L l6
4.5L V8
5.2L V8
5.9L V8
6.3L V8
7.0L V8
7.2L V8
--
3.7L l6 OHV
4.5L V8 OHV
5.2L V8 OHV
5.9L V8 OHV
6.3L V8 OHV
7.0L V8 OHV
1967 Dodge Coronet
440
440 Convertible 2-Door
440 Hardtop 2-Door
440 Sedan 4-Door
440 Wagon 4-Door
500
500 Convertible 2-Door
500 Hardtop 2-Door
500 Sedan 4-Door
Base
R/T
R/T Convertible 2-Door
R/T Hardtop 2-Door
3.7L l6
4.5L V8
5.2L V8 OHV
6.3L V8
7.0L V8
7.2L V8
--
3.7L l6 OHV
4.5L V8 OHV
6.3L V8 OHV
7.0L V8 OHV
7.2L V8 OHV
1968 Dodge Coronet
440
440 Hardtop 2-Door
440 Sedan 4-Door
440 Wagon 4-Door
500
500 Convertible 2-Door
500 Hardtop 2-Door
500 Sedan 4-Door
500 Wagon 4-Door
Deluxe
Deluxe Convertible 2-Door
Deluxe Hardtop 2-Door
Deluxe Sedan 4-Door
R/T
R/T Convertible 2-Door
R/T Hardtop 2-Door
Super Bee
Super Bee Hardtop 2-Door
3.7L l6
3.7L l6 OHV
4.5L V8 OHV
5.2L V8 OHV
6.3L V8 OHV
7.0L V8 OHV
7.2L V8 OHV
1969 Dodge Coronet
440
440 Hardtop 2-Door
440 Sedan 4-Door
440 Wagon 4-Door
500
500 Convertible 2-Door
500 Hardtop 2-Door
500 Sedan 4-Door
500 Wagon 4-Door
Deluxe
R/T
Super Bee
Super Bee Hardtop 2-Door
3.7L l6
3.7L l6 OHV
5.2L V8 OHV
6.3L V8
6.3L V8 OHV
7.0L V8
7.0L V8 OHV
7.2L V8
7.2L V8 OHV
1970 Dodge Coronet
440
440 Hardtop 2-Door
440 Sedan 4-Door
440 Wagon 4-Door
500
500 Convertible 2-Door
500 Hardtop 2-Door
500 Sedan 4-Door
500 Wagon 4-Door
Base
Deluxe
R/T
R/T Convertible 2-Door
R/T Hardtop 2-Door
Super Bee
Super Bee Hardtop 2-Door
3.7L l6
3.7L l6 OHV
5.2L V8
5.2L V8 OHV
5.6L V8 OHV
6.3L V8
6.3L V8 OHV
7.0L V8
7.0L V8 OHV
7.2L V8 OHV
7.2L V8
1971 Dodge Coronet
Base
Brougham
Brougham Sedan 4-Door
Crestwood
Crestwood Wagon 4-Door
Custom
Custom Sedan 4-Door
Custom Wagon 4-Door
3.7L l6
3.7L l6 OHV
5.2L V8
5.2L V8 OHV
5.6L V8 OHV
5.9L V8 OHV
6.3L V8
6.3L V8 OHV
7.0L V8
7.2L V8 OHV
1972 Dodge Coronet
Base
Crestwood
Crestwood Wagon 4-Door
Custom
Custom Sedan 4-Door
Custom Wagon 4-Door
3.7L l6
3.7L l6 OHV
5.2L V8
5.2L V8 OHV
5.6L V8 OHV
5.9L V8 OHV
6.6L V8
6.6L V8 OHV
7.2L V8
7.2L V8 OHV
5.6L V8
1973 Dodge Coronet
Base
Crestwood
Crestwood Wagon 4-Door
Custom
Custom Sedan 4-Door
Custom Wagon 4-Door
3.7L l6
3.7L l6 OHV
5.2L V8 OHV
5.6L V8
5.6L V8 OHV
5.9L V8
5.9L V8 OHV
6.6L V8
6.6L V8 OHV
7.2L V8
7.2L V8 OHV
5.2L V8
1974 Dodge Coronet
Base
Base Sedan 4-Door
Base Wagon 4-Door
Crestwood
Crestwood Wagon 4-Door
Custom
Custom Sedan 4-Door
Custom Wagon 4-Door
3.7L l6
3.7L l6 OHV
5.2L V8
5.2L V8 OHV
5.9L V8
5.9L V8 OHV
6.6L V8
6.6L V8 OHV
7.2L V8
7.2L V8 OHV
1975 Dodge Coronet
Base Hardtop 2-Door
Base Sedan 4-Door
Base Wagon 4-Door
Brougham Hardtop 2-Door
Crestwood Hardtop 2-Door
Crestwood Sedan 4-Door
Crestwood Wagon 4-Door
Custom Hardtop 2-Door
Custom Sedan 4-Door
Custom Wagon 4-Door
3.7L l6 OHV
5.2L V8 OHV
5.9L V8 OHV
6.6L V8 OHV
6.6L V8 OHV
1976 Dodge Coronet
Base Sedan 4-Door
Base Wagon 4-Door
Brougham Sedan 4-Door
Brougham Wagon 4-Door
Crestwood Wagon 4-Door
3.7L l6 OHV
5.2L V8 OHV
5.9L V8 OHV
6.6L V8 OHV