118'' Car Fender Flare Extension Wheel Eyebrow Moulding Trim Wheel Arch Strip 3M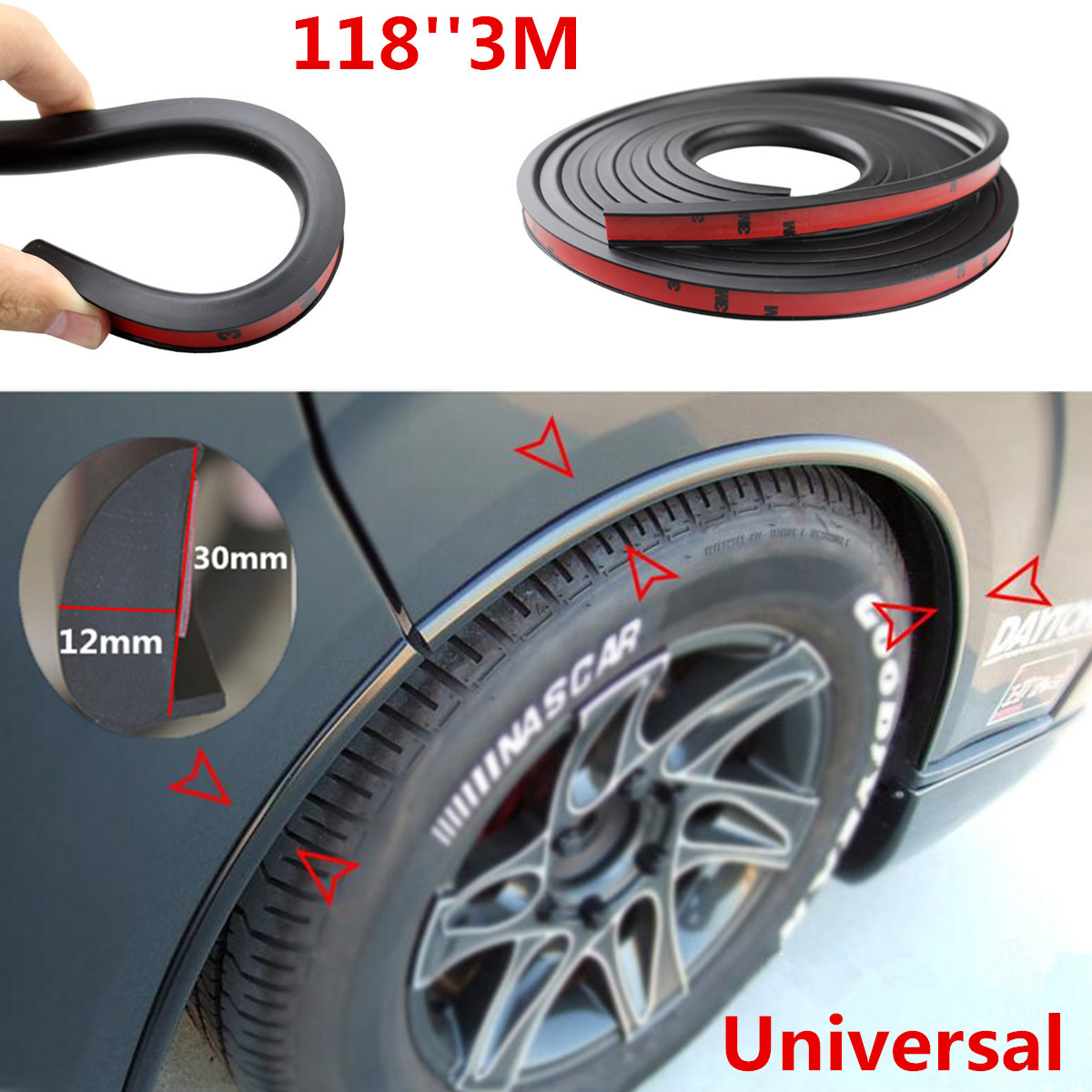 The part listed below is available for purchase online. To purchase the part or to get additional information about the part before you purchase it, click on the View More Details button.
Item #:

PR-202000620771

Ships From:

CN
Price:

$39.50
Restocking Fee: No.
Returns Accepted: Returns Accepted.
Item must be returned within: 60 Days.
Refund will be given as: Money back or replacement (buyer's choice).
Return shipping will be paid by: Seller.
Manufacturer Part Number: Does Not Apply.
Brand: Unbranded.
Warranty: 6 Month.
Product Name: Car Fender Flares Wheel Eyebrow Protector Lip.
Material: High quality black rubber foam.
Feature: Flexible enough to conform to different types.
Length: 300cm(118"),this is for the large one ( 30*12mm).
Color: Black.
Package Include: 1Pcs 300cm Fender Flares Protector.
Universal 118'' 30*12mm Scratch Proof Black Rubber Car Fender Flare Extension Wheel Eyebrow Moulding Trim Protector Lip 2 Wheels Product Description BrandUnbrandedManufacturer Part NumberDoes Not ApplySurface FinishAs pictures shown.Placement on VehicleLeft,Right,Front,RearWarranty1 YearOther Part NumberFlexible enough to conform to different types carsInterchange Part NumberCar Fender Flares Wheel Eyebrow Protector LipMaterialHigh quality black rubber foamSize300cm(118")UPCDoes not applyFitment:For Universal fitment: for most cars,trucks,SUVs Material:High quality black rubber foam Feature: Flexible and lightweight foam rubber install in minutes using ultra strong 3M automotive tale(PRE-APPLIED). Gives your ride a more aggressive and customized look Professional installation is highly recommend. No special too, no drilling or screws required. High performance JDM racing style Flexible enough to conform to different types of car body Size :Length: 300cm(118"),this is for the large one ( 30*12mm), we also have small size; please visit my store to buy Package Include: 1Pcs 300cm Fender Flares Protector(Note:1Pcs Fender Flares Protector only enough to install two wheel) Shipping & Handing All items will be checked before packing. All items are new and of high quality. Item will be shipped within 1 business days upon receipt of payment, excluding weekends and public holidays. If to USA,we will ship your order by USPS,it will take about 7-10 working days to you,and you can track it on line. If to other country,we will ship your order by China Post or Singapore Registered Air Mail,it will take about 14-21 working days to you,you aslo can track it on line. Delivery time is about 14-28 business days and it may take up to 8 weeks to some European countries and South American countries due to strict custom inspection. We ship worldwide. Shipping fee include packing, warehouse, distribution, order handling and processing costs. We offer combined shipping discount on Shipping & Handling. Please note that some countries will have custom duty or tax for certain items. It is the buyer's responsibility to pay all endued custom duty or tax. We are not responsible for any custom duty or tax since our price do not include this charge. Payment Method We accept payment by PayPal only ! Payment should be completed within 7 days after buyer places the order,or else an unpaid case will be opened in order to cancel the transaction. If you can not pay in time, please contact us. eCHECK from PayPal will only be processed once the payment clears. Warranty & Return Policy 30-day Warranty with Exchange for defective, malfunctioned, incorrect or parts-missing items. Please notify us and return the item with all parts and accessories packed and marked "FOR EXCHANGE" within 14 days of receipt. If defective, malfunctioned or parts-missing items are no longer available, a refund may be issued. All returning postage costs will be the responsibility of the buyers under all circumstances. Feedback & Customer Services If you encounter any problems about anything, please feel free to contact us and we will do our best to assist you solve the issue. If you are not satisfied in anyway, please feel free to let us know and give us a second chance to correct it before you decide to leave any neutral or negative feedback. We will reply you within 24- 48 hours. Please check you spam mail if no response for 48 hours.On Jul-28-17 at 01:47:05 PDT, seller added the following information:
This part is compatible with the following vehicles:
Year/Make/Model
Body & Trim
Engine
1903 Franklin Four
Base
--
1904 Locomobile Gasoline Car Model C
Base
--
1907 Duryea Duryea
Base
--
1907 Rambler Model 24
Base
--
1908 Ford Model K
Base
--
1909 Pierce-Arrow Great Arrow
Base
--
1910 Buick Model 16
Base
--
1910 FWD Badger FWD
Base
--
1910 Stevens-Duryea Model AA
Base
--
1912 Auburn Model 30L
Base
--
1912 Auburn Model 35L
Base
--
1912 Auburn Model 40H
Base
--
1912 FWD Model A
Base
--
1913 Auburn Model 33L
Base
--
1913 Auburn Model 33M
Base
--
1913 Auburn Model 40A
Base
--
1913 Locomobile Model 30
Base
--
1913 Maxwell Model 22
Base
--
1913 Maxwell Model 40
Base
--
1913 Oakland Greyhound 6-60
Base
--
1914 Auburn Model 4-40
Base
--
1914 Auburn Model 4-41
Base
--
1914 Maxwell Model 35
Base
--
1915 Auburn Model 4-43
Base
--
1915 Chevrolet 490
Base
--
1915 Jeffery Chesterfield Six
Base
--
1915 Paige Model 25
Base
--
1916 Stutz Bulldog Special
Base
--
1917 Auburn Model 4-36
Base
--
1917 Velie Biltwel Six-27
Base
--
1920 Du Pont Model A
Base
--
1920 Haynes Model 46
Base
--
1921 Davis Series 50
Base
--
1921 Sheridan Four
Base
--
1922 Biddle Model B-1
Base
--
1922 Gardner Four
Base
--
1922 Roamer Model 4-75-E
Base
--
1922 Scripps Booth Series B
Base
--
1924 Isotta Fraschini Tipo 8
Base
--
1924 Roamer Model 6-54
Base
--
1924 Westcott Model D-48
Base
--
1925 Chandler Model 33
Base
--
1925 Chevrolet Superior
Base
--
1925 Rollin Model G
Base
--
1925 Stearns Knight Model 4
Base
--
1926 Apperson Eight
Base
--
1926 Apperson Six
Base
--
1926 Auburn Model 4-44
Base
--
1926 Bugatti Type 37A
Base
--
1926 Cleveland Model 43
Base
--
1926 Flint Junior
Base
--
1926 Moon London
Base
--
1927 Case Jay-Eye-See
Base
--
1927 Flint Model B-60
Base
--
1927 Hertz D-1
Base
--
1927 Jordan Great Line Eight
Base
--
1927 Marmon E-75 Series
Base
--
1927 Rickenbacker Model 6-70
Base
--
1927 Yellow Cab Drive-it-Yourself
Base
--
1928 Buick Standard Six
Base
--
1928 Diana Eight
Base
--
1928 Hispano-Suiza H6B
Base
--
1928 Jordan Air Line Eight
Base
--
1928 Kissel Model 55
Base
--
1929 Auburn Model 115
Base
--
1929 Auburn Model 120
Base
--
1929 Durant Model 40
Base
--
1930 Auburn Model 125
Base
4.9L l8 L-HEAD
1930 Blackhawk L-6
Base
--
1930 Chevrolet Universal
Base
3.2L l6 OHV
1930 Chevrolet Universal Truck
Base
3.2L l6 OHV
1930 Elcar Model 120
Base
--
1930 Erskine Model 53
Base
--
1930 LaSalle Fleetwind
Base
--
1930 Marquette Series 30
Base
--
1930 Whippet Model 96A
Base
--
1930 Windsor Model 6-69
Base
--
1931 BMW Wartburg
Base
--
1931 Bentley 4 1/2-Litre
Base
--
1931 Bentley 4-Litre
Base
--
1931 Chevrolet AE Independence Truck
Base
3.2L l6 OHV
1931 Ford Model AA
Base
3.3L l4 L-HEAD
1932 Auburn Model 12-160A
Base
--
1932 BMW Dixi
Base
--
1932 Chevrolet Confederate
Base
3.2L l6 OHV
1932 Chevrolet Confederate BB
Base
3.2L l6 OHV
1932 De Vaux Continental
Base
--
1932 Ford Model 18
Base
--
1932 Isotta Fraschini Tipo 8A S
Base
--
1932 Rockne Model 75
Base
--
1933 Auburn Model 12-161A
Base
--
1933 Auburn Model 12-165
Base
6.4L V12 OHV
1933 Buick Series 80
Base
5.6L l8 OHV
1933 Chevrolet Eagle
Base
3.4L l6 OHV
1933 Chevrolet Eagle CB
Base
3.4L l6 OHV
1933 Chevrolet Mercury
Base
3.0L l6 OHV
1933 Continental Ace
Base
--
1933 Ford Model 46
Base
3.3L l4 L-HEAD
1934 Auburn Model 1250
Base
6.4L V12 OHV
1934 BMW 3/20
Base
--
1934 BMW 303
Base
--
1934 Chevrolet DB
Base
3.4L l6 OHV
1934 Franklin Olympic
Base
--
1935 American Austin American Austin
Base
--
1935 Buick Series 40
Base
4.1L l8 OHV
1935 Buick Series 50
Base
3.8L l8 OHV
1935 Buick Series 60
Base
4.6L l8 OHV
1935 Buick Series 90
Base
5.6L l8 OHV
1935 Delage D-6 64
Base
--
1935 MG NB Magnette
Base
--
1935 Nash Advanced
Base
--
1936 Chevrolet Pickup
Base
3.4L l6 OHV
1936 Chevrolet Standard
Base
3.4L l6 OHV
1936 Graham Cavalier Model 90
Base
--
1936 MG NB Magnette
Base
--
1936 MG PB Midget
Base
--
1937 American Bantam 5-75
Base
0.7L l4 L-HEAD
1937 BMW 315
Base
--
1937 Duesenberg Model J
Base
--
1937 Ford Model 78
Base
--
1939 American Bantam Model 60
Base
--
1939 American Bantam Model 62
Base
0.7L l4 L-HEAD
1939 Buick Roadmaster Series 90
Base
--
1940 BMW 335
Base
--
1940 Buick Limited Series 80
Base
--
1940 Buick Special 40
Base
--
1940 Ford Pickup
Base
--
1940 Lagonda LG6
Base
--
1941 American Bantam Model 65
Base
0.8L l4 L-HEAD
1941 BMW 327
Base
--
1941 Ford Model 1 GA Truck
Base
--
1941 Hupmobile Skylark
Base
--
1942 Buick Century Series 60
Base
5.2L l8 OHV
1942 Buick Limited Series 90
Base
5.2L l8 OHV
1942 Buick Special Series 40-A
Base
4.1L l8 OHV
1942 Chevrolet BJ
Base
3.5L l6 OHV
1942 Ford Model 21 A Deluxe
Base
3.6L V8 L-HEAD
1943 Chevrolet BG
Base
3.5L l6 OHV
1945 Chevrolet BL
Base
3.5L l6 OHV
1945 Chevrolet BM
Base
3.5L l6 OHV
1946 Chevrolet BK
Base
3.5L l6 OHV
1946 Chevrolet CK
Base
3.5L l6 OHV
1946 Chevrolet DJ
Base
3.5L l6 OHV
1946 Chevrolet DP
Base
3.5L l6 OHV
1946 Chevrolet DR
Base
3.5L l6 OHV
1946 Chevrolet DS
Base
3.5L l6 OHV
1947 Ferrari 125
Base
--
1947 Ford 1 Ton Pickup
Base
--
1947 Ford 1/2 Ton Pickup
Base
3.6L V8 L-HEAD
1948 Chevrolet Fleetmaster
Base
3.5L l6 OHV
1948 Chevrolet Fleetmaster Truck
Base
--
1948 Chevrolet Stylemaster Series
Base
3.5L l6 OHV
1948 Dodge Deluxe
Base
3.8L l6 L-HEAD
1948 Ford Super Deluxe
Base
3.7L l6 L-HEAD
1948 Jaguar MK V
Base
--
1948 Morris Eight Series
Base
--
1948 Opel Olympia
Base
1.5L l4 OHV
1949 Allard J1
Base
3.6L V8 L-HEAD
1949 Allard K1
Base
3.6L V8 L-HEAD
1949 Allard L
Base
3.6L V8 L-HEAD
1949 Allard M
Base
3.6L V8 L-HEAD
1949 Alvis TA14
Base
--
1949 Alvis TB14
Base
--
1949 Austin A70
Base
2.2L l4 OHV
1949 Buick Roadmaster Series 70
Base
5.2L l8 OHV
1949 Buick Special Series 40
Base
4.1L l8 OHV
1949 Buick Super Series 50
Base
4.1L l8 OHV
1949 Ford Ford
Base
3.7L l6 L-HEAD
1949 Lincoln 9EL Series
Base
5.5L V8 L-HEAD
1949 Stanguellini 1100
Base
--
1950 Morgan 4/4 Series I
Base
1.3L l4 OHV
1950 Willys 4-63 Pickup
Base
--
1951 Austin Devon
Base
1.2L l4 OHV
1951 Austin Hereford
Base
2.2L l4 OHV
1951 Ford Deluxe
Base
3.7L l6 L-HEAD
1951 Ford F2
Base
3.7L l6 L-HEAD
1951 Frazer Frazer
Base
3.7L l6 L-HEAD
1951 Marauder Model 100
Base
2.4L l6 F-HEAD
1951 Skoda 1101
Base
1.1L l4 OHV
1952 Austin Atlantic
Base
2.7L l4 OHV
1952 Austin Sheerline
Base
4.0L l6
1952 Bristol 401
Base
2.0L l6 OHV
1952 Checker A5
Base
3.7L l6 L-HEAD
1952 Chevrolet Fleetline
Deluxe
3.5L l6 OHV
1952 Chevrolet Fleetline Truck
Deluxe
--
1952 Chevrolet Styleline Deluxe
Base
3.5L l6 OHV
1952 Cisitalia 202
Base
1.1L l4 OHV
1952 Crosley Standard
Base
0.7L l4 SOHC
1952 Ford F1
Base
3.5L l6 OHV
1952 Ford F3
Base
4.2L V8 L-HEAD
1952 Ford F4
Base
3.5L l6 OHV
1952 Marauder Model A
Base
2.1L l6 F-HEAD
1952 Packard 200
Base Coupe 2-Door
4.7L l8 L-HEAD
1953 Allstate A-230
Base
2.2L l4 L-HEAD
1953 Allstate A-240
Base
2.6L l6
1953 Armstrong-Siddeley Hurricane
Base
2.3L l6
1953 Armstrong-Siddeley Lancaster
Base
2.3L l6
1953 Armstrong-Siddeley Typhoon
Base
2.3L l6
1953 Armstrong-Siddeley Whitley
Base
2.3L l6
1953 Aston Martin DB2
Base
2.6L l6 DOHC
1953 Austin Sports
Base
1.2L l4
1953 Hotchkiss Gregoire
Base
2.2L H4
1953 Studebaker 2R11
Base
4.0L l6 L-HEAD
1954 Allard J2X
Base
3.9L V8 L-HEAD
1954 Allard K3
Base
3.4L l6 DOHC
1954 Allard Monte Carlo
Base
3.6L V8 L-HEAD
1954 Allard Safari
Base
3.6L V8 L-HEAD
1954 Arnolt-MG MG
Base
1.3L l4 OHV
1954 Austin A125
Base
4.0L l6 OHV
1954 Austin Countryman
Base
1.2L l4
1954 Austin Somerset
Base
1.2L l4 OHV
1954 Chevrolet 1500
Base
3.8L l6 OHV
1954 Delahaye 135
Base
3.6L l6
1954 Ford Crestline
Base
3.6L l6 OHV
1954 Healey Healey
Base
2.4L l4 OHV
1954 Lanchester Leda
Base
2.0L l4
1954 Lea-Francis Fourteen
Base
1.8L l4
1954 Metropolitan Series A
Base
1.2L l4 OHV
1955 Alvis TC21/100
Base
3.0L l6
1955 BMW 501
Base
2.0L l6 OHV
1955 BMW 501A
Base
2.0L l6 OHV
1955 BMW 501B
Base
2.0L l6 OHV
1955 Doretti Doretti
Base
2.0L l4 OHV
1955 Facel Vega FV1
Base
4.8L V8 OHV
1955 Kurtis 500M
Base
5.4L V8 OHV
1955 Swallow Doretti
Base
2.0L l4
1955 Turner 803
Base
0.8L l4 OHV
1956 Alvis TC21
Base
3.0L l6 OHV
1956 Aston Martin DB2-4
MK II
3.0L l6 DOHC
1956 Aston Martin DB3
Base
3.0L l6 DOHC
1956 Austin A90
Base
2.6L l6 OHV
1956 Ford Customline
Base
3.6L l6 OHV
1956 Ford Park Lane Wagon
Base
5.1L V8 OHV
1956 HRG 1100
Base
1.1L l4 SOHC
1956 Hudson Wasp
Super
3.3L l6
1956 Marathon Corsaire
Base
0.8L H2 OHV
1956 Salmson 2300 Sport
Base
2.3L l4
1957 Austin Healey 100
Base
2.7L l4 OHV
1957 Chevrolet One-Fifty Series
Base
3.8L l6 OHV
1957 Dellow MK IIC
Base
1.2L l4 L-HEAD
1957 Deutsch-Bonnet 750
Base
0.7L H2
1957 Lagonda 3 Litre
Series II
2.9L l6
1957 Lotus Eleven
Base
1.1L l4 SOHC
1957 Salmson 2300 Sport
Base
2.3L l4
1958 Alvis TC108/G
Base
3.0L l6 OHV
1958 Buick Limited
Base
6.0L V8 OHV
1958 Buick Super
Base
6.0L V8 OHV
1958 Checker A8B
Base
3.7L l6 L-HEAD
1958 Chevrolet Yeoman
Base
3.8L l6 OHV
1958 Darrin Darrin
Base
6.0L V8 OHV
1958 Dual-Ghia 500
Base
5.1L V8 OHV
1958 Edsel Bermuda
Base
5.9L V8 OHV
1958 Ford Del Rio Wagon
Base
3.6L l6 OHV
1958 Ford Skyliner
Base
3.6L l6 OHV
1958 Jensen 541
Base
3.9L l6
1958 Wartburg 311
Base
0.9L l3 OHV
1958 Zundapp Janus 250
Base
0.2L l1
1959 Aston Martin DBD
MK IIIB
3.0L l6 DOHC
1959 Austin A35
Base
0.9L l4 OHV
1959 Austin Healey 100-6
Base
2.6L l6 OHV
1959 Berkeley 328
Base
0.3L l2 OHV
1959 Chevrolet 3B
3200
3.8L l6 OHV
1959 Chevrolet 3C
3400
4.6L V8 OHV
1959 Chevrolet 3F
3700
3.8L l6 OHV
1959 Chevrolet 3G
3800
3.8L l6 OHV
1959 Denzel 1300 Super
Base
1.3L H4 OHV
1959 Ford Club
Base
3.6L l6 OHV
4.8L V8 OHV
5.4L V8 OHV
5.8L V8 OHV
1959 Ford Courier Sedan Delivery
Base
3.6L l6 OHV
1959 Ford F Series
Base
3.6L l6 OHV
4.8L V8 OHV
5.8L V8 OHV
1959 Maico 500
Sport
0.5L l2
1959 Nardi Vignale
Base
0.8L l4
1959 Skoda S440
Base
1.1L l4 OHV
1960 Armstrong-Siddeley Star Sapphire
Base
4.0L l6
1960 Arnolt-Bristol Deluxe
Base
2.0L l6
1960 Bond Mark E
Base
0.2L l1
1960 Edsel Ranger
Base
--
3.6L l6 OHV
1960 Ford Courier Sedan Delivery
Base
3.6L l6 OHV
1960 Ford Custom 300
Base
3.6L l6 OHV
1960 Ford Starliner
Base
3.6L l6 OHV
1960 Moretti 1200
Base
1.2L l4
1961 AMC Super Six
Base
3.2L l6 L-HEAD
1961 Abarth 750
Base
0.7L l4 DOHC
1961 Austin Westminster
Base
2.9L l6 OHV
1961 BMW 502
Base
2.6L V8 OHV
1961 Berkeley B105
Base
0.7L l2 OHV
1961 Berkeley B95
Base
0.7L l2 OHV
1961 Borgward Isabella
Base
1.5L l4 OHV
1961 Chevrolet Parkwood
Base
3.8L l6 OHV
1961 Elva Competition
Base
1.1L l4 SOHC
1961 Ford Prefect
Base
1.0L l4 OHV
1961 Lloyd Alexander
TS
0.3L l2
1961 Vespa 400
Base
0.4L l2
1962 AMC Custom
Base
3.2L l6 OHV
1962 AMC Deluxe
Base
3.2L l6 L-HEAD
1962 AMC Super Six
Base
3.2L l6 L-HEAD
1962 Alvis TD21
Base
3.0L l6 OHV
1962 BMW 3200
Base
3.2L V8 OHV
1962 Buick Invicta
Base
6.6L V8 OHV
1962 Fairthorpe Electrina
Base
0.9L l4 OHV
1962 Ford Taunus
Base
1.5L l4 OHV
1962 MG MGA
Base
1.6L l4 OHV
1962 Panhard PL-17
Base
Monte Carlo
0.8L H2 OHV
0.9L H2
1962 Reliant Sabre
Base
2.6L l6 OHV
1963 AC Ace
Base
2.0L l6 SOHC
1963 AC Aceca
Base
2.0L l6 SOHC
1963 AC Greyhound
Base
2.0L l6 SOHC
1963 Arnolt-Bristol Bolide
Base
2.0L l6 OHV
1963 Aston Martin DB4
Base
3.7L l6 DOHC
1963 BMW 2600
Base
2.6L V8 OHV
1963 DKW 1000
Base
1.0L l3
1963 Ford 300
Base
6.4L V8
1963 Ford Ford 300
Base
3.3L l6 OHV
1963 Ford Zephyr
MK III Sedan 4-Door
2.6L l6 OHV
1963 Riley 1.5
Base
1.5L l4 OHV
1964 BMW 1500
Base
1.5L l4 SOHC
1964 Chevrolet Corvair Truck
95
2.7L H6 OHV
1964 Dodge 330
Base
3.7L l6
5.2L V8 OHV
1964 Ford Consul
Base
--
1964 Ford Sprint
Base
2.8L l6 OHV
1964 Ford Zodiac
MK III
2.6L l6 OHV
1964 Jeep 6-226
Base
--
3.7L l6
3.7L l6 L-HEAD
1964 Messerschmitt KR200
Base
0.2L l1
1964 Moskvich 402
Base
1.2L l4
1964 Rolls-Royce Silver Cloud
Base
6.2L V8 OHV
1965 Aston Martin DB5
Base
4.0L l6 DOHC
1965 BMW 3200CS
Base
3.2L V8 OHV
1965 BMW Isetta
700
0.7L H2 OHV
1965 Ford Capri
Base
--
1965 Singer Gazelle
Base
1.6L l4 OHV
1965 Wolseley 1500
Base
1.5L l4 OHV
1966 AMC Classic
770
3.8L l6 OHV
1966 AMC Rogue
Base
4.7L V8 OHV
1966 Abarth 1150
Base
1.1L l4 OHV
1966 Abarth 1600
Base
1.6L l4 DOHC
1966 Abarth 850
Base
0.8L l4 DOHC
1966 Alvis TE21
Base
3.0L l6 OHV
1966 Austin Healey 3000
Base
2.9L l6 OHV
1966 Austin Mini
Base
0.8L l4 OHV
1966 Austin Mini Moke
Base
0.8L l4 OHV
1966 Austin Princess
Base
3.9L l6 OHV
1966 Chevrolet C30 Pickup
Base
4.1L l6 OHV
1966 Chevrolet P20 Series
Base
2.6L l3 DIESEL OHV
1966 Griffith 200
Base
4.5L V8 OHV
1966 Hillman Minx
Base
--
1966 International Harvester 1000A
Base
3.9L l6
5.0L V8 OHV
1966 Isuzu Bellel
Base
2.0L l4 DIESEL OHV
1966 Jaguar 2.4
Base
2.5L l6 DOHC
1966 Toyota Tiara
Base
1.5L l4 OHV
1966 Turner Coventry Climax
i
1.1L l4
1966 Turner SPR60
Base
0.9L l4 OHV
1966 Wartburg 1000
Base
1.0L l3 OHV
1967 AMC Marlin
Base
3.3L l6 OHV
1967 Amphicar 770
Base
1.1L l4 OHV
1967 Austin Mini 850
Base
0.8L l4 OHV
1967 Chevrolet C10 Panel
Base
4.1L l6
1967 Chevrolet C20 Panel
Base
4.1L l6
1967 Chevrolet K20 Panel
Base
4.1L l6
1967 Fiat 1100D
Base
1.2L l4 OHV
1967 Ford Galaxie
Base
3.9L l6 OHV
1967 Humber Hawk
Series IV
2.3L l4
1967 MG 1100
Base
1.1L l4 OHV
1967 Skoda Octavia
Base
1.2L l4 OHV
1968 AMC American
440
3.3L l6 OHV
1968 Chevrolet Chevy II
Nova
2.5L l4
1968 Ford Anglia
Base
1.0L l4 OHV
1968 Lancia Flaminia
Base
2.5L V6 OHV
1968 MG Magnette
Base
1.6L l4 OHV
1968 Omega Omega
Base
4.7L V8 OHV
5.0L V8 OHV
1968 Simca 1000
Base
0.9L l4
1968 Tatra Tatraplan
2-603
2.5L V8
1968 Toyota Stout
Base
1.9L l4 OHV
1968 Volvo 122
Base
S
--
1.8L l4 OHV
1.8L l4
1969 Abarth 1000
Base
1.0L l4 OHV
1969 Abarth 1300
OT
1.3L l4
1969 Abarth 2000
OT
1.9L l4
1969 Austin Mini Cooper
Base
1.0L l4 OHV
1969 Bizzarrini GT America
Base
5.3L V8 OHV
1969 Buick GS 350
Base
5.7L V8
1969 Buick GS 400
Base
6.6L V8
6.6L V8 OHV
1969 Buick Special
Base
4.1L l6 OHV
5.7L V8 OHV
1969 Buick Wildcat
Base
7.0L V8
1969 Chevrolet Corvair
500
Monza
2.7L H6
2.7L H6 OHV
1969 Daimler 250
Base
2.5L V8
1969 MG 1300
Base
1.3L l4 OHV
1969 MG MGC
Base
2.9L l6 OHV
1969 Matra 530 LX
Base
1.7L V4 OHV
1970 AMC Rebel
Base
3.8L l6 OHV
1970 Aston Martin DB6
Base
4.0L l6 DOHC
1970 Austin Healey Sprite
MK IV
1.3L l4 OHV
1970 BMW 2000c
Base
2.0L l4 SOHC
1970 BMW 2000cs
Base
2.0L l4 SOHC
1970 Checker Deluxe
Base
4.1L l6 OHV
1970 Chevrolet Estate
Base
4.1L l6 OHV
1970 Fargo D110 Pickup
Base
6.3L V8 OHV
1970 Ford Cortina
Base
1.6L l4 OHV
1970 Ford Fairlane
500
4.1L l6
1970 Ford Falcon
Base
3.3L l6
1971 BMW 1600
Base
--
1971 BMW 1600-2
Base Sedan 2-Door
1.6L l4 SOHC
1971 BMW 1602
Base
1.6L l4
1971 BMW 1800
Base
--
1971 BMW 2.8 Bavaria
Base
2.8L l6 SOHC
1971 BMW 2000ti
Base
2.0L l4 SOHC
1971 BMW 2002ti
Base
2.0L l4 SOHC
1971 BMW 2800CS
Base
2.8L l6 SOHC
1971 BMW 3.0CSL
Base
3.0L l6 SOHC
1971 Oldsmobile 442
Base
7.5L V8
1972 Audi Super 90
Base
1.8L l4 OHV
1972 Austin America
Base
1.3L l4
1972 BMW 2000
Base Sedan 4-Door
2.0L l4 SOHC
1972 BMW 2000tii
Base
2.0L l4
1972 Buick GS
Base
5.7L V8
1972 Buick GS 455
Base
7.5L V8
1972 Buick Sportwagon
Base
5.7L V8 OHV
1972 Chevrolet Biscayne
Base
4.1L l6 OHV
6.6L V8 OHV
1972 Chevrolet Brookwood
Base
4.1L l6 OHV
1972 Chevrolet Townsman
Base
5.0L V8 OHV
1972 De Tomaso Mangusta
Base Coupe 2-Door
5.0L V8 OHV
1972 Honda 600
Base
0.6L l2 SOHC
1972 Marcos GT
3 Litre
3.0L l6
1972 NSU 110
Base
1.0L l4 SOHC
1973 AC 428
Base
7.0L V8
1973 Buick Centurion
Base
5.7L V8
1973 Chevrolet Chevelle
Deluxe Sedan 4-Door
5.7L V8
5.7L V8 OHV
7.4L V8 OHV
1973 Datsun 1200
Base
1.2L l4 OHV
1973 Ford M-400
Base
5.9L V8
1973 Ford Ranch Wagon
Base
4.1L l6 OHV
1973 Opel Opel
GT Coupe 2-Door
1.9L l4
1.9L l4 SOHC
1973 Toyota Carina
Base
1.6L l4 OHV
1973 Volkswagen 411
Base
1.7L H4 OHV
1973 Volkswagen Fastback
Base
1.6L H4
1973 Volkswagen Squareback
Base
1.6L H4
1973 Volkswagen Thing
Base
1.6L H4
1973 Volvo 1800
ES
2.0L l4 OHV
1974 AM General FJ8
Base
3.8L l6 OHV
1974 AMC Ambassador
Brougham
5.0L V8
1974 AMC Javelin
AMX
5.0L V8 OHV
1974 Alpine A310
Base
1.6L l4 OHV
1974 Aston Martin Vantage
Base
4.0L l6 DOHC
1974 BMW 2002tii
Base
2.0L l4
1974 BMW 2800
Base
2.8L l6 SOHC
1974 BMW 3.0CS
Base
3.0L l6 SOHC
1974 BMW Bavaria
Base
2.8L l6 SOHC
1974 Checker A11
Base
4.1L l6 OHV
1974 Chevrolet C10 Pickup
Base
4.1L l6
1974 Chevrolet C20 Pickup
Base
4.1L l6
1974 Chevrolet G10 Van
Base
4.1L l6
1974 Chevrolet G20 Van
Base
4.1L l6
1974 Chevrolet G30 Van
Base
4.1L l6
1974 Chevrolet K10 Pickup
Base
4.1L l6
1974 Chevrolet K30 Pickup
Base
4.1L l6
1974 Chevrolet Luv Pickup
Base
1.8L l4
1974 Ford Country Sedan
Base
5.0L V8 OHV
5.8L V8
5.8L V8 OHV
6.6L V8
6.6L V8 OHV
1974 Ford Galaxie 500
Base
5.0L V8 OHV
1974 Ford M-450
Base
5.9L V8
1974 Land Rover Land Rover
Base
2.6L l6 OHV
1974 Panther DeVille
Base
5.3L V12 DOHC
1974 Toyota Hi-Lux
Base
2.0L l4 SOHC
1974 Volkswagen 412
Base
1.7L H4 OHV
1974 Volkswagen Campmobile
Base
1.8L H4 OHV
1974 Volkswagen Karmann Ghia
Base
1.6L H4
1.6L H4 OHV
1975 Bricklin SV-1
Base Coupe 2-Door
5.8L V8 OHV
1975 Buick Apollo
Base Sedan 4-Door
4.3L V8 OHV
1975 Lotus Europa
Base Coupe 2-Door
1.6L l4 DOHC
1975 Opel Manta
Luxus Coupe 2-Door
1.9L l4 SOHC
1976 BMW 3.0Si
Base Sedan 4-Door
3.0L l6 SOHC
1976 Ford Elite
Base Hardtop 2-Door
6.6L V8 OHV
7.5L V8 OHV
1976 Ford Gran Torino
Base Hardtop 2-Door
5.8L V8 OHV
1976 Ford Torino
Base Hardtop 2-Door
5.8L V8 OHV
1976 Toyota Mark II
Base Sedan 4-Door
2.6L l6 SOHC
1976 VAM American
Base Sedan 4-Door
4.2L l6 OHV
1977 AMC Gremlin
Base Sedan 2-Door
2.0L l4 SOHC
1977 AMC Hornet
AMX Hatchback 2-Door
4.2L l6 OHV
1977 Audi 100 Series
LS Sedan 2-Door
1.9L l4 OHV
1977 Ford Custom 500
Base Hardtop 2-Door
5.8L V8 OHV
1977 Ford F-500
Custom Cab & Chassis 2-Door
5.4L V8 OHV
1977 GMC C15 Suburban
Base Sport Utility 4-Door
5.0L V8 OHV
5.7L V8 OHV
1978 AMC Matador
Base Coupe 2-Door
4.2L l6 OHV
1978 BMW 630CSi
Base Coupe 2-Door
3.0L l6 SOHC
1978 Buick Opel
Base Coupe 2-Door
1.8L l4 SOHC
1978 Ford Mustang II
Base Fastback 2-Door
Base Hardtop 2-Door
Mach 1 Hardtop 3-Door
5.0L V8 OHV
5.0L V8 OHV
2.8L V6 OHV
1978 MG Midget
MK IV Convertible 2-Door
1.5L l4 OHV
1978 Mazda RX-4
Base Sedan 4-Door
1.3L R2
1978 Volkswagen Hormiga
Base Standard Cab Pickup 2-Door
1.6L H4 OHV
1979 Ford B-100
Base Cutaway Van 2-Door
5.0L V8 OHV
1979 Ford Ranchero
500 Standard Cab Pickup 2-Door
5.0L V8 OHV
1980 AMC AMX
Base Hatchback 2-Door
4.2L l6 OHV
1980 AMC Pacer
DL Hatchback 2-Door
4.2L l6 OHV
1980 Chevrolet Monza
2+2 Hatchback 2-Door
2.5L l4 OHV
1980 Dodge D300
Base Crew Cab Pickup 4-Door
5.2L V8 OHV
1980 Ford Pinto
Base Sedan 2-Door
2.3L l4 SOHC
1980 Mercury Bobcat
Runabout Sedan 3-Door
2.3L l4 SOHC
1980 Volkswagen Safari
Base Sport Utility 4-Door
1.6L H4 OHV
1981 Chevrolet Bel Air
Base Sedan 4-Door
4.4L V8
1981 MG MGB
Base Convertible 2-Door
1.8L l4 OHV
1981 Volkswagen Dasher
Base Hatchback 4-Door
1.6L l4 DIESEL SOHC
1981 Volkswagen Rabbit
Ls Deluxe Hatchback 4-Door
L Custom Hatchback 4-Door
LS Hatchback 4-Door
L Hatchback 4-Door
LS Hatchback 2-Door
1.6L l4 DIESEL SOHC
1.7L l4 SOHC
1982 Ford F-100
XL Standard Cab Pickup 2-Door
XLT Lariat Standard Cab Pickup 2-Door
XLS Standard Cab Pickup 2-Door
3.8L V6 OHV
4.2L V8 OHV
5.0L V8 OHV
1982 Ford Granada
GL Sedan 2-Door
2.3L l4 SOHC
1982 Plymouth Arrow Pickup
Base Standard Cab Pickup 2-Door
2.0L l4 SOHC
2.6L l4 SOHC
1982 Toyota Corona
DLX Sedan 4-Door
2.4L l4 SOHC
1982 Volkswagen Brasilia
Base Hatchback 2-Door
1.6L H4 OHV
1982 Volkswagen Rabbit
LS Hatchback 4-Door
L Hatchback 4-Door
Limited Edition Hatchback 2-Door
Limited Edition Hatchback 4-Door
LS Hatchback 2-Door
1.7L l4 SOHC
1.6L l4 DIESEL SOHC
1983 AMC Concord
Base Sedan 4-Door
4.2L l6 OHV
1983 AMC Spirit
DL Hatchback 2-Door
4.2L l6 OHV
1983 DeLorean DMC 12
Base Coupe 2-Door
2.9L V6 SOHC
1983 Ford Fairmont
Futura Coupe 2-Door
2.3L l4 SOHC
1983 Ford L800
Base
6.1L V8
7.0L V8
1983 Lada 1300
Base Sedan 4-Door
1.3L l4
1983 Volkswagen Rabbit
Base Hatchback 2-Door
1.8L l4
1984 Autocar S
Base Tractor Truck - Long Conventional
14.0L l6 DIESEL Turbocharged
1984 Volkswagen Atlantic
Base Sedan 2-Door
1.7L l4 SOHC
1985 Buick Somerset Regal
Base Coupe 2-Door
2.5L l4 OHV
1985 Chevrolet Citation
Base Hatchback 2-Door
2.8L V6 OHV
1985 Chevrolet Citation II
Base Hatchback 2-Door
2.5L l4 OHV
1985 Ford L800
Base
6.1L V8
1985 Ford L8000
Base Straight Truck - Medium Conventional
10.4L V8 DIESEL
1985 Iveco Z340T
Base
5.5L l6 DIESEL Turbocharged
1985 Suzuki SA310
Base Hatchback 2-Door
1.0L l3
1986 BMW 524td
Base Sedan 4-Door
2.4L l6 DIESEL SOHC Turbocharged
1986 Chevrolet C10
Scottsdale Standard Cab Pickup 2-Door
4.3L V6 OHV
1986 Chevrolet C10 Suburban
Silverado Sport Utility 4-Door
Scottsdale Sport Utility 4-Door
5.0L V8 OHV
5.7L V8 OHV
6.2L V8 DIESEL OHV
1986 Chevrolet C15
Cheyenne Standard Cab Pickup 2-Door
4.8L l6 OHV
1986 Chevrolet C20 Suburban
Scottsdale Sport Utility 4-Door
Silverado Sport Utility 4-Door
5.7L V8 OHV
5.0L V8 OHV
6.2L V8 DIESEL OHV
7.4L V8 OHV
1986 Chevrolet K10 Suburban
Custom Sport Utility 4-Door
5.0L V8 OHV
1986 Chevrolet K20
Custom Cab & Chassis 2-Door
4.8L l6 OHV
1986 Chevrolet K20 Suburban
Custom Sport Utility 4-Door
5.0L V8 OHV
1986 Chevrolet K30
Custom Cab & Chassis 2-Door
4.8L l6 OHV
1986 Chevrolet K5 Blazer
Custom Sport Utility 2-Door
5.0L V8 OHV
1986 Dodge Conquest
Base Hatchback 2-Door
2.6L l4 SOHC Turbocharged
1986 Ford C600
Base Straight Truck - Low Tilt
6.1L V8
1986 Ford C7000
Base
10.4L V8 DIESEL
1986 Ford LTD
Brougham Sedan 4-Door
3.8L V6 OHV
1986 Hyundai Stellar
SL Deluxe Sedan 4-Door
1.6L l4
1986 Jeep Cherokee
Base Sport Utility 4-Door
2.5L l4 OHV
1986 Oshkosh Motor Truck Co. D
Base Straight Truck - Special
10.5L -6 DIESEL
1987 Audi 4000
S Sedan 2-Door
1.8L l4
1987 Audi 4000 Quattro
CS Sedan 4-Door
2.2L l5 SOHC
1987 Autocar DK
Base Straight Truck - Long Conventional
10.0L l6 DIESEL Turbocharged
1987 BMW 325e
Base Coupe 2-Door
2.7L l6 SOHC
1987 BMW 325es
Base Coupe 2-Door
2.7L l6 SOHC
1987 BMW L6
Base Coupe 2-Door
3.5L l6 SOHC
1987 BMW L7
Base Sedan 4-Door
3.5L l6 SOHC
1987 Buick Somerset
Limited Coupe 2-Door
2.5L l4 OHV
3.0L V6 OHV
1987 Chevrolet Chevette
CS Hatchback 4-Door
1.6L l4 SOHC
1987 Chevrolet V10
Custom Deluxe Standard Cab Pickup 2-Door
4.3L V6 OHV
1987 Chevrolet V20
Custom Deluxe Standard Cab Pickup 2-Door
4.8L l6 OHV
1987 Ford B7000
Base Bus (School) - Cab Forward
10.4L V8 DIESEL Turbocharged
1987 Ford EXP
Luxury Coupe 2-Door
1.9L l4 SOHC
1987 Ford F7000
Base
10.4L V8 DIESEL
1987 Ford F8000
Base Straight Truck - Medium Conventional
10.4L V8 DIESEL
1987 Ford FT8000
Base Straight Truck - Medium Conventional
10.4L V8 DIESEL
1987 Honda Wagovan
DX Wagon 4-Door
1.5L l4 SOHC
1987 Volkswagen Cabriolet
Base Convertible 2-Door
1.8L l4 SOHC
1987 Volkswagen Caribe
Base Hatchback 2-Door
1.7L l4 SOHC
1988 Audi 5000
CS Sedan 4-Door
2.2L l5 SOHC Turbocharged
1988 Audi 5000 Quattro
CS Sedan 4-Door
2.2L l5 SOHC Turbocharged
1988 Autocar ACL
Base Straight Truck - Long Conventional
Base Tractor Truck - Long Conventional
12.0L -6 DIESEL
14.6L l6 DIESEL Turbocharged
10.0L l6 DIESEL Turbocharged
1988 Autocar AT
Base Straight Truck - Medium Conventional
14.0L l6 DIESEL Turbocharged
1988 BMW 528e
Base Sedan 4-Door
2.7L l6 SOHC
1988 BMW 535is
Base Sedan 4-Door
3.5L l6 SOHC
1988 Buick Skylark
Limited Sedan 4-Door
Custom Sedan 4-Door
Limited Coupe 2-Door
2.3L l4 DOHC
3.0L V6 OHV
1988 Chevrolet Spectrum
Base Hatchback 2-Door
1.5L l4 SOHC
1988 Chevrolet V10 Suburban
Scottsdale Sport Utility 4-Door
5.7L V8 OHV
1988 Chevrolet V20 Suburban
Scottsdale Sport Utility 4-Door
5.7L V8 OHV
1988 Chevrolet V30
Silverado Cab & Chassis 4-Door
Scottsdale Crew Cab Pickup 4-Door
Scottsdale Cab & Chassis 2-Door
Scottsdale Cab & Chassis 4-Door
Silverado Cab & Chassis 2-Door
6.2L V8 DIESEL OHV
7.4L V8 OHV
4.8L l6 OHV
1988 Jeep Cherokee
Pioneer Sport Utility 2-Door
2.5L l4 OHV
1988 Mitsubishi Cordia
L Hatchback 2-Door
2.0L l4 SOHC
1988 Motor Coach Industries 102A2
Base Bus (Non School) - Cab Forward
9.0L V6 DIESEL
1988 Sterling 825
S Sedan 4-Door
2.5L V6 SOHC
1988 Toyota Van Wagon
YR32 DX Mini Cargo Van 3-Door
2.2L l4 OHV
1988 Volkswagen Corsar
Base Sedan 4-Door
1.8L l4 SOHC
1988 Volkswagen Quantum
GL Sedan 4-Door
2.2L l5 SOHC
1988 Volkswagen Scirocco
16-Valve Coupe 2-Door
1.8L l4 DOHC
1988 White WCL
WCL64 Straight Truck - Low Tilt
9.0L V6 DIESEL
1989 Aston Martin Lagonda
Base Sedan 4-Door
5.3L V8 DOHC
1989 Aston Martin V-8
Volante Convertible 2-Door
5.3L V8 DOHC
1989 BMW 635CSi
Base Coupe 2-Door
3.5L l6 SOHC
1989 Bertone X-1/9
Base Coupe 2-Door
1.5L l4 SOHC
1989 Buick Skyhawk
Custom Coupe 2-Door
2.0L l4 OHV
1989 Chevrolet P20
Base Stripped Chassis
4.8L l6 OHV
1989 Chevrolet R2500
Cheyenne Crew Cab Pickup 4-Door
6.2L V8 DIESEL OHV
1989 Dodge Lancer
ES Hatchback 4-Door
2.5L l4 SOHC Turbocharged
1989 Eagle Medallion
LX Sedan 4-Door
2.2L l4 SOHC
1989 Ford C800
Base Tractor Truck - Low Tilt
8.2L V8 DIESEL
1989 Geo Spectrum
Base Hatchback 2-Door
1.5L l4 SOHC
1989 Giant 2WMX
2WMX66DB Straight Truck - Long Conventional
10.0L l6 DIESEL Turbocharged
1989 Giant C116
C11664DFT Tractor Truck - Long Conventional
14.0L l6 DIESEL Turbocharged
1989 Jeep Cherokee
Base Sport Utility 2-Door
2.5L l4 OHV
1989 Kenworth 13-210
Base
8.3L l6 DIESEL Turbocharged
1989 Les Autobus MCI Classic
Base Bus (Non School) - Cab Forward
9.0L V6 DIESEL
1989 Toyota Van
Wagon Crg Mini Cargo Van 3-Door
2.2L l4 OHV
1989 Volkswagen Jetta
Base Sedan 2-Door
1.6L l4 DIESEL SOHC
1989 Zeligson G-744
Base Straight Truck - Unknown
10.4L V8 DIESEL
1990 Audi 200
Base Sedan 4-Door
2.2L l5 SOHC Turbocharged
1990 Buick Electra
Park Avenue Sedan 4-Door
3.8L V6 OHV
1990 Chevrolet B60
B6P042 Bus (Non School) - Cab Forward
5.7L V8
1990 Chevrolet Celebrity
Base Wagon 4-Door
Eurosport Wagon 4-Door
3.1L V6 OHV
2.5L l4 OHV
1990 Chevrolet P60
P6T042
--
1990 Ford Bronco II
XL Sport Utility 2-Door
XL Sport Sport Utility 2-Door
2.9L V6 OHV
1990 Ford C8000
Base Straight Truck - Low Tilt
10.4L V8 DIESEL
1990 Ford CF6000
Base
6.6L l6 DIESEL Turbocharged
1990 Ford CT8000
Base Straight Truck - Low Tilt
10.4L V8 DIESEL
1990 Ford FT800
Base
6.1L V8
1990 Ford Mustang
LX Hatchback 2-Door
5.0L V8 OHV
2.3L l4 SOHC
1990 Honda CRX
Base Coupe 2-Door
1.5L l4 SOHC
1990 Jeep Cherokee
Base Sport Utility 2-Door
2.5L l4 OHV
1990 Lexus ES250
Base Sedan 4-Door
2.5L V6 DOHC
1990 Maserati 430i
Base Coupe 2-Door
2.8L V6 SOHC Turbocharged
1991 Audi 80
Base Sedan 4-Door
2.3L l5 SOHC
1991 Audi Coupe Quattro
20v Coupe 2-Door
2.3L l5 DOHC
1991 BMW 325iX
Base Coupe 2-Door
2.5L l6 SOHC
1991 Buick Reatta
Base Coupe 2-Door
3.8L V6 OHV
1991 Chevrolet R2500 Suburban
Scottsdale Sport Utility 4-Door
5.7L V8 OHV
1991 Chevrolet R3500
Cheyenne Cab & Chassis 4-Door
5.7L V8 OHV
1991 Chevrolet V1500 Suburban
Scottsdale Sport Utility 4-Door
5.7L V8 OHV
1991 Chevrolet V3500
Cheyenne Crew Cab Pickup 4-Door
5.7L V8 OHV
1991 Crown Coach School Bus
3A-40C Bus (School) - Cab Forward
14.0L l6 DIESEL Turbocharged
1991 Ford CL9000
Base Tractor Truck - High Tilt
10.0L l6 DIESEL Turbocharged
14.0L l6 DIESEL Turbocharged
14.6L l6 DIESEL Turbocharged
1991 Ford CLT9000
Base Tractor Truck - High Tilt
10.0L l6 DIESEL Turbocharged
1991 Ford Country Squire
Base Wagon 4-Door
5.0L V8 OHV
1991 Ford E-250 Econoline Club Wagon
Custom Standard Passenger Van 2-Door
5.8L V8 OHV
1991 Ford Mustang
LX Convertible 2-Door
2.3L l4 SOHC
5.0L V8 OHV
1991 Lexus ES250
Base Sedan 4-Door
2.5L V6 DOHC
1991 Mack CF
CF600FC Fire Truck - Low Tilt
11.0L -6 DIESEL
1991 Ottawa Firetruck
Base Fire Truck - Long Conventional
5.9L l6 DIESEL Turbocharged
1991 Thomas Bus
316 Bus (Non School) - Cab Forward
364 Bus (Non School) - Cab Forward
397 Bus (Non School) - Cab Forward
8.3L l6 DIESEL Turbocharged
10.4L V8 DIESEL
9.0L V6 DIESEL
1991 Toyota Corolla
DLX Wagon 5-Door
1.6L l4 DOHC
1991 Toyota MR2
Turbo Coupe 2-Door
2.0L l4 DOHC Turbocharged
1991 Volkswagen Vanagon
Base Standard Passenger Van 3-Door
2.1L H4 OHV
1991 White/GMC ACM
ACM64 Straight Truck - Medium Conventional
10.0L l6 DIESEL Turbocharged
1992 BMW 735i
Base Sedan 4-Door
3.5L l6 SOHC
1992 BMW 850i
Base Coupe 2-Door
5.0L V12 SOHC
1992 Chevrolet Sprint
Base Hatchback 4-Door
1.0L l3 SOHC Turbocharged
1992 Daihatsu Rocky
SE Sport Utility 2-Door
1.6L l4 SOHC
1992 Federal Motors Federal Motors
Base Straight Truck - Cab Forward
10.0L l6 DIESEL Turbocharged
8.3L l6 DIESEL Turbocharged
1992 Ford Mustang
LX Sedan 2-Door
LX Hatchback 2-Door
5.0L V8 OHV
2.3L l4 SOHC
1992 Infiniti M30
Base Convertible 2-Door
3.0L V6 SOHC
1992 Lodal BI Loader
Base Straight Truck - Low Tilt
-- DIESEL
1992 Stewart & Stevenson H30
Base Bus (Non School) - Cab Forward
9.0L V6 DIESEL
1992 Toyota Camry
DLX Sedan 4-Door
2.2L l4 DOHC
1992 Toyota Cressida
Base Sedan 4-Door
3.0L l6 DOHC
1992 Volkswagen Jetta
GL Sedan 4-Door
GLI 16-Valve Sedan 4-Door
GTX 16-V Sedan 4-Door
1.6L l4 DIESEL
1.8L l4 SOHC
1.6L l4 DIESEL SOHC
1.8L l4
2.0L l4 DOHC
2.0L l4
1992 Yugo Cabrio
Base Convertible 2-Door
1.3L l4 SOHC
1993 Asuna GT
Base Hatchback 2-Door
1.6L l4 SOHC
1993 Asuna Sunrunner
Base Sport Utility 2-Door
1.6L l4 SOHC
1993 BMW 525iT
Base Wagon 4-Door
2.5L l6 DOHC
1993 Dodge D150
Base Extended Cab Pickup 2-Door
Base Standard Cab Pickup 2-Door
3.9L V6 OHV
5.2L V8 OHV
5.9L V8 OHV
1993 Dodge Dynasty
Base Sedan 4-Door
3.3L V6 OHV
1993 Excalibur Limited
Base Convertible 2-Door
5.7L V8 OHV
1993 Ford Festiva
GL Hatchback 2-Door
1.3L l4 SOHC
1993 Ford Mustang
SVT Cobra Hatchback 2-Door
LX Hatchback 2-Door
LX Sedan 2-Door
5.0L V8 OHV
2.3L l4 SOHC
1993 Mazda B2200
Base Extended Cab Pickup 2-Door
2.2L l4 SOHC
1993 Mazda B2600
LE-5 Extended Cab Pickup 2-Door
2.6L l4 SOHC
1993 Toyota Camry
DX Wagon 4-Door
LE Wagon 4-Door
2.2L l4 DOHC
3.0L V6 DOHC
1993 Volkswagen Fox
Base Sedan 2-Door
1.8L l4 SOHC
1994 Acura Vigor
GS Sedan 4-Door
2.5L l5 SOHC
1994 Audi 100
CS Sedan 4-Door
2.8L V6 SOHC
1994 Audi 100 Quattro
CS Sedan 4-Door
2.8L V6 SOHC
1994 Audi V8 Quattro
Base Sedan 4-Door
4.2L V8 DOHC
1994 Chevrolet Commercial Chassis
Base Hearse 2-Door
5.7L V8 OHV
1994 Flxible Transit Bus Metro 30
Base Bus (Non School) - Cab Forward
9.0L V6 DIESEL
1994 Ford B600
Base Bus (School) - Cab Forward
5.9L l6 DIESEL Turbocharged
1994 Ford F600
Base Straight Truck - Medium Conventional
5.9L l6 DIESEL Turbocharged
1994 Ford F600 LPO
Base Straight Truck - Medium Conventional
5.9L l6 DIESEL Turbocharged
1994 Ford Ghia
Base Sedan 4-Door
3.0L V6 OHV
1994 Ford Mustang
Base Convertible 2-Door
SVT Cobra Coupe 2-Door
3.8L V6 OHV
5.0L V8 OHV
1994 Hyundai Scoupe
Base Coupe 2-Door
1.5L l4 SOHC
1994 Jeep Cherokee
Country Sport Utility 2-Door
4.0L l6 OHV
1994 Mazda RX-7
R2 Coupe 2-Door
1.3L R2 Turbocharged
1994 Nissan D21
Base Standard Cab Pickup 2-Door
2.4L l4 SOHC
1994 Volkswagen Jetta
CL Sedan 4-Door
Base Sedan 4-Door
Limited Edition Sedan 4-Door
GLS Sedan 4-Door
1.8L l4
1.9L l4 DIESEL
2.0L l4 SOHC
1995 Acura Legend
GS Sedan 4-Door
3.2L V6 SOHC
1995 Audi 90
Base Sedan 4-Door
2.8L V6 SOHC
1995 Audi 90 Quattro
Base Sedan 4-Door
2.8L V6 SOHC
1995 BMW 325is
Base Coupe 2-Door
2.5L l6 DOHC
1995 Chevrolet Chevy
Swing Hatchback 4-Door
1.4L l4 SOHC
1995 Chevrolet G10
Beauville Extended Passenger Van 3-Door
4.3L V6 OHV
1995 Chevrolet G20
Base Standard Cargo Van 3-Door
4.3L V6 OHV
1995 FWD Corporation America
Base Straight Truck - Low Tilt
8.3L l6 DIESEL Turbocharged
1995 Ford Cougar
Base Coupe 2-Door
4.6L V8 SOHC
1995 Ford Mustang
SVT Cobra Convertible 2-Door
5.0L V8 OHV
1995 Hyundai Elantra
Base Sedan 4-Door
1.6L l4 DOHC
1995 Jeep Cherokee
Country Sport Utility 4-Door
4.0L l6 OHV
1995 Marmon Herrington 125PA
Base Straight Truck - Long Conventional
12.7L l6 DIESEL Turbo/Aftercooled
1995 Suzuki Samurai
JL Sport Utility 2-Door
1.3L l4 SOHC
1995 Volkswagen Corrado
Base Coupe 2-Door
2.8L V6
1996 Buick Commercial Chassis
Base Cab & Chassis 4-Door
5.7L V8 OHV
1996 Buick Roadmaster
Collector's Edition Sedan 4-Door
5.7L V8 OHV
1996 Chevrolet Beretta
Base Coupe 2-Door
2.2L l4 OHV
1996 Chevrolet Lumina APV
Base Mini Cargo Van 3-Door
3.4L V6 OHV
1996 Chevrolet Lumina Van
Base Mini Passenger Van 4-Door
3.8L V6 OHV
1996 Ford Bronco
XLT Sport Sport Utility 2-Door
XLT Sport Utility 2-Door
5.0L V8 OHV
5.8L V8 OHV
1996 Ford CFT8000
Base Straight Truck - Low Tilt
8.3L l6 DIESEL Turbocharged
1996 Ford LL9000
Base Straight Truck - Long Conventional
10.0L l6 DIESEL Turbocharged
1996 Ford Mustang
High Convertible 2-Door
GT Coupe 2-Door
4.6L V8 SOHC
1996 Genesis Transit Buses Genesis RE
Base Bus (School) - Cab Forward
7.3L V8 DIESEL Turbocharged
1996 Honda Passport
LX Sport Utility 4-Door
3.2L V6 SOHC
1996 Hyundai Elantra
GL Wagon 5-Door
1.8L l4 DOHC
1996 Jeep Cherokee
Classic Sport Utility 4-Door
4.0L l6 OHV
1996 Mazda MX-6
LS Coupe 2-Door
2.5L V6 DOHC
1996 Mitsubishi Mighty Max
Base Standard Cab Pickup 2-Door
2.4L l4 SOHC
1996 Nova Bus Corporation Classic 40
Base Bus (Non School) - Cab Forward
8.3L l6 DIESEL Turbocharged
1996 Toyota Camry
DX Coupe 2-Door
2.2L l4 DOHC
1996 Volkswagen Caravelle
Pasillo Mini Passenger Van 4-Door
1.8L l4 SOHC
1996 Volkswagen Jetta
Atlanta Sedan 4-Door
GL Sedan 4-Door
Wolfsburg Edition Sedan 4-Door
GLS Sedan 4-Door
GLX Sedan 4-Door
TDI Sedan 4-Door
Trek Sedan 4-Door
VR6 Sedan 4-Door
1.8L l4 SOHC
2.0L l4
2.0L l4 SOHC
1.9L l4 DIESEL Turbocharged
2.8L V6 SOHC
1997 BMW 840Ci
Base Coupe 2-Door
4.4L V8 DOHC
1997 Chevrolet Chevy
Taxi Hatchback 2-Door
1.4L l4 SOHC
1997 Duplex D350
Base Fire Truck - Unknown 4-Door
10.8L l6 DIESEL Turbocharged
11.1L l6 DIESEL Turbo/Aftercooled
1997 Ford A9522
Base Tractor Truck - Long Conventional
10.3L l6 DIESEL Turbocharged
1997 Ford CF7000
Base
5.9L l6 DIESEL Turbocharged
1997 Ford CF8000
Base Straight Truck - Low Tilt
5.9L l6 DIESEL Turbocharged
1997 Ford Expedition
Eddie Bauer Sport Utility 4-Door
4.6L V8 SOHC
1997 Ford F700
Base
5.9L l6 DIESEL Turbocharged
1997 Ford L8000F
Base Straight Truck - Medium Conventional
8.3L l6 DIESEL Turbocharged
1997 Ford L9000
Base Straight Truck - Medium Conventional
10.0L l6 DIESEL Turbocharged
1997 Ford LA9000
Base Tractor Truck - Medium Conventional
10.0L l6 DIESEL Turbocharged
1997 Ford LNT8000F
Base Straight Truck - Short Conventional
8.3L l6 DIESEL Turbocharged
1997 Ford LT9000
Base Straight Truck - Medium Conventional
10.0L l6 DIESEL Turbocharged
1997 Ford LT9513
Base Straight Truck - Medium Conventional
10.3L l6 DIESEL Turbocharged
1997 Ford Mustang
Base Convertible 2-Door
High Coupe 2-Door
GT Convertible 2-Door
GT Coupe 2-Door
SVT Cobra Coupe 2-Door
3.8L V6 OHV
4.6L V8 SOHC
4.6L V8 DOHC
1997 Ford P-350
Base Stripped Chassis
5.8L V8 OHV
1997 Ford Probe
Base Hatchback 2-Door
2.0L l4 DOHC
1997 Hendrickson Bullet Glider
Base Gliders - Long Conventional
--
1997 Honda Civic del Sol
S Coupe 2-Door
1.6L l4 SOHC
1997 Hyundai Elantra
Base Sedan 4-Door
1.8L l4 DOHC
1997 Infiniti J30
Base Sedan 4-Door
3.0L V6 DOHC
1997 Jeep Cherokee
Country Sport Utility 4-Door
4.0L l6 OHV
1997 Marmon Herrington 103P
Base Straight Truck - Long Conventional
12.7L l6 DIESEL Turbo/Aftercooled
1997 Mazda MX-6
Base Coupe 2-Door
2.0L l4 DOHC
1997 Nissan 200SX
Base Coupe 2-Door
1.6L l4 DOHC
1997 Ontario Bus Orion V
Urban 30 Bus (Non School) - Cab Forward
8.5L l4 DIESEL Turbo/Aftercooled
1997 Toyota Camry
CE Sedan 4-Door
2.2L l4 DOHC
1998 Audi Cabriolet
Base Convertible 2-Door
2.8L V6 SOHC
1998 BMW 318i
Base Convertible 2-Door
1.9L l4 DOHC
1998 BMW 318is
Base Coupe 2-Door
1.9L l4 DOHC
1998 BMW 323is
Base Coupe 2-Door
2.5L l6 DOHC
1998 BMW 850Ci
Base Coupe 2-Door
5.4L V12 SOHC
1998 Chevrolet C1500
Cheyenne Extended Cab Pickup 2-Door
4.3L V6 OHV
1998 Chevrolet C1500 Suburban
Base Sport Utility 4-Door
5.7L V8 OHV
1998 Dodge B2500
Base Extended Cargo Van 3-Door
5.2L V8 OHV
1998 Ford A9513
Base Tractor Truck - Medium Conventional
10.3L l6 DIESEL Turbocharged
1998 Ford AT9513
Base Tractor Truck - Medium Conventional
10.3L l6 DIESEL Turbocharged
1998 Ford AT9522
Base Tractor Truck - Long Conventional
10.8L l6 DIESEL Turbocharged
1998 Ford B800
Base
--
1998 Ford Club Wagon
XL Standard Passenger Van 3-Door
5.4L V8 SOHC
1998 Ford Expedition
Eddie Bauer Sport Utility 4-Door
4.6L V8 SOHC
1998 Ford F800 LPO
Base Straight Truck - Medium Conventional
5.9L l6 DIESEL Turbocharged
1998 Ford L8501
Base Straight Truck - Short Conventional
5.9L l6 DIESEL Turbocharged
1998 Ford L9511
Base Straight Truck - Medium Conventional
10.3L l6 DIESEL Turbocharged
1998 Ford Mustang
Base Coupe 2-Door
Semi-Equipado Coupe 2-Door
SVT Cobra Convertible 2-Door
3.8L V6 OHV
4.6L V8 SOHC
4.6L V8 DOHC
1998 Toyota Camry
CE Sedan 4-Door
2.2L l4 DOHC
1998 Toyota Corolla
LE Sedan 4-Door
1.8L l4 DOHC
1998 Toyota Supra
Base Hatchback 2-Door
3.0L l6 DOHC
1998 Toyota T100
Base Extended Cab Pickup 2-Door
2.7L l4 DOHC
1998 Toyota Tercel
CE Sedan 2-Door
1.5L l4 DOHC
1998 Volkswagen Jetta
Europa Sedan 4-Door
Wolfsburg Edition Sedan 4-Door
VR6 Sedan 4-Door
GT Sedan 4-Door
K2 Sedan 4-Door
TDI Sedan 4-Door
1.8L l4 SOHC
2.0L l4 SOHC
2.8L V6 SOHC
1.9L l4 DIESEL SOHC Turbocharged
1999 Acura SLX
Premium Sport Utility 4-Door
3.5L V6 DOHC
1999 Advance Mixer M
Base Straight Truck - Half Cab
-- DIESEL
1999 Advance Mixer S
Base Straight Truck - Half Cab
-- DIESEL
1999 BMW 318ti
Base Hatchback 2-Door
1.9L l4 DOHC
1999 BMW 328is
Base Coupe 2-Door
2.8L l6 DOHC
1999 Chevrolet C1500 Suburban
Base Sport Utility 4-Door
5.7L V8 OHV
1999 Chevrolet C2500 Suburban
LS Sport Utility 4-Door
5.7L V8 OHV
6.5L V8 DIESEL OHV Turbocharged
1999 Chevrolet Chevy
Monza Sedan 4-Door
1.6L l4 SOHC
1999 Chevrolet K1500
LS Extended Cab Pickup 2-Door
5.0L V8 OHV
1999 Chevrolet K1500 Suburban
Base Sport Utility 4-Door
5.7L V8 OHV
1999 Chevrolet Tigra
Base Hatchback 2-Door
1.6L l4 DOHC
1999 Crane Carrier Century II
Base Straight Truck - Special
10.3L l6 DIESEL Turbocharged
1999 Ford F800
Base Straight Truck - Medium Conventional
5.9L l6 DIESEL Turbocharged
1999 Ford Mustang
Base Convertible 2-Door
GT Convertible 2-Door
SVT Cobra Convertible 2-Door
3.8L V6 OHV
4.6L V8 SOHC
4.6L V8 DOHC
1999 Rover Mini
Base Hatchback 2-Door
1.3L l4 OHV
1999 Subaru Impreza
L Sedan 4-Door
2.2L H4 SOHC
1999 Toyota Avalon
XL Sedan 4-Door
3.0L V6 DOHC
1999 Toyota Corolla
LE Sedan 4-Door
1.8L l4 DOHC
1999 Toyota Paseo
Base Coupe 2-Door
1.5L l4
1999 Volkswagen Jetta
GLS Confort Sedan 4-Door
CL Sedan 4-Door
GL Sedan 4-Door
GLX VR6 Sedan 4-Door
VR6 Carat Sedan 4-Door
GLS VR6 Sedan 4-Door
GLX Sedan 4-Door
TDI Sedan 4-Door
2.0L l4 SOHC
1.8L l4 SOHC
2.0L l4 OHV
2.8L V6 SOHC
1.8L l4 DOHC Turbocharged
1.9L l4 DIESEL SOHC Turbocharged
2000 BMW 323ti
Base Hatchback 2-Door
2.5L l6 DOHC
2000 BMW 328Ci
Base Coupe 2-Door
2.8L l6 DOHC
2000 Bering HD67MX
Base Straight Truck - Low Tilt
12.0L -6 DIESEL Turbocharged
2000 Chevrolet C2500
Base Cab & Chassis 2-Door
5.7L V8 CNG OHV
2000 Chevrolet K3500
Base Cab & Chassis 2-Door
5.7L V8 OHV
2000 Chevrolet Metro
Base Hatchback 2-Door
1.0L l3 SOHC
2000 Crane Carrier IFL
Base Straight Truck - Low Tilt
10.8L l6 DIESEL Turbocharged
2000 Dina Transit Bus Viaggio 1000
Base Bus (Non School) - Cab Forward
12.7L l6 DIESEL Turbo/Aftercooled
2000 Ford Contour
Base Sedan 4-Door
2.5L V6 DOHC
2000 Ford Focus
LX Sedan 4-Door
2.0L l4 OHV
2000 Ford Mustang
Base Convertible 2-Door
3.8L V6 OHV
2000 Ford Mystique
LS Sedan 4-Door
2.5L V6 DOHC
2000 Hyundai Elantra
GLS Sedan 4-Door
2.0L l4 DOHC
2000 Isuzu Amigo
S Sport Utility 2-Door
2.2L l4 DOHC
2000 Jeep Cherokee
Sport Sport Utility 2-Door
4.0L l6 OHV
2000 Prevost Entertainer
45 Foot Bus (Non School) - Cab Forward
-- DIESEL
2000 Shelby Series 1
Base Coupe 2-Door
4.0L V8 DOHC
2000 Subaru Impreza
L Coupe 2-Door
2.2L H4 SOHC
2000 Toyota Avalon
XL Sedan 4-Door
3.0L V6 DOHC
2000 Western Star 3700
3764 Straight Truck - Long Conventional
7.2L l6 DIESEL Turbocharged
2001 AM General Hummer
Base Sport Utility 2-Door
6.5L V8 DIESEL OHV Turbocharged
2001 BMW 740iL
Base Sedan 4-Door
4.4L V8 DOHC
2001 BMW 750iL
Base Sedan 4-Door
5.4L V12 SOHC
2001 Chevrolet Chevy
GL Hatchback 4-Door
Pop Hatchback 2-Door
1.6L l4 SOHC
1.4L l4 SOHC
2001 Chevrolet Lumina
Base Sedan 4-Door
3.1L V6 OHV
2001 Ford E-350 Econoline Club Wagon
Chateau Extended Passenger Van 2-Door
XL Extended Passenger Van 2-Door
6.8L V10 SOHC
5.4L V8 SOHC
2001 Ford Expedition
Eddie Bauer Sport Utility 4-Door
4.6L V8 SOHC
2001 Ford F-100 Ranger
Sport Extended Cab Pickup 4-Door
3.0L V6 OHV
2001 Ford Focus
SE Sedan 4-Door
ZTS Sedan 4-Door
2.0L l4 SOHC
2.0L l4 DOHC
2001 Ford Sable
LS Premium Sedan 4-Door
3.0L V6 DOHC
2001 Honda Prelude
Base Coupe 2-Door
2.2L l4 DOHC
2001 Hyundai XG300
Base Sedan 4-Door
3.0L V6 DOHC
2001 Infiniti I30
Base Sedan 4-Door
3.0L V6 DOHC
2001 Jeep Cherokee
Sport Sport Utility 4-Door
4.0L l6 OHV
2001 Kia Sephia
Base Sedan 4-Door
1.8L l4 DOHC
2001 Mack CS300P Mid-Liner
Base
6.2L l6 DIESEL Turbocharged
2001 Orion Bus Orion II
Urban 26 Bus (Non School) - Cab Forward
5.9L l6 DIESEL Turbocharged
2001 Roadmaster Rail Dyanaster
MH / 201-215 WB Motor Home - Stripped Chassis
8.3L l6 DIESEL Turbocharged
2001 Sterling Truck A9513
Base Tractor Truck - Long Conventional
10.3L l6 DIESEL Turbocharged
2001 Subaru Forester
Base Wagon 4-Door
2.5L H4 SOHC
2001 Volkswagen Combi
Banca Mini Passenger Van 4-Door
1.8L l4 SOHC
2001 Volkswagen Panel
Pasillo Standard Cargo Van 4-Door
1.8L l4 SOHC
2001 Workhorse FasTrack FT1600
Base Standard Cargo Van 2-Door
5.7L V8 OHV
2002 BMW Z3
2.2i Convertible 2-Door
2.2L l6 DOHC
2002 Chevrolet Chevy Pickup
Base Standard Cab Pickup 2-Door
1.6L l4 SOHC
2002 Chevrolet G30
Base Standard Cargo Van 3-Door
4.3L V6 OHV
2002 Daewoo Lanos
S Sedan 4-Door
1.6L l4 DOHC
2002 Evobus S 215 HDH
Base Bus (Non School) - Cab Forward
12.7L l6 DIESEL Turbo/Aftercooled
2002 Ford E-150 Econoline Club Wagon
Chateau Standard Passenger Van 2-Door
4.2L V6 OHV
2002 Ford E-250 Econoline
Base Extended Cargo Van 2-Door
4.2L V6 OHV
2002 Ford Expedition
Eddie Bauer Sport Utility 4-Door
4.6L V8 SOHC
2002 Ford Focus
ZTW Wagon 4-Door
SE Wagon 4-Door
2.0L l4 DOHC
2.0L l4 SOHC
2002 Ford Mondeo
Core Sedan 4-Door
2.0L l4 DOHC
2002 Honda CR-V
Base Sport Utility 4-Door
2.4L l4 DOHC
2002 Infiniti G20
Base Sedan 4-Door
2.0L l4 DOHC
2002 Isuzu Trooper
LS Sport Utility 4-Door
3.5L V6 DOHC
2002 Kia Optima
LX Sedan 4-Door
2.4L l4 DOHC
2002 Mazda 626
LX Sedan 4-Door
2.0L l4 DOHC
2002 Mazda Millenia
S Sedan 4-Door
2.3L V6 DOHC Supercharged
2002 Mazda Protege
LX Sedan 4-Door
2.0L l4 DOHC
2002 Nissan Almera
Comfort Hatchback 4-Door
1.8L l4 DOHC
2002 Qvale Mangusta
Base Convertible 2-Door
4.6L V8 DOHC
2002 Subaru Forester
Base Wagon 4-Door
2.5L H4 SOHC
2002 Toyota Avalon
XL Sedan 4-Door
3.0L V6 DOHC
2002 Toyota Corolla
LE Sedan 4-Door
1.8L l4 DOHC
2002 Volkswagen Cabrio
GLX Convertible 2-Door
GL Convertible 2-Door
2.0L l4 SOHC
2002 Volkswagen Jetta
Variant Trendline Wagon 4-Door
Europa Sedan 4-Door
GL Sedan 4-Door
GL Wagon 4-Door
GLX Sedan 4-Door
GLS Wagon 4-Door
GLS Sedan 4-Door
Highline Sedan 4-Door
GLX Wagon 4-Door
TDI Wagon 4-Door
Trendline Sedan 4-Door
Variant Comfortline Wagon 4-Door
2.0L l4 SOHC
2.8L V6 DOHC
1.8L l4 DOHC Turbocharged
2.8L V6 SOHC
1.9L l4 DIESEL SOHC Turbocharged
2003 Acura CL
Base Coupe 2-Door
3.2L V6 SOHC
2003 BMW 540i
Base Wagon 4-Door
4.4L V8 DOHC
2003 Chevrolet Chevy
Pop Hatchback 4-Door
1.6L l4 SOHC
2003 Chevrolet Chevy Monza
Base Sedan 4-Door
1.6L l4 SOHC
2003 Ford Escort
ZX2 Coupe 2-Door
2.0L l4 DOHC
2003 Ford Focus
ZTS Sedan 4-Door
LX Sedan 4-Door
SE Wagon 4-Door
ZTW Wagon 4-Door
2.0L l4 DOHC
2.0L l4 SOHC
2.3L l4 DOHC
2003 Ford Mondeo
Core Sedan 4-Door
2.0L l4 DOHC
2003 Ford Windstar
Base Mini Cargo Van 3-Door
3.8L V6 OHV
2003 Honda Accord
DX Sedan 4-Door
2.4L l4 DOHC
2003 Honda Civic
Si Sedan 4-Door
1.7L l4 SOHC
2003 Honda Pilot
EX Sport Utility 4-Door
3.5L V6 SOHC
2003 Hyundai HLD 150
Base Straight Truck - Low Tilt
3.8L -6 DIESEL
2003 Hyundai HMD 260
Base Straight Truck - Low Tilt
5.9L l6 DIESEL Turbocharged
2003 Infiniti QX4
Base Sport Utility 4-Door
3.5L V6 DOHC
2003 Jeep Wrangler
Rubicon Sport Utility 2-Door
X AT Sport Utility 2-Door
4.0L l6 OHV
4.0L l6 OHV
2003 Lexus ES300
Base Sedan 4-Door
3.0L V6 DOHC
2003 Mazda Miata
Base Convertible 2-Door
1.8L l4 DOHC
2003 Mazda Protege
LX Sedan 4-Door
2.0L l4 DOHC
2003 Nissan Almera
Sport Hatchback 4-Door
1.8L l4 DOHC
2003 Oldsmobile Aurora
Base Sedan 4-Door
4.0L V8 DOHC
2003 Spartan Motors Alpine
Base Motor Home - Stripped Chassis
5.9L l6 DIESEL Turbocharged
2003 Subaru Forester
XS Wagon 4-Door
2.5L H4 SOHC
2003 Subaru Impreza
Outback Wagon 4-Door
2.5L H4 SOHC
2003 Toyota Avalon
XL Sedan 4-Door
3.0L V6 DOHC
2003 UD 1200
Base
4.6L l6 DIESEL Turbocharged
2003 Volkswagen Jetta
Variant Trendline Wagon 4-Door
Europa Wolfsburg Sedan 4-Door
Wolfsburg Edition Wagon 4-Door
GL Sedan 4-Door
GL Wagon 4-Door
GLX Sedan 4-Door
GLS Wagon 4-Door
Highline Sedan 4-Door
Jazz Sedan 4-Door
Sportline Sedan 4-Door
TDI Sedan 4-Door
Trendline Wolfsburg Sedan 4-Door
Variant Comfortline Wagon 4-Door
Wolfsburg Edition Sedan 4-Door
2.0L l4 SOHC
1.8L l4 DOHC Turbocharged
2.8L V6 DOHC
1.9L l4 DIESEL SOHC Turbocharged
2003 Volkswagen Polo
Comfortline Hatchback 4-Door
1.6L l4 SOHC
2004 Aston Martin DB7
GT Coupe 2-Door
6.0L V12 DOHC
2004 Audi Allroad Quattro
Base Wagon 4-Door
2.7L V6 DOHC Turbocharged
2004 Avanti II
Base Convertible 2-Door
5.7L V8 OHV
2004 Buick Park Avenue
Base Sedan 4-Door
3.8L V6 OHV
2004 Chevrolet Avalanche 2500
Base Crew Cab Pickup 4-Door
8.1L V8 OHV
2004 Chevrolet C3500
Base Standard Cab Pickup 2-Door
5.7L V8 OHV
2004 Chevrolet Cargo Van
Base Standard Cargo Van 3-Door
4.3L V6 OHV
2004 Chevrolet Venture
Base Mini Passenger Van 4-Door
3.4L V6 OHV
2004 Chrysler 300M
Base Sedan 4-Door
3.5L V6 SOHC
2004 Chrysler Intrepid
Base Sedan 4-Door
2.7L V6 DOHC
2004 Ford Expedition
NBX Sport Utility 4-Door
5.4L V8 SOHC
2004 Ford F-150 Heritage
SVT Lightning Standard Cab Pickup 2-Door
5.4L V8 SOHC Supercharged
2004 Ford Fiesta
First Hatchback 4-Door
1.6L l4 SOHC
2004 Ford Focus
SE Wagon 4-Door
ZTW Wagon 4-Door
2.0L l4 DOHC
2.3L l4 DOHC
2004 Honda Odyssey
EX Mini Passenger Van 5-Door
3.5L V6 SOHC
2004 Honda Pilot
EX Sport Utility 4-Door
3.5L V6 SOHC
2004 IC Corporation 1652 SC
Base Stripped Chassis - Incomplete
7.3L V8 DIESEL Turbocharged
2004 Infiniti I35
Base Sedan 4-Door
3.5L V6 DOHC
2004 Isuzu Axiom
S Sport Utility 4-Door
3.5L V6 DOHC
2004 Isuzu Rodeo
S Sport Utility 4-Door
3.2L V6 DOHC
2004 Kia Optima
LX Sedan 4-Door
2.4L l4 DOHC
2004 Maserati 4200
CC Coupe 2-Door
4.2L V8 DOHC Turbocharged
2004 Mitsubishi Diamante
ES Sedan 4-Door
3.5L V6 SOHC
2004 Mitsubishi Fuso FG
FG639
3.9L l4 DIESEL Turbocharged
2004 New Flyer D35
Base Bus (Non School) - Cab Forward
8.5L l4 DIESEL Turbo/Aftercooled
2004 Nissan Murano
SE Sport Utility 4-Door
3.5L V6 DOHC
2004 Seagrave Fire Apparatus J
Base Fire Truck - Cab Forward
12.7L l6 DIESEL Turbo/Aftercooled
2004 Smart City-Coupe
Brabus Coupe 2-Door
0.7L l3 SOHC Turbocharged
2004 Toyota Sienna
LE Mini Passenger Van 4-Door
3.3L V6 DOHC
2004 Volkswagen Sedan
Base Coupe 2-Door
1.6L H4 OHV
2005 Acura EL
Base Sedan 4-Door
1.7L l4 SOHC
2005 Acura NSX
Base Coupe 2-Door
3.0L V6 DOHC
2005 BMW 545i
Base Sedan 4-Door
4.4L V8 DOHC
2005 BMW 745Li
Base Sedan 4-Door
4.4L V8 DOHC
2005 Buick Century
Special Edition Sedan 4-Door
3.1L V6 OHV
2005 Buick LeSabre
Custom Sedan 4-Door
3.8L V6 OHV
2005 Chevrolet Astro
Base Extended Cargo Van 3-Door
4.3L V6 OHV
2005 Chevrolet Blazer
Base Sport Utility 2-Door
4.3L V6 OHV
2005 Chevrolet Cavalier
LS Coupe 2-Door
2.2L l4 DOHC
2005 Chevrolet Chevy
Base Hatchback 2-Door
1.6L l4 SOHC
2005 Chevrolet Trailblazer EXT
LS Sport Utility 4-Door
4.2L l6 DOHC
2005 Ford E-150 Club Wagon
Chateau Standard Passenger Van 2-Door
4.6L V8 SOHC
2005 Ford Excursion
Eddie Bauer Sport Utility 4-Door
5.4L V8 SOHC
2005 Ford Expedition
Limited Sport Utility 4-Door
5.4L V8 SOHC
2005 Ford Fiesta
Trend Hatchback 4-Door
1.6L l4 SOHC
2005 Ford Focus
SE Tipico Sedan 4-Door
2.0L l4 DOHC
2005 Honda CR-V
LX Sport Utility 4-Door
2.4L l4 DOHC
2005 Hyundai Santa Fe
Base Sport Utility 4-Door
2.7L V6 DOHC
2005 Hyundai XG350
Base Sedan 4-Door
3.5L V6 DOHC
2005 Kia Optima
EX Sedan 4-Door
LX Sedan 4-Door
2.4L l4 DOHC
2.7L V6 DOHC
2005 Mack CH
CH600K Gliders - Medium Conventional
--
2005 Mazda Miata
Base Convertible 2-Door
1.8L l4 DOHC
2005 Neoplan Advanced DSN
Base Bus (Non School) - Cab Forward
8.8L l6 DIESEL Turbocharged
2005 Nissan Almera
Comfort Hatchback 4-Door
1.8L l4 DOHC
2005 Smart Cabrio
Passion Convertible 2-Door
0.7L l3 SOHC Turbocharged
2005 SsangYong Rexton
RX 320 Sport Utility 4-Door
3.2L l6 DOHC
2005 Subaru Forester
XS Wagon 4-Door
XT Wagon 4-Door
2.5L H4 SOHC
2.5L H4 DOHC Turbocharged
2005 Toyota Avalon
Limited Sedan 4-Door
3.5L V6 DOHC
2005 Toyota Celica
GT Hatchback 2-Door
1.8L l4 DOHC
2005 Toyota Corolla
XRS Sedan 4-Door
1.8L l4 DOHC
2005 Toyota Tundra
Base Standard Cab Pickup 2-Door
SR5 Extended Cab Pickup 4-Door
4.0L V6 DOHC
4.7L V8 DOHC
2005 Volkswagen Jetta
2.5 Sedan 4-Door
Trendline Sedan 4-Door
Sportline Sedan 4-Door
GL Sedan 4-Door
GLS TDI Wagon 4-Door
GL TDI Wagon 4-Door
GL Wagon 4-Door
GLI Sedan 4-Door
GLS Sedan 4-Door
GLS TDI Sedan 4-Door
GLS Wagon 4-Door
Limited Edition Sedan 4-Door
Special Edition Sedan 4-Door
2.5L l5 DOHC
2.0L l4 SOHC
1.8L l4 DOHC Turbocharged
1.9L l4 DIESEL SOHC Turbocharged
2006 Acura RSX
Base Coupe 2-Door
2.0L l4 DOHC
2006 Advance Mixer Advance Mixer
Base Straight Truck - Half Cab
-- DIESEL
2006 BMW 325xi
Base Sedan 4-Door
3.0L l6 DOHC
2006 BMW 330Ci
Base Convertible 2-Door
3.0L l6 DOHC
2006 BMW 330xi
Base Sedan 4-Door
3.0L l6 DOHC
2006 Chevrolet Astra
Elegance Sedan 4-Door
2.0L l4 DOHC
2006 Chevrolet Avalanche 1500
Base Crew Cab Pickup 4-Door
5.3L V8 FLEX OHV
2006 Chevrolet Chevy
Comfort Hatchback 4-Door
Base Hatchback 4-Door
Comfort Hatchback 2-Door
1.6L l4 SOHC
2006 Chevrolet Epica
LTZ Sedan 4-Door
2.5L l6 DOHC
2006 El Dorado E-Z Rider II
Low Floor Bus (Non School) - Cab Forward
8.9L l6 DIESEL Turbocharged
2006 Ford Econoline
Base Standard Cargo Van 3-Door
4.6L V8 SOHC
2006 Ford Expedition
XLT Sport Utility 4-Door
XLT Sport Sport Utility 4-Door
5.4L V8 SOHC
2006 Ford Focus
ZXW Wagon 5-Door
2.0L l4 DOHC
2006 Ford GT
Base Coupe 2-Door
5.4L V8 DOHC Supercharged
2006 Honda Accord
EX Coupe 2-Door
2.4L l4 DOHC
2006 Honda Pilot
EX Sport Utility 4-Door
3.5L V6 SOHC
2006 Hyundai Santa Fe
GL Sport Utility 4-Door
2.4L l4 DOHC
2006 Hyundai Tucson
GL Sport Utility 4-Door
2.0L l4 DOHC
2006 Infiniti Q45
Base Sedan 4-Door
4.5L V8 DOHC
2006 Jeep Wrangler
65th Anniversary Edition Sport Utility 2-Door
4.0L l6 OHV
2006 Kia Optima
LX Sedan 4-Door
2.7L V6 DOHC
2006 Land Rover Freelander
S Sport Utility 4-Door
2.5L V6 DOHC
2006 Porsche Carrera GT
Base Coupe 2-Door
5.7L V10 DOHC
2006 Saleen S7
Twin Turbo Coupe 2-Door
7.0L V8 OHV Turbocharged
2006 Subaru Forester
X Wagon 4-Door
XT Limited Wagon 4-Door
2.5L H4 SOHC
2.5L H4 DOHC Turbocharged
2006 Subaru Impreza
2.5i Sedan 4-Door
2.5L H4 SOHC
2006 Suzuki Verona
Base Sedan 4-Door
2.5L l6 DOHC
2006 Toyota Avalon
XLS Sedan 4-Door
3.5L V6 DOHC
2006 Toyota Corolla
CE Sedan 4-Door
1.8L l4 DOHC
2006 Toyota Sienna
CE Mini Passenger Van 5-Door
3.3L V6 DOHC
2006 Unimog 3350
Base Straight Truck - Low Tilt
6.4L l6 DIESEL Turbocharged
2006 Volkswagen Bora
Turbo Sedan 4-Door
Exclusive Sedan 4-Door
Style Sedan 4-Door
2.5L l5 DOHC
2006 Volkswagen GTI
Base Hatchback 2-Door
2.0L l4 DOHC Turbocharged
2006 Volkswagen Jetta
GLI Sedan 4-Door
2.5 Sedan 4-Door
Winter 2 Sedan 4-Door
Soccer 1 Sedan 4-Door
Soccer 2 Sedan 4-Door
TDI Sedan 4-Door
TDI Wagon 4-Door
Trendline Sedan 4-Door
Winter 1 Sedan 4-Door
2.0L l4 DOHC Turbocharged
2.5L l5 DOHC
2.0L l4 SOHC
1.9L l4 DIESEL SOHC Turbocharged
1.9L l4 DIESEL Turbocharged
2006 Volkswagen Phaeton
V8 Sedan 4-Door
W12 Sedan 4-Door
4.2L V8 DOHC
6.0L W12 DOHC
2006 Volkswagen Touareg
Base Sport Utility 4-Door
3.2L V6 DOHC
2007 Avanti Avanti
Base Convertible 2-Door
4.6L V8 SOHC
2007 BMW 330i
Base Sedan 4-Door
3.0L l6 DOHC Turbocharged
2007 BMW 525xi
Base Sedan 4-Door
3.0L l6 DOHC
2007 BMW 530xi
Base Sedan 4-Door
3.0L l6 DOHC
2007 Buick Rendezvous
CX Sport Utility 4-Door
3.5L V6 OHV
2007 Buick Terraza
CX Mini Passenger Van 4-Door
3.9L V6 FLEX OHV
2007 Chevrolet Chevy
S Hatchback 4-Door
Comfort Hatchback 2-Door
1.6L l4 SOHC
2007 Chevrolet Corsa
Base Sedan 4-Door
1.8L l4 SOHC
2007 Chevrolet Equinox
LS Sport Utility 4-Door
3.4L V6 OHV
2007 Chevrolet Monte Carlo
LT Coupe 2-Door
3.5L V6 FLEX OHV
2007 Chevrolet Vectra
Base Sedan 4-Door
2.8L V6 DOHC Turbocharged
2007 Ford E-350 Econoline
Base Standard Cargo Van 2-Door
5.4L V8 SOHC
2007 Ford Edge
SEL Plus Sport Utility 4-Door
3.5L V6 DOHC
2007 Ford Expedition
XLT Sport Utility 4-Door
5.4L V8 SOHC
2007 Ford Focus
SE Wagon 5-Door
Sport Sedan 4-Door
ST Sedan 4-Door
2.0L l4 DOHC
2.5L l5 DOHC Turbocharged
2007 Ford Ikon
Base Sedan 4-Door
1.6L l4 SOHC
2007 Ford Ka
Base Hatchback 2-Door
1.6L l4 SOHC
2007 Ford Mondeo
Ghia Sedan 4-Door
2.5L V6 DOHC
2007 Foton Forland
3500S Standard Cab Pickup 2-Door
3.4L l4 DIESEL Turbocharged
2007 Honda Civic
EX Coupe 2-Door
1.8L l4 SOHC
2007 Honda Odyssey
EX Mini Passenger Van 4-Door
3.5L V6 SOHC
2007 Honda Pilot
EX Sport Utility 4-Door
3.5L V6 SOHC
2007 Hyundai Santa Fe
GLS Sport Utility 4-Door
2.7L V6 DOHC
2007 Indiana Phoenix 10.5 Yard
Base Straight Truck - Half Cab
10.8L l6 DIESEL Turbocharged
2007 Lexus LX470
Base Sport Utility 4-Door
4.7L V8 DOHC
2007 Mack CT
CT700 Straight Truck - Medium Conventional
11.9L -6 DIESEL
2007 Maserati Coupe
Cambiocorsa Coupe 2-Door
4.2L V8 DOHC
2007 Nissan Murano
S Sport Utility 4-Door
3.5L V6 DOHC
2007 Nissan Pathfinder
LE Luxury Sport Utility 4-Door
4.0L V6 DOHC
2007 Oshkosh Motor Truck Co. Highland
Base Straight Truck - Long Conventional
10.8L l6 DIESEL Turbocharged
2007 Subaru Forester
X Wagon 4-Door
XT Limited Wagon 4-Door
2.5L H4 SOHC
2.5L H4 DOHC Turbocharged
2007 Subaru Impreza
2.5i Sedan 4-Door
2.5L H4 SOHC
2007 Subaru Legacy
GT Sedan 4-Door
2.5L H4 DOHC Turbocharged
2007 Toyota Corolla
CE Sedan 4-Door
1.8L l4 DOHC
2007 Toyota Tundra
SR5 Standard Cab Pickup 2-Door
4.7L V8 DOHC
2007 Volkswagen Bora
Active Sedan 4-Door
2.5L l5 DOHC
2007 Volkswagen Eos
Base Convertible 2-Door
2.0L l4 DOHC Turbocharged
2007 Volkswagen Jetta
Trendline Sedan 4-Door
GLI Sedan 4-Door
TDI Sedan 4-Door
Wolfsburg Edition Sedan 4-Door
2.0L l4 SOHC
2.0L l4 DOHC Turbocharged
1.9L l4 DIESEL DOHC Turbocharged
2.5L l5 DOHC
2007 Volkswagen Pointer Truck
Base Standard Cab Pickup 2-Door
1.8L l4 SOHC
2008 Audi RS4
Base Sedan 4-Door
4.2L V8 DOHC
2008 BMW 328xi
Base Coupe 2-Door
3.0L l6 DOHC
2008 BMW 335xi
Base Coupe 2-Door
3.0L l6 DOHC Turbocharged
2008 BMW 528xi
Base Sedan 4-Door
3.0L l6 DOHC
2008 BMW 535xi
Base Sedan 4-Door
3.0L l6 DOHC Turbocharged
2008 Bentley Arnage
T Sedan 4-Door
6.8L V8 OHV Turbocharged
2008 Chevrolet Chevy
Base Hatchback 2-Door
1.6L l4 SOHC
2008 Chevrolet Meriva
Monocab Hatchback 4-Door
1.8L l4 DOHC
2008 Chevrolet T6500
T6F042
7.8L l6 DIESEL Turbocharged
2008 Chevrolet Tracker
Base Sport Utility 4-Door
2.0L l4 DOHC
2008 Chrysler Pacifica
LX Sport Utility 4-Door
4.0L V6 SOHC
2008 Chrysler Voyager
Base Mini Passenger Van 4-Door
3.3L V6 OHV
2008 Country Coach Motorhome Affinity
Base Motor Home - Cab Forward
12.5L -6 DIESEL
2008 FAW F1
Basico Sedan 4-Door
1.0L l3 DOHC
2008 FAW F4
Lujo SL Sedan 4-Door
1.4L l4 DOHC
2008 Ford Expedition
EL Limited Sport Utility 4-Door
5.4L V8 SOHC
2008 Ford Focus
Ambiente Sedan 4-Door
SES Sedan 4-Door
2.0L l4 DOHC
2008 Ford Mustang
Shelby GT Convertible 2-Door
GT Equipado Convertible 2-Door
4.6L V8 SOHC
2008 Honda Accord
EX Coupe 2-Door
2.4L l4 DOHC
2008 Honda Odyssey
EX-L Mini Passenger Van 4-Door
3.5L V6 SOHC
2008 Honda Pilot
EX Sport Utility 4-Door
3.5L V6 SOHC
2008 Hyundai Santa Fe
GL Sport Utility 4-Door
2.7L V6 DOHC
2008 Hyundai Tiburon
GS Coupe 2-Door
2.0L l4 DOHC
2008 Hyundai Tucson
GL Sport Utility 4-Door
Limited Sport Utility 4-Door
2.0L l4 DOHC
2.7L V6 DOHC
2008 Infiniti FX45
Base Sport Utility 4-Door
4.5L V8 DOHC
2008 Infiniti G35
Base Sedan 4-Door
3.5L V6 DOHC
2008 Isuzu Ascender
S Sport Utility 4-Door
4.2L l6 DOHC
2008 Nissan Cabstar E
Base Standard Cab Pickup 2-Door
2.5L l4 DIESEL DOHC Turbocharged
2008 Nissan Pathfinder
LE Luxury Sport Utility 4-Door
4.0L V6 DOHC
2008 Saturn Astra
XE Hatchback 4-Door
1.8L l4 DOHC
2008 Subaru Forester
X Wagon 4-Door
2.5 XS Wagon 4-Door
XT Limited Wagon 4-Door
Sports 2.5 XT Wagon 4-Door
X L.L. Bean Edition Wagon 4-Door
2.5L H4 SOHC
2.5L H4 DOHC Turbocharged
2008 Subaru Impreza
2.0R Sedan 4-Door
2.0L H4 DOHC
2008 Suzuki Forenza
Base Sedan 4-Door
2.0L l4 DOHC
2008 Toyota Avalon
Touring Sedan 4-Door
3.5L V6 DOHC
2008 Toyota Sienna
XLE Mini Passenger Van 5-Door
3.5L V6 DOHC
2008 Toyota Solara
SE Convertible 2-Door
2.4L l4 DOHC
2008 Volkswagen Bora
Style Sedan 4-Door
Sport Sedan 4-Door
TDI Sedan 4-Door
2.5L l5 DOHC
1.9L l4 DIESEL DOHC Turbocharged
2008 Volkswagen Jetta
Wolfsburg Edition Sedan 4-Door
2.0L l4 DOHC Turbocharged
2008 Volkswagen R32
Base Hatchback 2-Door
3.2L V6 DOHC
2008 Volkswagen Sharan
Comfortline Mini Passenger Van 4-Door
1.8L l4 DOHC Turbocharged
2008 Western RV Alpine
Base Motor Home - Cab Forward
8.9L l6 DIESEL Turbocharged
2008 Workhorse Custom Chassis R26
Base Motor Home - Stripped Chassis
8.1L V8 OHV
2009 American LaFrance Metropolitan
Base Straight Truck - Low Tilt
8.9L l6 DIESEL Turbocharged
2009 Bentley Azure
Base Convertible 2-Door
6.8L V8 OHV Turbocharged
2009 Bus & Coach Intl (BCI) Falcon 45
Base Bus (Non School) - Cab Forward
-- DIESEL
2009 Chevrolet C7500 Kodiak
C7C042 Straight Truck - Medium Conventional
7.2L l6 DIESEL Turbocharged
2009 Chevrolet C8500
C8C042 Straight Truck - Medium Conventional
7.8L l6 DIESEL Turbocharged
2009 Chevrolet Cobalt
LT Coupe 2-Door
LS Sedan 4-Door
SS Sedan 4-Door
2.2L l4 DOHC
2.0L l4 DOHC Turbocharged
2009 Chevrolet Equinox
LS Sport Utility 4-Door
3.4L V6 OHV
2009 Chevrolet Uplander
Base Mini Cargo Van 4-Door
3.9L V6 FLEX OHV
2009 Chevrolet W5500HD Tiltmaster
W5S042
5.2L l4 DIESEL Turbocharged
2009 Ford Expedition
XLT Sport Utility 4-Door
5.4L V8 FLEX SOHC
2009 Ford Fiesta
First Sedan 4-Door
1.6L l4 SOHC
2009 Ford Focus
SE Sedan 4-Door
Sport Sedan 4-Door
2.0L l4 DOHC
2009 Ford Mustang
Base Coupe 2-Door
GT Equipado Convertible 2-Door
Shelby Coupe 2-Door
4.0L V6 SOHC
4.6L V8 SOHC
5.4L V8 DOHC Supercharged
2009 Ford Taurus X
Eddie Bauer Wagon 4-Door
3.5L V6 DOHC
2009 Honda Accord
EX Coupe 2-Door
2.4L l4 DOHC
2009 Honda Civic
DX Coupe 2-Door
1.8L l4 SOHC
2009 Honda S2000
Base Convertible 2-Door
2.2L l4 DOHC
2009 Hummer H2
Adventure Crew Cab Pickup 4-Door
6.2L V8 FLEX OHV
2009 Hyundai Santa Fe
GLS Sport Utility 4-Door
GL Sport Utility 4-Door
2.7L V6 DOHC
3.3L V6 DOHC
2009 Kia Amanti
Luxury Sedan 4-Door
3.8L V6 DOHC
2009 Kia Magentis
LX Premium Sedan 4-Door
2.4L l4 DOHC
2009 Kia Spectra5
LX Hatchback 4-Door
2.0L l4 DOHC
2009 Land Rover LR3
HSE Lux Sport Utility 4-Door
4.4L V8 DOHC
2009 Lotus Exige
S 240 Coupe 2-Door
1.8L l4 DOHC Supercharged
2009 Mazda Tribute
i Sport Utility 4-Door
2.5L l4 DOHC
2009 Nissan 350Z
Touring Convertible 2-Door
3.5L V6 DOHC
2009 Subaru Forester
XT Limited Wagon 4-Door
2.5L H4 DOHC Turbocharged
2009 Toyota Avalon
XLS Sedan 4-Door
3.5L V6 DOHC
2009 Toyota Tundra
Platinum Crew Cab Pickup 4-Door
SR5 Extended Crew Cab Pickup 4-Door
5.7L V8 DOHC
5.7L V8 FLEX DOHC
2009 Volkswagen Eos
Komfort Convertible 2-Door
2.0L l4 DOHC Turbocharged
2009 Volkswagen EuroVan
Base Mini Passenger Van 4-Door
1.9L l4 DIESEL Turbocharged
2009 Volkswagen Jetta City
Base Sedan 4-Door
2.0L l4 SOHC
2009 Volkswagen Lupo
Trendline Hatchback 4-Door
1.6L l4 SOHC
2009 Volkswagen Passat CC
Sportline Sedan 4-Door
2.0L l4 DOHC Turbocharged
2009 Volkswagen Pointer
Trendline Hatchback 4-Door
Base Hatchback 4-Door
GT BT Hatchback 2-Door
GT BT Hatchback 4-Door
Trendline Hatchback 2-Door
1.8L l4 SOHC
2009 Volkswagen Van
Base Mini Passenger Van 3-Door
1.8L l4 SOHC
2010 Audi RS6
Avant Wagon 4-Door
5.0L V10 DOHC Turbocharged
2010 BMW 130i
Base Hatchback 2-Door
3.0L l6 DOHC
2010 Capacity Of Texas Phett
Hybrid Tractor Truck - Half Cab
--
2010 Chevrolet Equinox
LS Sport Utility 4-Door
2.4L l4 DOHC
2010 Chevrolet HHR
LS Panel Wagon 2-Door
2.2L l4 FLEX DOHC
2010 Chevrolet W4500 Tiltmaster
W4S042 Straight Truck - Low Tilt
5.2L l4 DIESEL Turbocharged
2010 Ford Edge
Sport Sport Utility 4-Door
3.5L V6 DOHC
2010 Ford Explorer Sport Trac
Base Crew Cab Pickup 4-Door
4.6L V8 SOHC
2010 Ford Fiesta
First Sedan 4-Door
1.6L l4 SOHC
2010 Ford Focus
SE Coupe 2-Door
ST Sedan 4-Door
2.0L l4 DOHC
2.5L l5 DOHC Turbocharged
2010 Ford Mustang
Base Convertible 2-Door
Shelby GT500 Convertible 2-Door
4.0L V6 SOHC
5.4L V8 DOHC Supercharged
2010 Honda Accord
EX-L Sedan 4-Door
EX Sedan 4-Door
2.4L l4 DOHC
3.5L V6 SOHC
3.5L V6 SOHC
2010 Honda CR-V
EX Sport Utility 4-Door
2.4L l4 DOHC
2010 Honda Fit
LX Hatchback 4-Door
1.5L l4 SOHC
2010 Honda Insight
LX Hatchback 4-Door
1.3L l4 ELECTRIC/ SOHC
2010 Honda Pilot
EXL Sport Utility 4-Door
3.5L V6 SOHC
2010 Hummer H3
Adventure Sport Utility 4-Door
3.7L l5 DOHC
2010 Hummer H3T
Adventure Crew Cab Pickup 4-Door
3.7L l5 DOHC
2010 Hyundai Accent
Blue Hatchback 2-Door
1.6L l4 DOHC
2010 Hyundai Elantra
Blue Sedan 4-Door
2.0L l4 DOHC
2010 Hyundai Entourage
L Mini Passenger Van 4-Door
3.8L V6 DOHC
2010 Infiniti QX56
Base Sport Utility 4-Door
5.6L V8 DOHC
2010 Jeep Wrangler
Islander Sport Utility 2-Door
3.8L V6 OHV
2010 Kia Optima
EX Sedan 4-Door
LX Sedan 4-Door
2.4L l4 DOHC
2.7L V6 DOHC
2010 Nissan Aprio
Base Sedan 4-Door
1.6L l4 DOHC
2010 Nissan Murano
LE Sport Utility 4-Door
3.5L V6 DOHC
2010 Nissan Pathfinder
S Sport Utility 4-Door
4.0L V6 DOHC
2010 Subaru Forester
X Premium Wagon 4-Door
XT Sports Wagon 4-Door
2.5L H4 SOHC
2.5L H4 DOHC Turbocharged
2010 Subaru Outback
2.5i Limited Wagon 4-Door
3.6R Premium Wagon 4-Door
2.5L H4 SOHC
3.6L H6 DOHC
2010 Tesla Roadster
Base Convertible 2-Door
ELECTRIC
2010 Toyota Avalon
XLS Sedan 4-Door
3.5L V6 DOHC
2010 Toyota Yaris
Base Sedan 4-Door
Base Hatchback 4-Door
Premium Hatchback 4-Door
Core Hatchback 4-Door
Core Sedan 4-Door
1.5L l4 DOHC
1.5L l4 DOHC
2010 Volkswagen GLI
GLI Sedan 4-Door
2.0L l4 DOHC Turbocharged
2010 Volkswagen Golf City
Base Hatchback 4-Door
2.0L l4 SOHC
2010 Volkswagen Jetta
Wolfsburg Edition Sedan 4-Door
2.0L l4 DOHC Turbocharged
2010 Volkswagen Passat CC
Highline Sedan 4-Door
Highline V6 Sedan 4-Door
2.0L l4 DOHC Turbocharged
3.6L V6 DOHC
2010 Volkswagen SportVan
Comfortline Mini Passenger Van 4-Door
1.6L l4 SOHC
2011 Aston Martin One-77
Base Coupe 2-Door
7.3L V12 DOHC
2011 BMW 1 Series M
Base Coupe 2-Door
3.0L l6 DOHC Turbocharged
2011 BMW 323i
Base Sedan 4-Door
2.5L l6 DOHC
2011 BMW 650Ci
Base Convertible 2-Door
4.8L V8 DOHC
2011 Chevrolet Aveo5
LS Hatchback 4-Door
1.6L l4 DOHC
2011 Chevrolet Chevy
Base Sedan 4-Door
1.6L l4 SOHC
2011 Chevrolet Malibu
LT Sedan 4-Door
LTZ Sedan 4-Door
3.6L V6 DOHC
2.4L l4 FLEX DOHC
3.6L V6 DOHC
2011 Ford Crown Victoria
Base Sedan 4-Door
4.6L V8 FLEX SOHC
2011 Ford Expedition
XLT Sport Utility 4-Door
King Ranch Sport Utility 4-Door
Limited Sport Utility 4-Door
5.4L V8 FLEX SOHC
2011 Ford Explorer
Limited Sport Utility 4-Door
3.5L V6 DOHC
2011 Ford Fiesta
SES Hatchback 4-Door
1.6L l4 DOHC
2011 Ford Focus Europa
Ambiente Sedan 4-Door
2.0L l4 DOHC
2011 Honda Accord
EX Coupe 2-Door
LX-P Sedan 4-Door
LX Sedan 4-Door
3.5L V6 SOHC
2.4L l4 DOHC
2.4L l4 DOHC
2011 Honda Accord Crosstour
EX Hatchback 4-Door
3.5L V6 SOHC
2011 Honda CR-V
EX Sport Utility 4-Door
SE Sport Utility 4-Door
2.4L l4 DOHC
2.4L l4 DOHC
2011 Honda Civic
LX Coupe 2-Door
DX-G Coupe 2-Door
LX Sedan 4-Door
EX Sedan 4-Door
EX-L Coupe 2-Door
EX-L Sedan 4-Door
GX Sedan 4-Door
Hybrid-L Sedan 4-Door
Si Sedan 4-Door
1.8L l4 SOHC
1.8L l4 SOHC
1.8L l4 CNG SOHC
1.3L l4 ELECTRIC/ SOHC
2.0L l4 DOHC
2011 Honda Element
EX Sport Utility 4-Door
2.4L l4 DOHC
2011 Honda Insight
EX Hatchback 4-Door
1.3L l4 ELECTRIC/ SOHC
2011 Honda Odyssey
EX Mini Passenger Van 4-Door
EXL Mini Passenger Van 4-Door
3.5L V6 SOHC
3.5L V6 SOHC
2011 Hyundai Tucson
GL Sport Utility 4-Door
2.0L l4 DOHC
2011 Kia Borrego
EX Sport Utility 4-Door
3.8L V6 DOHC
2011 Kia Rio5
EX Convenience Hatchback 4-Door
1.6L l4 DOHC
2011 Kia Soul
2u Hatchback 4-Door
2.0L l4 DOHC
2011 Mazda RX-8
Sport Coupe 4-Door
1.3L R2
2011 Nissan Murano
SL Sport Utility 4-Door
3.5L V6 DOHC
2011 Nissan Rogue
SL Sport Utility 4-Door
2.5L l4 DOHC
2011 Saab 9-5
Turbo6 Sedan 4-Door
2.8L V6 DOHC Turbocharged
2011 Subaru Forester
XT Touring Wagon 4-Door
2.5L H4 DOHC Turbocharged
2011 Toyota Camry
Hybrid Sedan 4-Door
2.4L l4 ELECTRIC/ DOHC
2011 Toyota Corolla
S Sedan 4-Door
XRS Sedan 4-Door
1.8L l4 DOHC
2.4L l4 DOHC
2011 Volkswagen Beetle Cabrio
Base Convertible 2-Door
2.5L l5 DOHC
2011 Volkswagen Passat CC
CC Sedan 4-Door
2.0L l4 DOHC Turbocharged
2012 Acura RL
Base Sedan 4-Door
3.7L V6 SOHC
2012 Alfa Romeo 159
Sport Plus Sedan 4-Door
2.2L l4 DOHC
2012 American LaFrance ALF Eagle
Base Straight Truck - Low Tilt
8.9L l6 DIESEL Turbocharged
2012 Aston Martin DBS
Base Coupe 2-Door
6.0L V12 DOHC
2012 Aston Martin Virage
Base Coupe 2-Door
6.0L V12 DOHC
2012 Chevrolet Chevy
Base Hatchback 2-Door
1.6L l4 SOHC
2012 Chevrolet Equinox
LS Sport Utility 4-Door
LT Sport Utility 4-Door
2.4L l4 FLEX DOHC
2.4L l4 DOHC
2012 Chevrolet Malibu
LTZ Sedan 4-Door
2.4L l4 DOHC
3.6L V6 DOHC
2012 Dodge Attitude
GLS Sedan 4-Door
1.4L l4 DOHC
1.6L l4 DOHC
2012 Fisker Karma
EcoStandard Sedan 4-Door
2.0L l4 ELECTRIC/ DOHC Turbocharged
2012 Ford Courier
L Standard Cab Pickup 2-Door
1.6L l4 SOHC
2012 Ford Expedition
Max Limited Sport Utility 4-Door
Limited Sport Utility 4-Door
5.4L V8 FLEX SOHC
2012 Ford Fiesta
SE Sedan 4-Door
SE Hatchback 4-Door
1.6L l4 DOHC
2012 Ford Focus
Titanium Sedan 4-Door
SE Sedan 4-Door
2.0L l4 FLEX DOHC
2.0L l4 DOHC
2012 Ford Mustang
Base Coupe 2-Door
Boss 302 Coupe 2-Door
Shelby Convertible 2-Door
3.7L V6 DOHC
5.0L V8 DOHC
5.4L V8 DOHC Supercharged
2012 Honda Accord
LX Sedan 4-Door
LX-P Sedan 4-Door
EX Sedan 4-Door
EX-L Sedan 4-Door
2.4L l4 DOHC
2.4L l4 DOHC
3.5L V6 SOHC
3.5L V6 SOHC
2012 Honda CR-V
EX Sport Utility 4-Door
2.4L l4 DOHC
2012 Honda Civic
Base Sedan 4-Door
LX Sedan 4-Door
EX-L Sedan 4-Door
Hybrid Sedan 4-Door
LX Coupe 2-Door
1.5L l4 ELECTRIC SOHC
1.8L l4 SOHC
1.8L l4 SOHC
1.5L l4 ELECTRIC/ SOHC
2012 Honda Insight
EX Hatchback 4-Door
1.3L l4 ELECTRIC/ SOHC
2012 Honda Odyssey
Touring Mini Passenger Van 4-Door
LX Mini Passenger Van 4-Door
3.5L V6 SOHC
2012 Honda Pilot
EX-L Sport Utility 4-Door
3.5L V6 SOHC
2012 Hyundai Accent
GL Hatchback 4-Door
1.6L l4 DOHC
2012 Hyundai Santa Fe
GL Premium Sport Utility 4-Door
2.4L l4 DOHC
2012 Hyundai Tucson
GL Sport Utility 4-Door
Limited Sport Utility 4-Door
2.0L l4 DOHC
2.4L l4 DOHC
2012 Hyundai Veracruz
GL Sport Utility 4-Door
3.8L V6 DOHC
2012 Infiniti FX35
Base Sport Utility 4-Door
3.5L V6 DOHC
2012 Infiniti G25
Base Sedan 4-Door
2.5L V6 DOHC
2012 Infiniti M37
Base Sedan 4-Door
3.7L V6 DOHC
2012 Infiniti M56
Base Sedan 4-Door
5.6L V8 DOHC
2012 Infiniti QX56
Base Sport Utility 4-Door
5.6L V8 DOHC
2012 Jeep Wrangler
Unlimited Rubicon Sport Utility 4-Door
Unlimited Mountain Sport Utility 4-Door
3.6L V6 DOHC
2012 Kia Optima
EX Sedan 4-Door
2.0L l4 DOHC Turbocharged
2012 Kia Soul
2u Hatchback 4-Door
2.0L l4 DOHC
2012 Maybach 62
Base Sedan 4-Door
5.5L V12 SOHC Turbocharged
2012 Nissan Murano
SV Sport Utility 4-Door
3.5L V6 DOHC
2012 Nissan Pathfinder
SV Sport Utility 4-Door
S Sport Utility 4-Door
4.0L V6 DOHC
2012 Nissan Rogue
SV Sport Utility 4-Door
2.5L l4 DOHC
2012 Nissan Sentra
SL Sedan 4-Door
2.0L l4 DOHC
2012 Nissan Versa
1.6 S Sedan 4-Door
Advance Sedan 4-Door
1.6L l4 DOHC
1.6L l4 DOHC
2012 Roadmaster Rail LF-Series
MH / 216-230 WB Stripped Chassis - Incomplete
11.1L -6 DIESEL
2012 Subaru Legacy
3.6R Sedan 4-Door
3.6L H6 DOHC
2012 Subaru Outback
2.5i Touring Wagon 4-Door
3.6R Premium Wagon 4-Door
Base Wagon 4-Door
2.5L H4 SOHC
3.6L H6 DOHC
3.6L H6 DOHC
2012 Toyota Avalon
Base Sedan 4-Door
3.5L V6 DOHC
2012 Toyota Camry
Hybrid LE Sedan 4-Door
2.5L l4 ELECTRIC/ DOHC
2012 Toyota Corolla
CE Sedan 4-Door
XRS Sedan 4-Door
1.8L l4 DOHC
2.4L l4 DOHC
2012 Toyota Yaris
LE Hatchback 2-Door
L Hatchback 2-Door
Premium Sedan 4-Door
1.5L l4 DOHC
1.5L l4 DOHC
2012 VPG MV-1
Deluxe Standard Passenger Van 4-Door
Base Standard Passenger Van 4-Door
4.6L V8 CNG SOHC
4.6L V8 SOHC
2012 Volkswagen Passat CC
CC Sedan 4-Door
3.6L V6 DOHC
2013 Acura ZDX
Base Sport Utility 4-Door
3.7L V6 SOHC
2013 American LaFrance Condor
Base Straight Truck - Low Tilt
8.3L l6 DIESEL Turbocharged
2013 Audi TT
Base Convertible 2-Door
1.8L l4 DOHC Turbocharged
2013 Audi allroad
Premium Plus Wagon 4-Door
2.0L l4 FLEX DOHC Turbocharged
2013 BMW 125i
M Sport Coupe 2-Door
3.0L l6 DOHC
2013 BMW 128i
Base Convertible 2-Door
3.0L l6 DOHC
2013 BMW 135i
Base Coupe 2-Door
3.0L l6 DOHC Turbocharged
2013 BMW 135is
Base Convertible 2-Door
3.0L l6 DOHC Turbocharged
2013 BMW 335is
Base Convertible 2-Door
3.0L l6 DOHC Turbocharged
2013 BMW 530i
Top Sedan 4-Door
3.0L l6 DOHC Turbocharged
2013 Chevrolet Avalanche
Black Diamond LT Crew Cab Pickup 4-Door
5.3L V8 FLEX OHV
2013 Chevrolet Cheyenne
Cheyenne Extended Cab Pickup 4-Door
5.3L V8 OHV
2013 Chevrolet Equinox
LS Sport Utility 4-Door
2.4L l4 FLEX DOHC
2013 Chevrolet Malibu
LTZ Sedan 4-Door
2.0L l4 DOHC Turbocharged
2013 Chevrolet Suburban 1500
LT Sport Utility 4-Door
LTZ Sport Utility 4-Door
5.3L V8 OHV
5.3L V8 FLEX OHV
2013 Chevrolet Suburban 2500
LS Sport Utility 4-Door
6.0L V8 FLEX OHV
2013 Coda Sedan
Base Sedan 4-Door
ELECTRIC
2013 Ford EcoSport
SE Sport Utility 4-Door
2.0L l4 DOHC
2013 Ford Edge
SE Sport Utility 4-Door
2.0L l4 DOHC Turbocharged
2013 Ford Escape
SEL Sport Utility 4-Door
Titanium Sport Utility 4-Door
1.6L l4 DOHC Turbocharged
2.0L l4 DOHC Turbocharged
2013 Ford Expedition
XL Sport Utility 4-Door
King Ranch Sport Utility 4-Door
Limited Sport Utility 4-Door
Max Limited Sport Utility 4-Door
5.4L V8 FLEX SOHC
2013 Ford Explorer
Limited Sport Utility 4-Door
3.5L V6 DOHC
2013 Ford Focus
Electric Hatchback 4-Door
Titanium Plus Sedan 4-Door
SE Plus Sedan 4-Door
SE Sedan 4-Door
ST Hatchback 4-Door
Titanium Sedan 4-Door
ELECTRIC
2.0L l4 DOHC
2.0L l4 DOHC Turbocharged
2.0L l4 FLEX DOHC
2013 Ford Mustang
Base Coupe 2-Door
GT Coupe 2-Door
Shelby GT500 Convertible 2-Door
3.7L V6 DOHC
5.0L V8 DOHC
5.8L V8 DOHC Supercharged
2013 Honda Accord
Touring Sedan 4-Door
EX-L Coupe 2-Door
LX-S Coupe 2-Door
3.5L V6 SOHC
2.4L l4 DOHC
2013 Honda CR-V
LX Sport Utility 4-Door
EX-L Sport Utility 4-Door
2.4L l4 DOHC
2.4L l4 DOHC
2013 Honda City
LX Sedan 4-Door
1.5L l4 SOHC
2013 Honda Civic
LX Sedan 4-Door
Natural Gas Sedan 4-Door
Si Coupe 2-Door
1.8L l4 SOHC
1.8L l4 CNG SOHC
2.4L l4 DOHC
2.4L l4 DOHC
2013 Honda Fit
LX Hatchback 4-Door
1.5L l4 SOHC
2013 Honda Insight
LX Hatchback 4-Door
1.3L l4 ELECTRIC/ SOHC
2013 Honda Odyssey
LX Mini Passenger Van 4-Door
EX-L Mini Passenger Van 4-Door
Touring Mini Passenger Van 4-Door
3.5L V6 SOHC
3.5L V6 SOHC
2013 Honda Pilot
Touring Sport Utility 4-Door
LX Sport Utility 4-Door
3.5L V6 SOHC
3.5L V6 SOHC
2013 Honda Ridgeline
RTS Crew Cab Pickup 4-Door
3.5L V6 SOHC
2013 Hyundai Accent
GL Sedan 4-Door
1.6L l4 DOHC
2013 Hyundai Tucson
GL Sport Utility 4-Door
2.0L l4 DOHC
2013 Infiniti EX37
Base Sport Utility 4-Door
3.7L V6 DOHC
2013 Infiniti FX37
Base Sport Utility 4-Door
3.7L V6 DOHC
2013 Infiniti FX50
Base Sport Utility 4-Door
5.0L V8 DOHC
2013 Infiniti G37
Base Convertible 2-Door
3.7L V6 DOHC
2013 Infiniti JX35
Base Sport Utility 4-Door
3.5L V6 DOHC
2013 Infiniti M35h
Base Sedan 4-Door
3.5L V6 ELECTRIC/ DOHC
2013 Infiniti QX56
Base Sport Utility 4-Door
5.6L V8 DOHC
2013 Jeep Wrangler
Unlimited Sport Sport Utility 4-Door
Unlimited Sahara Sport Utility 4-Door
3.6L V6 DOHC
2013 Kia Forte5
EX Hatchback 4-Door
2.0L l4 DOHC
2013 Kia Optima
EX Luxury Sedan 4-Door
2.4L l4 DOHC
2013 Kia Soul
2u Hatchback 4-Door
2.0L l4 DOHC
2013 Mazda MX-5
Grand Touring Convertible 2-Door
2.0L l4 DOHC
2013 Mitsubishi Fuso Canter FE125
Base
3.0L l4 DIESEL DOHC Turbocharged
2013 Nissan Murano
S Sport Utility 4-Door
3.5L V6 DOHC
2013 Nissan Pathfinder
Advance Sport Utility 4-Door
3.5L V6 DOHC
2013 Nissan Rogue
SL Sport Utility 4-Door
2.5L l4 DOHC
2013 Nissan Sentra
S Sedan 4-Door
1.8L l4 DOHC
2013 Nissan Versa
1.6 SL Sedan 4-Door
Exclusive Sedan 4-Door
1.6L l4 DOHC
1.6L l4 DOHC
2013 Subaru Legacy
3.6R Limited Sedan 4-Door
3.6L H6 DOHC
2013 Subaru Outback
2.5i Wagon 4-Door
3.6R Limited Wagon 4-Door
Base Wagon 4-Door
2.5L H4 DOHC
3.6L H6 DOHC
3.6L H6 DOHC
2013 Suzuki SX4
Sportback Hatchback 4-Door
Crossover Hatchback 4-Door
JA Sedan 4-Door
2.0L l4 DOHC
2013 Toyota Avalon
Hybrid XLE Sedan 4-Door
XLE Sedan 4-Door
2.5L l4 ELECTRIC/ DOHC
3.5L V6 DOHC
2013 Toyota Camry
Hybrid LE Sedan 4-Door
2.5L l4 ELECTRIC/ DOHC
2013 Toyota Corolla
S Sedan 4-Door
1.8L l4 DOHC
2013 Toyota Prius
Five Hatchback 4-Door
1.8L l4 ELECTRIC/ DOHC
2013 Toyota Sienna
LE Mini Passenger Van 5-Door
3.5L V6 DOHC
2013 Toyota Yaris
LE Hatchback 4-Door
L Hatchback 4-Door
Premium Sedan 4-Door
1.5L l4 DOHC
1.5L l4 DOHC
2013 Van Hool T2100
Base Bus (Non School) - Cab Forward
11.9L -6 DIESEL
2013 Volkswagen Eos
Komfort Convertible 2-Door
2.0L l4 DOHC Turbocharged
2013 Volkswagen Gol Sedan
Trendline Sedan 4-Door
1.6L l4 SOHC
2013 Volkswagen Multivan
Base Standard Passenger Van 4-Door
2.0L l4 DIESEL DOHC Turbocharged
2013 Volkswagen Touareg
Base Sport Utility 4-Door
V6 Executive Sport Utility 4-Door
Highline Sport Utility 4-Door
TDI Sport Sport Utility 4-Door
TDI Executive Sport Utility 4-Door
TDI Lux Sport Utility 4-Door
3.0L V6 ELECTRIC/ DOHC Supercharged
3.6L V6 DOHC
4.2L V8 DOHC
3.0L V6 DIESEL DOHC Turbocharged
2014 Acura TL
Base Sedan 4-Door
3.5L V6 SOHC
2014 Acura TSX
Base Sedan 4-Door
2.4L l4 DOHC
2014 Audi A4 allroad
Base Wagon 4-Door
2.0L l4 FLEX DOHC Turbocharged
2014 Audi Q5
2.0T Sport Utility 4-Door
2.0L l4 FLEX DOHC Turbocharged
2014 BMW 235i
Base Coupe 2-Door
3.0L l6 DOHC Turbocharged
2014 BMW 550i GT
Base Hatchback 4-Door
4.4L V8 DOHC Turbocharged
2014 BMW 760Li
Base Sedan 4-Door
6.0L V12 DOHC Turbocharged
2014 BMW ActiveHybrid 7
Base Sedan 4-Door
3.0L l6 ELECTRIC/ DOHC Turbocharged
2014 BMW Alpina B7L xDrive
Base Sedan 4-Door
4.4L V8 DOHC Turbocharged
2014 BMW X5
Excellence Sport Utility 4-Door
3.0L l6 DOHC Turbocharged
2014 Capacity Of Texas TJ5000
Base Tractor Truck - Low Tilt
6.7L l6 DIESEL Turbocharged
2014 Chevrolet Aveo
LS Sedan 4-Door
1.6L l4 DOHC
2014 Chevrolet Cruze
LTZ Sedan 4-Door
LS Sedan 4-Door
LT Sedan 4-Door
1.4L l4 DOHC Turbocharged
1.8L l4 FLEX DOHC
1.8L l4 DOHC
2014 Chevrolet Equinox
LTZ Sport Utility 4-Door
2.4L l4 FLEX DOHC
2.4L l4 DOHC
2014 Chevrolet Express 1500
Base Standard Cargo Van 4-Door
LS Standard Passenger Van 3-Door
4.3L V6 OHV
5.3L V8 FLEX OHV
2014 Chevrolet Express Cargo
Base Standard Cargo Van 4-Door
4.3L V6 OHV
2014 Chevrolet Orlando
LS Sport Utility 4-Door
2.4L l4 FLEX DOHC
2014 Chevrolet Spark
LTZ Hatchback 4-Door
1.2L l4 DOHC
2014 Dodge Attitude
GL Sedan 4-Door
1.4L l4 DOHC
2014 Dodge Avenger
GTS Sedan 4-Door
2.4L l4 DOHC
2014 Dodge Durango
Limited Sport Utility 4-Door
R/T Sport Utility 4-Door
SXT Sport Utility 4-Door
3.6L V6 DOHC
5.7L V8 OHV
3.6L V6 FLEX DOHC
2014 Ford E-150
Base Extended Cargo Van 3-Door
5.4L V8 CNG SOHC
2014 Ford E-250
Base Cutaway Van 2-Door
4.6L V8 FLEX SOHC
2014 Ford Expedition
XL Sport Utility 4-Door
EL XLT Sport Utility 4-Door
5.4L V8 FLEX SOHC
2014 Ford Explorer
Base Sport Utility 4-Door
Sport Sport Utility 4-Door
2.0L l4 DOHC Turbocharged
3.5L V6 DOHC Turbocharged
2014 Ford Focus
Ambiente Sedan 4-Door
Electric Hatchback 4-Door
S Sedan 4-Door
ST Hatchback 4-Door
2.0L l4 DOHC
ELECTRIC
2.0L l4 FLEX DOHC
2.0L l4 DOHC Turbocharged
2014 Ford Fusion
S Hybrid Sedan 4-Door
SE Sedan 4-Door
2.0L l4 ELECTRIC/ DOHC
1.6L l4 DOHC Turbocharged
2014 Ford Mustang
Base Coupe 2-Door
GT Coupe 2-Door
Shelby Coupe 2-Door
3.7L V6 DOHC
5.0L V8 DOHC
5.8L V8 DOHC Supercharged
2014 Hino 195
Base
5.0L l4 DIESEL Turbocharged
2014 Hino 268
Base
7.7L l6 DIESEL Turbocharged
2014 Honda Accord
EX Coupe 2-Door
2.4L l4 DOHC
2014 Honda CR-V
EX-L Sport Utility 4-Door
Touring Sport Utility 4-Door
LX Sport Utility 4-Door
2.4L l4 DOHC
2.4L l4 DOHC
2014 Honda Civic
EX-L Sedan 4-Door
EX-L Coupe 2-Door
1.8L l4 SOHC
1.8L l4 SOHC
2014 Honda Crosstour
EX Hatchback 4-Door
2.4L l4 DOHC
2014 Honda Fit
DX Hatchback 4-Door
EX Hatchback 4-Door
1.5L l4 SOHC
1.5L l4 SOHC
2014 Honda Insight
Base Hatchback 4-Door
1.3L l4 ELECTRIC/ SOHC
2014 Honda Odyssey
Touring Mini Passenger Van 4-Door
3.5L V6 SOHC
3.5L V6 SOHC
2014 Honda Pilot
LX Sport Utility 4-Door
Touring Sport Utility 4-Door
3.5L V6 SOHC
3.5L V6 SOHC
2014 Honda Ridgeline
RT Crew Cab Pickup 4-Door
3.5L V6 SOHC
2014 Hyundai Accent
GL Hatchback 4-Door
1.6L l4 DOHC
2014 Hyundai Elantra
GL Sedan 4-Door
1.8L l4 DOHC
2014 Hyundai Elantra Coupe
SE Coupe 2-Door
GS Coupe 2-Door
2.0L l4 DOHC
2014 Hyundai Tucson
GL Sport Utility 4-Door
2.0L l4 DOHC
2014 IC Corporation BE School Bus
Base Bus (School) - Cab Forward
6.4L V8 DIESEL SOHC Turbocharged
2014 Infiniti QX50
Journey Sport Utility 4-Door
3.7L V6 DOHC
2014 Infiniti QX60
Seduction Sport Utility 4-Door
3.5L V6 DOHC
2014 Jaguar XFR-S
Base Sedan 4-Door
5.0L V8 DOHC Supercharged
2014 Jeep Cherokee
Altitude Sport Utility 4-Door
North Sport Utility 4-Door
-Cu. In. --
2.4L l4 SOHC
2014 Jeep Wrangler
Sport Sport Utility 2-Door
3.6L V6 DOHC
2014 Kia Forte Koup
EX Coupe 2-Door
2.0L l4 DOHC
2014 Kia Optima
EX Luxury Sedan 4-Door
Hybrid LX Sedan 4-Door
2.4L l4 DOHC
2.4L l4 ELECTRIC/ DOHC
2014 Kia Sorento
SX Sport Utility 4-Door
3.3L V6 DOHC
2014 Lamborghini Gallardo
LP550-2 Coupe 2-Door
5.2L V10 DOHC
2014 Land Rover Defender
SE Sport Utility 4-Door
2.2L l4 DIESEL DOHC Turbocharged
2014 Land Rover LR4
Base Sport Utility 4-Door
3.0L V6 DOHC Supercharged
2014 Land Rover Range Rover Evoque
Pure Sport Utility 2-Door
2.0L l4 DOHC Turbocharged
2014 Lexus GS450h
Base Sedan 4-Door
3.5L V6 ELECTRIC/ DOHC
2014 Lotus Evora
Base Coupe 2-Door
3.5L V6 DOHC
2014 Mini Cooper Countryman
Hot Chili Hatchback 4-Door
1.6L l4 DOHC Turbocharged
2014 Nissan Murano
SV Sport Utility 4-Door
3.5L V6 DOHC
2014 Nissan Pathfinder
SL Sport Utility 4-Door
Sense Sport Utility 4-Door
3.5L V6 DOHC
3.5L V6 DOHC
2014 Nissan Rogue
S Sport Utility 4-Door
Exclusive Sport Utility 4-Door
2.5L l4 DOHC
2014 Nissan Sentra
SL Sedan 4-Door
1.8L l4 DOHC
2014 Pierce Mfg. Inc. Arrow XT
Base Fire Truck - Low Tilt
11.9L -6 DIESEL
2014 Porsche Boxster
S Convertible 2-Door
3.4L H6 DOHC
3.4L H6 DOHC
2014 Suzuki SX4
GLS Sedan 4-Door
GLS Hatchback 4-Door
2.0L l4 DOHC
2014 Thomas Transit Liner
HDX Bus (Non School) - Cab Forward
8.3L l6 DIESEL Turbocharged
2014 Toyota 4Runner
Limited Sport Utility 4-Door
4.0L V6 DOHC
2014 Toyota Avalon
Hybrid XLE Sedan 4-Door
XLE Sedan 4-Door
2.5L l4 ELECTRIC/ DOHC
3.5L V6 DOHC
2014 Toyota Corolla
L Sedan 4-Door
1.8L l4 DOHC
2014 Toyota FJ Cruiser
Base Sport Utility 4-Door
4.0L V6 DOHC
2014 Toyota Hiace
Base Standard Cargo Van 4-Door
2.7L l4 DOHC
2014 Toyota Prius
Three Hatchback 4-Door
1.8L l4 ELECTRIC/ DOHC
2014 Toyota Yaris
L Hatchback 4-Door
1.5L l4 DOHC
2014 Volkswagen Eos
Sport Convertible 2-Door
2.0L l4 DOHC Turbocharged
2014 Volkswagen Routan
Comfortline Mini Passenger Van 4-Door
3.6L V6 DOHC
2014 Volkswagen Touareg
Base Sport Utility 4-Door
3.0L V6 DIESEL DOHC Turbocharged
2015 Acura MDX
Base Sport Utility 4-Door
3.5L V6 SOHC
2015 Aston Martin Rapide
S Sedan 4-Door
6.0L V12 DOHC
2015 Audi A3
Ambiente Hatchback 2-Door
1.4L l4 DOHC Turbocharged
2015 Audi A3 Quattro
Progressive Sedan 4-Door
2.0L l4 DOHC Turbocharged
2015 Audi A4
Komfort Sedan 4-Door
2.0L l4 DOHC Turbocharged
2015 Audi A4 Quattro
Komfort Sedan 4-Door
2.0L l4 FLEX DOHC Turbocharged
2015 Audi A5 Quattro
Base Coupe 2-Door
2.0L l4 FLEX DOHC Turbocharged
2015 Audi A7 Quattro
Premium Plus Hatchback 4-Door
3.0L V6 DOHC Supercharged
2015 Audi A8
Premium Sedan 4-Door
3.0L V6 DOHC Supercharged
2015 Audi S3
Base Hatchback 2-Door
2.0L l4 DOHC Turbocharged
2015 Audi S4
Premium Plus Sedan 4-Door
3.0L V6 DOHC Supercharged
2015 Audi S5
Premium Plus Coupe 2-Door
3.0L V6 DOHC Supercharged
2015 Audi S8
Base Sedan 4-Door
4.0L V8 DOHC Turbocharged
2015 Audi TT Quattro
Base Convertible 2-Door
2.0L l4 DOHC Turbocharged
2015 Audi allroad
Premium Plus Wagon 4-Door
2.0L l4 FLEX DOHC Turbocharged
2015 BMW 118i
Base Hatchback 2-Door
1.6L l4 DOHC Turbocharged
2015 BMW 328i
Base Sedan 4-Door
2.0L l4 DOHC Turbocharged
2015 BMW 328i GT xDrive
Base Hatchback 4-Door
2.0L l4 DOHC Turbocharged
2015 BMW 335i
Base Sedan 4-Door
3.0L l6 DOHC Turbocharged
2015 BMW 335i xDrive
Base Sedan 4-Door
3.0L l6 DOHC Turbocharged
2015 BMW 428i
Base Convertible 2-Door
2.0L l4 DOHC Turbocharged
2015 BMW 435i
Base Convertible 2-Door
3.0L l6 DOHC Turbocharged
2015 BMW 528i
Base Sedan 4-Door
2.0L l4 DOHC Turbocharged
2015 BMW 535d xDrive
Base Sedan 4-Door
3.0L l6 DIESEL DOHC Turbocharged
2015 BMW 535i GT
Base Hatchback 4-Door
3.0L l6 DOHC Turbocharged
2015 BMW 535i GT xDrive
Base Hatchback 4-Door
3.0L l6 DOHC Turbocharged
2015 BMW 535i xDrive
Base Sedan 4-Door
3.0L l6 DOHC Turbocharged
2015 BMW 550i
Base Sedan 4-Door
4.4L V8 DOHC Turbocharged
2015 BMW 650i
Base Convertible 2-Door
4.4L V8 DOHC Turbocharged
2015 BMW 650i xDrive
Base Convertible 2-Door
4.4L V8 DOHC Turbocharged
2015 BMW 740Ld xDrive
Base Sedan 4-Door
3.0L l6 DIESEL DOHC Turbocharged
2015 BMW 740Li
Base Sedan 4-Door
3.0L l6 DOHC Turbocharged
2015 BMW 740Li xDrive
Base Sedan 4-Door
3.0L l6 DOHC Turbocharged
2015 BMW 740i
Base Sedan 4-Door
3.0L l6 DOHC Turbocharged
2015 BMW 750Li
Base Sedan 4-Door
4.4L V8 DOHC Turbocharged
2015 BMW 750Li xDrive
Base Sedan 4-Door
4.4L V8 DOHC Turbocharged
2015 BMW ActiveHybrid 3
Base Sedan 4-Door
3.0L l6 ELECTRIC/ DOHC Turbocharged
2015 BMW Alpina B7 xDrive
Base Sedan 4-Door
4.4L V8 DOHC Turbocharged
2015 BMW Alpina B7L
Base Sedan 4-Door
4.4L V8 DOHC Turbocharged
2015 BMW M3
Base Sedan 4-Door
3.0L l6 DOHC Turbocharged
2015 BMW X1
sDrive28i Sport Utility 4-Door
2.0L l4 DOHC Turbocharged
2015 BMW X3
sDrive28i Sport Utility 4-Door
2.0L l4 DOHC Turbocharged
2015 BMW i8
Base Coupe 2-Door
1.5L l3 ELECTRIC/ DOHC Turbocharged
2015 Buick Regal
Premium Sedan 4-Door
2.0L l4 DOHC Turbocharged
2.4L l4 ELECTRIC/ DOHC
2015 Caterpillar CT660
Base Straight Truck - Medium Conventional
12.4L l6 DIESEL Turbo/Aftercooled/Intercooled
2015 Chevrolet Aveo
LT Sedan 4-Door
1.6L l4 DOHC
2015 Chevrolet Camaro
ZL1 Coupe 2-Door
6.2L V8 OHV Supercharged
2015 Chevrolet Captiva Sport
LS Sport Utility 4-Door
2.4L l4 FLEX DOHC
2.4L l4 DOHC
2015 Chevrolet Cheyenne
Cheyenne Standard Cab Pickup 2-Door
6.2L V8 OHV
2015 Chevrolet Cruze
Diesel Sedan 4-Door
LS Sedan 4-Door
2.0L l4 DIESEL DOHC Turbocharged
1.8L l4 DOHC
2015 Chevrolet Equinox
LT Sport Utility 4-Door
2.4L l4 FLEX DOHC
3.6L V6 FLEX DOHC
3.6L V6 DOHC
2015 Chevrolet Express Pasajeros
Base Standard Passenger Van 4-Door
5.3L V8 OHV
2015 Chevrolet Impala
LS Sedan 4-Door
2.5L l4 DOHC
2015 Chevrolet Impala Limited
LT Sedan 4-Door
3.6L V6 FLEX DOHC
2015 Chevrolet Malibu
LT Sedan 4-Door
LTZ Sedan 4-Door
2.5L l4 DOHC
2015 Chevrolet Matiz
LS Hatchback 4-Door
1.0L l4 SOHC
2015 Chevrolet Silverado 1500
High Country Crew Cab Pickup 4-Door
WT Extended Cab Pickup 4-Door
WT Standard Cab Pickup 2-Door
5.3L V8 FLEX OHV
5.3L V8 OHV
4.3L V6 FLEX OHV
2015 Chevrolet Spark
Byte Hatchback 4-Door
1.2L l4 DOHC
2015 Chevrolet Spark EV
LT Hatchback 4-Door
ELECTRIC
2015 Chevrolet Tornado
LS Standard Cab Pickup 2-Door
1.8L l4 SOHC
2015 Chrysler 300
Touring Sedan 4-Door
C Sedan 4-Door
S Sedan 4-Door
3.6L V6 FLEX DOHC
5.7L V8 OHV
2015 Chrysler Town & Country
Touring Mini Passenger Van 4-Door
S Mini Passenger Van 4-Door
Touring L Mini Passenger Van 4-Door
3.6L V6 FLEX DOHC
3.6L V6 DOHC
2015 Ford C-Max
Energi SEL Hatchback 4-Door
2.0L l4 ELECTRIC/ DOHC
2015 Ford E-350 Super Duty
Base Cutaway Van 2-Door
5.4L V8 CNG SOHC
2015 Ford EcoSport
Trend Sport Utility 4-Door
2.0L l4 DOHC
2015 Ford Edge
Titanium Sport Utility 4-Door
2.0L l4 DOHC Turbocharged
3.5L V6 DOHC
2015 Ford Escape
S Sport Utility 4-Door
Titanium Sport Utility 4-Door
2.5L l4 DOHC
1.6L l4 DOHC Turbocharged
2.0L l4 DOHC Turbocharged
2015 Ford Explorer
Base Sport Utility 4-Door
2.0L l4 DOHC Turbocharged
2015 Ford F-150
Lariat Crew Cab Pickup 4-Door
XL Crew Cab Pickup 4-Door
3.5L V6 DOHC Turbocharged
5.0L V8 FLEX DOHC
2015 Ford F650
Base Straight Truck - Crew Cab
6.7L l6 DIESEL OHV Turbocharged
2015 Ford F750
Base Straight Truck - Crew Cab
6.7L l6 DIESEL OHV Turbocharged
2015 Ford Fiesta
Titanium Sedan 4-Door
1.6L l4 DOHC
2015 Ford Fiesta Ikon
Ambiente Hatchback 4-Door
1.6L l4 DOHC
2015 Ford Focus
Electric Hatchback 4-Door
SE Appearance Sedan 4-Door
ELECTRIC
2.0L l4 DOHC
2015 Ford Mustang
EcoBoost Premium Convertible 2-Door
2.3L l4 DOHC Turbocharged
2015 Ford Ranger
Base Crew Cab Pickup 4-Door
2.5L l4 SOHC
2015 Ford Taurus
Limited Sedan 4-Door
2.0L l4 DOHC Turbocharged
2015 Ford Transit-250
Base Cab & Chassis 2-Door
3.7L V6 CNG DOHC
2015 Freightliner 108SD
Base Straight Truck - Medium Conventional
8.9L l6 DIESEL Turbocharged
2015 GMC Acadia
SLE Sport Utility 4-Door
3.6L V6 DOHC
2015 Honda Accord
LX-S Coupe 2-Door
EX-L Sedan 4-Door
2.4L l4 DOHC
3.5L V6 SOHC
2015 Honda CR-V
i-Style Sport Utility 4-Door
2.4L l4 DOHC
2015 Honda CR-Z
EX Hatchback 2-Door
1.5L l4 ELECTRIC/ SOHC
2015 Honda Civic
EX-L Sedan 4-Door
Touring Sedan 4-Door
1.8L l4 SOHC
1.8L l4 SOHC
2015 Honda Crosstour
EX Hatchback 4-Door
2.4L l4 DOHC
2015 Honda Fit
Hit Hatchback 4-Door
EX-L Hatchback 4-Door
Fun Hatchback 4-Door
1.5L l4 SOHC
1.5L l4 DOHC
2015 Honda Odyssey
Touring Elite Mini Passenger Van 4-Door
3.5L V6 SOHC
2015 Honda Pilot
Touring Sport Utility 4-Door
SE Sport Utility 4-Door
3.5L V6 SOHC
3.5L V6 SOHC
2015 Hyundai Elantra
Limited Sedan 4-Door
L Sedan 4-Door
Sport Sedan 4-Door
1.8L l4 DOHC
2.0L l4 DOHC
2015 Hyundai Santa Fe
Sport 2.0T Sport Utility 4-Door
2.0L l4 DOHC Turbocharged
2015 Hyundai Tucson
Fuel Cell Sport Utility 4-Door
ELECTRIC/HYDROGEN
2015 Hyundai ix35
GLS Sport Utility 4-Door
2.0L l4 DOHC
2015 Infiniti Q40
Base Sedan 4-Door
3.7L V6 DOHC
2015 Infiniti Q50
Base Sedan 4-Door
Hybrid Sedan 4-Door
3.7L V6 DOHC
3.5L V6 ELECTRIC/ DOHC
2015 Infiniti Q60
Sport Limited Coupe 2-Door
Sport Convertible 2-Door
Sport Coupe 2-Door
3.7L V6 DOHC
2015 Infiniti QX50
Base Sport Utility 4-Door
3.7L V6 DOHC
2015 Infiniti QX60
Base Sport Utility 4-Door
3.5L V6 DOHC
2015 Infiniti QX70
Base Sport Utility 4-Door
Seduction Sport Utility 4-Door
3.7L V6 DOHC
5.0L V8 DOHC
2015 Infiniti QX80
Base Sport Utility 4-Door
5.6L V8 DOHC
2015 Jaguar XF
Premium Sedan 4-Door
3.0L AWD Luxury Sedan 4-Door
2.0L l4 DOHC Turbocharged
3.0L V6 FLEX DOHC Supercharged
2015 Jeep Cherokee
Limited Sport Utility 4-Door
2.4L l4 SOHC
2015 Jeep Wrangler
Unlimited Sport Sport Utility 4-Door
Willys Wheeler Sport Utility 2-Door
3.6L V6 DOHC
-Cu. In. --
2015 Kenworth C500
Base Straight Truck - Long Conventional
14.9L l6 DIESEL Turbocharged
2015 Kia Optima
EX Luxury Sedan 4-Door
Hybrid EX Sedan 4-Door
SX Turbo Sedan 4-Door
2.4L l4 DOHC
2.4L l4 ELECTRIC/ DOHC
2.0L l4 DOHC Turbocharged
2015 Kia Rio
EX Hatchback 4-Door
1.6L l4 DOHC
2015 Kia Rondo
EX Hatchback 4-Door
2.0L l4 DOHC
2015 Kia Sedona
EX Mini Passenger Van 4-Door
3.3L V6 DOHC
2015 Kia Sorento
SX Sport Utility 4-Door
LX Sport Utility 4-Door
3.3L V6 DOHC
2.4L l4 DOHC
2015 Kia Soul
Exclaim Hatchback 4-Door
2.0L l4 DOHC
2015 Land Rover Discovery
SE Sport Utility 4-Door
3.0L V6 DOHC Supercharged
2015 Land Rover LR2
S Sport Utility 4-Door
2.0L l4 DOHC Turbocharged
2015 Land Rover LR4
Base Sport Utility 4-Door
3.0L V6 DOHC Supercharged
2015 Land Rover Range Rover
Vogue Sport Utility 4-Door
5.0L V8 DOHC Supercharged
2015 Land Rover Range Rover Evoque
Dynamic Sport Utility 2-Door
2.0L l4 DOHC Turbocharged
2015 Lexus ES350
Base Sedan 4-Door
3.5L V6 DOHC
2015 Mazda 6
Sport Sedan 4-Door
GT Sedan 4-Door
2.5L l4 DOHC
2015 Mazda CX-9
GT Sport Utility 4-Door
3.7L V6 DOHC
2015 Mazda MX-5
Grand Touring Convertible 2-Door
2.0L l4 DOHC
2015 Mercedes-Benz A180
Base Hatchback 4-Door
1.6L l4 DOHC Turbocharged
2015 Mercedes-Benz B250
Base Hatchback 4-Door
2.0L l4 DOHC Turbocharged
2015 Mercedes-Benz E500
Base Sedan 4-Door
5.5L V8 DOHC Turbocharged
2015 Mercedes-Benz ML350
Bluetec 4Matic Sport Utility 4-Door
Exclusive Sport Utility 4-Door
3.0L V6 DIESEL DOHC Turbocharged
3.5L V6 DOHC
2015 Mitsubishi ASX
SE Sport Utility 4-Door
2.0L l4 DOHC
2015 Mitsubishi Lancer
Ralliart Sedan 4-Door
2.0L l4 DOHC Turbocharged
2015 Mitsubishi Mirage
DE Hatchback 4-Door
1.2L l3 DOHC
2015 Mitsubishi Montero
Limited Sport Utility 4-Door
3.8L V6 SOHC
2015 Nissan Altima
Advance Sedan 4-Door
2.5L l4 DOHC
2015 Nissan Murano
S Sport Utility 4-Door
3.5L V6 DOHC
2015 Nissan Pathfinder
SV Sport Utility 4-Door
3.5L V6 DOHC
2015 Nissan Rogue
SV Sport Utility 4-Door
2.5L l4 DOHC
2015 Nissan Sentra
Sense Sedan 4-Door
1.8L l4 DOHC
2015 Nissan Versa
1.6 SV Sedan 4-Door
1.6L l4 DOHC
2015 Peterbilt 210
Base Straight Truck - Low Tilt
6.7L l6 DIESEL Turbocharged
2015 Peugeot 2008
Feline Sport Utility 4-Door
1.6L l4 DOHC
2015 Peugeot 3008
Base Hatchback 4-Door
1.6L l4 DOHC Turbocharged
2015 Porsche Boxster
GTS Convertible 2-Door
3.4L H6 DOHC
2015 Porsche Cayenne
Base Sport Utility 4-Door
S E-Hybrid Sport Utility 4-Door
3.0L V6 DIESEL DOHC Turbocharged
3.0L V6 ELECTRIC/ DOHC Supercharged
2015 Ram 3500
Big Horn Extended Crew Cab Pickup 4-Door
Laramie Longhorn Extended Crew Cab Pickup 4-Door
5.7L V8 OHV
6.7L l6 DIESEL OHV Turbocharged
2015 Scion iQ
Base Hatchback 2-Door
1.3L l4 DOHC
2015 Subaru Forester
2.0XT Premium Wagon 4-Door
2.0L H4 DOHC Turbocharged
2015 Subaru Legacy
2.5i Sedan 4-Door
2.5L H4 DOHC
2015 Subaru Outback
Premium Wagon 4-Door
2.5L H4 SOHC
2015 Subaru XV
2.0i Sport Sport Utility 4-Door
2.0L H4 DOHC
2015 Suzuki Kizashi
GLX Sedan 4-Door
2.4L l4 DOHC
2015 Suzuki Swift
GLX Hatchback 4-Door
1.4L l4 DOHC
2015 Toyota Camry
Hybrid XLE Sedan 4-Door
XLE Sedan 4-Door
2.5L l4 ELECTRIC/ DOHC
2.5L l4 DOHC
2015 Toyota Corolla
LE Sedan 4-Door
S Sedan 4-Door
1.8L l4 DOHC
2015 Toyota Hilux
Base Cab & Chassis 2-Door
2.7L l4 DOHC
2015 Toyota Land Cruiser
Base Sport Utility 4-Door
5.7L V8 DOHC
2015 Toyota RAV4
LE Sport Utility 4-Door
2.5L l4 DOHC
2015 Toyota Sienna
Limited Mini Passenger Van 5-Door
3.5L V6 DOHC
2015 Toyota Tacoma
Base Crew Cab Pickup 4-Door
4.0L V6 DOHC
2015 Toyota Yaris
LE Hatchback 4-Door
1.5L l4 DOHC
2015 Volkswagen Amarok
Entry Crew Cab Pickup 4-Door
2.0L l4 DIESEL DOHC Turbocharged
2015 Volkswagen Caddy
Base Mini Cargo Van 4-Door
1.2L l4 SOHC Turbocharged
2015 Volkswagen Clasico
CL Sedan 4-Door
2.0L l4 SOHC
2015 Volkswagen Crafter Van
Base Cab & Chassis 2-Door
2.0L l4 DIESEL SOHC Turbocharged
2015 Volkswagen CrossFox
Base Sport Utility 4-Door
1.6L l4 SOHC
2015 Volkswagen Eos
Executive Convertible 2-Door
2.0L l4 DOHC Turbocharged
2015 Volkswagen Passat
1.8T Sport Sedan 4-Door
Base Sedan 4-Door
Wolfsburg Edition Sedan 4-Door
Sportline Sedan 4-Door
Trendline TDI Sedan 4-Door
Highline Sedan 4-Door
Highline TDI Sedan 4-Door
S Sedan 4-Door
SE Sedan 4-Door
SEL Premium Sedan 4-Door
TDI SE Sedan 4-Door
TDI SEL Premium Sedan 4-Door
Trendline Sedan 4-Door
-Cu. In. --
3.6L V6 DOHC
1.8L l4 DOHC Turbocharged
2.5L l5 DOHC
2.0L l4 DIESEL DOHC Turbocharged
2015 Volkswagen Tiguan
Base Sport Utility 4-Door
1.4L l4 DOHC Turbocharged
2015 Volkswagen Touareg
Base Sport Utility 4-Door
V6 Sport Sport Utility 4-Door
TDI Sport Sport Utility 4-Door
Execline Sport Utility 4-Door
Execline TDI Sport Utility 4-Door
Highline Sport Utility 4-Door
Sportline Sport Utility 4-Door
Sportline TDI Sport Utility 4-Door
TDI Executive Sport Utility 4-Door
TDI Lux Sport Utility 4-Door
V6 Executive Sport Utility 4-Door
V6 Lux Sport Utility 4-Door
3.6L V6 DOHC
4.2L V8 DOHC
3.0L V6 DIESEL DOHC Turbocharged
2015 Volkswagen Transporter
Base Cab & Chassis 2-Door
2.0L l4 DIESEL DOHC Turbocharged
2015 Volkswagen Vento
Active Sedan 4-Door
1.6L l4 DIESEL DOHC Turbocharged
2016 Acura ILX
Base Sedan 4-Door
2.4L l4 DOHC
2016 Acura RDX
Base Sport Utility 4-Door
3.5L V6 SOHC
2016 Acura RLX
Base Sedan 4-Door
3.5L V6 SOHC
2016 Acura TLX
Base Sedan 4-Door
2.4L l4 DOHC
2016 Aston Martin DB9
Base Coupe 2-Door
6.0L V12 DOHC
2016 Aston Martin V8 Vantage
Base Convertible 2-Door
4.7L V8 DOHC
2016 Audi A1
Cool Hatchback 2-Door
1.4L l4 DOHC Turbocharged
2016 Audi A5
Luxury Coupe 2-Door
Premium Plus Coupe 2-Door
2.0L l4 DOHC Turbocharged
-CC -Cu. In. -- -
2016 Audi A6
S Line Sedan 4-Door
2.0L l4 DOHC Turbocharged
2016 Audi A6 Quattro
Premium Plus Sedan 4-Door
2.0L l4 DOHC Turbocharged
2016 Audi A8 Quattro
3.0L TDI Sedan 4-Door
-CC -Cu. In. -- -
2016 Audi Q3
Elite Sport Utility 4-Door
2.0L l4 DOHC Turbocharged
2016 Audi R8
Base Convertible 2-Door
4.2L V8 DOHC
2016 Audi RS5
Base Coupe 2-Door
4.2L V8 DOHC
2016 Audi RS7
Base Hatchback 4-Door
4.0L V8 DOHC Turbocharged
2016 Audi S7
Base Hatchback 4-Door
4.0L V8 DOHC Turbocharged
2016 Audi allroad
Premium Plus Wagon 4-Door
2.0L l4 FLEX DOHC Turbocharged
2016 BMW 120i
Base Hatchback 2-Door
1.6L l4 DOHC Turbocharged
2016 BMW 220i
Base Coupe 2-Door
2.0L l4 DOHC Turbocharged
2016 BMW 220i Active Tourer
Base Mini Passenger Van 4-Door
2.0L l4 DOHC Turbocharged
2016 BMW 228i
Base Convertible 2-Door
2.0L l4 DOHC Turbocharged
2016 BMW 228i xDrive
Base Convertible 2-Door
2.0L l4 DOHC Turbocharged
2016 BMW 335i GT xDrive
Base Hatchback 4-Door
3.0L l6 DOHC Turbocharged
2016 BMW 420i Gran Coupe
Base Hatchback 4-Door
2.0L l4 DOHC Turbocharged
2016 BMW 428i Gran Coupe
Base Hatchback 4-Door
2.0L l4 DOHC Turbocharged
2016 BMW 428i xDrive
Base Convertible 2-Door
2.0L l4 DOHC Turbocharged
2016 BMW 428i xDrive Gran Coupe
Base Hatchback 4-Door
2.0L l4 DOHC Turbocharged
2016 BMW 435i Gran Coupe
Base Hatchback 4-Door
3.0L l6 DOHC Turbocharged
2016 BMW 435i xDrive
Base Convertible 2-Door
3.0L l6 DOHC Turbocharged
2016 BMW 435i xDrive Gran Coupe
Base Hatchback 4-Door
3.0L l6 DOHC Turbocharged
2016 BMW 650i
Base Convertible 2-Door
4.4L V8 DOHC Turbocharged
2016 BMW 650i Gran Coupe
Base Sedan 4-Door
4.4L V8 DOHC Turbocharged
2016 BMW M135i
Base Hatchback 2-Door
3.0L l6 DOHC Turbocharged
2016 BMW M235i
Base Convertible 2-Door
3.0L l6 DOHC Turbocharged
2016 BMW M235i xDrive
Base Coupe 2-Door
3.0L l6 DOHC Turbocharged
2016 BMW M4
Base Convertible 2-Door
3.0L l6 DOHC Turbocharged
2016 BMW i3
Base Hatchback 4-Door
ELECTRIC
2016 Bentley Continental
GT Coupe 2-Door
6.0L W12 FLEX DOHC Turbocharged
2016 Buick Enclave
Premium Sport Utility 4-Door
3.6L V6 DOHC
2016 Buick Encore
Base Sport Utility 4-Door
1.4L l4 DOHC Turbocharged
2016 Buick LaCrosse
Base Sedan 4-Door
Premium Sedan 4-Door
2.4L l4 ELECTRIC/ DOHC
3.6L V6 DOHC
2016 Cadillac ATS
Base Coupe 2-Door
2.5L l4 DOHC
2016 Caterpillar CT680
Base Straight Truck - Medium Conventional
12.4L l6 DIESEL Turbo/Aftercooled/Intercooled
2016 Chevrolet Caprice
PPV Sedan 4-Door
3.6L V6 FLEX DOHC
2016 Chevrolet City Express
LS Mini Cargo Van 4-Door
2.0L l4 DOHC
2016 Chevrolet Corvette
Stingray Convertible 2-Door
6.2L V8 OHV
2016 Chevrolet Cruze Limited
Eco Sedan 4-Door
1.4L l4 DOHC Turbocharged
2016 Chevrolet Express 3500
Base Cutaway Van 2-Door
4.8L V8 FLEX OHV
2016 Chevrolet Malibu Limited
LS Sedan 4-Door
2.5L l4 DOHC
2016 Chevrolet Sonic
LS Hatchback 4-Door
1.8L l4 FLEX DOHC
2016 Chevrolet Tahoe
LS Sport Utility 4-Door
5.3L V8 FLEX OHV
2016 Chevrolet Traverse
LS Sport Utility 4-Door
3.6L V6 DOHC
2016 Chevrolet Volt
LT Hatchback 4-Door
1.5L l4 ELECTRIC/ DOHC
2016 Ford C-Max
Energi SEL Hatchback 4-Door
2.0L l4 ELECTRIC/ DOHC
2016 Ford Focus
Electric Hatchback 4-Door
ELECTRIC
2016 Ford Mustang
V6 Coupe 2-Door
3.7L V6 DOHC
2016 Ford Police Interceptor Utility
Base Sport Utility 4-Door
3.5L V6 DOHC Turbocharged
2016 Ford Transit-350
Base Cab & Chassis 2-Door
3.2L l5 DIESEL DOHC Turbocharged
2016 Ford Transit-350 HD
Base Cab & Chassis 2-Door
3.2L l5 DIESEL DOHC Turbocharged
2016 GMC Terrain
SLE Sport Utility 4-Door
2.4L l4 FLEX DOHC
2016 Honda City
EX Sedan 4-Door
1.5L l4 SOHC
2016 Honda Fit
EX Hatchback 4-Door
1.5L l4 DOHC
2016 Honda HR-V
Epic Sport Utility 4-Door
1.8L l4 SOHC
2016 Honda Pilot
Touring Sport Utility 4-Door
3.5L V6 SOHC
2016 Hyundai Elantra GT
L Hatchback 4-Door
2.0L l4 DOHC
2016 Hyundai Equus
Signature Sedan 4-Door
5.0L V8 DOHC
2016 Hyundai Genesis
3.8 Sedan 4-Door
5.0 Sedan 4-Door
3.8L V6 DOHC
5.0L V8 DOHC
2016 Hyundai Grand i10
GL Hatchback 4-Door
1.3L l4 DOHC
2016 Hyundai Santa Fe
Sport 2.0T Sport Utility 4-Door
2.0L l4 DOHC Turbocharged
2016 Hyundai Santa Fe XL
Base Sport Utility 4-Door
3.3L V6 DOHC
2016 Hyundai Veloster
Base Hatchback 3-Door
1.6L l4 DOHC
2016 Kia Sorento
SX Sport Utility 4-Door
LX Sport Utility 4-Door
2.0L l4 DOHC Turbocharged
3.3L V6 DOHC
2016 Kia Soul EV
+ Hatchback 4-Door
ELECTRIC
2016 Lexus CT200h
Base Hatchback 4-Door
1.8L l4 ELECTRIC/ DOHC
2016 Lexus ES300h
Base Sedan 4-Door
2.5L l4 ELECTRIC/ DOHC
2016 Lexus IS350
Base Sedan 4-Door
3.5L V6 DOHC
2016 Mazda 6
Touring Sedan 4-Door
Sport Sedan 4-Door
2.5L l4 DOHC
2016 Mazda CX-3
Sport Sport Utility 4-Door
2.0L l4 DOHC
2016 McLaren 570S
Base Coupe 2-Door
3.8L V8 DOHC Turbocharged
2016 Nissan Sentra
SR Sedan 4-Door
1.8L l4 DOHC
2016 Peugeot 508
Feline Sedan 4-Door
1.6L l4 DOHC Turbocharged
2016 Subaru Legacy
3.6R Limited Sedan 4-Door
3.6L H6 DOHC
2016 Subaru Outback
2.5i Premium Wagon 4-Door
2.5L H4 DOHC
2016 Thomas Saf-T-Liner
HDX Bus (School) - Cab Forward
8.3L l6 DIESEL Turbocharged
2016 Thomas Transit Liner
HDX Bus (Non School) - Cab Forward
8.3L l6 DIESEL Turbocharged
2016 Toyota Prius V
Base Wagon 4-Door
1.8L l4 ELECTRIC/ DOHC
2016 Toyota Sequoia
Limited Sport Utility 4-Door
5.7L V8 FLEX DOHC
2016 Volkswagen Beetle
R-Line Coupe 2-Door
1.8T SEL Convertible 2-Door
2.0L TDI SE Convertible 2-Door
2.0L TDI SEL Convertible 2-Door
2.0T R-Line S Convertible 2-Door
2.0T R-Line SEL Convertible 2-Door
Base Coupe 2-Door
R-Line Convertible 2-Door
-CC -Cu. In. -- -
2016 Volkswagen Nuevo Gol
CL Hatchback 4-Door
1.6L l4 SOHC
2016 Volkswagen Saveiro
Base Extended Cab Pickup 2-Door
1.6L l4 SOHC