05015 Refinished Chevrolet 1500 Series Suburban 4x4 1994-1999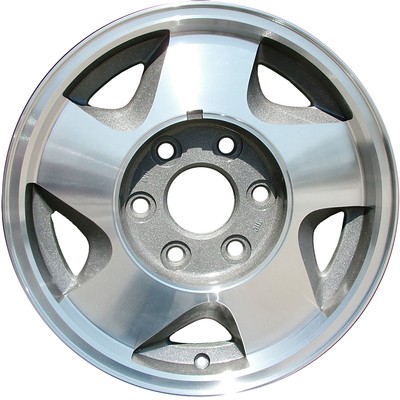 This part is no longer available for purchase.
It might be out of stock, or no longer available to purchase online. Find similar used parts online using the search box, or place a part request and let our network of trusted sellers find the part for you.
Chevrolet Part No: 12351802
Manufacturer: Chevrolet
Part Number: 12351802
Other Part Number: ALY05015U30
Interchange Part Number: 560-5015
Genuine OEM Part: Yes
Color: Charcoal
The highest quality products at unbelievable prices! Wheels Wheel Covers Lights Mirrors --> --> 05015 Refinished Chevrolet 1500 Series Suburban 4x4 1994-1999 Product Details Manufacturers Number:9592244 Interchange Number:560-5015 Size:16 X 7 Number of Bolts:6 Bolt Circle:139.7mm (divide by 25.4 for inches) Color:Charcoal Finish:Machined and Painted Wheel Material:Aluminum Alloy Other Part Number(s):ALY05015U30 Listing is for the wheel only, it does not include center caps, lug nuts or valve stems The Black and White images in this listing depict the structural look (Shape of Spokes and Windows) of the item that is being sold, NOT THE COLOR OR FINISH THAT IS BEING SOLD. We utilize vendors/warehouses in many locations. Please be aware that if you order more than one unit they can be shipped from different locations and arrive over different delivery dates. WheelsTiresAndMore is not affiliated with General Motors. All trademarks mentioned herein belong to their respective owners. To make your purchase as simple and easy as possible, please refer to the store policies listed below. (After 3 days an unpaid item reminder will be issued.) We accept PayPal for payment and we will only ship to the CONFIRMED PayPal address on the payment. We WILL NOT SHIP TO A DIFFERENT LOCATION that is not the confirmed address, so please do not ask. We appreciate receiving positive feedback from our customers as much as we enjoy giving positive feedback to them! Also, please remember to give Five-Star scores in the "Detailed Seller Ratings". Import duties, taxes and charges are not included in the item price or shipping charges. These charges are the buyer's responsibility. Buyer is responsible for sales tax unless purchasing and shipping to a tax exempt state, listed below. Payment We accept the following forms of payment: PayPal Visa, MasterCard, Amex, or Discover accepted via our secure checkout. Sales Tax ALL States including the District of Columbia will be charged Sales Tax EXCEPT for the following: Alaska, Delaware, Hawaii, Montana, New Hampshire, & Oregon. Shipping We ship all products by UPS and will not use any other carriers. UPS cannot deliver to APO's, FPO's, or P.O. Boxes. Please provide an actual street address for shipping. Your order will be delayed if the correct shipping address is not provided. UPS Ground (1-6 Days) Shipping to the Lower 48 States is Included! Get a quote for shipping before purchasing if you live in Alaska, Hawaii, or Puerto Rico. (Please Provide your Postal Code when asking for quotes) We will NOT ship outside of the United States unless using the global shipping program, so please do not ask for quotes. *Sellers are not responsible for service transit time. This information is provided by the carrier and excludes weekends and holidays. Note that transit times may vary, particularly during peak periods or during inclement weather. *We do not allow customers to pick up at any of our locations. Processing Details: Buyer is responsible for shipping charges unless stated as Free Shipping in the listing. Most products ship within 1 business day of receiving cleared payment. Business Days are Monday - Friday 8am - 4pm. Wheel covers can take up to 3 business days to ship. You will be notified via email (subject line reads "Order# XXXX Shipped") with a tracking number when your order ships. Please make sure your email account will accept email from @wheelstiresandmore.com in order to receive updates regarding your order. Shipping Damage If your purchase has been obviously damaged during shipping, you should refuse the shipment. The carrier will return the product to us and a replacement will be shipped, if available. If no replacement is available, we will issue a full refund. If shipping damage is not apparent until after the driver leaves, please contact UPS claims. After initiating the claim, please contact us and we will issue a replacement if available. If no replacement is available, we will issue a full refund upon the conclusion of the UPS claim. Customer Service At Wheels Tires and More, we guarantee that our customers will receive all orders promptly and as described. If you ordered the wrong product in error we will gladly do an exchange for an item of the same purchase amount. If the item needed is more than the original amount paid, you will be responsible for price difference of the proper item. If you ordered in error you will be responsible for the returning shipping cost of the original item. If we have shipped an item in error we will cover all shipping charges. We do offer a Money Back Guarantee on any returns received 30 days from the original order/shipping date, all returns require an RMA number issued by Wheels Tires and More to be processed and all return shipping charges are the buyers responsibility. However any items that have been installed, mounted or damaged (examples a tire mounted on a wheel and then found to be damaged) are not applicable for return or for the Money Back Guarantee. UPS damage requires a UPS claim to be started. UPS will need to see the shipping container for that claim. Any item found to be shipped in error by Wheels Tires and More will be completely refunded (Upon Receipt of item at sellers facility with seller supplied return shipping label) or immediately exchanged depending on the buyers preference.
Part number 12351802 is compatible with the following vehicles:
Year/Make/Model
Body & Trim
Engine
1992 Chevrolet Blazer
Cheyenne Sport Utility 2-Door
Silverado Sport Utility 2-Door
5.7L V8 OHV
1992 Chevrolet C1500
454 SS Standard Cab Pickup 2-Door
Cheyenne Extended Cab Pickup 2-Door
Cheyenne Standard Cab Pickup 2-Door
Scottsdale Extended Cab Pickup 2-Door
Scottsdale Standard Cab Pickup 2-Door
Silverado Extended Cab Pickup 2-Door
Silverado Standard Cab Pickup 2-Door
WT Standard Cab Pickup 2-Door
7.4L V8 OHV
4.3L V6 OHV
5.0L V8 OHV
5.7L V8 CNG OHV
5.7L V8 OHV
6.2L V8 DIESEL OHV
1992 Chevrolet C1500 Suburban
Base Sport Utility 4-Door
Silverado Sport Utility 4-Door
5.7L V8 OHV
1992 Chevrolet C3500
Cheyenne Cab & Chassis 2-Door
Cheyenne Cab & Chassis 4-Door
Cheyenne Crew Cab Pickup 4-Door
Cheyenne Extended Cab Pickup 2-Door
Cheyenne Standard Cab Pickup 2-Door
Scottsdale Cab & Chassis 2-Door
Scottsdale Cab & Chassis 4-Door
Scottsdale Crew Cab Pickup 4-Door
Scottsdale Extended Cab Pickup 2-Door
Scottsdale Standard Cab Pickup 2-Door
Silverado Cab & Chassis 2-Door
Silverado Cab & Chassis 4-Door
Silverado Crew Cab Pickup 4-Door
Silverado Extended Cab Pickup 2-Door
Silverado Standard Cab Pickup 2-Door
5.7L V8 OHV
6.2L V8 DIESEL OHV
6.5L V8 DIESEL OHV Turbocharged
7.4L V8 OHV
1992 Chevrolet C3500HD
Base Cab & Chassis - Conventional 2-Door
5.7L V8 OHV
6.2L V8 DIESEL OHV
6.5L V8 DIESEL OHV Turbocharged
7.4L V8 OHV
1992 Chevrolet K1500
Cheyenne Extended Cab Pickup 2-Door
Cheyenne Standard Cab Pickup 2-Door
Scottsdale Extended Cab Pickup 2-Door
Scottsdale Standard Cab Pickup 2-Door
Silverado Extended Cab Pickup 2-Door
Silverado Standard Cab Pickup 2-Door
WT Standard Cab Pickup 2-Door
4.3L V6 OHV
5.0L V8 OHV
5.7L V8 OHV
6.2L V8 DIESEL OHV
1992 Chevrolet K2500
Cheyenne Cab & Chassis 2-Door
Cheyenne Extended Cab Pickup 2-Door
Cheyenne Standard Cab Pickup 2-Door
Scottsdale Cab & Chassis 2-Door
Scottsdale Extended Cab Pickup 2-Door
Scottsdale Standard Cab Pickup 2-Door
Silverado Cab & Chassis 2-Door
Silverado Extended Cab Pickup 2-Door
Silverado Standard Cab Pickup 2-Door
4.3L V6 OHV
5.0L V8 OHV
5.7L V8 CNG OHV
5.7L V8 OHV
6.2L V8 DIESEL OHV
6.5L V8 DIESEL OHV Turbocharged
7.4L V8 OHV
1992 Chevrolet K2500 Suburban
Base Sport Utility 4-Door
Silverado Sport Utility 4-Door
5.7L V8 OHV
7.4L V8 OHV
1992 Chevrolet K3500
Cheyenne Cab & Chassis 2-Door
Cheyenne Cab & Chassis 4-Door
Cheyenne Crew Cab Pickup 4-Door
Cheyenne Extended Cab Pickup 2-Door
Cheyenne Standard Cab Pickup 2-Door
Scottsdale Cab & Chassis 2-Door
Scottsdale Cab & Chassis 4-Door
Scottsdale Crew Cab Pickup 4-Door
Scottsdale Extended Cab Pickup 2-Door
Scottsdale Standard Cab Pickup 2-Door
Silverado Cab & Chassis 2-Door
Silverado Cab & Chassis 4-Door
Silverado Crew Cab Pickup 4-Door
Silverado Extended Cab Pickup 2-Door
Silverado Standard Cab Pickup 2-Door
5.7L V8 OHV
6.2L V8 DIESEL OHV
6.5L V8 DIESEL OHV Turbocharged
7.4L V8 OHV
1992 GMC C1500 Suburban
Base Sport Utility 4-Door
SLE Sport Utility 4-Door
5.7L V8 OHV
1992 GMC C2500
Sierra Cab & Chassis 2-Door
Sierra Extended Cab Pickup 2-Door
Sierra SLE Cab & Chassis 2-Door
Sierra SLE Extended Cab Pickup 2-Door
Sierra SLE Standard Cab Pickup 2-Door
Sierra SLX Cab & Chassis 2-Door
Sierra SLX Extended Cab Pickup 2-Door
Sierra SLX Standard Cab Pickup 2-Door
Sierra Standard Cab Pickup 2-Door
4.3L V6 OHV
5.0L V8 OHV
5.7L V8 CNG OHV
5.7L V8 OHV
6.2L V8 DIESEL OHV
6.5L V8 DIESEL OHV Turbocharged
7.4L V8 OHV
1992 GMC C2500 Suburban
Base Sport Utility 4-Door
SLE Sport Utility 4-Door
5.7L V8 OHV
7.4L V8 OHV
1992 GMC C3500
Sierra Cab & Chassis 2-Door
Sierra Cab & Chassis 4-Door
Sierra Crew Cab Pickup 4-Door
Sierra Extended Cab Pickup 2-Door
Sierra SLE Cab & Chassis 2-Door
Sierra SLE Cab & Chassis 4-Door
Sierra SLE Crew Cab Pickup 4-Door
Sierra SLE Extended Cab Pickup 2-Door
Sierra SLE Standard Cab Pickup 2-Door
Sierra SLX Cab & Chassis 2-Door
Sierra SLX Cab & Chassis 4-Door
Sierra SLX Crew Cab Pickup 4-Door
Sierra SLX Extended Cab Pickup 2-Door
Sierra SLX Standard Cab Pickup 2-Door
Sierra Standard Cab Pickup 2-Door
5.7L V8 OHV
6.2L V8 DIESEL OHV
6.5L V8 DIESEL OHV Turbocharged
7.4L V8 OHV
1992 GMC C3500HD
Base Cab & Chassis - Conventional 2-Door
5.7L V8 OHV
6.2L V8 DIESEL OHV
6.5L V8 DIESEL OHV Turbocharged
7.4L V8 OHV
1992 GMC K1500 Suburban
Base Sport Utility 4-Door
SLE Sport Utility 4-Door
5.7L V8 OHV
1992 GMC K2500
Sierra Cab & Chassis 2-Door
Sierra Extended Cab Pickup 2-Door
Sierra SLE Cab & Chassis 2-Door
Sierra SLE Extended Cab Pickup 2-Door
Sierra SLE Standard Cab Pickup 2-Door
Sierra SLX Cab & Chassis 2-Door
Sierra SLX Extended Cab Pickup 2-Door
Sierra SLX Standard Cab Pickup 2-Door
Sierra Standard Cab Pickup 2-Door
4.3L V6 OHV
5.0L V8 OHV
5.7L V8 CNG OHV
5.7L V8 OHV
6.2L V8 DIESEL OHV
6.5L V8 DIESEL OHV Turbocharged
7.4L V8 OHV
1992 GMC K2500 Suburban
Base Sport Utility 4-Door
SLE Sport Utility 4-Door
5.7L V8 OHV
7.4L V8 OHV
1992 GMC K3500
Sierra Cab & Chassis 2-Door
Sierra Cab & Chassis 4-Door
Sierra Crew Cab Pickup 4-Door
Sierra Extended Cab Pickup 2-Door
Sierra SLE Cab & Chassis 2-Door
Sierra SLE Cab & Chassis 4-Door
Sierra SLE Crew Cab Pickup 4-Door
Sierra SLE Extended Cab Pickup 2-Door
Sierra SLE Standard Cab Pickup 2-Door
Sierra SLX Cab & Chassis 2-Door
Sierra SLX Cab & Chassis 4-Door
Sierra SLX Crew Cab Pickup 4-Door
Sierra SLX Extended Cab Pickup 2-Door
Sierra SLX Standard Cab Pickup 2-Door
Sierra Standard Cab Pickup 2-Door
5.7L V8 OHV
6.2L V8 DIESEL OHV
6.5L V8 DIESEL OHV Turbocharged
7.4L V8 OHV
1993 Chevrolet Blazer
Cheyenne Sport Utility 2-Door
Silverado Sport Utility 2-Door
5.7L V8 OHV
1993 Chevrolet C1500 Suburban
Base Sport Utility 4-Door
Silverado Sport Utility 4-Door
5.7L V8 OHV
1993 Chevrolet C2500
400 SS Standard Cab Pickup 2-Door
Cheyenne Cab & Chassis 2-Door
Cheyenne Extended Cab Pickup 2-Door
Cheyenne Standard Cab Pickup 2-Door
Custom Standard Cab Pickup 2-Door
Silverado Cab & Chassis 2-Door
Silverado Extended Cab Pickup 2-Door
Silverado Standard Cab Pickup 2-Door
5.7L V8 OHV
4.3L V6 OHV
5.0L V8 OHV
5.7L V8 CNG OHV
6.2L V8 DIESEL OHV
6.5L V8 DIESEL OHV Turbocharged
7.4L V8 OHV
1993 Chevrolet C2500 Suburban
Base Sport Utility 4-Door
Silverado Sport Utility 4-Door
5.7L V8 OHV
7.4L V8 OHV
1993 Chevrolet K1500
Cheyenne Extended Cab Pickup 2-Door
Cheyenne Standard Cab Pickup 2-Door
Silverado Extended Cab Pickup 2-Door
Silverado Standard Cab Pickup 2-Door
WT Standard Cab Pickup 2-Door
4.3L V6 OHV
5.0L V8 OHV
5.7L V8 OHV
6.2L V8 DIESEL OHV
1993 Chevrolet K1500 Suburban
Base Sport Utility 4-Door
Silverado Sport Utility 4-Door
5.7L V8 OHV
1993 Chevrolet K2500
Cheyenne Cab & Chassis 2-Door
Cheyenne Extended Cab Pickup 2-Door
Cheyenne Standard Cab Pickup 2-Door
Silverado Cab & Chassis 2-Door
Silverado Extended Cab Pickup 2-Door
Silverado Standard Cab Pickup 2-Door
4.3L V6 OHV
5.0L V8 OHV
5.7L V8 CNG OHV
5.7L V8 OHV
6.2L V8 DIESEL OHV
6.5L V8 DIESEL OHV Turbocharged
7.4L V8 OHV
1993 Chevrolet K3500
Cheyenne Cab & Chassis 2-Door
Cheyenne Cab & Chassis 4-Door
Cheyenne Crew Cab Pickup 4-Door
Cheyenne Extended Cab Pickup 2-Door
Cheyenne Standard Cab Pickup 2-Door
Silverado Cab & Chassis 2-Door
Silverado Cab & Chassis 4-Door
Silverado Crew Cab Pickup 4-Door
Silverado Extended Cab Pickup 2-Door
Silverado Standard Cab Pickup 2-Door
5.7L V8 OHV
6.2L V8 DIESEL OHV
6.5L V8 DIESEL OHV Turbocharged
7.4L V8 OHV
1993 GMC C1500
Sierra Extended Cab Pickup 2-Door
Sierra SLE Extended Cab Pickup 2-Door
Sierra SLE Standard Cab Pickup 2-Door
Sierra SLX Extended Cab Pickup 2-Door
Sierra SLX Standard Cab Pickup 2-Door
Sierra Standard Cab Pickup 2-Door
4.3L V6 OHV
5.0L V8 OHV
5.7L V8 OHV
6.2L V8 DIESEL OHV
1993 GMC C1500 Suburban
Base Sport Utility 4-Door
SLE Sport Utility 4-Door
5.7L V8 OHV
1993 GMC C2500 Suburban
Base Sport Utility 4-Door
SLE Sport Utility 4-Door
5.7L V8 OHV
7.4L V8 OHV
1993 GMC C3500HD
Base Cab & Chassis - Conventional 2-Door
5.7L V8 OHV
6.2L V8 DIESEL OHV
6.5L V8 DIESEL OHV Turbocharged
7.4L V8 OHV
1993 GMC K1500
Sierra Extended Cab Pickup 2-Door
Sierra SLE Extended Cab Pickup 2-Door
Sierra SLE Standard Cab Pickup 2-Door
Sierra SLX Extended Cab Pickup 2-Door
Sierra SLX Standard Cab Pickup 2-Door
Sierra Sport Standard Cab Pickup 2-Door
Sierra Standard Cab Pickup 2-Door
4.3L V6 OHV
5.0L V8 OHV
5.7L V8 OHV
6.2L V8 DIESEL OHV
1993 GMC K1500 Suburban
Base Sport Utility 4-Door
SLE Sport Utility 4-Door
5.7L V8 OHV
1993 GMC K2500 Suburban
Base Sport Utility 4-Door
SLE Sport Utility 4-Door
5.7L V8 OHV
7.4L V8 OHV
1994 Chevrolet Blazer
Base Sport Utility 2-Door
Silverado Sport Sport Utility 2-Door
Silverado Sport Utility 2-Door
5.7L V8 OHV
6.5L V8 DIESEL OHV Turbocharged
1994 Chevrolet C1500
Base Extended Cab Pickup 2-Door
Base Standard Cab Pickup 2-Door
Cheyenne Extended Cab Pickup 2-Door
Cheyenne Standard Cab Pickup 2-Door
Silverado Extended Cab Pickup 2-Door
Silverado Standard Cab Pickup 2-Door
WT Standard Cab Pickup 2-Door
4.3L V6 OHV
5.0L V8 OHV
5.7L V8 OHV
6.5L V8 DIESEL OHV
6.5L V8 DIESEL OHV Turbocharged
4.1L l6 OHV
1994 Chevrolet C1500 Suburban
Base Sport Utility 4-Door
Silverado Sport Utility 4-Door
5.7L V8 OHV
6.5L V8 DIESEL OHV Turbocharged
1994 Chevrolet C2500 Suburban
Base Sport Utility 4-Door
Silverado Sport Utility 4-Door
5.7L V8 OHV
6.5L V8 DIESEL OHV Turbocharged
7.4L V8 OHV
1994 Chevrolet C3500
Base Cab & Chassis 2-Door
Base Cab & Chassis 4-Door
Base Crew Cab Pickup 4-Door
Base Extended Cab Pickup 2-Door
Base Standard Cab Pickup 2-Door
Cheyenne Cab & Chassis 2-Door
Cheyenne Cab & Chassis 4-Door
Cheyenne Crew Cab Pickup 4-Door
Cheyenne Extended Cab Pickup 2-Door
Cheyenne Standard Cab Pickup 2-Door
Silverado Cab & Chassis 2-Door
Silverado Cab & Chassis 4-Door
Silverado Crew Cab Pickup 4-Door
Silverado Extended Cab Pickup 2-Door
Silverado Standard Cab Pickup 2-Door
5.7L V8 OHV
6.5L V8 DIESEL OHV Turbocharged
7.4L V8 OHV
1994 Chevrolet C3500HD
Base Cab & Chassis - Conventional 2-Door
5.7L V8 OHV
6.5L V8 DIESEL OHV Turbocharged
7.4L V8 OHV
1994 Chevrolet K2500
Base Cab & Chassis 2-Door
Base Extended Cab Pickup 2-Door
Base Standard Cab Pickup 2-Door
Cheyenne Cab & Chassis 2-Door
Cheyenne Extended Cab Pickup 2-Door
Cheyenne Standard Cab Pickup 2-Door
Silverado Cab & Chassis 2-Door
Silverado Extended Cab Pickup 2-Door
Silverado Standard Cab Pickup 2-Door
WT Standard Cab Pickup 2-Door
4.3L V6 OHV
5.0L V8 OHV
5.7L V8 OHV
6.5L V8 DIESEL OHV
6.5L V8 DIESEL OHV Turbocharged
7.4L V8 OHV
1994 Chevrolet K2500 Suburban
Base Sport Utility 4-Door
Silverado Sport Utility 4-Door
5.7L V8 OHV
6.5L V8 DIESEL OHV Turbocharged
7.4L V8 OHV
1994 Chevrolet K3500
Base Cab & Chassis 2-Door
Base Cab & Chassis 4-Door
Base Crew Cab Pickup 4-Door
Base Extended Cab Pickup 2-Door
Base Standard Cab Pickup 2-Door
Cheyenne Cab & Chassis 2-Door
Cheyenne Cab & Chassis 4-Door
Cheyenne Crew Cab Pickup 4-Door
Cheyenne Extended Cab Pickup 2-Door
Cheyenne Standard Cab Pickup 2-Door
Silverado Cab & Chassis 2-Door
Silverado Cab & Chassis 4-Door
Silverado Crew Cab Pickup 4-Door
Silverado Extended Cab Pickup 2-Door
Silverado Standard Cab Pickup 2-Door
5.7L V8 OHV
6.5L V8 DIESEL OHV Turbocharged
7.4L V8 OHV
1994 GMC C1500 Suburban
Base Sport Utility 4-Door
SLE Sport Utility 4-Door
5.7L V8 OHV
1994 GMC C2500
Sierra SL Cab & Chassis 2-Door
Sierra SL Extended Cab Pickup 2-Door
Sierra SL Standard Cab Pickup 2-Door
Sierra SLE Cab & Chassis 2-Door
Sierra SLE Extended Cab Pickup 2-Door
Sierra SLE Standard Cab Pickup 2-Door
Sierra SLT Cab & Chassis 2-Door
Sierra SLT Extended Cab Pickup 2-Door
4.3L V6 OHV
5.0L V8 OHV
5.7L V8 OHV
6.5L V8 DIESEL OHV
6.5L V8 DIESEL OHV Turbocharged
7.4L V8 OHV
1994 GMC C2500 Suburban
Base Sport Utility 4-Door
SLE Sport Utility 4-Door
5.7L V8 OHV
6.5L V8 DIESEL OHV Turbocharged
7.4L V8 OHV
1994 GMC C3500
Sierra SL Cab & Chassis 2-Door
Sierra SL Cab & Chassis 4-Door
Sierra SL Crew Cab Pickup 4-Door
Sierra SL Extended Cab Pickup 2-Door
Sierra SL Standard Cab Pickup 2-Door
Sierra SLE Cab & Chassis 2-Door
Sierra SLE Cab & Chassis 4-Door
Sierra SLE Crew Cab Pickup 4-Door
Sierra SLE Extended Cab Pickup 2-Door
Sierra SLE Standard Cab Pickup 2-Door
Sierra SLT Cab & Chassis 2-Door
Sierra SLT Extended Cab Pickup 2-Door
5.7L V8 OHV
6.5L V8 DIESEL OHV Turbocharged
7.4L V8 OHV
1994 GMC C3500HD
Base Cab & Chassis - Conventional 2-Door
5.7L V8 OHV
6.5L V8 DIESEL OHV Turbocharged
7.4L V8 OHV
1994 GMC K1500 Suburban
Base Sport Utility 4-Door
SLE Sport Utility 4-Door
5.7L V8 OHV
1994 GMC K2500
Sierra SL Cab & Chassis 2-Door
Sierra SL Extended Cab Pickup 2-Door
Sierra SL Standard Cab Pickup 2-Door
Sierra SLE Cab & Chassis 2-Door
Sierra SLE Extended Cab Pickup 2-Door
Sierra SLE Standard Cab Pickup 2-Door
Sierra SLT Cab & Chassis 2-Door
Sierra SLT Extended Cab Pickup 2-Door
4.3L V6 OHV
5.0L V8 OHV
5.7L V8 OHV
6.5L V8 DIESEL OHV
6.5L V8 DIESEL OHV Turbocharged
7.4L V8 OHV
1994 GMC K2500 Suburban
Base Sport Utility 4-Door
SLE Sport Utility 4-Door
5.7L V8 OHV
6.5L V8 DIESEL OHV Turbocharged
7.4L V8 OHV
1994 GMC K3500
Sierra SL Cab & Chassis 2-Door
Sierra SL Cab & Chassis 4-Door
Sierra SL Crew Cab Pickup 4-Door
Sierra SL Extended Cab Pickup 2-Door
Sierra SL Standard Cab Pickup 2-Door
Sierra SLE Cab & Chassis 2-Door
Sierra SLE Cab & Chassis 4-Door
Sierra SLE Crew Cab Pickup 4-Door
Sierra SLE Extended Cab Pickup 2-Door
Sierra SLE Standard Cab Pickup 2-Door
Sierra SLT Cab & Chassis 2-Door
Sierra SLT Extended Cab Pickup 2-Door
5.7L V8 OHV
6.5L V8 DIESEL OHV Turbocharged
7.4L V8 OHV
1995 Chevrolet C1500 Suburban
Base Sport Utility 4-Door
LS Sport Utility 4-Door
LT Sport Utility 4-Door
5.7L V8 OHV
6.5L V8 DIESEL OHV Turbocharged
1995 Chevrolet C2500
400 SS Standard Cab Pickup 2-Door
60th Anniversary Standard Cab Pickup 2-Door
Base Cab & Chassis 2-Door
Base Extended Cab Pickup 2-Door
Base Standard Cab Pickup 2-Door
Cheyenne Cab & Chassis 2-Door
Cheyenne Extended Cab Pickup 2-Door
Cheyenne Standard Cab Pickup 2-Door
Custom Standard Cab Pickup 2-Door
Silverado Cab & Chassis 2-Door
Silverado Extended Cab Pickup 2-Door
Silverado Standard Cab Pickup 2-Door
WT Standard Cab Pickup 2-Door
5.7L V8 OHV
4.3L V6 OHV
5.0L V8 OHV
6.5L V8 DIESEL OHV
6.5L V8 DIESEL OHV Turbocharged
7.4L V8 OHV
1995 Chevrolet C2500 Suburban
Base Sport Utility 4-Door
LS Sport Utility 4-Door
LT Sport Utility 4-Door
5.7L V8 OHV
6.5L V8 DIESEL OHV Turbocharged
7.4L V8 OHV
1995 Chevrolet C3500HD
Base Cab & Chassis - Conventional 2-Door
5.7L V8 OHV
6.5L V8 DIESEL OHV Turbocharged
7.4L V8 OHV
1995 Chevrolet K1500
Base Extended Cab Pickup 2-Door
Base Extended Cab Pickup 3-Door
Base Standard Cab Pickup 2-Door
Cheyenne Extended Cab Pickup 2-Door
Cheyenne Extended Cab Pickup 3-Door
Cheyenne Standard Cab Pickup 2-Door
Silverado Extended Cab Pickup 2-Door
Silverado Extended Cab Pickup 3-Door
Silverado Standard Cab Pickup 2-Door
WT Standard Cab Pickup 2-Door
4.3L V6 OHV
5.0L V8 OHV
5.7L V8 OHV
6.5L V8 DIESEL OHV
6.5L V8 DIESEL OHV Turbocharged
1995 Chevrolet K1500 Suburban
Base Sport Utility 4-Door
LS Sport Utility 4-Door
LT Sport Utility 4-Door
5.7L V8 OHV
6.5L V8 DIESEL OHV Turbocharged
1995 Chevrolet K3500
Base Cab & Chassis 2-Door
Base Cab & Chassis 4-Door
Base Crew Cab Pickup 4-Door
Base Extended Cab Pickup 2-Door
Base Standard Cab Pickup 2-Door
Cheyenne Cab & Chassis 2-Door
Cheyenne Cab & Chassis 4-Door
Cheyenne Crew Cab Pickup 4-Door
Cheyenne Extended Cab Pickup 2-Door
Cheyenne Standard Cab Pickup 2-Door
Silverado Cab & Chassis 2-Door
Silverado Cab & Chassis 4-Door
Silverado Crew Cab Pickup 4-Door
Silverado Extended Cab Pickup 2-Door
Silverado Standard Cab Pickup 2-Door
5.7L V8 OHV
6.5L V8 DIESEL OHV Turbocharged
7.4L V8 OHV
1995 Chevrolet Tahoe
Base Sport Utility 2-Door
Base Sport Utility 4-Door
LS Sport Utility 2-Door
LS Sport Utility 4-Door
LT Sport Utility 2-Door
LT Sport Utility 4-Door
5.7L V8 OHV
6.5L V8 DIESEL OHV Turbocharged
1995 GMC C1500
Sierra SL Extended Cab Pickup 2-Door
Sierra SL Extended Cab Pickup 3-Door
Sierra SL Standard Cab Pickup 2-Door
Sierra SLE Extended Cab Pickup 2-Door
Sierra SLE Extended Cab Pickup 3-Door
Sierra SLE Standard Cab Pickup 2-Door
Sierra SLT Extended Cab Pickup 2-Door
Sierra SLT Extended Cab Pickup 3-Door
Sierra SLT Standard Cab Pickup 2-Door
Sierra Special Standard Cab Pickup 2-Door
4.3L V6 OHV
5.0L V8 OHV
5.7L V8 OHV
6.5L V8 DIESEL OHV
6.5L V8 DIESEL OHV Turbocharged
1995 GMC C1500 Suburban
Base Sport Utility 4-Door
SLE Sport Utility 4-Door
SLT Sport Utility 4-Door
5.7L V8 OHV
6.5L V8 DIESEL OHV Turbocharged
1995 GMC C2500 Suburban
Base Sport Utility 4-Door
SLE Sport Utility 4-Door
SLT Sport Utility 4-Door
5.7L V8 OHV
6.5L V8 DIESEL OHV Turbocharged
7.4L V8 OHV
1995 GMC C3500HD
Base Cab & Chassis - Conventional 2-Door
5.7L V8 OHV
6.5L V8 DIESEL OHV Turbocharged
7.4L V8 OHV
1995 GMC K1500
Sierra SL Extended Cab Pickup 2-Door
Sierra SL Extended Cab Pickup 3-Door
Sierra SL Standard Cab Pickup 2-Door
Sierra SLE Extended Cab Pickup 2-Door
Sierra SLE Extended Cab Pickup 3-Door
Sierra SLE Standard Cab Pickup 2-Door
Sierra SLS Standard Cab Pickup 2-Door
Sierra SLT Extended Cab Pickup 2-Door
Sierra SLT Extended Cab Pickup 3-Door
Sierra SLT Standard Cab Pickup 2-Door
Sierra Special Standard Cab Pickup 2-Door
4.3L V6 OHV
5.0L V8 OHV
5.7L V8 OHV
6.5L V8 DIESEL OHV
6.5L V8 DIESEL OHV Turbocharged
1995 GMC K1500 Suburban
Base Sport Utility 4-Door
SLE Sport Utility 4-Door
SLT Sport Utility 4-Door
5.7L V8 OHV
6.5L V8 DIESEL OHV Turbocharged
1995 GMC K2500 Suburban
Base Sport Utility 4-Door
SLE Sport Utility 4-Door
SLT Sport Utility 4-Door
5.7L V8 OHV
6.5L V8 DIESEL OHV Turbocharged
7.4L V8 OHV
1996 Chevrolet C1500
Base Extended Cab Pickup 2-Door
Base Extended Cab Pickup 3-Door
Base Standard Cab Pickup 2-Door
Cheyenne Extended Cab Pickup 2-Door
Cheyenne Extended Cab Pickup 3-Door
Cheyenne Standard Cab Pickup 2-Door
Silverado Extended Cab Pickup 2-Door
Silverado Extended Cab Pickup 3-Door
Silverado Standard Cab Pickup 2-Door
WT Standard Cab Pickup 2-Door
4.3L V6 OHV
5.0L V8 OHV
5.7L V8 OHV
6.5L V8 DIESEL OHV Turbocharged
4.1L l6 OHV
1996 Chevrolet C1500 Suburban
Base Sport Utility 4-Door
LS Sport Utility 4-Door
LT Sport Utility 4-Door
5.7L V8 OHV
6.5L V8 DIESEL OHV Turbocharged
1996 Chevrolet C2500 Suburban
Base Sport Utility 4-Door
LS Sport Utility 4-Door
LT Sport Utility 4-Door
5.7L V8 OHV
6.5L V8 DIESEL OHV Turbocharged
7.4L V8 OHV
1996 Chevrolet C3500
Base Cab & Chassis 2-Door
Base Cab & Chassis 4-Door
Base Crew Cab Pickup 4-Door
Base Extended Cab Pickup 2-Door
Base Standard Cab Pickup 2-Door
Cheyenne Cab & Chassis 2-Door
Cheyenne Cab & Chassis 4-Door
Cheyenne Crew Cab Pickup 4-Door
Cheyenne Extended Cab Pickup 2-Door
Cheyenne Standard Cab Pickup 2-Door
Silverado Cab & Chassis 2-Door
Silverado Cab & Chassis 4-Door
Silverado Crew Cab Pickup 4-Door
Silverado Extended Cab Pickup 2-Door
Silverado Standard Cab Pickup 2-Door
5.7L V8 OHV
6.5L V8 DIESEL OHV Turbocharged
7.4L V8 OHV
1996 Chevrolet C3500HD
Base Cab & Chassis - Conventional 2-Door
Base Cab & Chassis - Crew Cab 4-Door
6.5L V8 DIESEL OHV Turbocharged
7.4L V8 OHV
1996 Chevrolet K1500 Suburban
Base Sport Utility 4-Door
LS Sport Utility 4-Door
LT Sport Utility 4-Door
5.7L V8 OHV
6.5L V8 DIESEL OHV Turbocharged
1996 Chevrolet K2500
Base Cab & Chassis 2-Door
Base Extended Cab Pickup 2-Door
Base Standard Cab Pickup 2-Door
Cheyenne Cab & Chassis 2-Door
Cheyenne Extended Cab Pickup 2-Door
Cheyenne Standard Cab Pickup 2-Door
Silverado Cab & Chassis 2-Door
Silverado Extended Cab Pickup 2-Door
Silverado Standard Cab Pickup 2-Door
5.0L V8 OHV
5.7L V8 CNG OHV
5.7L V8 OHV
6.5L V8 DIESEL OHV Turbocharged
7.4L V8 OHV
1996 Chevrolet K2500 Suburban
Base Sport Utility 4-Door
LS Sport Utility 4-Door
LT Sport Utility 4-Door
5.7L V8 OHV
6.5L V8 DIESEL OHV Turbocharged
7.4L V8 OHV
1996 Chevrolet Tahoe
Base Sport Utility 2-Door
Base Sport Utility 4-Door
LS Sport Utility 2-Door
LS Sport Utility 4-Door
LT Sport Utility 2-Door
LT Sport Utility 4-Door
5.7L V8 OHV
6.5L V8 DIESEL OHV Turbocharged
1996 GMC C1500 Suburban
Base Sport Utility 4-Door
SLE Sport Utility 4-Door
SLT Sport Utility 4-Door
5.7L V8 OHV
6.5L V8 DIESEL OHV Turbocharged
1996 GMC C2500
Sierra SL Cab & Chassis 2-Door
Sierra SL Extended Cab Pickup 2-Door
Sierra SL Standard Cab Pickup 2-Door
Sierra SLE Cab & Chassis 2-Door
Sierra SLE Extended Cab Pickup 2-Door
Sierra SLE Standard Cab Pickup 2-Door
Sierra SLT Cab & Chassis 2-Door
Sierra SLT Extended Cab Pickup 2-Door
Sierra SLT Standard Cab Pickup 2-Door
5.0L V8 OHV
5.7L V8 CNG OHV
5.7L V8 OHV
6.5L V8 DIESEL OHV Turbocharged
7.4L V8 OHV
1996 GMC C2500 Suburban
Base Sport Utility 4-Door
SLE Sport Utility 4-Door
SLT Sport Utility 4-Door
5.7L V8 OHV
6.5L V8 DIESEL OHV Turbocharged
7.4L V8 OHV
1996 GMC C3500
Sierra SL Cab & Chassis 2-Door
Sierra SL Cab & Chassis 4-Door
Sierra SL Crew Cab Pickup 4-Door
Sierra SL Extended Cab Pickup 2-Door
Sierra SL Standard Cab Pickup 2-Door
Sierra SLE Cab & Chassis 2-Door
Sierra SLE Cab & Chassis 4-Door
Sierra SLE Crew Cab Pickup 4-Door
Sierra SLE Extended Cab Pickup 2-Door
Sierra SLE Standard Cab Pickup 2-Door
Sierra SLT Cab & Chassis 2-Door
Sierra SLT Cab & Chassis 4-Door
Sierra SLT Crew Cab Pickup 4-Door
Sierra SLT Extended Cab Pickup 2-Door
Sierra SLT Standard Cab Pickup 2-Door
5.7L V8 OHV
6.5L V8 DIESEL OHV Turbocharged
7.4L V8 OHV
1996 GMC C3500HD
Base Cab & Chassis - Conventional 2-Door
Base Cab & Chassis - Crew Cab 4-Door
6.5L V8 DIESEL OHV Turbocharged
7.4L V8 OHV
1996 GMC K1500 Suburban
Base Sport Utility 4-Door
SLE Sport Utility 4-Door
SLT Sport Utility 4-Door
5.7L V8 OHV
6.5L V8 DIESEL OHV Turbocharged
1996 GMC K2500
Sierra SL Cab & Chassis 2-Door
Sierra SL Extended Cab Pickup 2-Door
Sierra SL Standard Cab Pickup 2-Door
Sierra SLE Cab & Chassis 2-Door
Sierra SLE Extended Cab Pickup 2-Door
Sierra SLE Standard Cab Pickup 2-Door
Sierra SLT Cab & Chassis 2-Door
Sierra SLT Extended Cab Pickup 2-Door
Sierra SLT Standard Cab Pickup 2-Door
5.7L V8 CNG OHV
5.7L V8 OHV
6.5L V8 DIESEL OHV Turbocharged
7.4L V8 OHV
1996 GMC K2500 Suburban
Base Sport Utility 4-Door
SLE Sport Utility 4-Door
SLT Sport Utility 4-Door
5.7L V8 OHV
6.5L V8 DIESEL OHV Turbocharged
7.4L V8 OHV
1996 GMC K3500
Sierra SL Cab & Chassis 2-Door
Sierra SL Cab & Chassis 4-Door
Sierra SL Crew Cab Pickup 4-Door
Sierra SL Extended Cab Pickup 2-Door
Sierra SL Standard Cab Pickup 2-Door
Sierra SLE Cab & Chassis 2-Door
Sierra SLE Cab & Chassis 4-Door
Sierra SLE Crew Cab Pickup 4-Door
Sierra SLE Extended Cab Pickup 2-Door
Sierra SLE Standard Cab Pickup 2-Door
Sierra SLT Cab & Chassis 2-Door
Sierra SLT Cab & Chassis 4-Door
Sierra SLT Crew Cab Pickup 4-Door
Sierra SLT Extended Cab Pickup 2-Door
Sierra SLT Standard Cab Pickup 2-Door
5.7L V8 OHV
6.5L V8 DIESEL OHV Turbocharged
7.4L V8 OHV
1997 Chevrolet C1500 Suburban
Base Sport Utility 4-Door
LS Sport Utility 4-Door
LT Sport Utility 4-Door
5.7L V8 OHV
6.5L V8 DIESEL OHV Turbocharged
1997 Chevrolet C2500
400 SS Standard Cab Pickup 2-Door
Base Cab & Chassis 2-Door
Base Extended Cab Pickup 2-Door
Base Standard Cab Pickup 2-Door
Cheyenne Cab & Chassis 2-Door
Cheyenne Extended Cab Pickup 2-Door
Cheyenne Standard Cab Pickup 2-Door
Custom Standard Cab Pickup 2-Door
Silverado Cab & Chassis 2-Door
Silverado Extended Cab Pickup 2-Door
Silverado Standard Cab Pickup 2-Door
5.7L V8 OHV
5.0L V8 OHV
6.5L V8 DIESEL OHV Turbocharged
7.4L V8 OHV
1997 Chevrolet C2500 Suburban
Base Sport Utility 4-Door
LS Sport Utility 4-Door
LT Sport Utility 4-Door
5.7L V8 OHV
6.5L V8 DIESEL OHV Turbocharged
7.4L V8 OHV
1997 Chevrolet C3500HD
Base Cab & Chassis - Conventional 2-Door
Base Cab & Chassis - Crew Cab 4-Door
6.5L V8 DIESEL OHV Turbocharged
7.4L V8 OHV
1997 Chevrolet K1500
Base Extended Cab Pickup 2-Door
Base Extended Cab Pickup 3-Door
Base Standard Cab Pickup 2-Door
Cheyenne Extended Cab Pickup 2-Door
Cheyenne Extended Cab Pickup 3-Door
Cheyenne Standard Cab Pickup 2-Door
Silverado Extended Cab Pickup 2-Door
Silverado Extended Cab Pickup 3-Door
Silverado Standard Cab Pickup 2-Door
WT Standard Cab Pickup 2-Door
4.3L V6 OHV
5.0L V8 OHV
5.7L V8 OHV
6.5L V8 DIESEL OHV Turbocharged
1997 Chevrolet K1500 Suburban
Base Sport Utility 4-Door
LS Sport Utility 4-Door
LT Sport Utility 4-Door
5.7L V8 OHV
6.5L V8 DIESEL OHV Turbocharged
1997 Chevrolet K2500 Suburban
Base Sport Utility 4-Door
LS Sport Utility 4-Door
LT Sport Utility 4-Door
5.7L V8 OHV
6.5L V8 DIESEL OHV Turbocharged
7.4L V8 OHV
1997 Chevrolet K3500
Base Cab & Chassis 2-Door
Base Cab & Chassis 4-Door
Base Crew Cab Pickup 4-Door
Base Extended Cab Pickup 2-Door
Base Standard Cab Pickup 2-Door
Cheyenne Cab & Chassis 2-Door
Cheyenne Cab & Chassis 4-Door
Cheyenne Crew Cab Pickup 4-Door
Cheyenne Extended Cab Pickup 2-Door
Cheyenne Standard Cab Pickup 2-Door
Silverado Cab & Chassis 2-Door
Silverado Cab & Chassis 4-Door
Silverado Crew Cab Pickup 4-Door
Silverado Extended Cab Pickup 2-Door
Silverado Standard Cab Pickup 2-Door
5.7L V8 OHV
6.5L V8 DIESEL OHV Turbocharged
7.4L V8 OHV
1997 Chevrolet Tahoe
Base Sport Utility 2-Door
LS Sport Utility 2-Door
LS Sport Utility 4-Door
LT Sport Utility 2-Door
LT Sport Utility 4-Door
5.7L V8 OHV
6.5L V8 DIESEL OHV Turbocharged
1997 GMC C1500
Sierra GT Standard Cab Pickup 2-Door
Sierra SL Extended Cab Pickup 2-Door
Sierra SL Extended Cab Pickup 3-Door
Sierra SL Standard Cab Pickup 2-Door
Sierra SLE Extended Cab Pickup 2-Door
Sierra SLE Extended Cab Pickup 3-Door
Sierra SLE Standard Cab Pickup 2-Door
Sierra SLT Extended Cab Pickup 2-Door
Sierra SLT Extended Cab Pickup 3-Door
Sierra SLT Standard Cab Pickup 2-Door
Sierra Special Standard Cab Pickup 2-Door
4.3L V6 OHV
5.0L V8 OHV
5.7L V8 OHV
6.5L V8 DIESEL OHV Turbocharged
1997 GMC C1500 Suburban
Base Sport Utility 4-Door
SLE Sport Utility 4-Door
SLT Sport Utility 4-Door
5.7L V8 OHV
6.5L V8 DIESEL OHV Turbocharged
1997 GMC C2500 Suburban
Base Sport Utility 4-Door
SLE Sport Utility 4-Door
SLT Sport Utility 4-Door
5.7L V8 OHV
6.5L V8 DIESEL OHV Turbocharged
7.4L V8 OHV
1997 GMC C3500HD
Base Cab & Chassis - Conventional 2-Door
Base Cab & Chassis - Crew Cab 4-Door
6.5L V8 DIESEL OHV Turbocharged
7.4L V8 OHV
1997 GMC K1500
Sierra SL Extended Cab Pickup 2-Door
Sierra SL Extended Cab Pickup 3-Door
Sierra SL Standard Cab Pickup 2-Door
Sierra SLE Extended Cab Pickup 2-Door
Sierra SLE Extended Cab Pickup 3-Door
Sierra SLE Standard Cab Pickup 2-Door
Sierra SLT Extended Cab Pickup 2-Door
Sierra SLT Extended Cab Pickup 3-Door
Sierra SLT Standard Cab Pickup 2-Door
Sierra Special Standard Cab Pickup 2-Door
4.3L V6 OHV
5.0L V8 OHV
5.7L V8 OHV
6.5L V8 DIESEL OHV Turbocharged
1997 GMC K1500 Suburban
Base Sport Utility 4-Door
SLE Sport Utility 4-Door
SLT Sport Utility 4-Door
5.7L V8 OHV
6.5L V8 DIESEL OHV Turbocharged
1997 GMC K2500 Suburban
Base Sport Utility 4-Door
SLE Sport Utility 4-Door
SLT Sport Utility 4-Door
5.7L V8 OHV
6.5L V8 DIESEL OHV Turbocharged
7.4L V8 OHV
1998 Chevrolet C1500
Base Standard Cab Pickup 2-Door
Cheyenne Extended Cab Pickup 2-Door
Cheyenne Extended Cab Pickup 3-Door
Cheyenne Standard Cab Pickup 2-Door
Silverado Extended Cab Pickup 2-Door
Silverado Extended Cab Pickup 3-Door
Silverado Standard Cab Pickup 2-Door
WT Standard Cab Pickup 2-Door
4.1L l6 OHV
4.3L V6 OHV
5.0L V8 OHV
5.7L V8 OHV
6.5L V8 DIESEL OHV Turbocharged
1998 Chevrolet C1500 Suburban
Base Sport Utility 4-Door
LS Sport Utility 4-Door
5.7L V8 OHV
6.5L V8 DIESEL OHV Turbocharged
1998 Chevrolet C2500 Suburban
Base Sport Utility 4-Door
LS Sport Utility 4-Door
5.7L V8 OHV
6.5L V8 DIESEL OHV Turbocharged
7.4L V8 OHV
1998 Chevrolet C3500
Cheyenne Cab & Chassis 2-Door
Cheyenne Cab & Chassis 4-Door
Cheyenne Crew Cab Pickup 4-Door
Cheyenne Extended Cab Pickup 2-Door
Cheyenne Standard Cab Pickup 2-Door
Silverado Cab & Chassis 2-Door
Silverado Cab & Chassis 4-Door
Silverado Crew Cab Pickup 4-Door
Silverado Extended Cab Pickup 2-Door
Silverado Standard Cab Pickup 2-Door
5.7L V8 CNG OHV
5.7L V8 OHV
6.5L V8 DIESEL OHV Turbocharged
7.4L V8 OHV
1998 Chevrolet C3500HD
Base Cab & Chassis - Conventional 2-Door
Base Cab & Chassis - Crew Cab 4-Door
6.5L V8 DIESEL OHV Turbocharged
7.4L V8 OHV
1998 Chevrolet K1500 Suburban
Base Sport Utility 4-Door
LS Sport Utility 4-Door
5.7L V8 OHV
6.5L V8 DIESEL OHV Turbocharged
1998 Chevrolet K2500
Cheyenne Cab & Chassis 2-Door
Cheyenne Extended Cab Pickup 2-Door
Cheyenne Standard Cab Pickup 2-Door
Silverado Cab & Chassis 2-Door
Silverado Extended Cab Pickup 2-Door
Silverado Standard Cab Pickup 2-Door
WT Standard Cab Pickup 2-Door
5.0L V8 OHV
5.7L V8 OHV
6.5L V8 DIESEL OHV Turbocharged
7.4L V8 OHV
1998 Chevrolet K2500 Suburban
Base Sport Utility 4-Door
LS Sport Utility 4-Door
5.7L V8 OHV
6.5L V8 DIESEL OHV Turbocharged
7.4L V8 OHV
1998 Chevrolet Tahoe
Base Sport Utility 2-Door
LS Sport Utility 2-Door
LS Sport Utility 4-Door
LT Sport Utility 2-Door
LT Sport Utility 4-Door
5.7L V8 OHV
6.5L V8 DIESEL OHV Turbocharged
1998 GMC C1500
Sierra SL Extended Cab Pickup 2-Door
Sierra SL Extended Cab Pickup 3-Door
Sierra SL Standard Cab Pickup 2-Door
Sierra SLE Extended Cab Pickup 2-Door
Sierra SLE Extended Cab Pickup 3-Door
Sierra SLE Standard Cab Pickup 2-Door
Sierra SLT Extended Cab Pickup 2-Door
Sierra SLT Extended Cab Pickup 3-Door
Sierra SLT Standard Cab Pickup 2-Door
Sierra Special Standard Cab Pickup 2-Door
4.3L V6 OHV
5.0L V8 OHV
5.7L V8 OHV
1998 GMC C1500 Suburban
Base Sport Utility 4-Door
SLE Sport Utility 4-Door
SLT Sport Utility 4-Door
5.7L V8 OHV
6.5L V8 DIESEL OHV Turbocharged
1998 GMC C2500
Sierra SL Cab & Chassis 2-Door
Sierra SL Extended Cab Pickup 2-Door
Sierra SL Standard Cab Pickup 2-Door
Sierra SLE Cab & Chassis 2-Door
Sierra SLE Extended Cab Pickup 2-Door
Sierra SLE Standard Cab Pickup 2-Door
Sierra SLT Cab & Chassis 2-Door
Sierra SLT Extended Cab Pickup 2-Door
Sierra SLT Standard Cab Pickup 2-Door
5.0L V8 OHV
5.7L V8 CNG OHV
5.7L V8 OHV
6.5L V8 DIESEL OHV Turbocharged
7.4L V8 OHV
1998 GMC C2500 Suburban
Base Sport Utility 4-Door
SLE Sport Utility 4-Door
SLT Sport Utility 4-Door
5.7L V8 OHV
6.5L V8 DIESEL OHV Turbocharged
7.4L V8 OHV
1998 GMC C3500
Sierra SL Cab & Chassis 2-Door
Sierra SL Cab & Chassis 4-Door
Sierra SL Crew Cab Pickup 4-Door
Sierra SL Extended Cab Pickup 2-Door
Sierra SL Standard Cab Pickup 2-Door
Sierra SLE Cab & Chassis 2-Door
Sierra SLE Cab & Chassis 4-Door
Sierra SLE Crew Cab Pickup 4-Door
Sierra SLE Extended Cab Pickup 2-Door
Sierra SLE Standard Cab Pickup 2-Door
Sierra SLT Cab & Chassis 2-Door
Sierra SLT Cab & Chassis 4-Door
Sierra SLT Crew Cab Pickup 4-Door
Sierra SLT Extended Cab Pickup 2-Door
Sierra SLT Standard Cab Pickup 2-Door
5.7L V8 CNG OHV
5.7L V8 OHV
6.5L V8 DIESEL OHV Turbocharged
7.4L V8 OHV
1998 GMC C3500HD
Base Cab & Chassis - Conventional 2-Door
Base Cab & Chassis - Crew Cab 4-Door
6.5L V8 DIESEL OHV Turbocharged
7.4L V8 OHV
1998 GMC K1500
Sierra SL Extended Cab Pickup 2-Door
Sierra SL Extended Cab Pickup 3-Door
Sierra SL Standard Cab Pickup 2-Door
Sierra SLE Extended Cab Pickup 2-Door
Sierra SLE Extended Cab Pickup 3-Door
Sierra SLE Standard Cab Pickup 2-Door
Sierra SLT Extended Cab Pickup 2-Door
Sierra SLT Extended Cab Pickup 3-Door
Sierra SLT Standard Cab Pickup 2-Door
Sierra Special Standard Cab Pickup 2-Door
4.3L V6 OHV
5.0L V8 OHV
5.7L V8 OHV
6.5L V8 DIESEL OHV Turbocharged
1998 GMC K1500 Suburban
Base Sport Utility 4-Door
SLE Sport Utility 4-Door
SLT Sport Utility 4-Door
5.7L V8 OHV
6.5L V8 DIESEL OHV Turbocharged
1998 GMC K2500
Sierra SL Cab & Chassis 2-Door
Sierra SL Extended Cab Pickup 2-Door
Sierra SL Standard Cab Pickup 2-Door
Sierra SLE Cab & Chassis 2-Door
Sierra SLE Extended Cab Pickup 2-Door
Sierra SLE Standard Cab Pickup 2-Door
Sierra SLT Cab & Chassis 2-Door
Sierra SLT Extended Cab Pickup 2-Door
Sierra SLT Standard Cab Pickup 2-Door
5.0L V8 OHV
5.7L V8 OHV
6.5L V8 DIESEL OHV Turbocharged
7.4L V8 OHV
1998 GMC K2500 Suburban
Base Sport Utility 4-Door
SLE Sport Utility 4-Door
SLT Sport Utility 4-Door
5.7L V8 OHV
6.5L V8 DIESEL OHV Turbocharged
7.4L V8 OHV
1998 GMC K3500
Sierra SL Cab & Chassis 2-Door
Sierra SL Cab & Chassis 4-Door
Sierra SL Crew Cab Pickup 4-Door
Sierra SL Extended Cab Pickup 2-Door
Sierra SL Standard Cab Pickup 2-Door
Sierra SLE Cab & Chassis 2-Door
Sierra SLE Cab & Chassis 4-Door
Sierra SLE Crew Cab Pickup 4-Door
Sierra SLE Extended Cab Pickup 2-Door
Sierra SLE Standard Cab Pickup 2-Door
Sierra SLT Cab & Chassis 2-Door
Sierra SLT Cab & Chassis 4-Door
Sierra SLT Crew Cab Pickup 4-Door
Sierra SLT Extended Cab Pickup 2-Door
Sierra SLT Standard Cab Pickup 2-Door
5.7L V8 OHV
6.5L V8 DIESEL OHV Turbocharged
7.4L V8 OHV
1999 Chevrolet C1500
Base Standard Cab Pickup 2-Door
LS Extended Cab Pickup 2-Door
LS Extended Cab Pickup 3-Door
4.3L V6 OHV
5.0L V8 OHV
5.7L V8 OHV
1999 Chevrolet C1500 Suburban
Base Sport Utility 4-Door
LS Sport Utility 4-Door
LT Sport Utility 4-Door
5.7L V8 OHV
6.5L V8 DIESEL OHV Turbocharged
1999 Chevrolet C2500
400 SS Standard Cab Pickup 2-Door
Austera Standard Cab Pickup 2-Door
Base Cab & Chassis 2-Door
Base Crew Cab Pickup 4-Door
Base Extended Cab Pickup 2-Door
Base Extended Cab Pickup 3-Door
Base Standard Cab Pickup 2-Door
Cheyenne Standard Cab Pickup 2-Door
Custom Standard Cab Pickup 2-Door
LS Cab & Chassis 2-Door
LS Crew Cab Pickup 4-Door
LS Extended Cab Pickup 2-Door
LS Standard Cab Pickup 2-Door
5.7L V8 OHV
5.0L V8 OHV
5.7L V8 CNG OHV
6.5L V8 DIESEL OHV Turbocharged
7.4L V8 OHV
1999 Chevrolet C2500 Suburban
Base Sport Utility 4-Door
LS Sport Utility 4-Door
5.7L V8 OHV
6.5L V8 DIESEL OHV Turbocharged
7.4L V8 OHV
1999 Chevrolet C3500HD
Base Cab & Chassis - Conventional 2-Door
Base Cab & Chassis - Crew Cab 4-Door
6.5L V8 DIESEL OHV Turbocharged
7.4L V8 OHV
1999 Chevrolet K1500
LS Extended Cab Pickup 2-Door
LS Extended Cab Pickup 3-Door
5.0L V8 OHV
5.7L V8 OHV
1999 Chevrolet K1500 Suburban
Base Sport Utility 4-Door
LS Sport Utility 4-Door
LT Sport Utility 4-Door
5.7L V8 OHV
6.5L V8 DIESEL OHV Turbocharged
1999 Chevrolet K2500 Suburban
Base Sport Utility 4-Door
LS Sport Utility 4-Door
5.7L V8 OHV
6.5L V8 DIESEL OHV Turbocharged
7.4L V8 OHV
1999 Chevrolet K3500
Base Cab & Chassis 2-Door
Base Cab & Chassis 4-Door
Base Crew Cab Pickup 4-Door
Base Extended Cab Pickup 2-Door
Base Standard Cab Pickup 2-Door
LS Cab & Chassis 2-Door
LS Cab & Chassis 4-Door
LS Crew Cab Pickup 4-Door
LS Extended Cab Pickup 2-Door
LS Standard Cab Pickup 2-Door
5.7L V8 OHV
6.5L V8 DIESEL OHV Turbocharged
7.4L V8 OHV
1999 Chevrolet Tahoe
Base Sport Utility 2-Door
LS Sport Utility 2-Door
LS Sport Utility 4-Door
LT Sport Utility 2-Door
LT Sport Utility 4-Door
5.7L V8 OHV
6.5L V8 DIESEL OHV Turbocharged
1999 GMC C1500
Sierra SL Extended Cab Pickup 2-Door
Sierra SL Extended Cab Pickup 3-Door
Sierra SL Standard Cab Pickup 2-Door
Sierra SLE Extended Cab Pickup 2-Door
Sierra SLE Extended Cab Pickup 3-Door
Sierra SLE Standard Cab Pickup 2-Door
Sierra SLT Extended Cab Pickup 2-Door
Sierra SLT Extended Cab Pickup 3-Door
Sierra SLT Standard Cab Pickup 2-Door
5.0L V8 OHV
5.7L V8 OHV
1999 GMC C2500
Sierra SL Cab & Chassis 2-Door
Sierra SL Crew Cab Pickup 4-Door
Sierra SL Extended Cab Pickup 2-Door
Sierra SL Standard Cab Pickup 2-Door
Sierra SLE Cab & Chassis 2-Door
Sierra SLE Crew Cab Pickup 4-Door
Sierra SLE Extended Cab Pickup 2-Door
Sierra SLE Standard Cab Pickup 2-Door
Sierra SLT Cab & Chassis 2-Door
Sierra SLT Crew Cab Pickup 4-Door
Sierra SLT Extended Cab Pickup 2-Door
Sierra SLT Standard Cab Pickup 2-Door
5.0L V8 OHV
5.7L V8 CNG OHV
5.7L V8 OHV
6.5L V8 DIESEL OHV Turbocharged
7.4L V8 OHV
1999 GMC C3500
Sierra SL Cab & Chassis 2-Door
Sierra SL Cab & Chassis 4-Door
Sierra SL Crew Cab Pickup 4-Door
Sierra SL Extended Cab Pickup 2-Door
Sierra SL Standard Cab Pickup 2-Door
Sierra SLE Cab & Chassis 2-Door
Sierra SLE Cab & Chassis 4-Door
Sierra SLE Crew Cab Pickup 4-Door
Sierra SLE Extended Cab Pickup 2-Door
Sierra SLE Standard Cab Pickup 2-Door
Sierra SLT Cab & Chassis 2-Door
Sierra SLT Cab & Chassis 4-Door
Sierra SLT Crew Cab Pickup 4-Door
Sierra SLT Extended Cab Pickup 2-Door
Sierra SLT Standard Cab Pickup 2-Door
5.7L V8 CNG OHV
5.7L V8 OHV
6.5L V8 DIESEL OHV Turbocharged
7.4L V8 OHV
1999 GMC K1500
Sierra SL Extended Cab Pickup 2-Door
Sierra SL Extended Cab Pickup 3-Door
Sierra SLE Extended Cab Pickup 2-Door
Sierra SLE Extended Cab Pickup 3-Door
Sierra SLT Extended Cab Pickup 2-Door
Sierra SLT Extended Cab Pickup 3-Door
5.0L V8 OHV
5.7L V8 OHV
1999 GMC K2500
Sierra SL Cab & Chassis 2-Door
Sierra SL Crew Cab Pickup 4-Door
Sierra SL Extended Cab Pickup 2-Door
Sierra SL Standard Cab Pickup 2-Door
Sierra SLE Cab & Chassis 2-Door
Sierra SLE Crew Cab Pickup 4-Door
Sierra SLE Extended Cab Pickup 2-Door
Sierra SLE Standard Cab Pickup 2-Door
Sierra SLT Cab & Chassis 2-Door
Sierra SLT Crew Cab Pickup 4-Door
Sierra SLT Extended Cab Pickup 2-Door
Sierra SLT Standard Cab Pickup 2-Door
5.7L V8 OHV
6.5L V8 DIESEL OHV Turbocharged
7.4L V8 OHV
1999 GMC K3500
Sierra SL Cab & Chassis 2-Door
Sierra SL Cab & Chassis 4-Door
Sierra SL Extended Cab Pickup 2-Door
Sierra SL Standard Cab Pickup 2-Door
Sierra SLE Cab & Chassis 4-Door
Sierra SLE Crew Cab Pickup 4-Door
Sierra SLE Extended Cab Pickup 2-Door
Sierra SLE Standard Cab Pickup 2-Door
Sierra SLT Cab & Chassis 2-Door
Sierra SLT Cab & Chassis 4-Door
Sierra SLT Crew Cab Pickup 4-Door
Sierra SLT Extended Cab Pickup 2-Door
Sierra SLT Standard Cab Pickup 2-Door
5.7L V8 OHV
6.5L V8 DIESEL OHV Turbocharged
7.4L V8 OHV
2000 Chevrolet Tahoe
Base Sport Utility 4-Door
Limited Sport Utility 4-Door
LS Sport Utility 4-Door
LT Sport Utility 4-Door
Z71 Sport Utility 4-Door
4.8L V8 OHV
5.3L V8 OHV
5.7L V8 OHV
2000 GMC C2500
Sierra SL Crew Cab Pickup 4-Door
Sierra SL Extended Cab Pickup 2-Door
Sierra SL Standard Cab Pickup 2-Door
Sierra SLE Crew Cab Pickup 4-Door
Sierra SLE Extended Cab Pickup 2-Door
Sierra SLE Standard Cab Pickup 2-Door
Sierra SLT Crew Cab Pickup 4-Door
Sierra SLT Extended Cab Pickup 2-Door
5.7L V8 CNG OHV
5.7L V8 OHV
6.5L V8 DIESEL OHV Turbocharged
7.4L V8 OHV
2000 GMC C3500
Sierra SL Cab & Chassis 2-Door
Sierra SL Crew Cab Pickup 4-Door
Sierra SL Extended Cab Pickup 2-Door
Sierra SL Standard Cab Pickup 2-Door
Sierra SLE Cab & Chassis 2-Door
Sierra SLE Crew Cab Pickup 4-Door
Sierra SLE Extended Cab Pickup 2-Door
Sierra SLE Standard Cab Pickup 2-Door
Sierra SLT Cab & Chassis 2-Door
Sierra SLT Crew Cab Pickup 4-Door
Sierra SLT Extended Cab Pickup 2-Door
Sierra SLT Standard Cab Pickup 2-Door
5.7L V8 OHV
6.5L V8 DIESEL OHV Turbocharged
7.4L V8 OHV
2000 GMC C3500HD
Base Cab & Chassis - Conventional 2-Door
Base Cab & Chassis - Crew Cab 4-Door
6.5L V8 DIESEL OHV Turbocharged
7.4L V8 OHV
2000 GMC K2500
Sierra SL Crew Cab Pickup 4-Door
Sierra SL Extended Cab Pickup 2-Door
Sierra SL Standard Cab Pickup 2-Door
Sierra SLE Crew Cab Pickup 4-Door
Sierra SLE Extended Cab Pickup 2-Door
Sierra SLE Standard Cab Pickup 2-Door
Sierra SLT Crew Cab Pickup 4-Door
Sierra SLT Extended Cab Pickup 2-Door
5.7L V8 OHV
6.5L V8 DIESEL OHV Turbocharged
7.4L V8 OHV
Warranty: Other
Returns Accepted: Yes
Item must be returned within: 30 Days
Refund will be given as: Money back or replacement (buyer's choice)
Return shipping will be paid by: Buyer