2001-2009 VOLVO S60 2.5 TURBO AT AC COMPRESSOR OEM 1912-35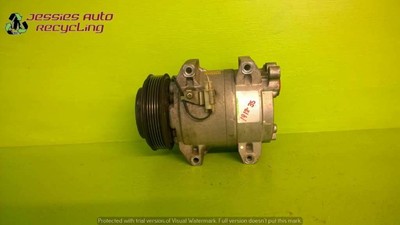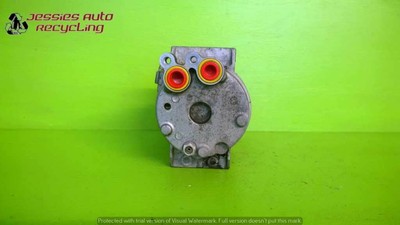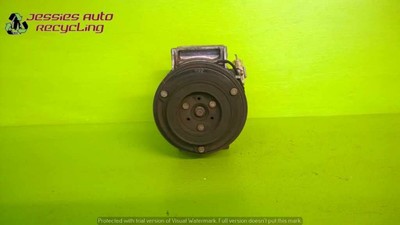 Part number 8708581 is available for purchase online. To purchase the part or to get additional information about the part before you purchase it, click on the View More Details button.
Item #:

PR-174097378654

Ships From:

Mamou, Louisiana
Price:

$36.00
Returns Accepted: Returns Accepted.
Item must be returned within: 30 Days.
Refund will be given as: Money back or replacement (buyer's choice).
Return policy details: .
Return shipping will be paid by: Seller.
Conditions & Options: 8708581.
Genuine OEM: Yes.
Interchange Part Number: 682-58787.
Designation: Used.
eCommerce Description: 2007 VOLVO S60 SEDAN 2.5L TURBO AT.
PartNumber: 682.
Mileage: 0.
Model: S60.
Make: VOLVO.
Year: 2007.
Stock #: 191235.
Brand: VOLVO.
MPN: 8708581.
Manufacturer Part Number: 8708581.
GTIN: Does not apply.
Inventory ID: 28307.
eBay Product ID (ePID): 1518880607.
JESSIE'S AUTO RECYCLING Monday-Friday 9am-3pm central time   DONOR VEHICLE:  2007 VOLVO S60 SEDAN 2.5L TURBO AT PART BEING SOLD: AC COMPRESSOR PART NUMBER: 8708581 Left side = Driver. Right side = Passenger   ITEM ID: 191235   *YOU WILL RECEIVE THE EXACT PART SHOWN*   SUGGESTED FITMENT ACCORDING TO THE HOLLANDER INTERCHANGE PROGRAM: VOLVO 70 SERIES 01-02 SW, from VIN 140794, (DKS17D model) VOLVO 80 SERIES 01 from VIN 197615, (DKS17D model) VOLVO 60 SERIES 02-08 VOLVO 60 SERIES 09 Sdn VOLVO 60 SERIES 01 from VIN 93489, (DKS17D model) VOLVO XC90 05 6 cylinder VOLVO 80 SERIES 02-06 VOLVO 70 SERIES 06-07 SW VOLVO XC90 05-07 5 cylinder VOLVO XC90 03-04 VOLVO 70 SERIES 03-04 SW VOLVO 70 SERIES 05 (SW) **FITMENT NOT GUARANTEED, MAY FIT OTHER YEARS AND OR MODELS. PLEASE COMPARE YOUR PART BEFORE PURCHASING**   RETURN POLICY: If you return an item for any reason it must be in the EXACT condition it was sent in. If it is missing anything such as wiring, plugs, or damaged, you will be deducted a 10% fee from your refund amount. WE DO NOT GUARANTEE THEM. PLEASE CONTACT US IF YOU NEED IT BY A CERTAIN DATE**     >  
Part number 8708581 is compatible with the following vehicles:
Year/Make/Model
Body & Trim
Engine
2001 Volvo S60
2.4T Sedan 4-Door
Base Sedan 4-Door
T5 Sedan 4-Door
2.4L l5 DOHC Turbocharged
2.4L l5 DOHC
2.3L l5 DOHC Turbocharged
2001 Volvo S80
2.9 Sedan 4-Door
T6 Sedan 4-Door
2.9L l6 DOHC
2.9L l6 DOHC
2.8L l6 DOHC Turbocharged
2.8L l6 DOHC Turbocharged
2001 Volvo V70
X/C Wagon 4-Door
Base Wagon 4-Door
T5 Wagon 4-Door
2.4L l5 DOHC Turbocharged
2.4L l5 DOHC
2.3L l5 DOHC Turbocharged
2002 Volvo S60
AWD Sedan 4-Door
Base Sedan 4-Door
T5 Sedan 4-Door
2.4L l5 DOHC Turbocharged
2.4L l5 DOHC
2.3L l5 DOHC Turbocharged
2002 Volvo S80
2.9 Sedan 4-Door
T6 Sedan 4-Door
2.9L l6 DOHC
2.9L l6 DOHC
2.8L l6 DOHC Turbocharged
2.9L l6 DOHC Turbocharged
2002 Volvo V70
X/C Wagon 4-Door
AWD Wagon 4-Door
Base Wagon 4-Door
T5 Wagon 4-Door
2.4L l5 DOHC Turbocharged
2.4L l5 DOHC
2.3L l5 DOHC Turbocharged
2003 Volvo S60
2.4T Sedan 4-Door
AWD Sedan 4-Door
Base Sedan 4-Door
T5 Sedan 4-Door
2.4L l5 DOHC Turbocharged
2.5L l5 DOHC Turbocharged
2.4L l5 DOHC
2.3L l5 DOHC Turbocharged
2003 Volvo S80
2.9 Sedan 4-Door
T6 Sedan 4-Door
2.9L l6 DOHC
2.9L l6 DOHC
2.8L l6 DOHC Turbocharged
2.9L l6 DOHC Turbocharged
2003 Volvo V70
2.4T Wagon 4-Door
AWD Wagon 4-Door
Base Wagon 4-Door
T5 Wagon 4-Door
2.4L l5 DOHC Turbocharged
2.5L l5 DOHC Turbocharged
2.4L l5 DOHC
2.3L l5 DOHC Turbocharged
2003 Volvo XC70
X/C Wagon 4-Door
2.5L l5 DOHC Turbocharged
2003 Volvo XC90
Base Sport Utility 4-Door
T6 Sport Utility 4-Door
2.5L l5 DOHC Turbocharged
2.9L l6 DOHC Turbocharged
2.9L l6 DOHC Turbocharged
2004 Volvo S60
2.4 Sedan 4-Door
R Sedan 4-Door
2.5T Sedan 4-Door
T5 Sedan 4-Door
2.4L l5 DOHC
2.5L l5 DOHC Turbocharged
2.5L l5 DOHC Turbocharged
2.3L l5 DOHC Turbocharged
2004 Volvo S80
2.5T Sedan 4-Door
2.9 Sedan 4-Door
T6 Sedan 4-Door
2.5L l5 DOHC Turbocharged
2.9L l6 DOHC
2.9L l6 DOHC Turbocharged
2.9L l6 DOHC Turbocharged
2004 Volvo V70
2.4 Wagon 4-Door
R Wagon 4-Door
2.5T Wagon 4-Door
T5 Wagon 4-Door
2.4L l5 DOHC
2.5L l5 DOHC Turbocharged
2.3L l5 DOHC Turbocharged
2004 Volvo XC70
Base Wagon 4-Door
2.5L l5 DOHC Turbocharged
2004 Volvo XC90
2.5T Sport Utility 4-Door
T6 Sport Utility 4-Door
2.5L l5 DOHC Turbocharged
2.9L l6 DOHC Turbocharged
2.9L l6 DOHC Turbocharged
2005 Volvo S60
2.4 Sedan 4-Door
R Sedan 4-Door
2.5T Sedan 4-Door
T5 Sedan 4-Door
2.4L l5 DOHC
2.5L l5 DOHC Turbocharged
2.5L l5 DOHC Turbocharged
2.3L l5 DOHC Turbocharged
2.4L l5 DOHC Turbocharged
2005 Volvo S80
2.5T Sedan 4-Door
T6 Sedan 4-Door
2.5L l5 DOHC Turbocharged
2.9L l6 DOHC Turbocharged
2.9L l6 DOHC Turbocharged
2005 Volvo V70
2.4 Wagon 4-Door
R Wagon 4-Door
T5 Wagon 4-Door
2.4L l5 DOHC
2.5L l5 DOHC Turbocharged
2.4L l5 DOHC Turbocharged
2005 Volvo XC70
Base Wagon 4-Door
2.5L l5 DOHC Turbocharged
2005 Volvo XC90
2.5T Sport Utility 4-Door
T6 Sport Utility 4-Door
2.5L l5 DOHC Turbocharged
2.9L l6 DOHC Turbocharged
2.9L l6 DOHC Turbocharged
2006 Volvo S60
R Sedan 4-Door
T5 Sedan 4-Door
2.5L l5 DOHC Turbocharged
2.4L l5 DOHC Turbocharged
2.4L l5 DOHC Turbocharged
2006 Volvo S80
2.5T Sedan 4-Door
2.5L l5 DOHC Turbocharged
2006 Volvo V70
2.4 Wagon 4-Door
R Wagon 4-Door
2.4L l5 DOHC
2.5L l5 DOHC Turbocharged
2006 Volvo XC70
Ocean Race Wagon 4-Door
2.5L l5 DOHC Turbocharged
2006 Volvo XC90
2.5T Sport Utility 4-Door
2.5L l5 DOHC Turbocharged
2007 Volvo S60
2.5T Sedan 4-Door
R Sedan 4-Door
T5 Sedan 4-Door
2.5L l5 DOHC Turbocharged
2.5L l5 DOHC Turbocharged
2.4L l5 DOHC Turbocharged
2007 Volvo V70
2.4 Wagon 4-Door
R Wagon 4-Door
2.4L l5 DOHC
2.5L l5 DOHC Turbocharged
2007 Volvo XC70
Base Wagon 4-Door
2.5L l5 DOHC Turbocharged
2008 Volvo S60
2.5T Sedan 4-Door
T5 Sedan 4-Door
2.5L l5 DOHC Turbocharged
2.4L l5 DOHC Turbocharged
2009 Volvo S60
2.5T Sedan 4-Door
T5 Sedan 4-Door
2.5L l5 DOHC Turbocharged
2.4L l5 DOHC Turbocharged